Movie Review – Winnie The Pooh (2011)
If brevity is the soul of wit, then Winnie The Pooh should be one damn funny film. Don't let the length of this film fool you – this is a genuinely great movie. No it's not solely for kids, and yes, it's absolutely gorgeous to watch – the fact of the matter is that Winnie The Pooh is one of the best traditionally animated films of the last 12 months, hands down.

– Summary –
Director :  Stephen J Anderson & Don Hall
Year Of Release :  2011
Principal Cast :  Voices of Jim Cummings, Travis Oates, Tom Kenny, Craig Ferguson, Bud Luckey, Jack Boulter, Kristen Anderson-Lopez, Wyatt Hall, Huell Howser, narrated by John Cleese.
Approx Running Time :  63 Minutes
Aspect Ratio :  1.85:1
Synopsis:   Pooh Bear and his friends in the Hundred Acre Wood lay a trap to capture the Backsun and return their friend Christopher Robin to their circle of friends.
What we think :  If brevity is the soul of wit, then Winnie The Pooh should be one damn funny film. Don't let the length of this film fool you – this is a genuinely great movie. No it's not solely for kids, and yes, it's absolutely gorgeous to watch – the fact of the matter is that Winnie The Pooh is one of the best traditionally animated films of the last 12 months, hands down.
**********************
Film animation geeks the world over owe John Lasseter so, so much. When Disney announced the closure of their traditional ink & paint animation studio, a studio which had operated since Uncle Walt first produced Steamboat Willie, cinema purists around the globe cried into their copies of Snow White, Cinderella, Lion King and The Little Mermaid. At the time, tastes in animation were moving rapidly towards the ever burgeoning technology of CGI animated films, which were seen as vastly more financially successful. Then-head of Pixar, John Lasseter, was appointed the head of Disney's animation section when Pixar was acquired by the House Of Mouse a few years back, and he promptly set about reinventing the legacy Walt gave us – hand drawn animation. It was his insistence that the Animation Studio be returned to the prominence it once held that has allowed us to enjoy recent Disney fare such as The Princess & The Frog and Tangled: you can thank Lasseter for bringing back Disney's original magic. Winnie The Pooh, a reboot of the AA Milne-created characters that Disney's had their hands on for decades, represents perhaps the most accomplished effort yet in the entire Pooh canon, and is easily the best of the "new" animated features to come out of the studio.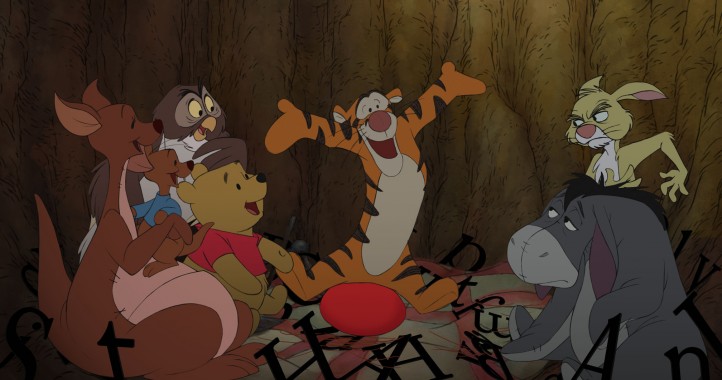 Pooh Bear (voice of Jim Cummings) is woken by our narrator (John Cleese) and instantly finds himself hungry: something he can only cure by finding his beloved honey. When Eeyore (Bud Luckey) loses his tail, a competition is organized by the other members of the gang in the Hundred Acre Wood to find it. Owl (Craig Ferguson) discovers a note from Christopher Robin (Jack Boulter) that seems to indicate he's been captured by some kind of monster known as a Backsun, a fact which sends the friends into a frenzy of heroic rescue and dazzling ineptitude. Tigger (Jim Cummings again), Rabbit (Tom Kenny), Piglet (Travis Oates), Kanga (Kristen Anderson-Lopez), and Roo (Wyatt Hall) all help Pooh lay a trap for the Backsun, in which they hope to trap the creature and force it to return Christopher Robin to them. Along the way, songs and hijinks ensue.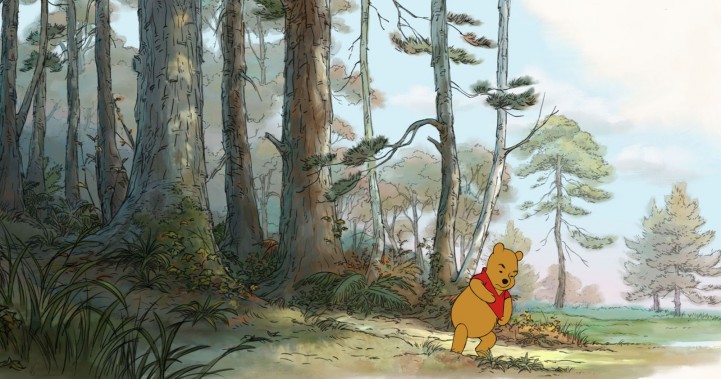 Before I start, I should point out that I've never been a big fan of AA Milne's whimsical literary creation, nor have I ever really stopped to enjoy the Disney-fied versions we've seen over the years. That's not to say I hate Pooh and his friends, it's just that they never interested me and as a result, my appreciation of them was limited at best. So to watch this film and find myself utterly captivated by it was a surprising revelation indeed. Pooh is a terrific film. From the gorgeous, gorgeous animation (did I mention that it's gorgeous?), the hilarious screenplay and sense of cinematic whimsy, to the spot-on vocal performances, this film is the complete entertainment package for folks of all ages. Kids will be enthralled by the rapid-fire pacing this film enjoys, while older children and adults will get a lot of the sly humor thrown in to appease the eye-roll from Pop having to watch this film for the twentieth time. There's a litany of names involved with the scripting, as you'd expect these days, but Pooh never feels like it's been "produced" like so many "too many cooks in the kitchen" films often do: the humor is elegant, never snarky, with a timeless quality to it that truly will last for generations. Unlike films like Shrek, where the humor starts to date six months after release, Winnie The Pooh will remain funny to everyone, forever. This is the sign of clever filmmaking.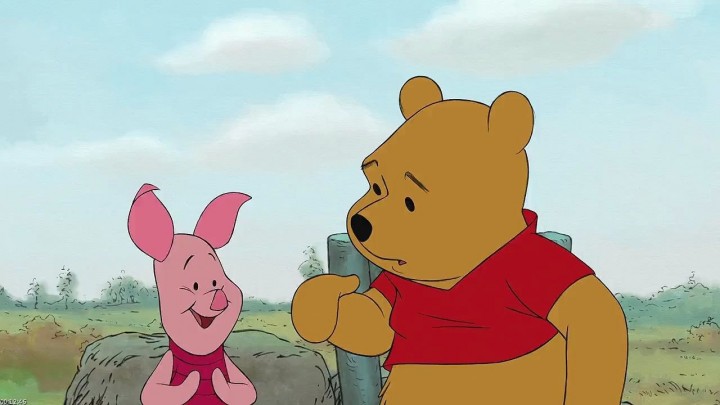 The cast are, as I mentioned earlier, spot on with their vocal performances in each role. Kudos to Jim Cummings for his rendition of Pooh, with a kind of innocent frailty thrown into Poohs usual bumbling, carefree schtick. Craig Ferguson, my favorite late-night talk show host, is virtually unrecognizable as Owl, with his stiff-upper-lip British accent giving Owl the naive pomposity needed for the role. Crowd favorite John Cleese narrates the shit out of this film, and next to James Earl Jones or Morgan Freeman is a voice I could listen to read a shopping list for hours, and he delights in the vocal work he does here. Pooh-newcomers might wonder what on Earth directors Stephen Anderson and Don Hall were thinking giving Zooey Deschanel some singing duties for this film, but her lilting voice and heartfelt performance is perfect to the tonality of the film. Indeed, the songs in this film – yes, there are songs – never come across as "enforced by the studio", instead enhancing the story and moving our characters through the narrative: whoever came up with the song about the Backsun deserves a bonus, because it's delightful.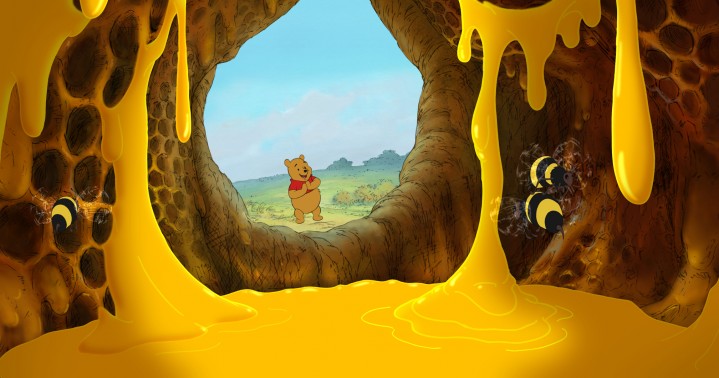 Some will ask if the short running time of the film works against it, and I respond with a strenuous "no". The film clocks in at about 58 minutes before the credits roll, so you've be forgiven for feeling short-changed if you purchased this movie as a blind buy, but rest assured, this is a classic case of a film being only as long as it needs to be to tell the story. With the narrative moving at such a rapid clip, with such elegant storytelling on display, the brief hour you will spend watching this film will not be long enough for all the right reasons. The characters feel like old friends, even if you've never watched a Pooh film before, and we get into the action – if you can call the hunt for Eeyore's tail anything resembling "action". The segmented narrative of the story, which straddles three main plot elements – Pooh's desire for honey, Eeyore's lost tail, and Christopher Robin's capture by the Backsun – could have worked against the cohesive whole of the movie, but the filmmakers are clever enough to intertwine the three arcs so naturally, so well, it feels almost natural and organic. The point of the film is about friendship, which is a key element in Milne's original works, and the group of friends working together to achieve a desired outcome is a great moral center to pivot the film on.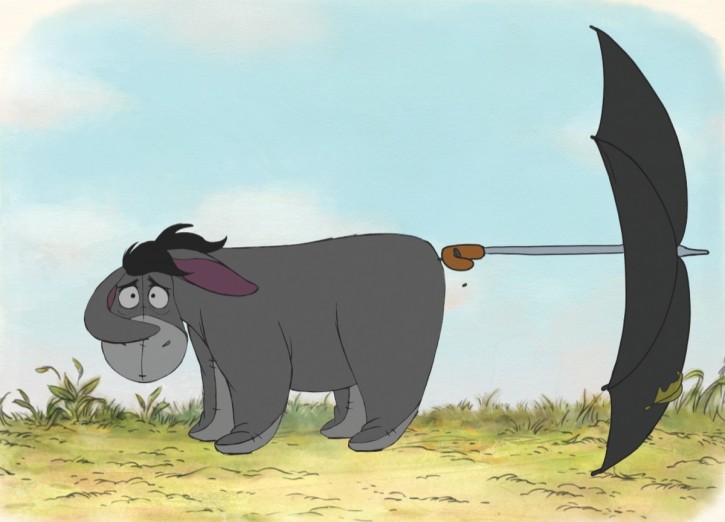 The last key element of the film I want to touch on is, as I alluded to, the animation. This film looks aaawwweeeesome. I cannot stress just how nice it is to watch a film made with such craftsmanship and love, with such artistry and quality; this is truly a beautifully animated movie. It's as traditionally animated as you can get in this modern CGI age, but most heart-warmingly, it truly captures the golden age of Disney animation and brings it into the new millennium. Every frame of this film is like a painting, a painting brought to life by true artists, and I fell in over with the medium all over again. Thank you, John Lasseter.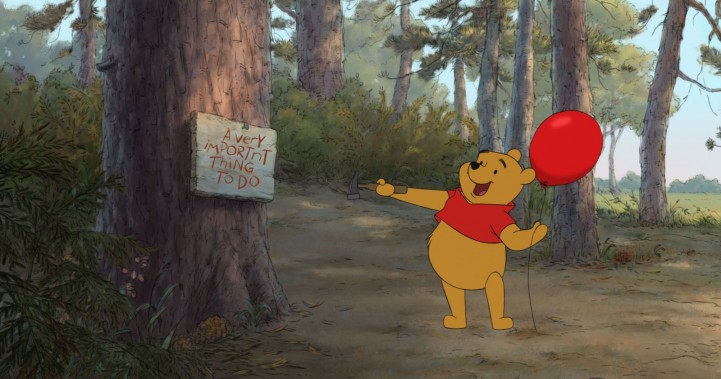 Winnie The Pooh is a terrific film. It's harmless, it's delightful, it's fun: all the positive energy in the world seems to have been distilled into animated form, and Winnie The Pooh is the result. Of all Disney's recent output in animation, at least since The Emperor's New Groove, this is the most fun I've had watching one of their films in such a long time. For a long-time Pooh avoider like me, that's a refreshing thing to say.


What others are saying about Winnie The Pooh:
Who wrote this?