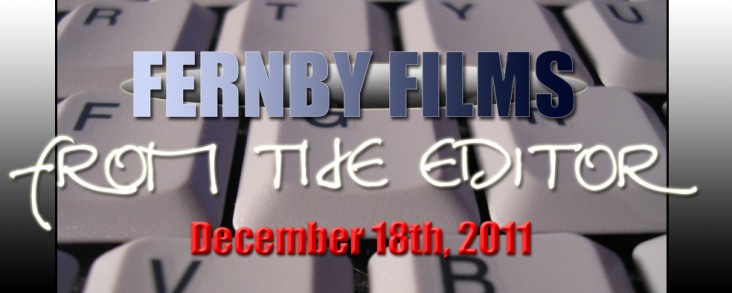 Morning folks! Well, we've almost made it to the end of another year, with Christmas just under a week away. Now is the time for celebrating the holiday season, spending time with family and relaxing after spending the last 12 months or so slogging away at whatever job it is you do – me, I'm off to my parents' farm for a bit of R&R over the break, so with that in mind I thought now might be a good opportunity to get a few housekeeping items out of the way.
First, I'd like to extend a massive "thank-you" to all those folks who contributed and commented on fernbyfilms.com over the last 12 months. Special mention to Al over at the dry-zone that is The Bar None, and Dan Stephens at Top 10 Films, as well as regular back-patters Dan O, Vik, Rory, Castor, Sam, Fitz, Matt S, Scotty S, and a fellow Aussie, Tom Clift, all of whom have become regulars around here.
Second, and this almost goes without saying, I'd like to thank my good wife, the gorgeous Lisa T, and my daughter Mikayla, for allowing me to watch films and write about them here for you all to read – if they said no, I'd be gone, so be thankful they said yes! On another note, I'm also happy to announce that midway through 2012, Lisa and I are expecting to welcome a new member to our family, so wish us luck with that! No, not a puppy – a new baby!
Thirdly, I'm happy to report that a few months ago we re-registered fernbyfilms.com for another 3 years, meaning you're all going to have to put up with us being an online presence for a while longer! Yay! Thanks to Mick Kubler, our magnificent back-room administrator, for keeping us ticking along.
Speaking of online presence, keen eyed observers of this site would have noticed that a few months ago we passed our 1,000,000th visitor to the site – a massive thanks to all those who've read our stuff over the years, and those regulars who keep coming back for more. 1 million hits is a pretty big number for a small site like ours, and we're pretty darn impressed with all those zeros ticking over like that! By the time sunset hits the last day of 2011, we'll have posted 95 official movie reviews in the last 12 months, six Top Ten lists, and, sadly, more than a few obituaries – and we have plenty of new material already planned for next year. I can say that with a fair degree of certainty too, because as you read this we're working on reviews which will be published here around mid-May, that's how far in advance we work. I know what's coming, and it's gonna be cool! (Let's just say, the Millennium Trilogy is going to make May an awesome month, that's for sure!).
Finally, I'd like to let you know that as of tomorrow, I'm going to be taking some well-deserved time away from the site for a couple of weeks, so until just after New Year's the site's gonna be on auto-pilot. If you don't get a response from me about something, that's why. Okay?
***
Now, on to 2012. As many of you know, 2012 is apparently the year in which the world will end or some other such nonsense – at least, the Mayan calendar runs out and we're going to find ourselves watching December 21st very closely. That's the day everything will change – apparently. [Mind you, the same was said with Y2K too, when planes were gonna drop from the sky and nuclear missiles would self-launch… and look where that got us!] With that in mind, and with the endless hype this date is no doubt going to bring, we're jumping on the bandwagon (not really, just figuratively) and have something huge planned that will run throughout 2012 – I'll tell you more about that very soon. Let's just say, we hope it'll be a spark for some massive conversations about film. I must also mention the regrettable lack of a Worst Film Week this year, something we simply ran out of time to organize and achieve. Hopefully it'll be back in 2012, bigger and better worse than ever!
Before we get to the new year, however, we have to muster the courage to get through Christmas – eating has never been so much fun! This week, a couple of Christmas-themed film reviews pop up for you, beginning with Tim Burton's classic Nightmare Before Christmas, and the second Santa Clause film, both of which I think suit the holiday season ever so nicely. Tomorrow, however, comes our last regular review for the year, on the delightful animated film Gnomeo & Juliet. It's a cracker! There will be no reviews here between Christmas and NYE, and we'll be back here come January 1st with an update and the kick-off for the new year.
So, I wish you all the very best for the New Year, a very merry Christmas, and lots of fun watching plenty of films across the holiday season. Stay safe, stay strange, and we'll see you in 2012!
Rodney T – EIC, fernbyfilms.com