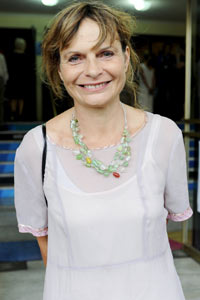 Sad news over the weekend, as we learned of the passing of wonderful Aussie director Sarah Watt. Watt directed the AFI Best Picture film, Look Both Ways, during which I had the pleasure of spending time on set while they filmed key scenes at my apartment a few years ago. Look Both Ways is a stunning, low-key Aussie film, and anybody who has yet to see it, can I urge you to do so. Watt also directed My Year Without Sex, released in 2009, a film I have yet to see, although I can only assume it was of the same high caliber as Look Both Ways.
I met Ms Watt on the set of Look Both Ways, and she struck me as quiet and thoughtful – it was during production on this film that she was diagnosed with cancer, a fact I would not discover until much later. Regardless, she held herself well in the rigors of on-set filming, and I always have fond memories of her at that time.
Ms Watt was married to fellow Aussie, actor William McInnes. She passed away on November 4, aged 53.
Who wrote this?