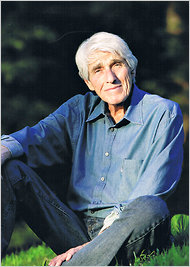 Acclaimed Hollywood screenwriter David Rayfiel has passed away.
Rayfiel primarily worked quite closely with Sydney Pollack and Robert Redford, and when not with those guys, wrote material for luminaries such as Sidney Lumet (The Morning After) and Ingmar Bergman (The Serpent's Egg). Among his more familiar works are Three Days of The Condor, Out Of Africa, Jeremiah Johnson, Havana, The Firm, The Interpreter, as well as non-Pollack films such as Sabrina and the Richard Gere/Sharon Stone thriller Intersection. Mr Rayfiel's first film contribution came with the Sidney Poitier starrer, The Slender Thread, when he was called upon to assist then-main screenwriter Stirling Silliphant. From there, director Sidney Pollack worked with him on films such as This Property Is Condemned and Castle Keep, before moving into bigger budget mainstream features.
Mr Rayfiel passed away from congestive heart failure on June 22. He was 87.
Who wrote this?