From the Editor – Our May-trix Week!!!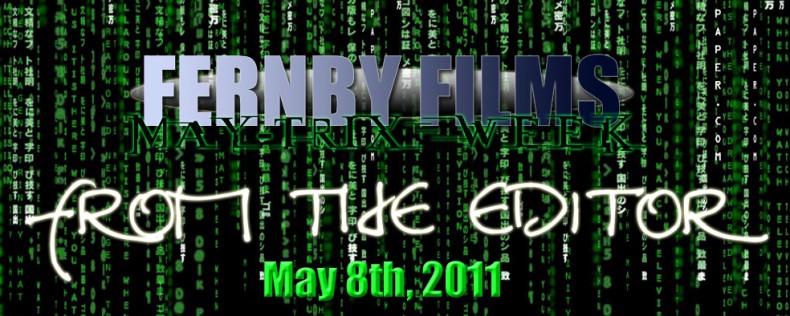 This week marks the long awaited debut of a series of reviews we promised back when fernbyfilms.com first went online as a film review site! Finally, after years of promising, and not delivering, we've scraped together enough of our thoughts about the almighty Matrix Trilogy to bring you reviews on all three feature films. Tomorrow, we bring you a look at The Matrix, while Wednesday sees the appearance of The Matrix Reloaded, and Friday will be the date on which you'll be able to check out our thoughts on The Matrix Revolutions. I've also asked some of our good friends to have their say on the Trilogy. Dan from Top 10 Films, and Al from The Bar None, as well as part-time contributor Camielle White, have all thrown their hats into the ring for this auspicious occasion!
It's our shiny new May-trix Week this week, and we hope you enjoy it. In the immortal words of Neo: "Whoa!". Yep. To kick things off, though, we thought we'd scrape up some of the best bits from the web for you – specifically the original trailer to The Matrix, which debuted back in 1999. Feel the excitement!
Who wrote this?