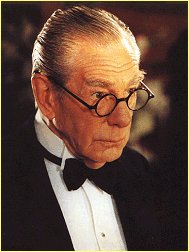 Alfred Gough, the man best remembered for his portrayal of butler Alfred Pennyworth in the 90's Batman franchise, has passed away. Gough, who played Batman's butler in Batman, Batman Returns, Batman Forever and Batman & Robin, also appeared in films for the popular Hammer studio during the 60's. Among the titles he appeared in were Dracula (1958), The Phantom Of The Opera, The Corpse, and Satan's Slave. He played the March Hare in the '55 version of Alice In Wonderland, Leo Tolstoy in an episode of The Young Indiana Jones, as well as appearing in a number of non-Batman Tim Burton films, Sleepy Hollow, Corpse Bride, and his final role in the remake of Alice In Wonderland.
Doctor Who fans will also recognize him from his appearance as the titular villain in the story The Celestial Toymaker, and he was once married to Doctor Who actress Anneke Wilkes, who played Polly, a companion to Patrick Troughton's second Doctor.
Mr Gough passed away March 11th, aged 94.
Who wrote this?