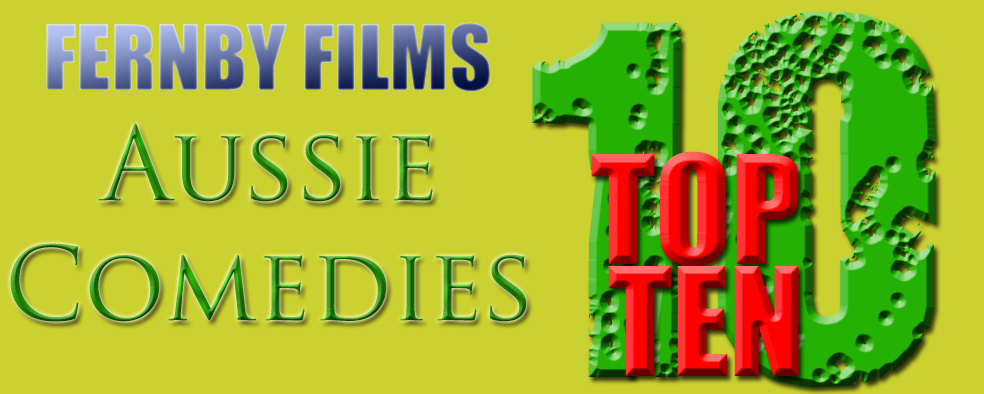 There's always been that old saying: Dying is easy, comedy is hard. Never has that truism been more reflective of the comedy offering here today. Of all the genre in film, it is perhaps comedy that is the most subjective. You either find something hilarious, or you don't. Other genre, such as action, horror, drama or science fiction, for example, are either good or bad because of their story and characters. Comedy films, in the main, depend on a viewer's sense of humour, as opposed to their attention span. For everyone who finds Monty Python's Dead Parrot sketch hilarious, there's a dozen who don't. Which is a problem for any list purporting to state which is the best of a bunch of comedy films, because no doubt everyone will disagree with me on the below list in some way. So how to approach such a divisive and potentially controversial issue? Simple. I don't. Instead of offering some trite platitudes about what I find funny, and what turns me off, I'm just going to offer my own choices on the films I find to be the funniest, most impressive comedy films to come out of Australia. So, without further ado, my choices for the top Aussie comedy films….

Less a comedy and more a comedic heist film, Gettin' Square draws most of its laughs from the singularly hysterical performance from Faramir himself, David Wenham. Wenham plays Joe "Spit" Spitiri, a heroin addicted druggie with the memory and intelligence of a goldfish. The film revolves around a heist (don't they all?) which goes wrong (or does it?), as well as plenty of double-crosses and last minute twists. Gettin' Square is a ripper yarn, and the entire cast (including Sam Worthington, Gary Sweet and Timothy Spall) do a superb job, but it's Wenham who steals it. A scene, midway through the film, has Wenham in court running rings around the lawyers and judges present, not through any intelligent dialogue but the lack of any. It's hilarious, and for this reason alone, puts Gettin' Square in at number ten on the list.[Side note: the Region 4 DVD presentation of this film is absolutely atrocious, the picture quality being horribly pixelated. If you get a chance to see this on HD TV, that's probably your best bet.]

Warm-hearted comedy about a trio of friends who discover an enormous nugget of gold. Eric Bana leads a cast of comedians including Stephen Curry, Dave O'Neil and Peter Moon, in this wonderfully funny film: it's a film about friendship and how the lure of fortune can threaten even the strongest bonds. While not overly popular here in Australia, it has since found a following on DVD. The Nugget isn't a laugh out loud comedy, which is a bit strange considering the comedic talent on display here (and many international viewers will be unaware that leading actor Bana was actually quite a popular skit-comedy troupe actor on TV for years prior to hitting the big time) but it does make for often hilarious viewing through it's situational and dialogue driven comedy. Aussie acting luminaries, like Max Cullen, Alan Brough and Jean Kittson are scattered throughout this film, a solid foundation for a charming, unassuming comedy that is quite a revelation upon first viewing.

Iconic, almost legendary cross-dressing film starring some of the most stunning Aussie locations, and a cavalcade of costumes designed by the Oscar winning team of Lizzy Gardiner and Tim Chappel, Priscilla remains one of Australia's most enduring legacies on film. As far from Mad Max and Wolf Creek as is humanly possible, this story of a trio of drag queens trekking through the Australian outback was a major hit with both local and international audiences. The wry turn of humour from Guy Pierce, an effective and nuanced performance from Terrence Stamp (a long way from General Zod, to be sure) and Hugo Weaving's heartbreaking portrayal of Tick Belrose make Priscilla one of those rare film which rises above cultural boundaries and penetrates the mainstream when it really shouldn't. The film also features a stunningly toe-tapping soundtrack, featuring the likes of ABBA, Ce Ce Pensiton and Charlene's I've Never Been to Me, which had audiences gobbling up the soundtrack here Down Under. A great story, some wonderfully memorable characters, and a true Aussie spirit give this film it's status on this list.

Gut-busting re-dubbing comedy of … ahem, Herculean proportions, this lesser known film is the only movie I've ever laughed so hard at that a little bit of wee came out. Film buff Brad quits his job working in one of Australia's largest cinema chains, and sets up his own business in a disused movie theatre, in order to show classic films to discerning audiences. However, on opening night, the print of the film that he chooses to show first (which is incidentally the last film the cinema played before it closed, Sampson and His Mighty Challenge) arrives in un-subtitled Italian. It's a potential disaster, until he hits upon a brilliant idea. He and two of his friends will dub the film live as it plays, with (hopefully) the audience none the wiser. Hercules Returns features wonderfully comedic performances from its three leads, David Argue, Bruce Spence and Mary Coustas, as well as some of the most side-splitting visual overdubbing humour ever captured on film. A far cry from Steve Martin's sporadically funny Dead Men Don't Wear Plaid, and a little more accomplished that Woody Allen's What's Up Tiger Lily?, Hercules Returns is even funnier after a few drinks with some friends. It's a farce, and anybody expecting a more highbrow hilarity may be left wanting, but as far as hearty chuckles go, you'd be hard pressed to go past this one.

Starring adopted Aussie Billy Connelly, The Man Who Sued God tells the story of Steve Meyers (Connelly), who decides upon a sea-change when he becomes disillusioned by his career, only to find his newly acquired fishing boat is struck by lightning and destroyed. Bereft of funds, and railing against the Almighty, Steve decides to sue the Church for damages, since his insurance doesn't cover "Act's of God", and the Church is seen as God's earthly representatives. Which, in a hilarious turn of events, leaves the Church to either accept that God committed this act, and therefore have to pay up on Steve's claim, or deny the "act of God" and therefore deny God's existence. It's a clever concept, and the film is just clever enough not to get too nasty about the whole thing, allowing the skill of the comedic performances to come to the fore.The Man Who Sued God is a prime example of an angry "little guy" doing his bit to improve society. And it's funny as hell, too.

Simple, well made comedy about a Lawn Bowls club (look it up if you don't know what Lawn Bowls is) facing financial ruin, competing against rising costs and a lack of success on the rink. Eternal slacker Mick Molloy is the reluctant hero of the piece, his knockabout charm and larrakin spirit giving this film the edge needed to pull of what is, essentially, a true "underdog" story. As with other cult Aussie comedies, this film has plenty of now-iconic quotable lines, underpinned with the cheeky humour Mick Molloy has cultivated from years of TV skit comedy. While lawn bowls doesn't inspire thoughts of a raucous, action-packed comedy, Molloy and fellow comedians John Clarke and Judith Lucy, as well as serious thespians Samuel Johnson and Bill Hunter do a fantastic job of giving this film the heart it has. Elegantly made, with plenty of "moments" to make you laugh, Crackerjack is… well, a cracker.

Blockbuster comedy success, which put Paul Hogan on the international map, as well as making Australia one of the hottest tourist destinations of the 80's, Crocodile Dundee is one of those films that comes out of nowhere and blows everybody away. Newspaper reporter Sue Charlton (Linda Kozlowski) journeys to the Northern Territory to interview a man who supposedly escaped being killed by an enormous crocodile, local legend Mick Dundee (Hogan). Dundee's leg is supposed to have been bitten off in the attack, so Sue is surprised when she arrives and finds Mick still intact. A charming fish-out-of-water film, in which highly strung Kozlowski must face the harsh Aussie outback, is reversed midway through when Mick travels to the USA to face the harsh Manhattan crowd, making for some amusing and now-iconic moments, including one of truly legendary one: "that's not a knife….. THAT'S a knife!". While the simple premise does tend to become a little heavy handed whilst in New York, while the film remains in Australia it's an absolute bottler. Hogan cemented his status as Australia's iconic brand, the tough as leather knockabout with a heart of gold, a glint in his eye and a work ethic to suit.

The team behind the classic Aussie film The Castle return to cinema with this historical-comedy, based around man's landing on the moon. Told from the Australian perspective, whereby NASA utilised a communications dish based in Parkes, New South Wales, to communicate with Neil, Buzz and that other guy when they landed on the moon, The Dish is another character driven piece that works so well because of it's screen ensemble. Sam Niell leads the cast, accompanied with relish by US import Patrick Warburton, locals Kevin Harrington, Roy Billing and Billie Brown, in a film more about the journey than the end result. There's a rose-coloured tint to proceedings, figuratively speaking, as the locals of Parkes scurry about to succeed at bringing one of history's greatest human achievements to people around the world. Based on actual events, The Dish remains a charming, snapshot of history tinged with the euphoria of one of the events the world stops for.

A box office black hole here in Australia, which has since become a DVD legend, Kenny is one of those films that foreign audiences don't quite know how to take. Kenny, the manager of a local portable toilet business, is a single, slightly overweight but good natured guy, with a troubled family dynamic and a mind for poop. Kenny's forgotten more about portable toilets than you'll ever know, and it's his encounters with normal folk in the course of his daily duties which make this film such a gem. Told in pseudo-documentary style, Kenny even ventures to a portable toilet convention in the USA (seriously!), as well as numerous major social events here in Australia. Without a structured narrative to speak of, Kenny is more a series of vignettes, all linked by lead actor Shane Jacobsen's spot-on performance. Jacobsen has the unfortunate problem of being known only as Kenny ever since, and even roles in other films (such as the charming Charlie & Boots with Paul Hogan) have been word-of-mouth promoted as starring "the guy from Kenny"; Jacobsen brings a genuine charm and effortless likeability to the role. Kenny is one shit-house film you most definitely should see.

Definitive Aussie comedy, the one film more quoted across this wide brown land than any other, and a de facto prerequisite for immigrants to understand prior to entry. Okay, maybe not, but it should be. Essentially a sarcasm-free Aussie "Simpsons" variant, The Castle tells the story of one family's struggle to keep their home from being compulsorily acquired by the Government to make way for a local airport extension. Almost every line has in one form or another seeped into Aussie culture ever since, including "straight to the pool room,", "tell him he's dreamin'" and "how's the serenity". While many Australians have swung over to find this a boorish, clichéd and somewhat red-necked portrayal of our culture, the sweet-natured narrative never once slips into churlish belligerence or negative stereotypes. It's a film filled to the brim with Aussie-isms, which many foreign audiences may be left scratching their heads over, but for anybody willing to appreciate Aussie culture, this is the one to watch. [For international audiences, beware of modified versions on DVD, since Australian contextual humour is often so hard to follow many US studios have this film re-dubbed in certain points to make it "scan" better with the foreign market. Which means the key part of the humour is lost. If you can, get a hold of the original version (available now on remastered DVD in Region 4) for the best viewing of this classic Aussie comedy.]