From The Editor – 26.12.10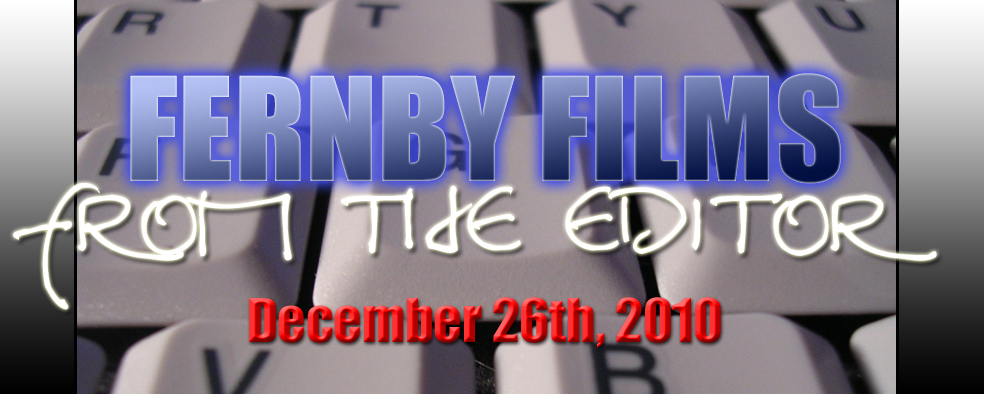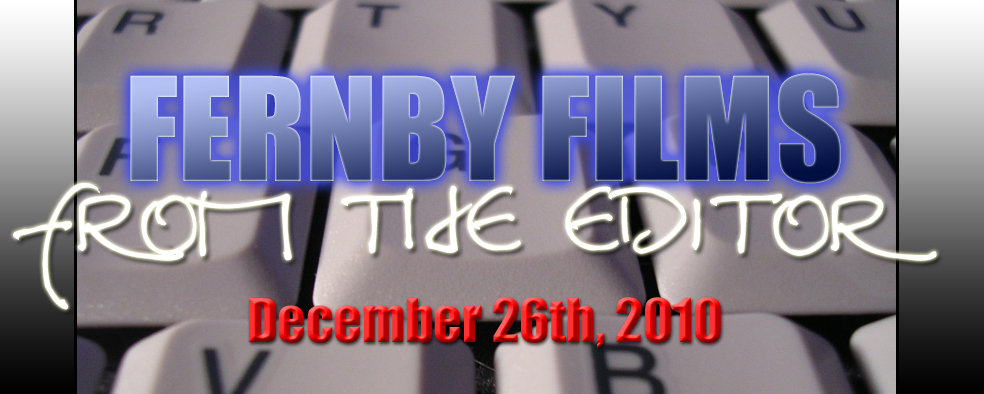 Well, we hope you all have a great Christmas Day, and are enjoying a little R&R in the holidays. We also hope you've enjoyed some of our Christmas themed reviews last week – we've been sitting on them since last Christmas and it's great to finally get them out of the way.
This week, we're on holidays, so there won't be any new posts until New Years Day, and no new reviews until after the 3rd. We've got some great reviews lined up for Q1 of 2011, so make sure you check back every so often to find out what's new around the site!
As I mentioned back in November (regular readers will know what I'm talking about), we're currently in the process of doing some minor modifications around the site at the moment, and you might notice this occurring over the next week or so. It's part of our effort to refocus the site to its original priority: film reviews. In our effort to try and bring in more readers, we've attempted to include news on upcoming films, such as The Hobbit, Superman and Transformers 3: Dark Of The Moon, film trailers and other newsworthy events – a policy that we've felt detracts from our main goal of providing you with quality, well intentioned film reviews. So we're ceasing that side of our site, returning to simply bringing you our thoughts on films we watch. We're also going to undergo a little change in review policy, as well. We're going to introduce the Mini-Review, a quick-fly guide to some of the films we watch where a full-blown review may not be warranted. Look for these to start in the months to come. They'll contain a capsule review (as well as the technical info we already give you) of the film, with plenty of room for a more explanatory article down the track if desired.
Fernbyfilms.com currently averages about 400-500 views per day, all completely advertisement free (aside from internal promotion, of course). We intend to keep this policy of no advertising on our site, and we hope to keep the regular readers coming back to read our stuff, not just to look at the pretty pictures. For those of you who are keen on our stuff, you can now find us on Facebook, at this link here, which will update your own profile each time we post something. It's an easy way of following us via the social network…. Go on, click "like" right now!
A few thank-you's to get through here too, if I may. Firstly, to my wife Lisa, who has put up with regular bouts of Computer Wife Syndrome, whereby I seem to spend more time watching films and writing reviews than doing anything else. It's great to have a wife so understanding. To Mick, my trusty admin guy, who has taught me so much this year, I thank you for the ready supply of emergency assistance for my blundering programming! I'd also like the thank the various folks who've contributed and supplied their feedback over the last year – in particular Dan, Al, Castor, Tieman and Rory, as well as the many single-digit commenters who've graced our pages – without you guys this site would be the lesser for it.
So enjoy the rest of your holidays, many thanks for reading our stuff over the last 12 months, and we'll see you in 2011!
Who wrote this?