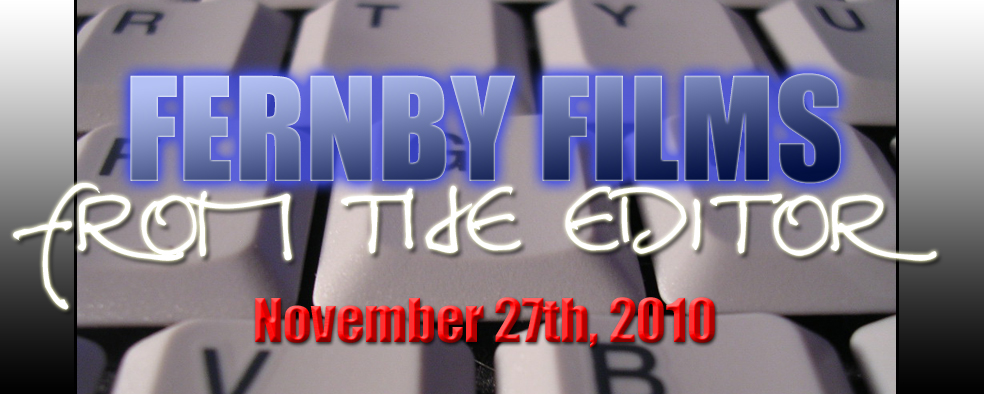 A little bit of housekeeping today folks, as we get set for our run through to Christmas. As regular readers will be aware, we've recently moved headquarters, which has been a little hectic to say the least. We've taken the time to stop and reflect on things about the offices, and across the site.
You'll all be happy to know that I've re-registered the Fernby Films domain through until October 2012, so you can rest assured knowing we're gonna be around for the foreseeable future – although after that comes the end of the world, according to Roland Emmerich, so stay tuned for further post-apocalypse plans in the years to come! We jest, really. Since we're predominantly a film review site, we're going to start scaling back the more non-review posts we present on a weekly basis – particularly the trailers and breaking news. We'll still pay tribute to those who pass on, but our future-looking posts are going to be fewer and further between. We don't want to become a site based on news, but continue to focus on reviews, which is where we started this whole thing.
Speaking of our reviews, you may have noticed that we post reviews bi-weekly these days, since writing and prepping each review takes a substantial amount of time. We've been tweaking our review structure over the last few weeks, including a modification on our "star rating" logo at the bottom of each review – we did this since noticing Dan over at Top Ten Films added a snazzy little star system to his reviews, and we thought imitation would be the best form of flattery. To complement this, we removed the rather redundant /10 rating in the summary section of our newest reviews, since we want you to read our review to get to our rating, rather than reading why we gave a film a certain rating anyway. More modifications are planned for our reviews, to streamline them going forward.
But the most important news, as far as the site is concerned, will take place in the new year. As of January 2011, we'll be going over the site in a major revamp. You'll notice a lot less clutter about the site as we remove a lot of pages, links and stuff currently visible that nobody reads. This will represent a major streamlining and refocusing of fernbyfilms.com towards its key target – film reviews. In the last 12 months or so, we've drifted into the realm of gossip and upcoming news site, which isn't where we really wanted to be. A lot less clutter around the place, that's our aim!
Over the course of the last two months, we've been breaking all kinds of viewing records, averaging around 450 views per day here at the site. While not competing with many of the bigger sites, many of whom have budgets and advertising, we're pretty much a one-man-band here at fernbyfilms.com, so the numbers we've been recording since August, upwards of 400+ per day, have been astounding. To all our regular readers, I thank you for keeping fernbyfilms.com on your internet radar!
So keep an eye out for a fresh new look and feel come January.
Rodney T – Editor In Chief, fernbyfilms.com
Who wrote this?