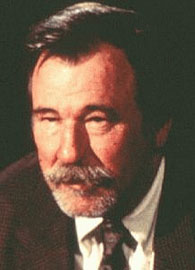 Just a quick update to the news of another talented actor who has left us this week, and I speak of American character actor James Gammon. His name might not immediately be recognisable, but his face sure is.  Gammon is best known for his work in the Western genre, in films as diverse as Silverado, Wyatt Earp, Cold Mountain and most recently in Appaloosa. He has also appeared in numerous other films, including Major League, Any Which Way You Can, Natural Born Killers, Point Break, The Iron Giant, The Cell and In The Electric Mist.
Gammon also appeared in numerous television series across his career, including Gunsmoke, Bonanza, The Waltons, Charlie's Angels, Murder She Wrote, The Equalizer, The Young Indiana Jones Chronicles and most recently, Grey's Anatomy.
Considering the quality of projects he was involved in, you'd think his name might be more recognised!
Gammon passed away this week from a variety of cancers. He was 70.
Who wrote this?