The 82nd Oscars – Rodney's Thoughts….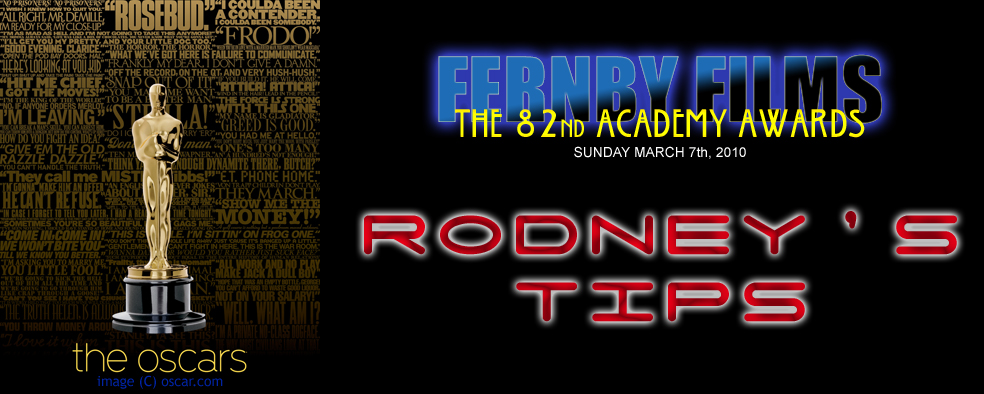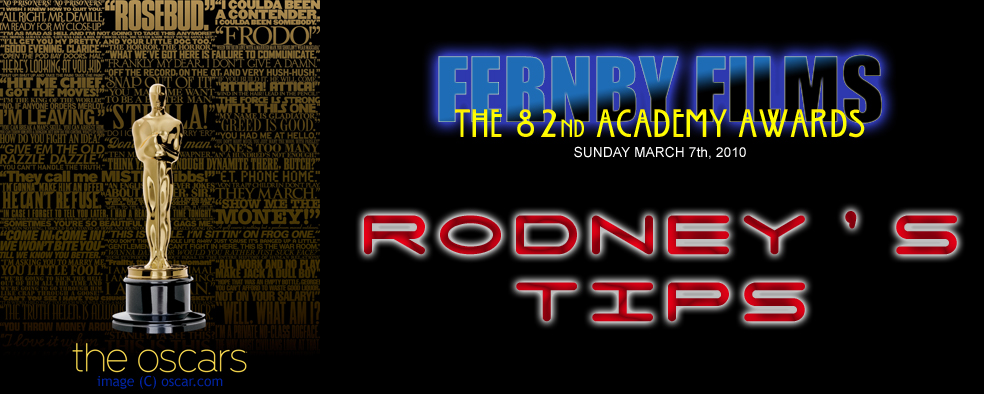 Okay, so it's about time I jotted my own thoughts down as to who I think will win come Sunday evening (actually, Monday afternoon on 8th, Australian time!). The Oscars are THE big event in film these days, and every man and his dog seems ready and willing to throw down his thoughts as to who should take home the golden statuette. Why should I be any different. So, without further ado, here's my thoughts on who should win what. Please note I'm only choosing a few selected awards to pick, because I haven't seen every film in every category, so an accurate sampling is a little out of the questions right now.
First, Best Picture. Assuming the Academy votes for Up! as the best Animated film this year, it won't win Best Picture. It shouldn't, because while it was a superb picture, the popular opinion is split between Avatar and The Hurt Locker. Not split evenly, it must be said, but still split nonetheless. If I had to pick a winner, I'd say the populist feeling is for Hurt Locker, a fact even Mr Cameron himself has come out and stated recently. So, for the sake of Avatar not winning the Oscar, which I hope it doesn't, because the film is too flawed to be truly great, my tip is for The Hurt Locker.
My next tip is for Best Supporting Actor, which I have personally chosen as being Christoph Waltz, who played the odious (and charming) Colonel Landa in Tarantino's Inglourious Basterds. Anybody who's seen Inglourious Basterds will probably agree with me that he was the best thing about the film. The film was awesome, and he was awesome in it. I'd like to also choose a dark horse for this award in Stanley Tucci, who I think is a criminally underrated actor of substantial talent who does not appear to be ever receive recognition for his performances. His work in Peter Jackson's The Lovely Bones is apparently magnificent (I haven't seen it yet) and if anybody deserves a "career" Oscar this time out, it's him. So if Mr Waltz doesn't win, Tucci should.
I'm also going to pick Inglourious Basterds for Best Original Screenplay, because I think this film is among Tarantino's finest work ever. Pulp Fiction aside, Basterds is more refined and vastly more accessible to the general viewer, and while many think Tarantino is a sanctimonious buffoon with the intellect of a bot-fly, I consider him to be one of the finest writer/directors working today. For his screenplay, and ability to convey menace in simple words, I'll choose Basterds for this award.
Best Animated Feature will be Up!. Case closed. Coraline and Fantastic Mr Fox will be on the list as dark horse possibilities, but the boys from Pixar can expect to have to brace up their awards shelving this season.
On the technical side, my choices for the Best Sound categories, Editing and Mixing, will fall to a couple of my favourite films from the last 12 months, Star Trek and Transformers 2: Revenge Of The Fallen, respectively. Both the sound work on these films is jaw dropping and awe inspiring.
I know Avatar will win for Best Visual Effects, but I'd really like District 9 to pull this one out, because I think what Neil Blomkamp achieved with this film is stunning. As an outside choice, I'm also going for Bruno Delbonnel for Best Cinematography for his work on the most recent Harry Potter film, The Half Blood Prince. That film looked stunning.
I'd love Nick Park to win a Best Animated Short award for the fourth Wallace & Gromit piece, A Matter Of Loaf And Death, but I don't think he will. The film lacked the nuanced subtlety of his past works, and I think the Academy will overlook him this time.
And as far as Best Director goes: well, you could throw a blanket over them all and choose one at random. My heart goes out to Hurt Locker director Katherine Bigelow, for while her film may win the Best Picture gong, I can see her ex-husband getting the Best Director nod. Cameron's work on Avatar, while derivative in moments, is sill visually stunning, and his 5 year odyssey with the film will go recognised this time. The last time this happened was when Spielberg got the director nod for Private Ryan, while the film itself lost to Shakespeare in Love for Best Picture. And most people remember Spielberg's film more than the other. I still haven't forgiven the Academy for that.
In any case, there's a few of my tips for this weekends Oscars. Regardless of the hosting job done by Messers Martin and Baldwin, the shocks and frocks are going to thrill us all right to the very end. I'll be back later in the week with my opinion on how I thought the ceremony went, so keep an eye out for that.
Also, for those of you at work on Monday (Australian time) who don't have access to any other news service, I'll be uploading the winners blow-by-blow as the ceremony unfolds live on Channel 9 (from about midday, I think), so you can check in here for up to the second progress on who has won what! It's a special updating post all afternoon on Monday!
Who wrote this?