Movie Review – Ice Age 3: Dawn Of The Dinosaurs
Wonderfuly entertaining, Ice Age 3 has recaptured the magic that the first film contained and the second seemed to be missing. Dawn of The Dinosaurs is great entertainment, with plenty of good stuff inside to keep both kids and adults laughing.

– Summary –
Director : Carlos Saldahna & Michael Thurmeier
Cast : Ray Romano, Queen Latifah, Dennis Leary, John Leguizamo, Simon Pegg, Sean William Scott, Josh Peck, Chris Wedge, Karen Disher, Bill Hader, Joey King, Jane Lynch, Kristen Wiig, Carlos Saldahna.
Year Of Release : 2009
Length : 90 Minutes
Synopsis: Sid the sloth inadvertently becomes attached to a trio of dinosaur kids, and is "kidnapped" by their mother and taken to a vast underground world where dinosaurs still rule. Manny, Ellie, Diego and the rest must chase them to return Sid to his rightful place in the herd.
Review : Wonderfully entertaining, Ice Age 3 has recaptured the magic that the first film contained and the second seemed to be missing. Dawn of The Dinosaurs is great entertainment, with plenty of good stuff inside to keep both kids and adults laughing.
*******************
Terrifically entertaining, Ice Age 3 reinvigorates the franchise after the somewhat under-par first sequel, The Meltdown, came and went in a blaze of mediocrity. Directed by series stalwarts Carlos Saldahna and Mike Thurmeier, Ice Age 3 thunders into your lounge-room on digital format disc with the freshness of a wintry blizzard.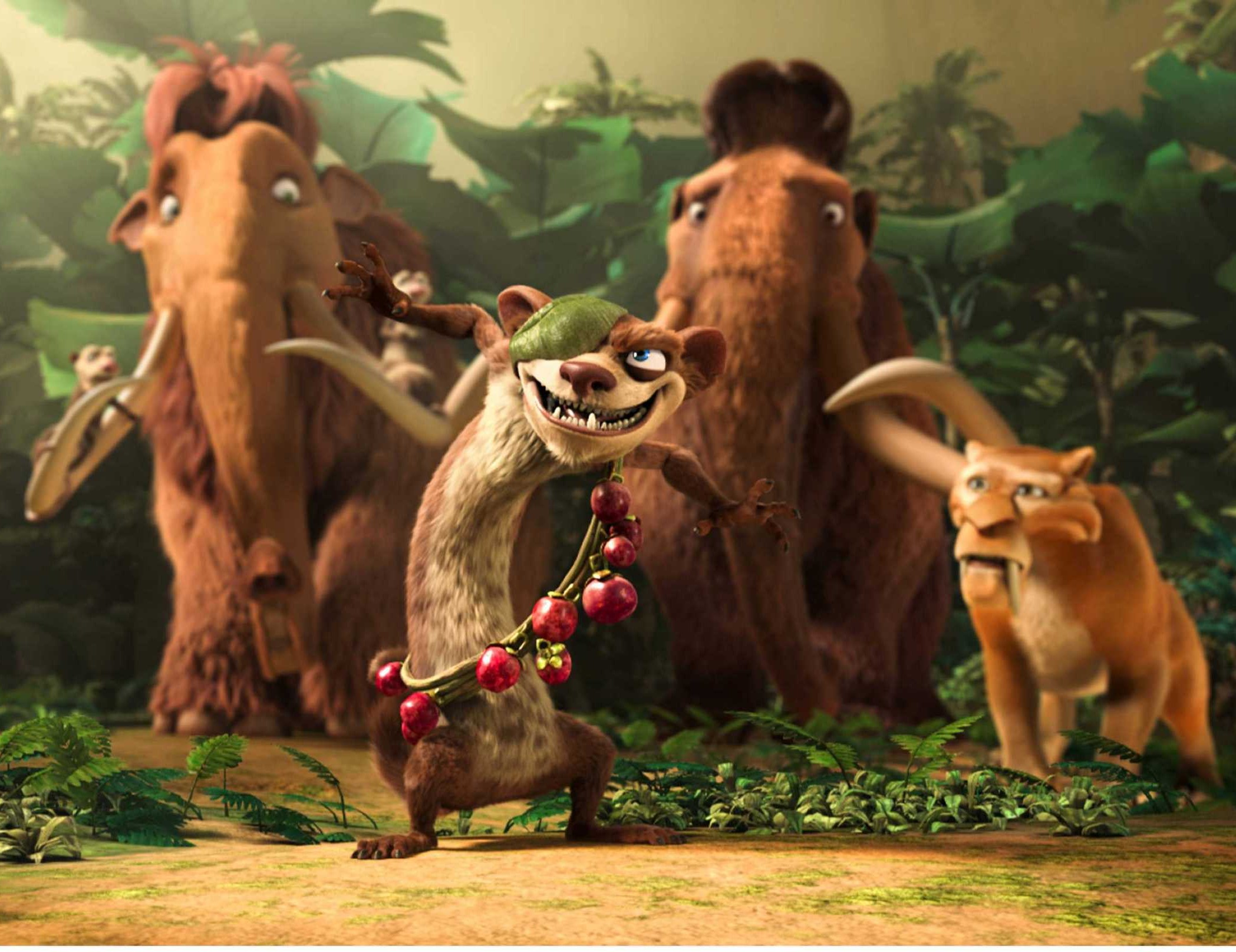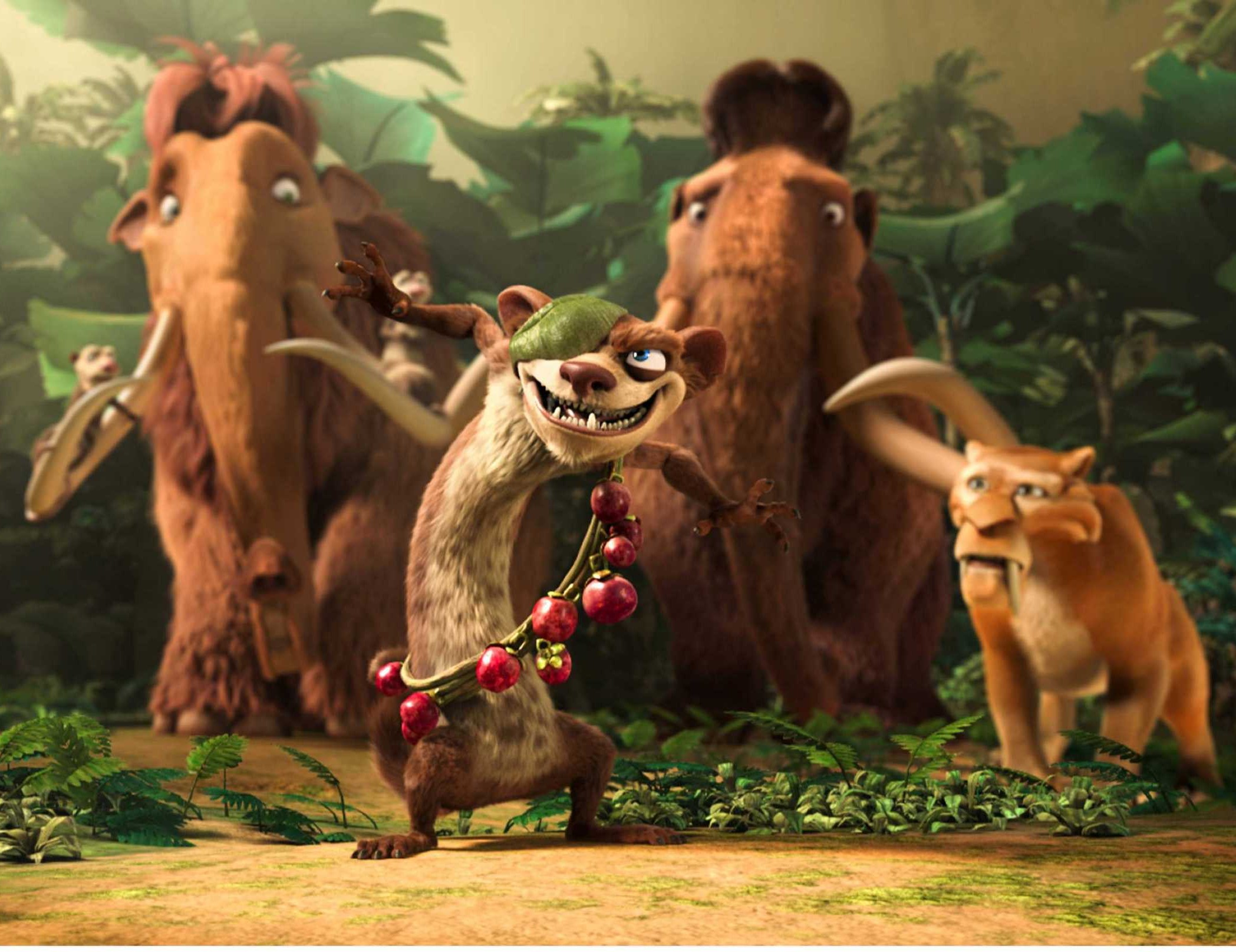 Dawn Of The Dinosaurs is set sometime after The Meltdown, with Manny the mammoth (Ray Romano), and his girlfriend Ellie (Queen Latifah) expecting their first child. The family way gets to sloth Sid (John Leguizamo), who thinks he'd make an excellent father himself, and sabre-tooth tiger  Diego (Dennis Leary), who finds himself losing his "edge" as a hunter. So when Sid discovers three dinosaur eggs, and takes them from their covered resting place, he inadvertently sets in motion the adventure of Ice Age 3. Momma dino comes to find her babies, which brings forth the protective instincts of a misguided Sid.
Momma dinosaur collects her three kids, as well as a very clingy Sid, and trots off to their home, a vast underground world in which dinosaurs are still very much alive. Naturally, Diego, Manny, Ellie, and the rest of their rag-tag band follow to bring Sid home, and along the way encounter numerous misadventures and Indiana Jones-styles action set-pieces.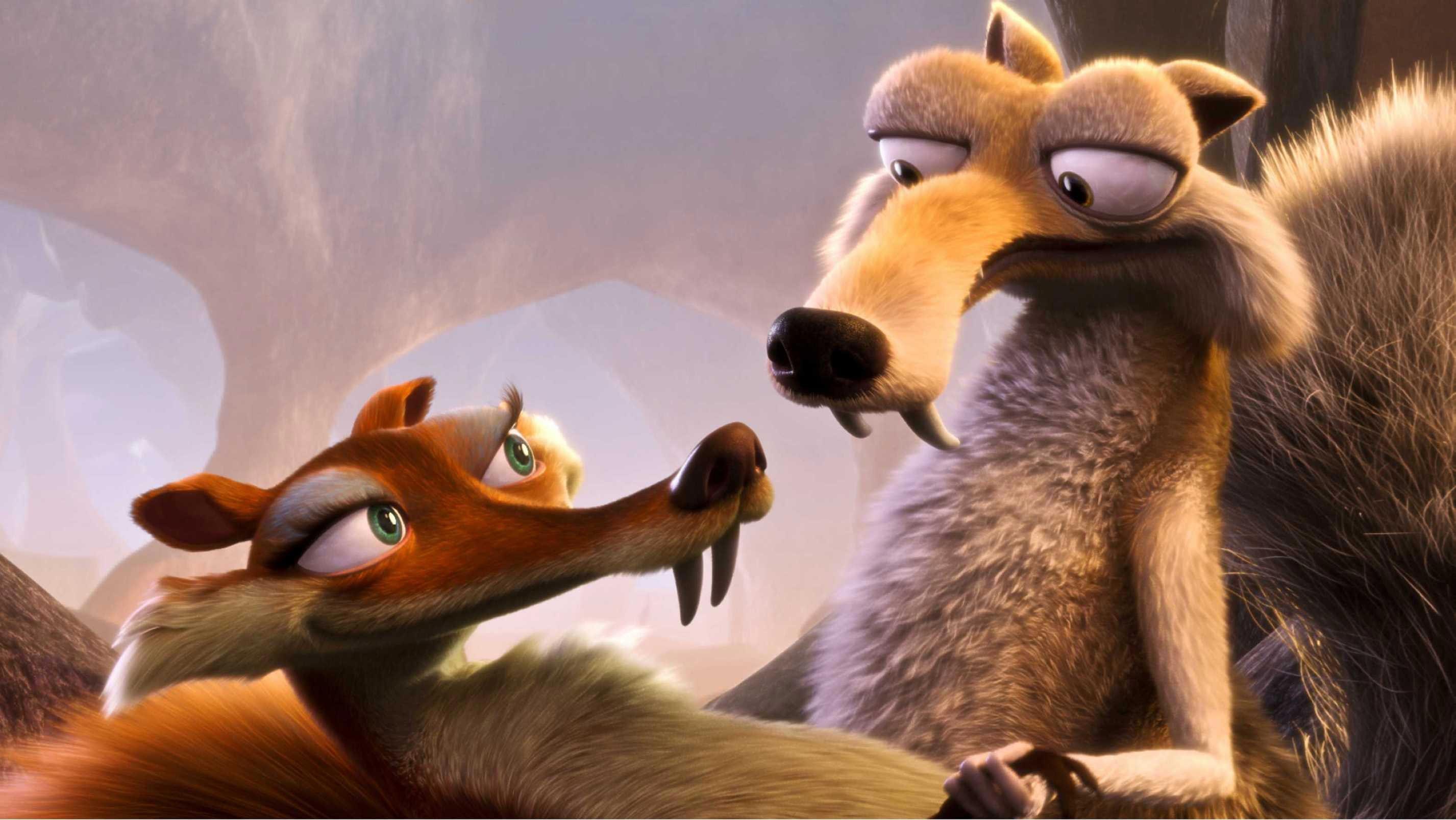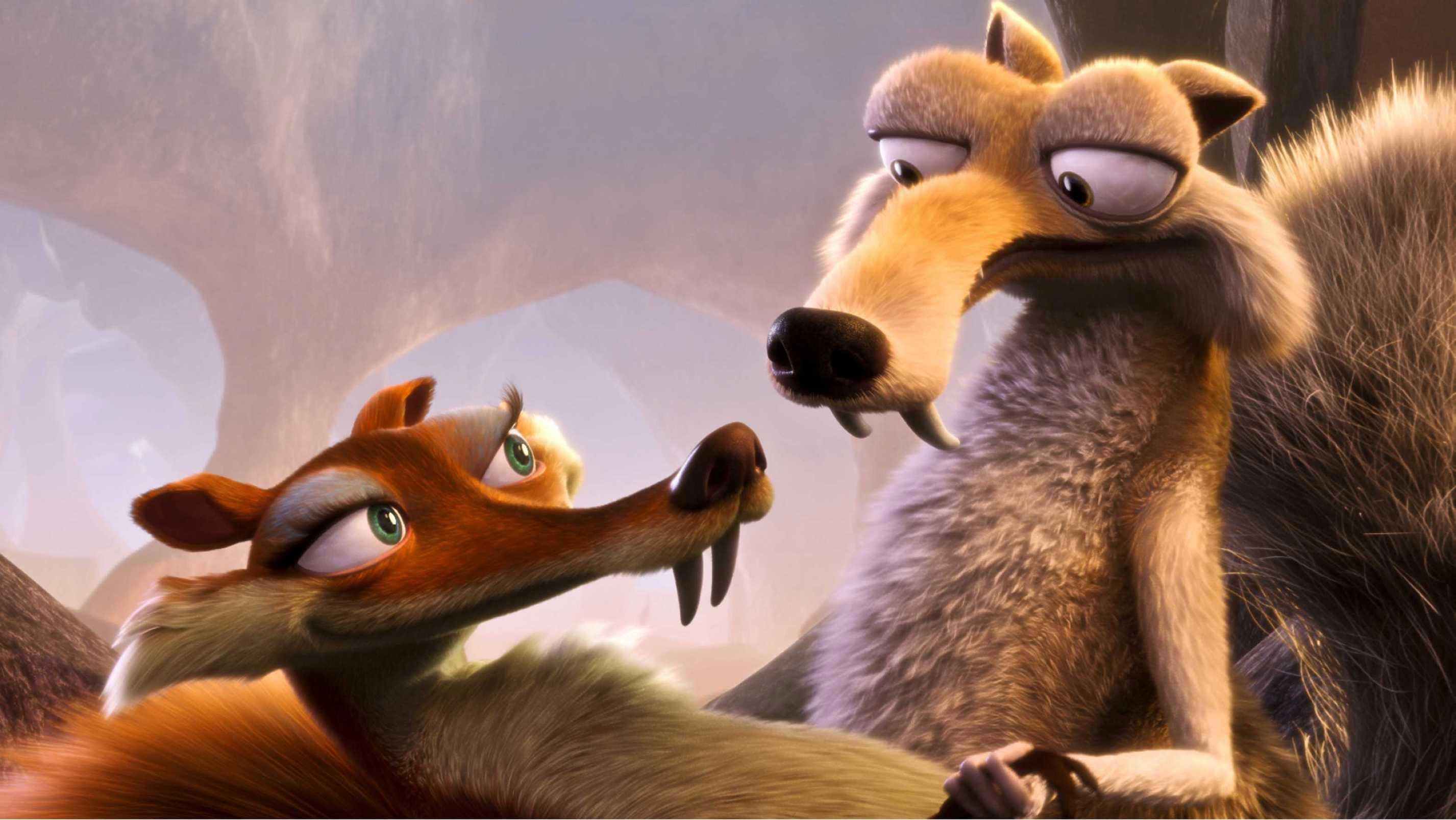 Ice Age 3 is, at its heart, a film about family, and for the style and class with which the film-makers have pulled it off without coming across as overly preachy, they deserve full marks. The film is witty (without resorting to the now common insertion of pop-culture references to generate humour) and emotional, as each character undergoes an arc that generates empathy with the viewer. The lions share of growth happens with Sid, a previously underrated (and underwhelming) character who finally gets to sink his teeth into a decent storyline. And Leguizamo, as the vocal performance, gets it smack on target.
Manny and Ellie, who were the predominant story of Meltdown, take more of a back seat here as they await the birth of their child, a plot device that allows them to get into all manner of danger with enough of an element of suspense to keep the storyline ticking along quite nicely. Diego, whom I always felt was the most ancillary character of the bunch, is again relegated to a fairly simplistic storyline, in which he encounters the onset of age with all the grace of a castrated lion. Still, all the requisite humour is mined in chunks as the characters are again put through the wringer to save their friend. Newcomer to the franchise, Buck (voiced by Simon Pegg), is a hilarious addition that is disappointingly written out of the series at the conclusion of the film: it's unlikely we'll see him again in further instalments, which is annoying, because he's the best comedy value of the entire movie.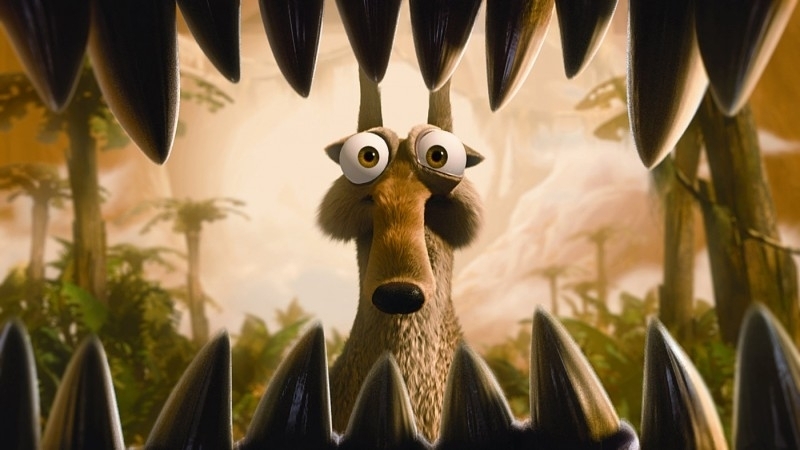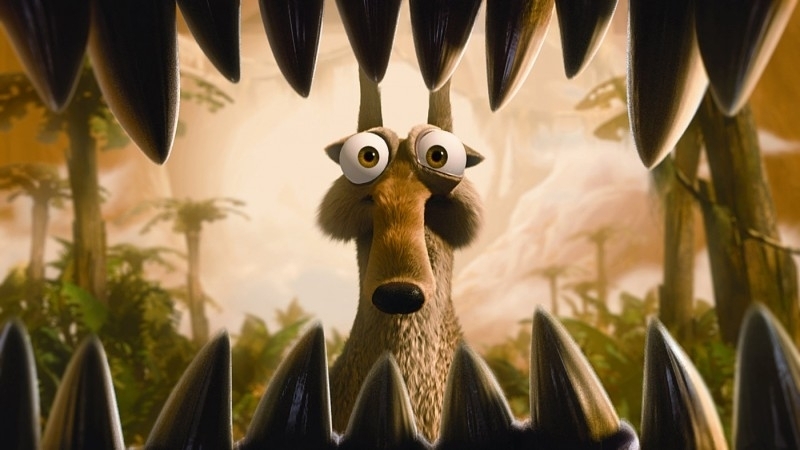 The level of animation is in keeping with the previous film entries (unlike Dreamworks Shrek series, which evolves technically with each film) and it's wonderful to watch a film lacking extraneous animated tomfoolery: sometimes, too much detail can be distracting if used simply to fill the screen with stuff to see… often, less is more. The contrast between the white ice of the tundra and the tropical, lush green landscape of the underground dino-world is a delight: the "set design" on this film is of the highest standard, and the animation to bring it all to life is equal to the task. Ice Age 3 is eye-candy of the best kind.
As mentioned before, the vocal work on this film is excellent, with each character again being perfectly realised by the actor on the mic. Again, I make mention of Leguizamo's work on Sid, the character whose growth through the film is the most entertaining (and most potent); Sid really comes to life this time round. The script is a true delight, although I'm not sure how much was actually scripted by comparison to the ad-libbed material. Which ever way it swings, you'll find yourself chortling along with Ice Age 3.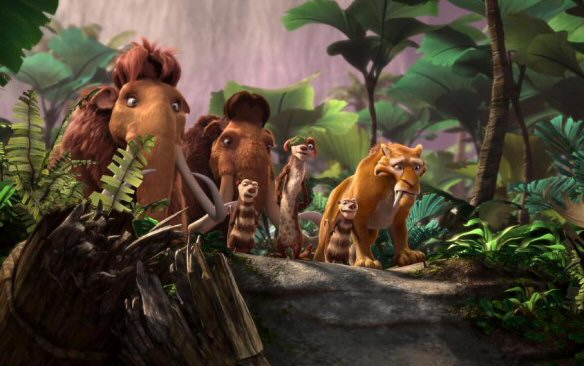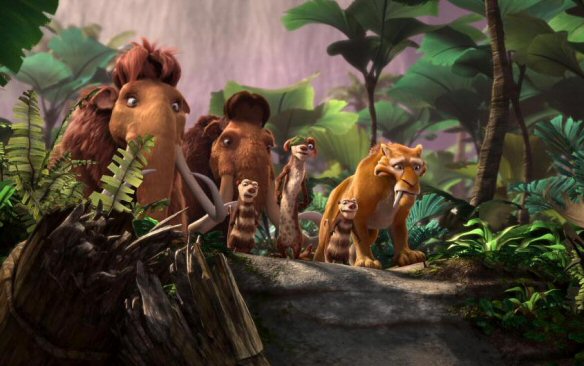 No review of an Ice Age film would be complete without a mention of one of the series' most influential, charismatic, eloquent and loved characters. Scrat, that nut-loving little creature who single-handedly made me pee my pants watching Ice Age 1, returns to wreak havoc throughout this films background story-lines. His moments, while traditionally brief, are definitely the highlight of the film. Analogous to the "family" element of Ice Age 3, Scrat finds himself a female counterpart with whom he falls desperately in love… although this feeling is soon assuaged by the fact that she's more keen on the nuts than he is. Scrat is one of those characters who can get away with a lot more cheeky behaviour than most: his personality and slap-stick comedy background allows for more flexibility with reality, and the film-makers make the most of it at every opportunity.
But at it's heart, Ice Age 3 is an entertaining, moving, exciting film event. Safe for viewing by kids and adults alike, this is perfect family film viewing, and a return to form for the franchise as a whole. It's a great irony that a film set in such a cold world can bring so much warmth to those who view it.

Related articles
Who wrote this?