– Summary –
Director : Dean Murphy
Cast : Paul Hogan, Shane Jacobson, Morgan Griffen, Roy Billing.
Year of Release : 2009
Length : 120 Minutes
Synopsis: A father and son drive from Victoria to the northern tip of Australia to reconcile, after a family tragedy. On the way, they embark on a series of adventures, and meet a load of colourful characters.
Review : A film one can only describe as "charming", Charlie & Boots will warm the cockles of even the hardest of hearts. Wonderfully nuanced performances from both Hogan and Jacobson, as well as a great script from director Dean Murphy, make this film an utter delight to review and recommend.
********************
Languid, reserved, yet wonderfully told, Charlie & Boots is a superbly made Australian film, starring resident cinematic legend Paul Hogan, and Kenny superstar Shane Jacobson. There are not enough films like this in the world, truth be known. Filled with delightful Aussie whimsy, Charlie & Boots takes us on a journey from the coolers climate of southern Victoria, to the tropical north of Cape York, to the most northerly point on the Australian continent. After the death of his mother on his parents anniversary, Boots (Jacobson) takes his sullen and withdrawn father on a journey to Cape York to do a spot of fishing, after his father made a promise to do just that when Boots was younger. Himself carrying the burden of a marriage break-up, Boots' relationship with his father is testy and combative at best. Charlie (Hogan) doesn't want to go, since he'd rather sit in armchair moping at his recent bereavement. This provokes a series of one-upmanship events at the beginning of the trip, where Boots and Charlie cross the country in an old blue Kingswood.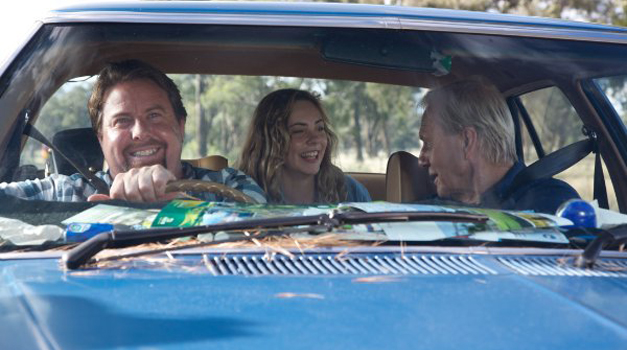 Along the way, Charlie and Boots meet an array of charming people, including young Morgan Griffith as a hitch-hiking teenager with a boyfriend problem. Her carefree attitude and nomadic lifestyle contrast with the more rigid and settled personalities of the two main characters, which in itself provides for a large degree of humour. The landscape and people residing within it change as the duo drive towards the tropics, eventually culminating in a somewhat hellish plane ride to the tip of the Cape.
There's something to be said for Aussie films, and Aussie humour in general. As with comedies like The Castle, The Dish and even Crocodile Dundee to a degree, some of our brash, sarcastic, dry humour becomes lost in translation to audiences not from our shores. Charlie & Boots features some truly classic Aussie humour, much of which I suspect will seem somewhat strange and perhaps even meandering to our Western neighbours. One scene, featuring Hogan and an appearance by the late Reg Evans (who was tragically lost to us in the 2009 Black Saturday Bushfires), is screamingly accurate in it's portrayal of outback life: both of them stand against a fence, enormous pauses between the two simple lines of dialogue they have. It's simple, but it's funny as hell. It's the laid back image of ourselves as a country that exists now perhaps only on film. The reality may very well be different, although if the 2 hour Making Of doco I watched on the BluRay version of this film is any indication, perhaps not. Hogan channels the Aussie Larrakin cliché with the panache of a seasoned veteran; in fact, he made the character his own through Crocodile Dundee's success. His character, Charlie, begins the film an embittered, lonely man, and it's fascinating to watch him evolve through only minimal dialogue and performance. It's Hogans restraint here than gives the character such spark.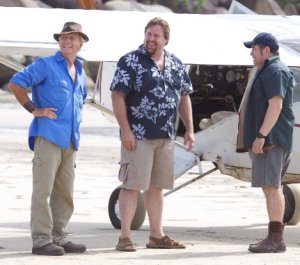 Kenny star Shane Jacobson (who will forever be recognised as the famous portable toilet provider, much to his dismay I think) reverts to a simpler, more natural character in Boots, a man beset by his own demons even prior to his mothers death. His marriage, we learn, is broken, and he's not entirely sure he wants to put it back together. The script delivers a few surprises along the way, so I won't spoil the film for you by revealing some key emotional twists, but I'll simply say that it's a truly moving, poignant journey the two men undertake. Jacobson, who has to deliver some of the film's more emotional moments, steps up to the plate and delivers like a champion. Boots is a truly sympathetic character, one we empathise with, one we can sympathise with. There's no salubriousness with him, no airs and graces. Boots is as genuine as they come, a slight tinge of Kenny thrown in with a genuine Aussie "she'll be right" attitude creating a composite that works within the film so well, it's hard to imagine anybody else playing the role.
The simple fact is that both Hogan and Jacobson have such a great on-screen chemistry, you become so drawn into the story you begin to believe it's real. And therein lies the power of this film. This story could be anybody's. The characters have that Everyman quality that allows us to insert our own thoughts into them as the film progresses, and since we're being taken on a journey with them, we allow ourselves the time to go along for the ride. It's not a violent, messy ride. It's heart-warming. Which isn't a term I can use much about comedy films these days. Too often mired in swearing and sexual innuendo, it's pleasing to breath in the fresh air Charlie & Boots offers. those of you expecting a Crocodile Dundee clone or a Kenny sequel can forget it: there's no port-a-loo or enormous knives here.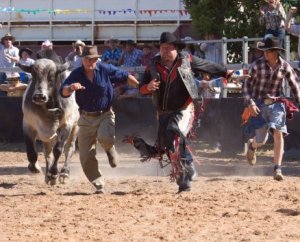 The films production values are first class. The cinematography, use of actual locations (rather than sets) and delightful wide-screen aspect ratio allow the breadth of our great country to be displayed to their fullest potential. The green grass of Warnambool, Victoria, to the lush tropical jungle of Cape York, and even the vast outback in between, are all stunning to see on the big screen in high definition. Australia as a country really lends itself to cinematic film stock; our country boasts some of the most magnificent landscapes anywhere on earth, as well as the most amazing colour palette throughout. You can literally feel the dust and toughness of the country as the film progresses, especially in a gem of a rodeo sequence in which Charlie pulls a swifty on his younger son.
Charlie & Boots is a road movie with heart. It's not the most active film, nor is it the most dramatically weighty; after all, your two lead actors got their breaks in comedy. What it is is a homily to Australian culture, a journey into the very soul of the perception we have of ourselves. It's meandering, a little slow at times, but the film grows on you as its progresses, and since it's a film that takes you on a journey, this is a great thing. Hogan has never seemed more at home in his own country than he does in this film, and Jacobson backs him up ably as his son. A few other cameos from Aussie acting royalty thrown in, as well as a bunch of "local" talent drawn from the locations the film was shot at, and this loving postcard from Australia will delight even the hardest of humbugs. Those living outside of our shores, and who are generally unfamiliar with our humour and way of life, may find this film tedious and boring. But the general consensus of Charlie & Boots within our own country is that it's a gem of a film that will stand the test of time like the gems that came before it.

Related articles