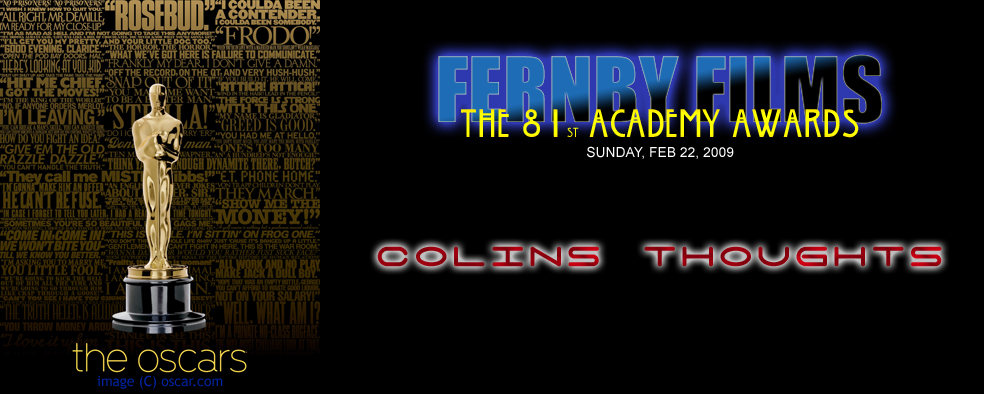 Well, another year has passed us by, with many great (and not so great) movies out in cinemas across the world during the last 366 days, but what were the films and performances of note that caught the attention of the Academy of Motion Picture Arts & Sciences for 2008 (and part of 2009)?
Well, thanks to Rodney, our fearless leader, we have the list of the major awards being presented at the ceremony on February 22nd.
So, let's start off with the big awards:
BEST MOTION PICTURE OF THE YEAR: I'm sticking with the form lead-up to the Oscars and picking Slumdog Millionaire to take the big one.  American sentiment may end up pushing The Curious Case of Benjamin Button over the line, though.  And in a year which saw a presidential election, Frost/Nixon is my dark horse.
BEST ACHIEVEMENT IN DIRECTING: Very hard to pick this year as all the directors are exceptional, but if I have to pick one, I'll go with Gus Van Sant for Milk.  Perennial nominee Ron Howard is back again with Frost/Nixon, and David Fincher is in with a chance for The Curious Case of Benjamin Button.
BEST PERFORMANCE BY AN ACTOR IN A LEADING ROLE: Sean Penn.  That simple.  Why?  His performance in Milk is exceptional, and he's already won an Oscar, for Mystic River.  Frank Langella as former U.S. President Richard Nixon in Frost/Nixon is my back-up.  As for Brad?  I'd have my "It's an honour just to have been nominated" speech polished up for the media…
BEST PERFORMANCE BY AN ACTRESS IN A LEADING ROLE:  Brangelina will walk away with an Oscar.  While Brad will be empty-handed, Angelina will snare the prize on the night.  Clint Eastwood has been able to make leading ladies shine when given strong roles, as he did with Hilary Swank in Million Dollar Baby, and this is a truly commanding performance.  The only actress who can knock her off would be Anne Hathaway, who won the Golden Globe for her performance in Rachel Getting Married.
BEST PERFORMANCE BY AN ACTOR IN A SUPPORTING ROLE:  Two words: Heath Ledger.  His role as The Joker in The Dark Knight dominates the screen.  And, sad but true, the Academy is one for sentiment, so a posthumous Oscar is on the cards.  But he was so bloody good, that he would still get it if were still alive.  It's good to see Robert Downey Jr. back in the hunt for Tropic Thunder as "the dude playin' the dude disguised as another dude".  Should get an award for one of the best one-liners of the year:  "I'm a lead farmer, motherf**ker!!!"
BEST PERFORMANCE BY AN ACTRESS IN A SUPPORTING ROLE:  A tough call.  Not having seen any of the films makes this even more difficult.  But, I'll go with Marisa Tomei to snare a second Oscar for The Wrestler.  I'll probably be wrong, though.
BEST ANIMATED FEATURE FILM OF THE YEAR:  Oh, this is too good.  Three brilliant films are up for the gong this year – Bolt, Kung Fu Panda and WALL-E.  But only one will clean up.  Literally.  It's "WALL-E!!!"
BEST ANIMATED SHORT FILM:  The second award for Pixar Studios, with Presto the clear favourite, as the lead-in for WALL-E in cinemas worldwide, this was a true gem.  Currently the best animated short film made by Pixar.
BEST ORIGINAL SCREENPLAY: The fight will be between Happy-Go-Lucky (my choice) and Milk for the Oscar, with WALL-E as my dark horse.
BEST ADAPTED SCREENPLAY:  I reckon this is between Frost/Nixon and The Curious Case of Benjamin Button.  But don't ask me to make a final decision on it…
BEST ACHIEVEMENT IN MUSIC WRITTEN FOR MOTION PICTURES (ORIGINAL SCORE & SONG):  I've put these two awards together as I reckon they will both go for the same film: WALL-E.  Peter Gabriel's Down To Earth was a moving tune and the score was incredible.
Well, that's the major awards covered there.  Do you agree?  Disagree?  Post your comments and thoughts.