Movie Review – Harry Potter & The Goblet Of Fire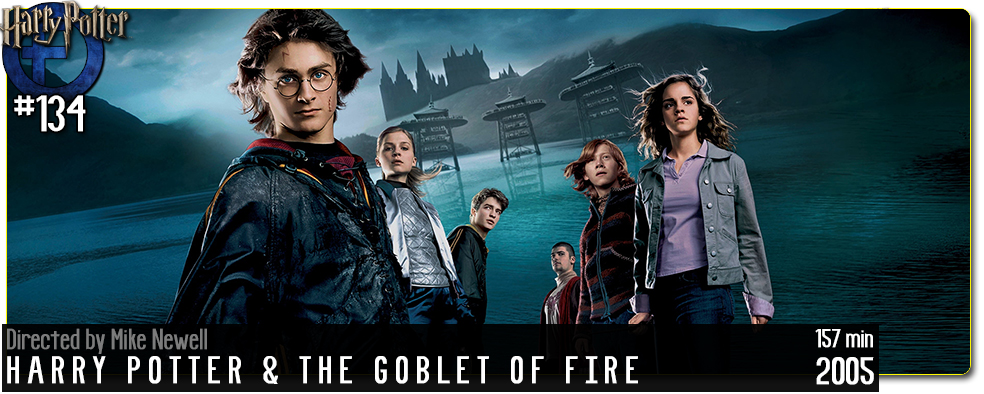 Principal Cast :  Daniel Radcliffe, Emma Watson, Rupert Grint, Robbie Coltrane, Alan Rickman, Maggie Smith, Ralph Fiennes, David Tennant, Michael Gambon, Brendan Gleeson, Jason Isaacs, Katie Leung, Gary Oldman, Miranda Richardson, Timothy Spall, Frances de la Tour, Ronnie Wright, Robert Pattinson, Clemence Poesy, James & Oliver Phelps, Bonnie Wright, Mark Williams, Tom Felton, Jamie Waylett, Joshua Herdman, Matthew Lewis, Devon Murray, Alfred Enoch, David Bradley, Warwick Davis, Shirley Henderson, Robert Hardy, Robert Pattinson, Jeff Rawle, Roger Lloyd-Pack, Stanislav Ianevski, Frances de la Tour.
Synopsis:  Harry becomes involved in the tournament for the Tri-Wizard Cup, a series of deadly quests through which one will be crowned champion. As Harry uncovers the reasons for his unintentional entry into the competition, he becomes aware that it might be Voldemort's doing.
************
The fourth outing for Harry Potter see's the young wizard and his friends enter a darker, more mature world than any we've previously seen from Rowlings characters. As Harry, Ron and Hermione get older, their maturity shows, and their adventures get more and more complex and thematically darker.
Goblet of Fire goes where no Harry Potter before it did: into death, with the conclusion of the film seeing one of the leading characters of the movie killed off. Okay, so I may have spoiled the ending a little, but I'm not telling you who it is. You can, though, assume it's not Harry, otherwise the next few films they make are going to have to be retitled Ron & Hermione Avenge Harry Potter or something like that.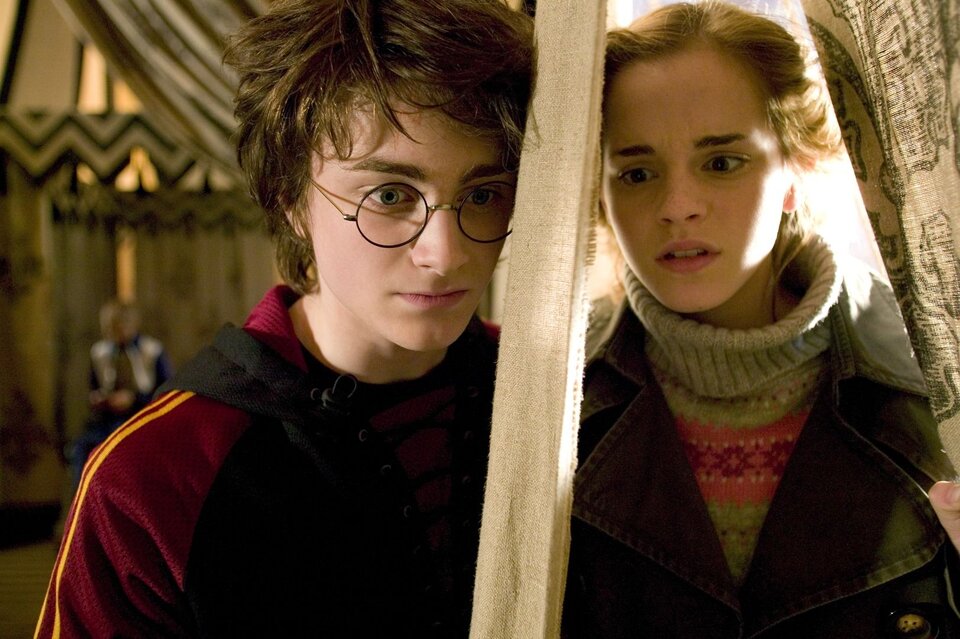 Goblet takes us into a world of competitive brawling, both amongst the wizards themselves as they fight for the affections of those they like, and among the various wizarding schools, as Hogwarts plays host to a Tri-Wizard tournament, a kind of inter-school battle, if you will. The thing is, there's also the impending arrival of Voldemort, the powerful figure lurking across the story like a deadly, demonic ghost just waiting to spring out and grab you. As Harry becomes the chosen competitor in the Tournament, he must battle incredible dangers while keeping his own ethical and moral code intact. This growth in Harry as a character, and his sense of sadness at an innocence lost, is perhaps the most poignant of the Potter films so far. You get the sense that Harry isn't really wanting to come to grips with being a key player in the history of wizards, however, by the end of the film this sadness is banished, only to be replaced with a determination and inner power unlike we have seen before; it set's the tone for future films.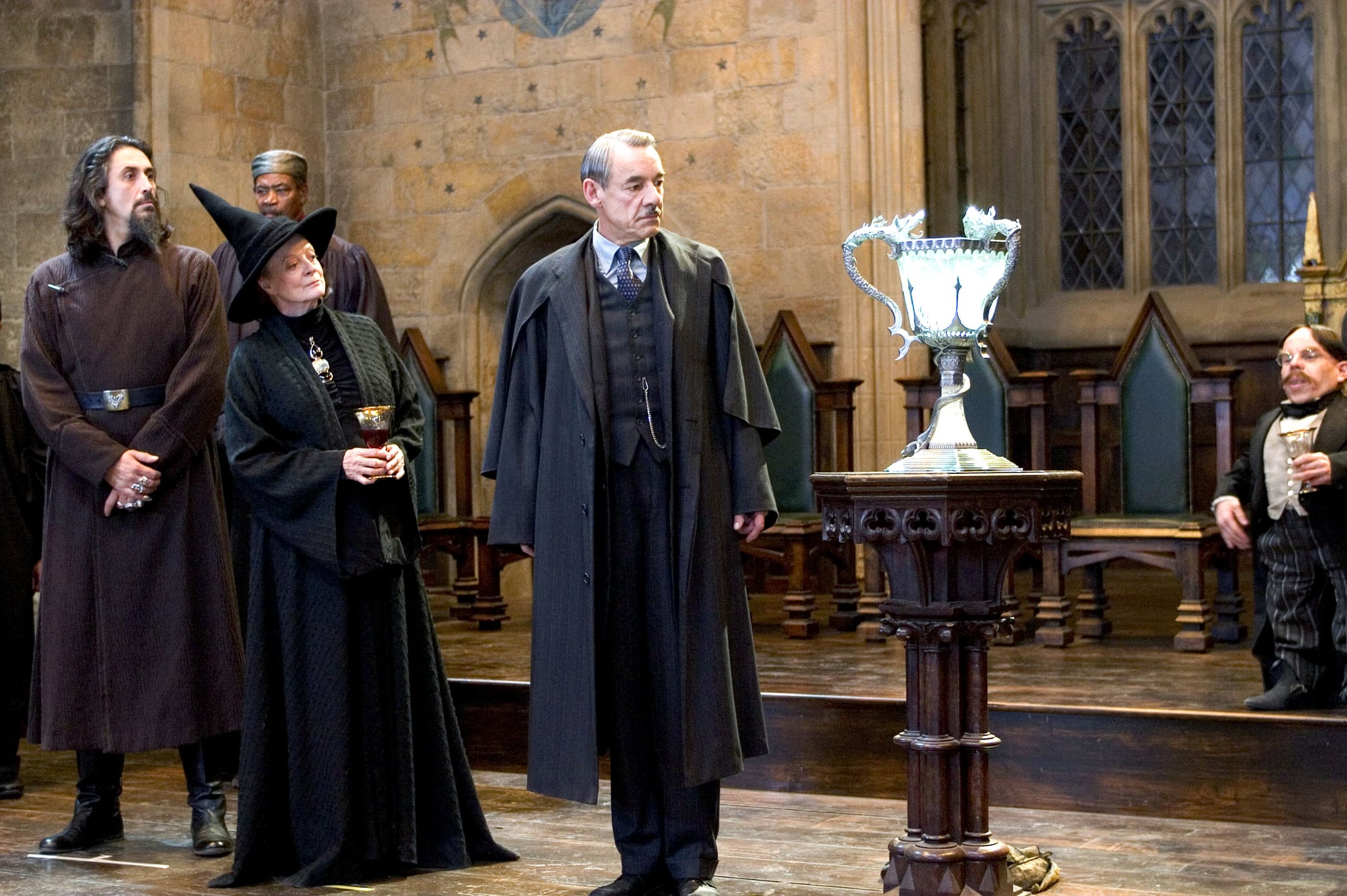 The development of the relationship between Ron and Hermione takes a step up, with a pivotal Yule Ball taking place within Hogwarts sacred halls that see's most of the cast degenerate into the giggling, pre-pubescent teenagers they actually are. This sequence, with the emotions and unrequited love on full display, is both amusing and refreshing: it goes to show that our heroes are essentially like us, human. Goblet Of Fire was a key moment in cinema history for another reason, and that was Daniel Radcliffe's first on-screen kiss. Honestly, the press attention this moment received both before and after the film's initial release was staggeringly gaudy, with oodles of ink and screen-time given over to the poor boy's hormonally maladjusted lust/love for a fellow student. It's a blink-and-you-miss it moment in any case, although it remains a tender spot in the film's overall dark feel.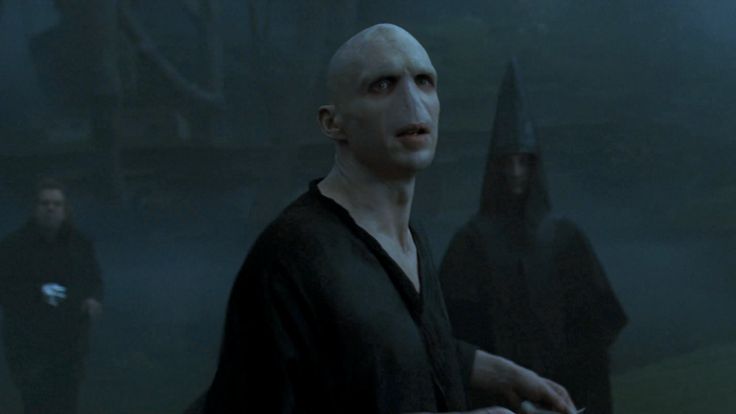 Goblet of Fire is not a film for younger children. It's dark and dangerous in Hogwarts this time about, with Rowling's characters being set up for the massive events in Order Of The Phoenix (as well as Half Blood Prince and The Deathly Hallows) quite well by Steve Kloves. Kloves, who scripted previous Potter adventures, has done a bang up job here, with the screenplay he's created managing to nail the Potter universe in every scene. Accordingly, director Mike Newell gives us a violently palpable Potter world this time, with danger and death lurking about every corner. The Tri-Wizard Tournament is an exercise in brutality, especially for kids so young: you wonder if it's at all fair that people can be killed doing these games… after all, I doubt there's an Occupational Health & Safety Inspector inside the schools cavernous walls.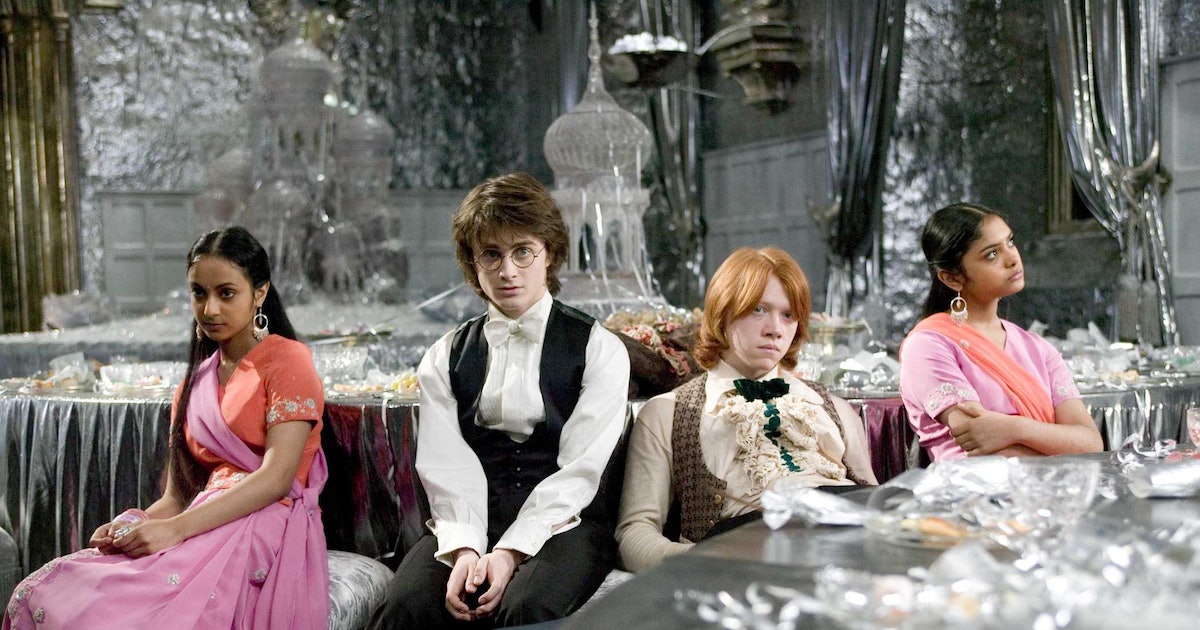 The dragon battle, for instance, presents one of the better CGI effects of the Potter series so far, with the dragon Harry must face being among the most dangerous and viscous of all their kind, and makes the effects we saw in films like Dragonheart pale into insignificance. The final sequence of the Tournament, with Harry and his competitors racing through a magical hedge-maze, sees one of the protagonists killed off, but not before an almighty battle with Voldemort, played by a snarling, hissing Ralph Fiennes.
I think Goblet Of Fire was the first of the Harry Potter films I saw where the key trio, Radcliffe, Emma Watson and Rupert Grint all finally clicked as actors on screen. I was never thinking about them as actors while watching this, I only saw their characters, such was their performance level. Finally. Now they can stand up to the cast of luminaries that surrounds them, including Michael Gambon as Dumbledore, Alan Rickman, Gary Oldman, Brendan Gleeson and many others, all of whom have pedigrees that would shame most actors into the walls. Of particular note, Gleeson, as Mad-Eye Moody, the new Defence Against The Dark Arts teacher, is a standout, his blithering insanity seemingly endless as he rants and raves, yet remains loyal, throughout the film. As well, Fiennes, as Voldemort, is compelling, and a truly magnificent incarnation of the series' key villain, akin to Darth Vader or Doctor Evil in other films. His actions are truly malevolent, and, as with any good story, his power is far superior to Harrys. With a villain nastier and more powerful than the central hero, this invokes a sense of fear in the audience. After all, how can our hero possibly hope to defeat the villain, given their differences in ability? You'd have to expect some carnage before the villain finally beefs it, right? Right.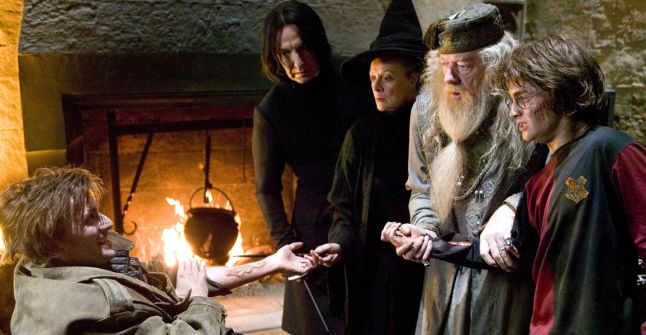 However, Goblet Of Fire is not where Voldemort carks it. No siree, this is only the warm-up for what's to come, the opening act, and Mike Newell knows this. His development of the characters, his focus on inter-personal combat (when young hormones go wild) and extra-personal vitriol and hatred come into play, is layered and meticulous. Newell's editing and framing of scenes is superb, creating a really vivid and momentous moment in the Potter series.  Composer Patrick Doyle masterfully encompasses John Williams' original themes for Potter and adds in his own flavour. It's a startling ability to almost mimic a master, yet Doyle seamlessly achieves the same tones and feeling Williams did with the original three films. If you didn't know it wasn't Williams, you'd never guess.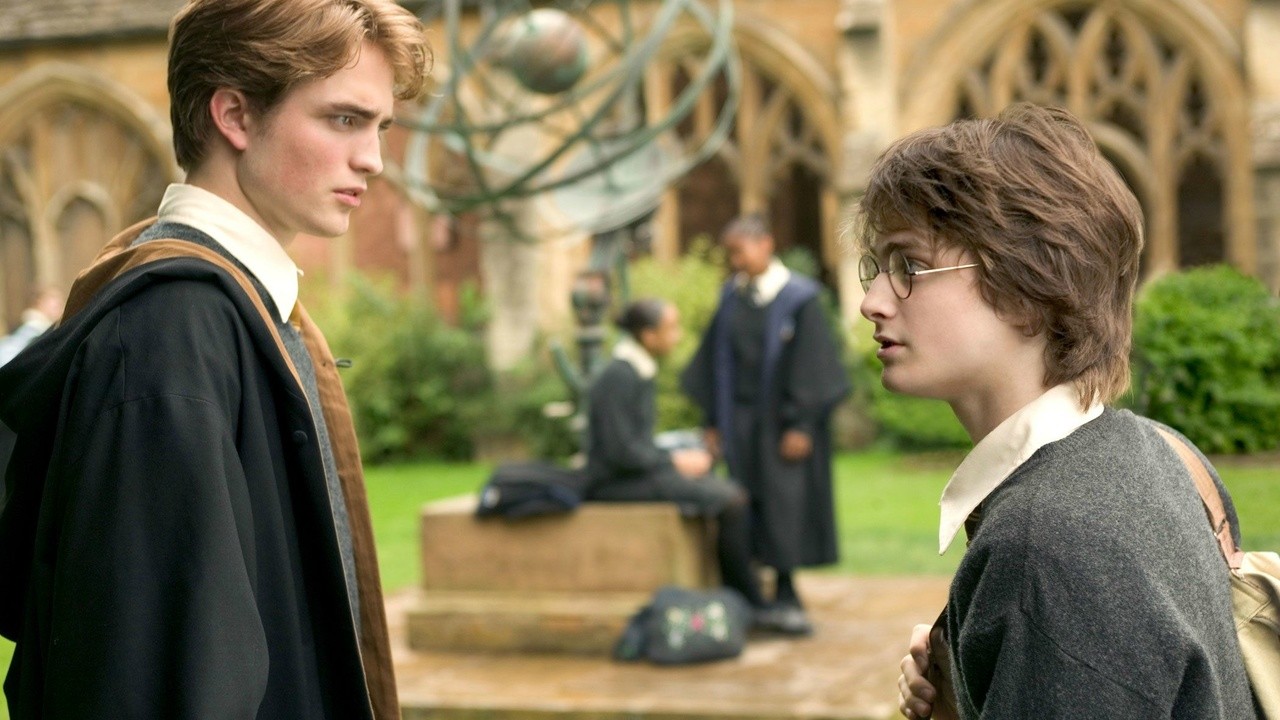 There are flaws with Goblet of Fire, to be sure. The opening sequence, with a Quidditch World Cup on display and ruined by marauding Death Eaters (the hood & sickle brigade from Prisoner Of Azkaban) plays like a paint-by-numbers effects test; there's little emotion or tension generated here. It's not until Harry and his friends return to Hogwarts that the story, and film, settles into a better style and rhythm. The World Cup seems merely there to allow the film to begin with blazing CGI, a hook to keep you interested. However, the story during this scene is barely coherent, and I was lost in the dumb scripting and hard to follow narration. as mentioned, though, this sequence is replaced by a darker, more intense level of film-making once the character development kicks in afterwards.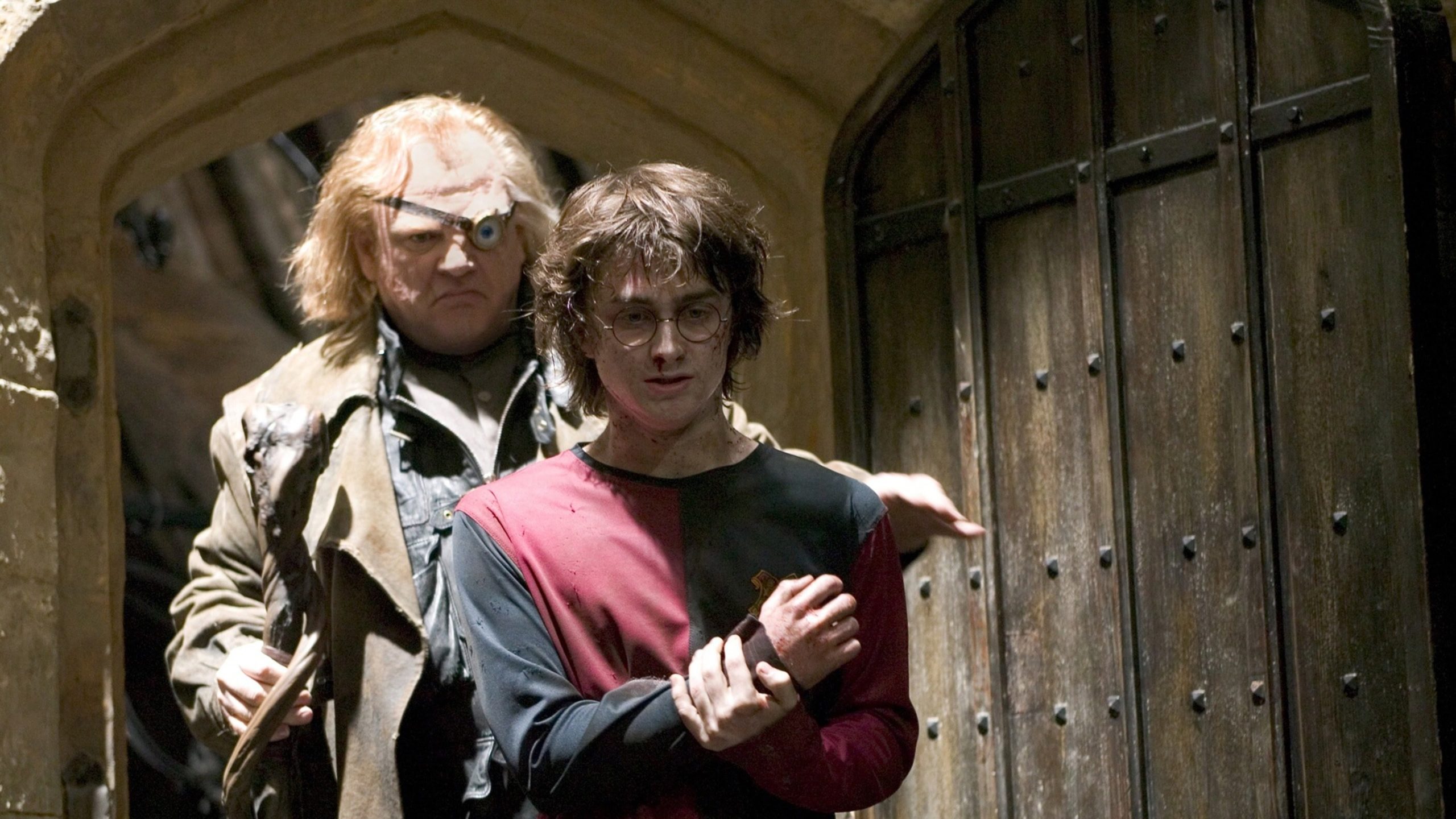 As mentioned, there's a death scene in this film, and it's brutal, demonic and realistic. Well, as realistic as you can get in a film about wizards and dragons. It's Harry's "I am your father" moment, if you like, a realisation that he's alone in the big bad world, and bad things can happen if you're not ready for them (which brings us to Order Of The Phoenix quite nicely) and that bad people wont' stop just because you ask them to. People will suffer and die to see Harry dead, the young lad's legacy following him all the way down his life since the death of his parents.
As far as Potter films go, this is one of the better ones of those currently released. No doubt as we get closer to the inevitable confrontation with Voldemort at the end of Deathly Hallows, things will get a lot darker, and more complex, before it gets lighter. The days of The Philosophers Stone are long behind us now.
Who wrote this?