Movie Review – Seal Team Six: The Raid on Osama Bin Laden

Principal Cast : Tait Fletcher, Cam Gigandet, Robert Knepper, Kenneth Miller, Anson Mount, Freddy Rodriguez, Xzibit, William Fichtner, Kristen Rakes, Kathleen Robertson, Rajesh Shringarpure, Eddie Kaye Thomas, Mo Gallini, Jenny Gabrielle, David House, Saleem Watley.
Synopsis:  A retelling of the CIA search for, and eventual raid that killed, Osama Bin Laden, the mastermind behind the September 11th 2001 terrorist attacks on the United States of America.
********
If there's a modern example of an overt propaganda film made to capitalise on American nationalism, it's Seal Team Six: The Raid On Osama Bin Laden. Part recruitment catalogue, part nationalist fist-pump, part hoo-rah fuck yeah escapism, John Stockwell's Seal Team Six isn't particularly gracious, is terribly xenophobic, and pares back the nuance and moral conundrums of big-screen brethren in Zero Dark Thirty to deliver a film so entrenched in American exceptionalism and blood-lust patriotism it's actually almost embarrassing that the film is available to audiences now on Netflix. As shallow a cliff-notes combinative effort to deliver a showcase of Operation Neptune Spear as you're likely to get, this is heartland heroism at its finest for American audiences, asking little by way of an intelligent approach or a subtle, detailed motivation, as a perfunctory 90 minutes delivers everything you "need" to know as it crescendos to those famous words: "For God and country, Geronimo is KIA".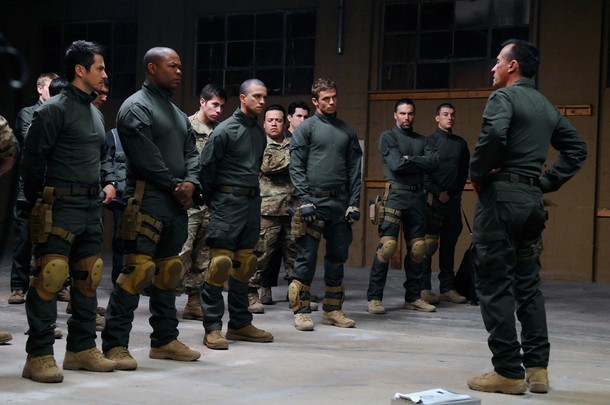 The hunt for Osama Bin Laden, leader of terrorist group al-Qaeda and mastermind of the 9/11 terrorist attacks on America that destroyed the World Trade Centre, heavily damaged the Pentagon, and killed some three thousand people, was a decade-long operation by the FBI, CIA and any number of intelligence agencies across the globe, as well as a furious US military force occupying then Iraq and Afghanistan. Following a tip-off of a potential location for the most famous fugitive of the 21st Century, CIA analyst Vivian (Kathleen Robertson) is convinced he is holed up in a compound in the Pakistan city of Abbottabad, with her boss, Guidry (William Fichtner) giving her permission to set up a task force. High level military training is given to the SEAL team deployed to develop an incursion into Pakistan and take out Bin Laden, led by the group commander (Robert Knepper), team leader Stunner (Cam Gigandet) and his colleague Cherry (Anson Mount). Eventually the order is given the the US President that the operation is a go, and the team take off to take down the world's most wanted man.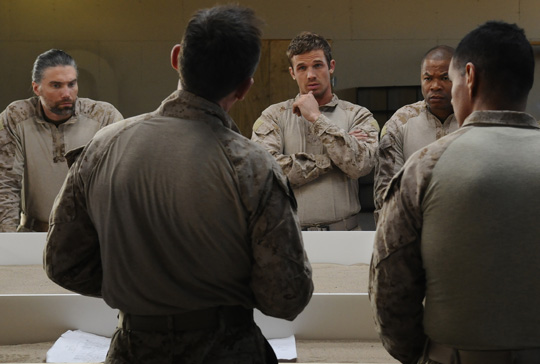 Seal Team Six was put into production not long after the real-life raid to kill Bin Laden occurred, on the evening of May 2, 2011, itself almost a decade after the terrible events of 9/11 and America's subsequent War on Terrorism. Even back then, American fervour was high, a wave of euphoria that justice had been served on one of the worst killers and most dangerous men in human history. Obviously, making a film about the mission to kill Bin Laden was a given in light of 9/11, and the enormous national pride that came with such success was going to reflexively reduce the amount of historical and dramatic accuracy presented to the baying crowd clamouring to find out more about the heroes who went in and did the job. Although a number of books and articles have shed light on the exact events that led up to the raid on Bin Laden's Pakistani compound, and the various degrees to which the US intelligence community, skill and sheer dumb luck combined to locate the fugitive have been recounted numerous times – notably in the aforementioned Zero Dark Thirty, a far superior film in about this very thing in almost every regard – Seal Team Six only wants to paint things in a golden American-flag waving sheen of professionalism and dedication.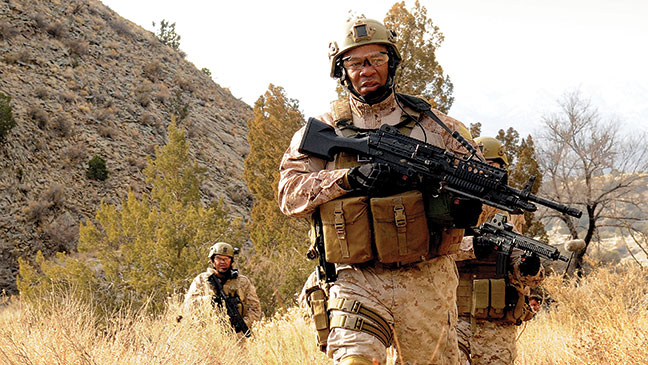 Stockwell gives us a film that's faux documentary, featuring to-camera "interviews" of the various characters bookending the recreation of both the SEAL team training, the CIA analysing of every detail, and the first half of the actual raid itself, shot with what feels like expensive handycams in a similar aesthetic to that of Michel Mann, whose penchant for digital filmmaking is very much a matter of taste. The fact the film utilises this style of shooting gives it a more authentic flavour, but seeing conspicuously notable faces in Cam Gigandet (who was riding high off his role in the original Twilight), Anson Mount (notable today for his turn as Captain Pike in Star Trek: Strange New Worlds) and William Fichtner in various roles really does undercut just how seriously we take this. I mean, if the "interview" components were of the real people, and the re-enactments were done using actors, the buy-in from the viewer might have been significant, but attempting to give us actors pretending to be the real people never feels as documentarian as Stockwell was hoping for. It's a real killer when one of the super-serious CIA analysts is played by American Pie's Eddie Kaye Thomas, and all I could think of was him boning Stifler's Mom. The action sequences, of which there are several, are staged with incoherent first-person camerawork mixed with more traditional footage shot from distance, edited with frenetic pace as if to overcome technical and budgetary limitations. The use of actual footage of the real-world US president, the White House, and various other agencies, mixes up some of the gravitas with fictionalised posturing that never works out well.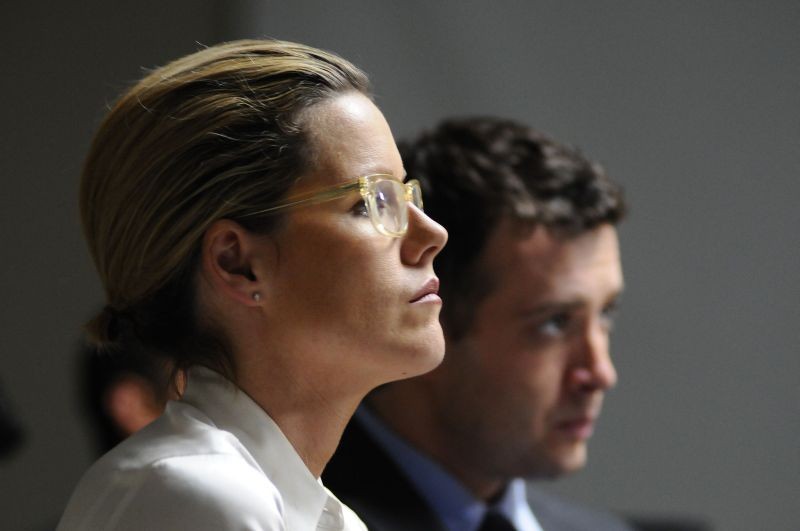 It's really telling what the point (and message) of the film is when, after successfully killing Bin Laden in the film's climactic moments, we cut to the closing credits without so much as mentioning the tension of getting the insertion team back to safe territory, as if the successful death of Bin Laden itself was all we care about. I mean, for Americans living in 2012 US of A it probably was, but the fact that the film fails to fully explore the extremities of the hunt for the fugitive or the wiliness of the CIA operatives or the bravery of the SEAL team that went in, lost in impenetrable incoherence of night-vision, bodycam and Stockwell's inscrutable insistence on never finding a focus pull to save his life, is one of the big wrongdoings of Seal Team Six's otherwise patriotic hubris. Dedicating the film to the men and women of both the intelligence community and the US military is meant to make a chest swell with pride, but feels (in today's climate) like cringeworthy salutation, although recognising the work that went into locating Osama is undoubtedly warranted. I just wish they'd dedicated a better film to all those people.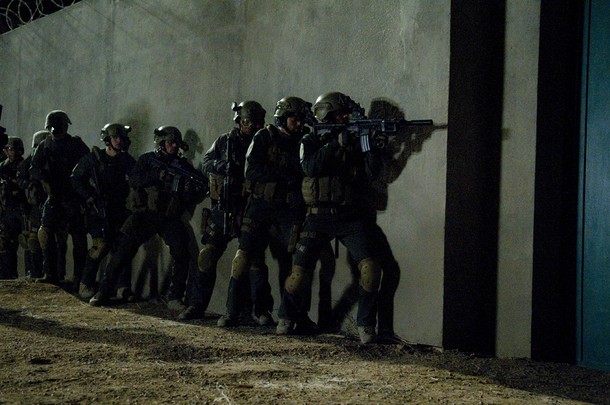 If I had to encapsulate Seal Team Six in as brief a logline as I could, I would describe it thusly: Seal Team Six is the film Team America warned us about. Broadly racist, petrifyingly nationalistic and propagandist inanity to a fault, Seal Team Six: The Raid On Osama Bin Laden might have been made with honourable intentions (I doubt it) but as an artistic endeavour with enlightening subtext to disperse, this film is an absolutely ghastly trainwreck.
Who wrote this?