Principal Cast : Chloe Grace Moretz, Riz Ahmed, Eugene Lee Yang, Frances Conroy, Lorraine Toussaint, Beck Bennett, RuPaul Charles, Indya Moore, Julio Torres, Sarah Sherman, Karen Ryan.
Synopsis: When a knight in a futuristic medieval world is framed for a crime he didn't commit, the only one who can help him prove his innocence is Nimona — a mischievous teen who happens to be a shapeshifting creature he's sworn to destroy.
********
Rescued from cancellation at Disney by streaming platform Netflix, this sparkling animated feature from the directors of Spies in Disguise should be in strong contention for a Best Animated Feature Oscar come the best of year awards season. Brimming with inventiveness, dynamic animation and superb writing, Nimona, a film about a gay knight and a shapeshifting faerie inhabiting a world heavily adjacent our own, is arguably one of the more entertaining films of 2023 and – I hesitate to use the phrase – destined to be a monster hit at our house.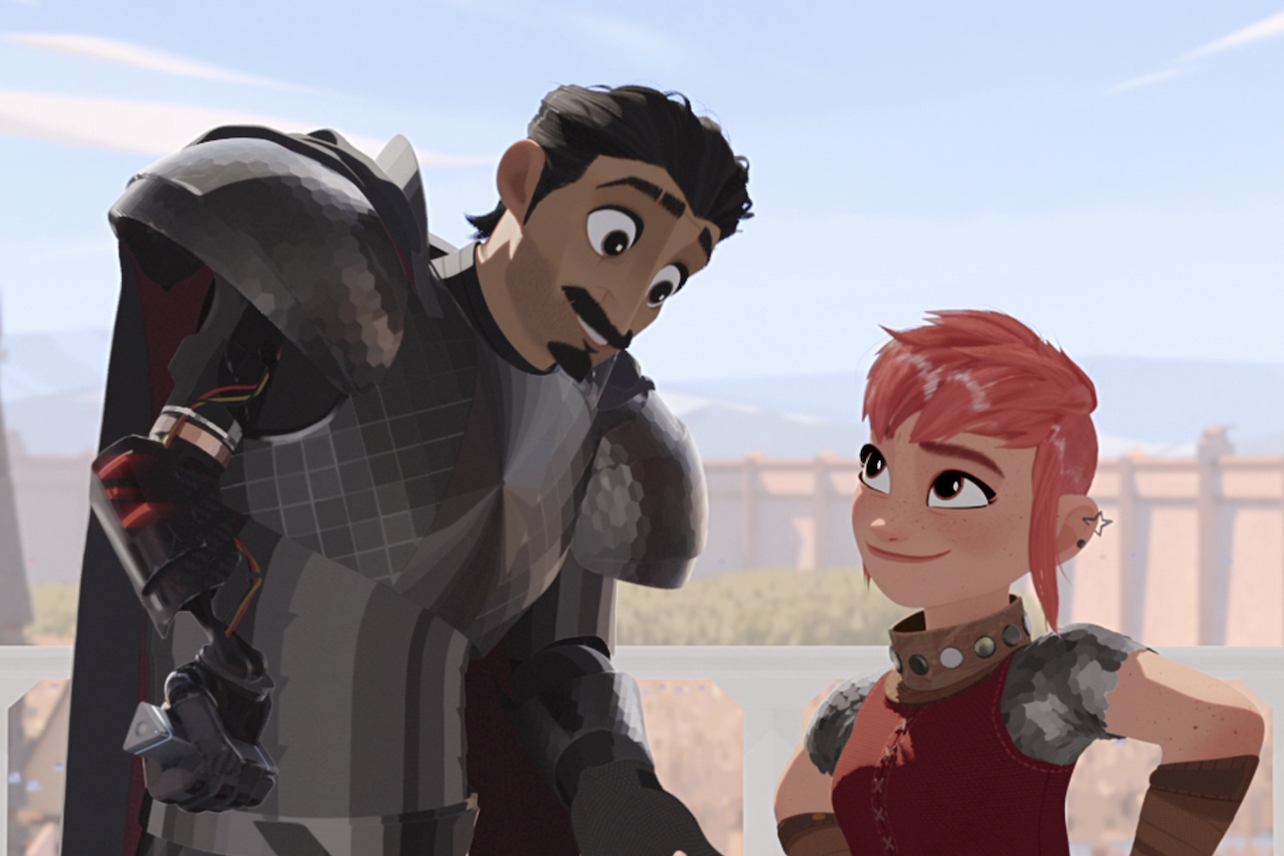 Set in a magic kingdom where a feudal monarchy exists amid what appears to be a post-modern capitalist society, the walled city's citizens are protected by an Institute of Elite Knights, and ruled over by the Queen (Lorraine Toussaint) and the Institute's Director (Frances Conroy). Although the Knights are typically of noble blood, one recent recruit has risen up from common roots to take his place inside the Queen's guard – Ballister Boldheart (Riz Ahmed). However, after the Queen is murdered seemingly by Ballister's own hand, the Knight flees out of the city with his former allies, including boyfriend and fellow knight Ambrosius Goldenloin (Eugene Lee Yang), in hot pursuit. While in hiding, Ballister is befriended by a sprite named Nimona (Chloe Grace Moretz), who has a variety of shape-shifting and power abilities that allow them to discover the truth of the Director's plans and to clear Ballister's name.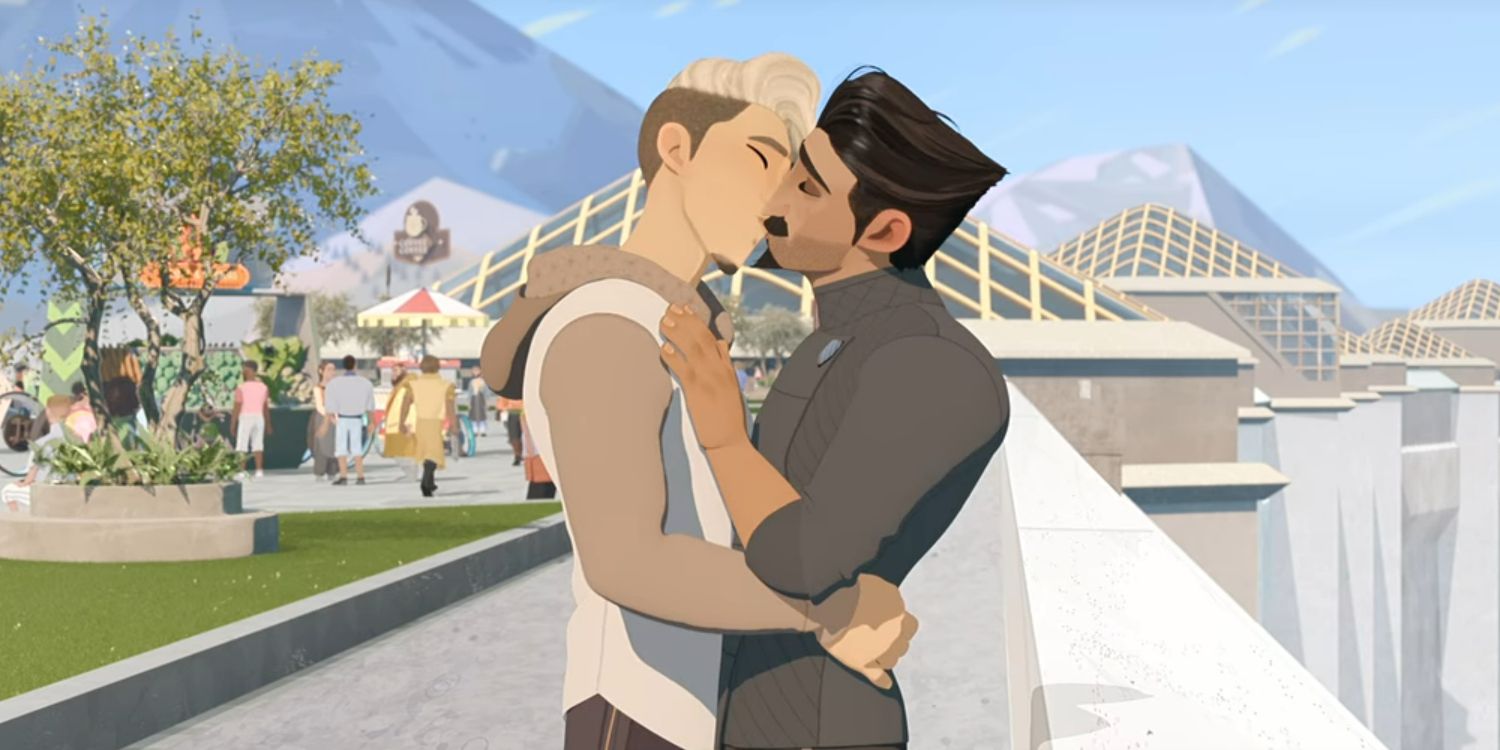 Nimona is a film that will delight many, and annoy a few. It's a film targeted by the conservative and idiotic half of society as being "woke", that is depicting alternative lifestyle choices as normal and part of a social fabric that, in a complete surprise, actually should be that way. The central heroine, Nimona, is a changeling, able to morph into a vast array of shapes and sizes (typically animals, leading to all kinds of puns) while displaying an equally vast selection of quote-unquote "superpowers". Analogously, Nimona represents segments of society who change themselves, or at least represent those who live with a different non-heteronormative lifestyle. You could group trans and gay folks into this subtext, with the predominant colour scheme she sports being quite similar to that of the trans community; make of that what you will.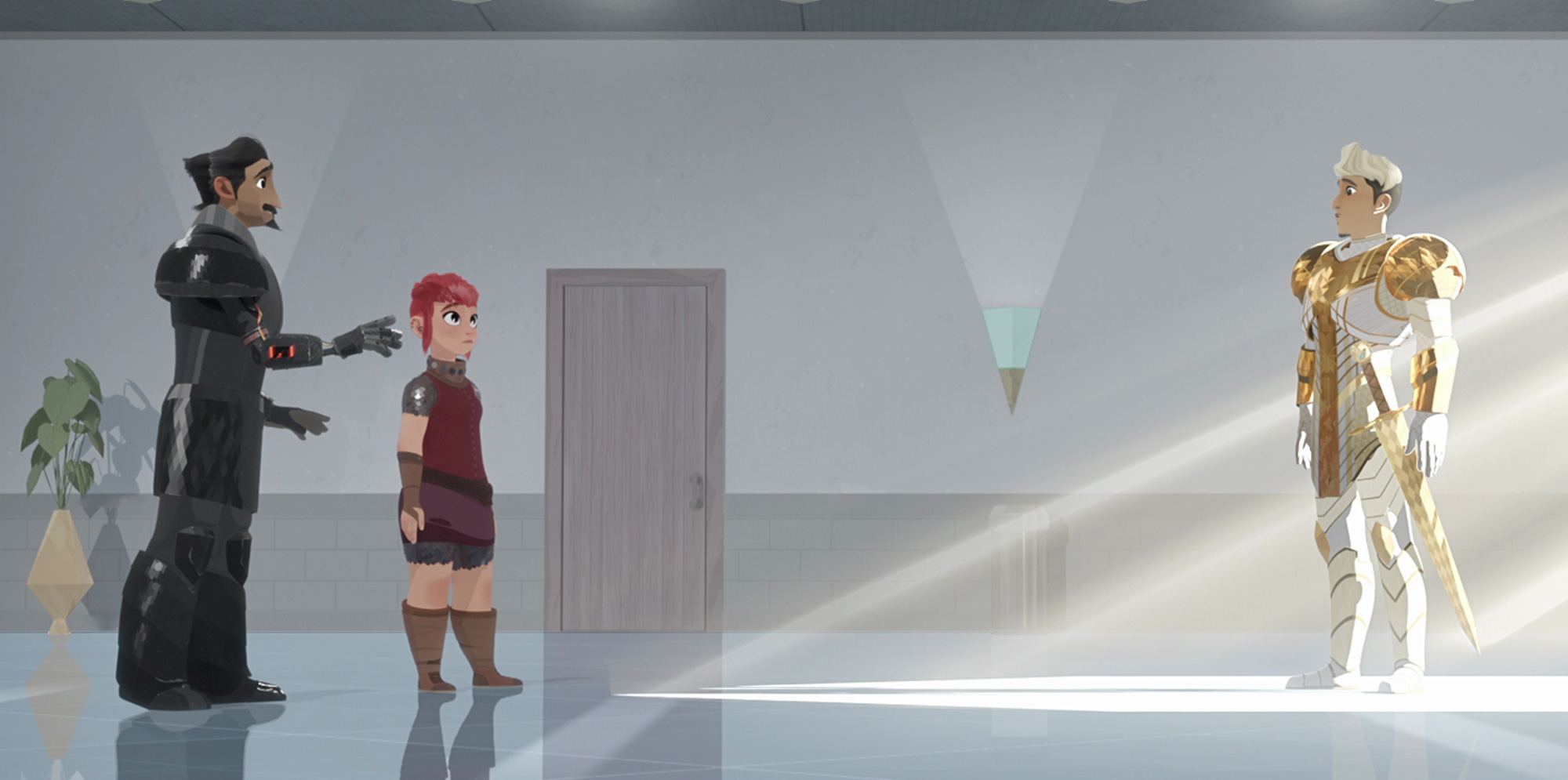 The co-lead character, Ballister, is gay, although his queer status isn't even noted as different by the rest of the characters in the film inasmuch as it doesn't seem to be a problem for anyone at all, and one of the more refreshing aspects of the film overall. So a gay man and a changeling feminine lead are headlining your animated film, eh? Guess that's why Disney pulled the pin.
In a complete shock to no-one, the Mouse House dropped this film as it was closing in on completing production, through 20th Century Fox's animation subsidiary Blue Sky Studios; following Disney's acquisition of Fox, the conglomerate decided to shutter Blue Sky and the film was left in limbo. Given the film's inclusion of a same-sex kiss, it's unsurprising that Disney would push back on releasing this under their shingle in any way. So the film was shopped around and eventually picked up by Annapurna Pictures, who signed a deal to release the completed film on Netflix.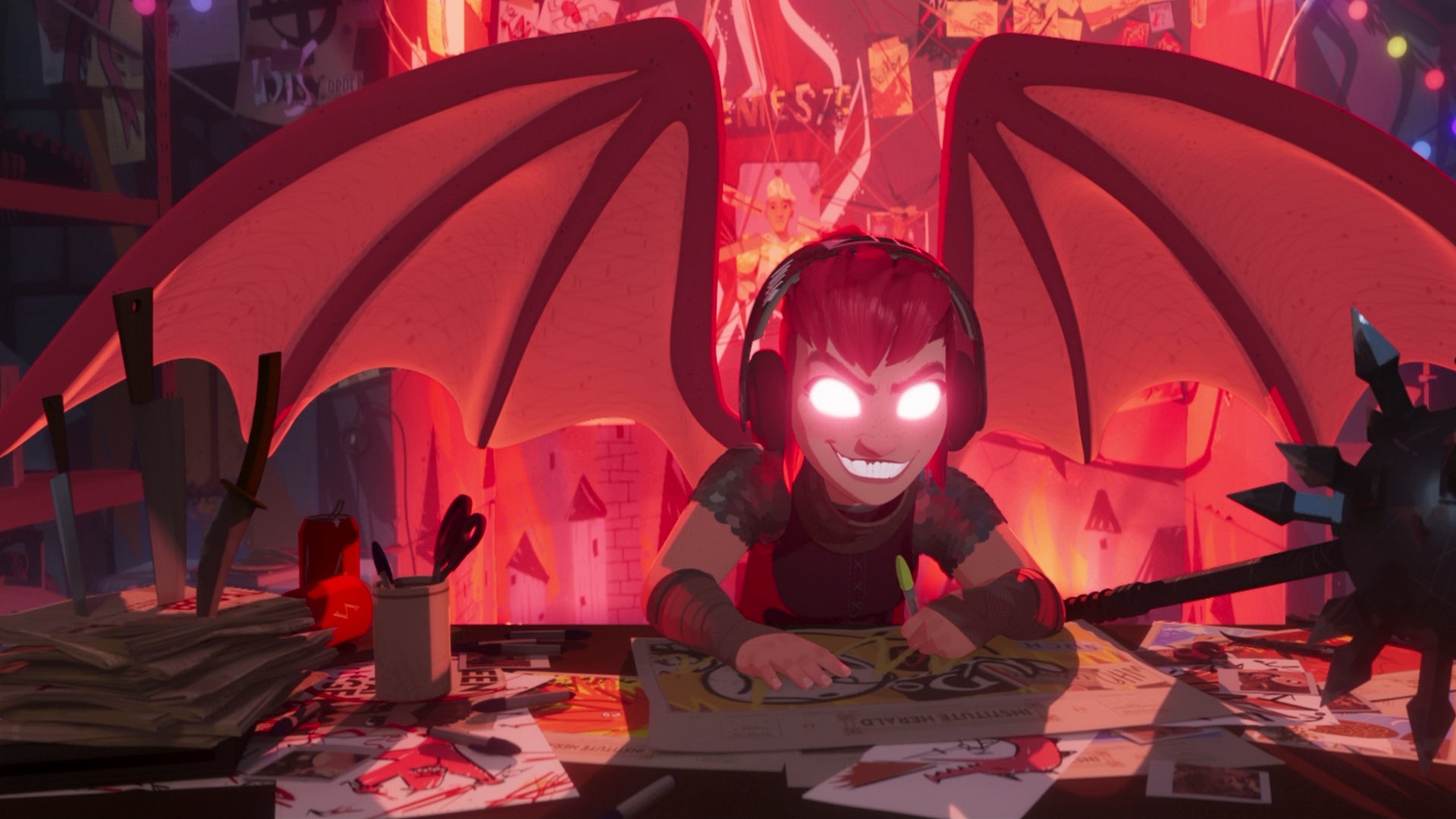 Nimona is the brainchild of bi-gender comic creator ND Stevenson, the genesis of which debuted in an online webcomic in 2012. Stevenson would produce and co-write a number of alternative animated series for both HBO, Disney and Netflix in Lumberjanes, the Wander Over Yonder series, and She-Ra and The Princesses Of Power, but would receive no creative credit on the Nimona feature film other than "created by". The film's screenplay is a whip-smart work of art from Robert L Baird and Lloyd Taylor, who are also credited alongside 5 others for the story. Baird and Taylor have crafted a story of love and loyalty amid quite adult themes of betrayal and hatred, the latter of which is emblematic of many in the trans and gay communities as they are often ostracised by folks who know no better (or choose not to). There's no pandering to gender or sexual identity in the film other than the fact that it exists, and despite what you may have read elsewhere Nimona doesn't beat you over the head with this specific subtext.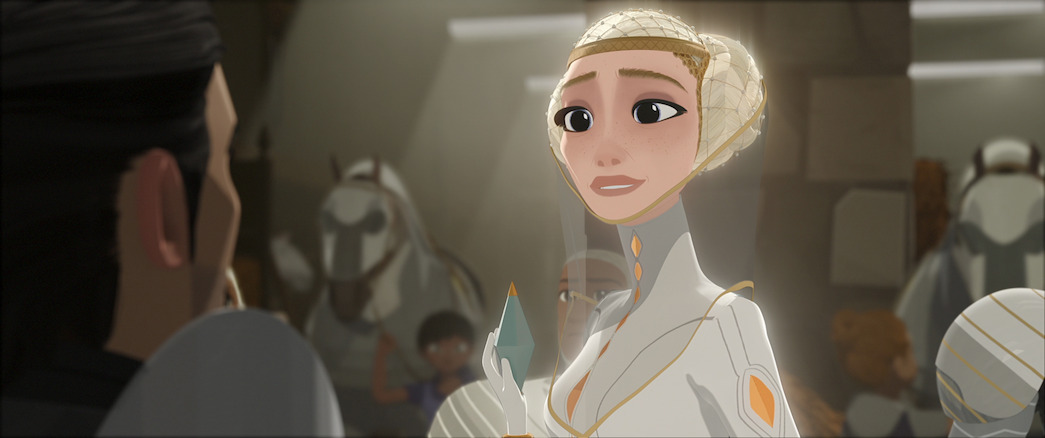 Instead, Nimona is quite a briskly paced action-adventure film with heart, with a load of genetic material from animated films of years past; the character designs feel very similar to DreamWorks' Road To El Dorado, the animation very much in line with recent quick-zip styles employed by The Bad Guys, Puss in Boots The Last Wish and the Spider-verse films, and the world-building designs feel an awful lot like a blend of Disney's classic fairy-story aesthetic and Netflix' adult-oriented sci-fi thriller series Arcane. It's a delightfully stylish mix that satisfies both the story, character and visual components and makes for heartfelt and powerful visuals. The dynamic between Nimona and her relationship to Ballister is the strength of the film, and you feel their bond growing throughout the course of the narrative, and it never feels forced. Ballister's affection for the brilliantly named Ambrosious Goldenloin (trust me, I nearly spat out my drink when that name first came out of somebody's mouth) is also one of the film's better aspects, played as truthfully as possible by both Riz Ahmed and Eugene Lee Yang.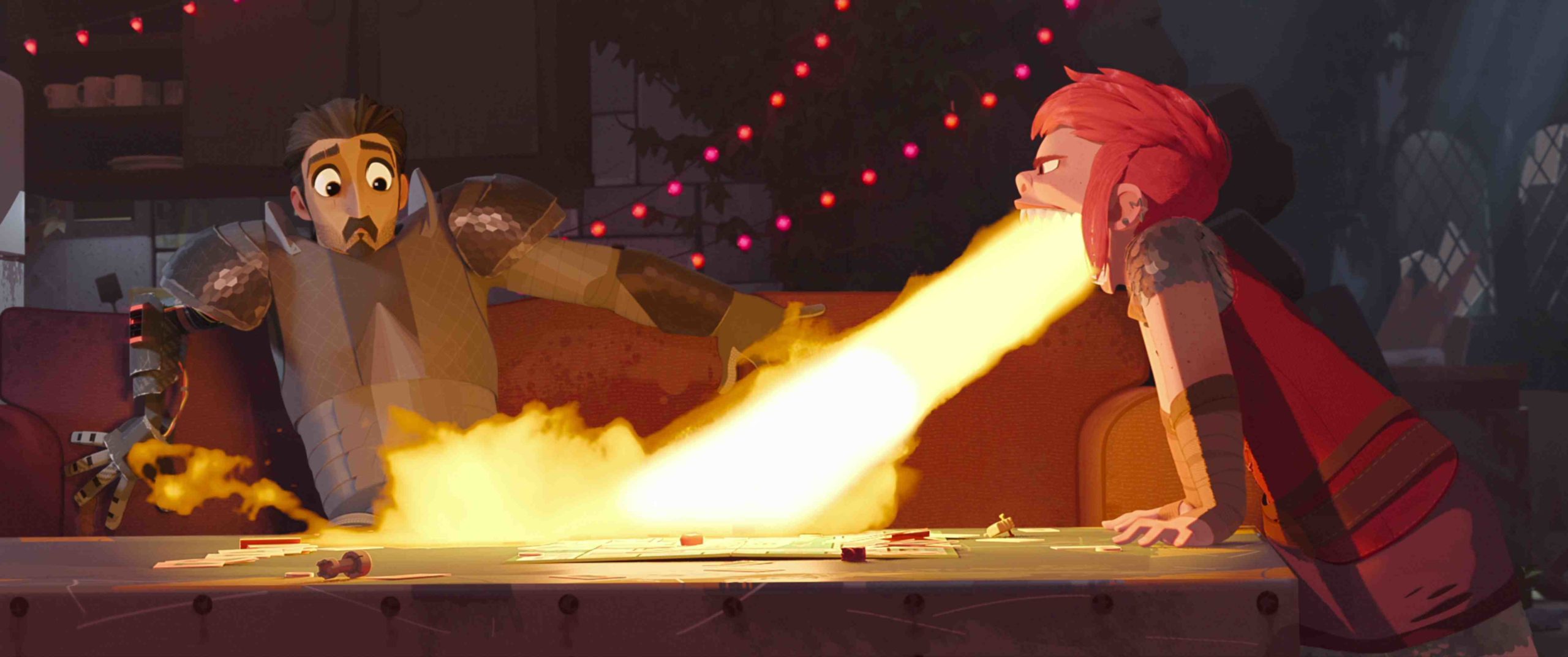 Netflix' run of under-the-radar animated films with legitimate entertainment value continues to build momentum – if you haven't seen the aforementioned Arcane, Mitchells Vs The Machines, The Sea Beast, Next Gen or Over The Moon (to name but a few) then you can comfortably add Nimona to the list of high quality animated features the streamer is acquiring. This is in complete contrast to their live-action original film library, which remains quite the chore to sit through. Nimona is an absolute blast of fun, a great film with terrific messaging for young and old, dynamite animation and a whole load of heart and soul that too few films these days contain.
Who wrote this?