Movie Review – Shotgun Wedding (2022)

Principal Cast : Jennifer Lopez, Josh Duhamel, Jennifer Coolidge, Lenny Kravitz, Sonia Braga, Cheech Marin, Callie Hernandez, Desmin Borges, D'Arcy Carden, Steve Coulter, Melissa Hunter, Alberto Isaac, Selena Tan, Alex Mallari Jr, Tharoth Sam, Maria del Man Fernandez.
Synopsis: Darcy and Tom gather their families for the ultimate destination wedding but when the entire wedding party is taken hostage the bride and groom must save their loved ones–if they don't kill each other first.
********
Cheesy, easy-breezy wedding-centric action comedies are few and far between these days (thankfully), but that in no way mitigates the fun I had with the latest Jennifer Lopez vehicle, Shotgun Wedding, a diversionary direct-to-streaming effort that wanders around aimlessly before settling into its own convictions. Lopez, who has been hit-and-miss on the big screen in the last several years – as well as an absence during Covid following her Award-season blitz for Hustlers back in 2019 – partners up with the amiable but not-quite-comedic-genius Josh Duhamel for this wacky will-they-won't-they wedding jitters romantic comedy with guns, as a tropical paradise becomes a terrifying adventure into the unknown of holy matrimony, a balance of gentle gags and some shambolic action for what I would describe as "easy listening action cinema" writ large.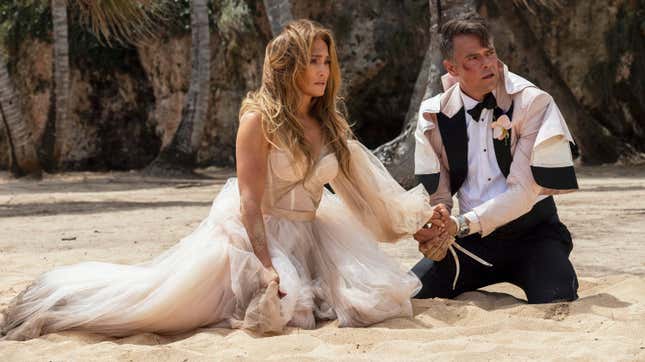 Lopez plays Darcy Rivera, rebellious daughter of well-to-do businessman Robert (Cheech Marin), who is set to be married to ex-pro baseballer beau Tom Fowler (Duhamel) at an idyllic tropical island resort in the Philippines. As both their extended families arrive on the island to celebrate, it soon becomes clear that Darcy and Tom's relationship is strained to breaking point, not aided by the various triggers provided by their relatives. Heck, even Darcy's former fiancée, the handsome Sean (Lenny Kravitz) arrives having not RSVP'd to the invite, which sends Tom crazy, but not before a band of violent gun-wielding pirates take everyone hostage as part of an extortion plan. On the run and bickering almost constantly, Darcy and Tom have to put their differences aside to stop the pirates and save their loved ones.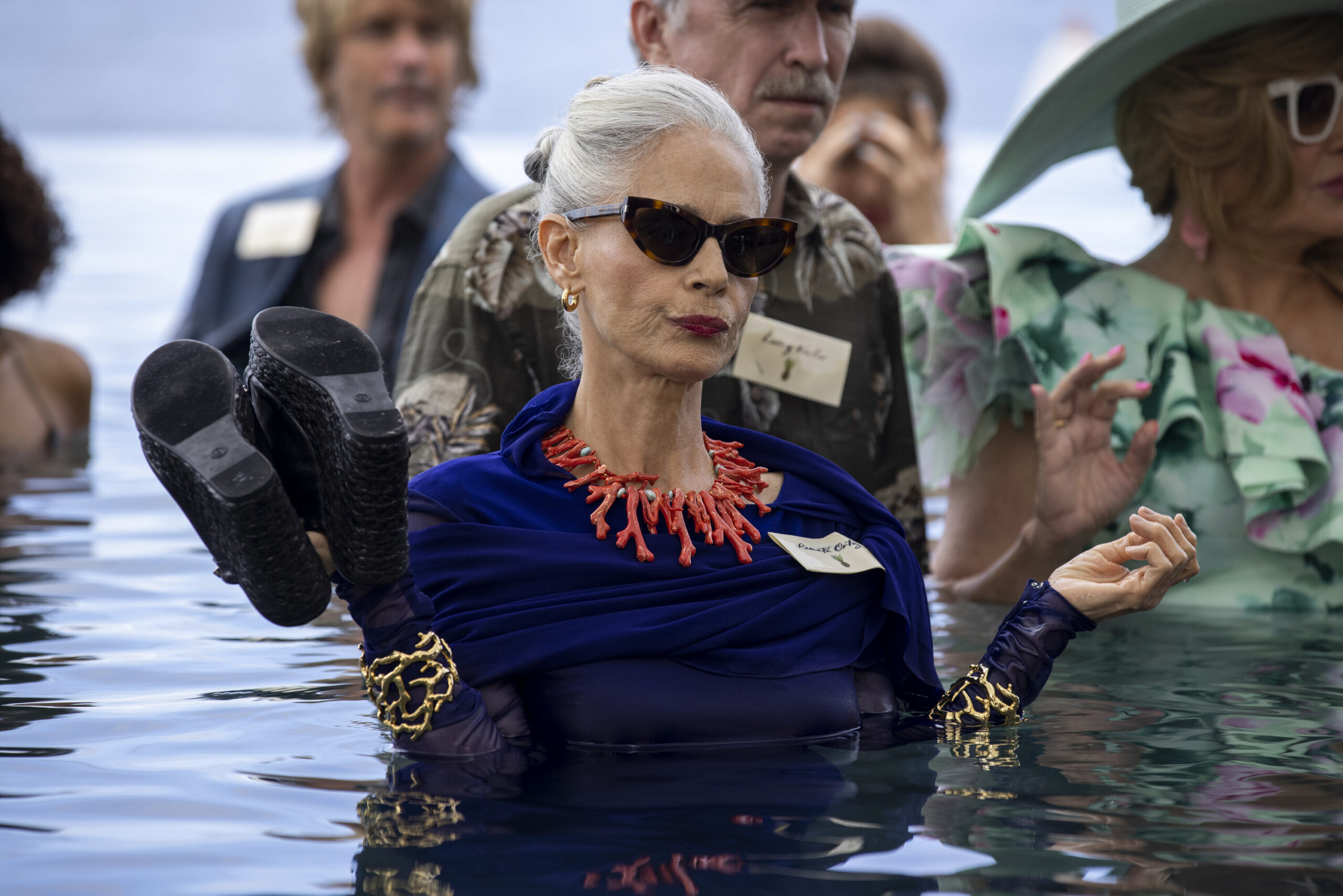 Look, Shotgun Wedding won't be soon winning any awards for originality, but what it does get right, it gets right with just enough talent to work. Lopez and Duhamel make for a hugely mid on-screen couple, with Lopez putting in the lions work of showcasing her screen talent, while her male co-star sweats and bloodies himself up, desperate to accommodate her comedic chops. Duhamel isn't a renowned comic or on-screen funnyman, and that becomes patently obvious with the lop-sided "banter" between he and Lopez' sultry, sexy Darcy – at one point he interrupts potential sex with a scantily clad Lopez to discuss her former lover in detail, I mean… dude, in no lifetime would you be in bed with JLo and suddenly think to talk about all the dick she's had before – leaving him to try and muscle up as best he can in "action man" mode. Unfortunately, Duhamel isn't given much Leading Man heroics to perform, saddled with what I would suggest is a supporting role to Lopez' far more charming Darcy, although in saying that they both seem to be having fun with each other so… for what it's worth, neither of them are bad in their respective roles.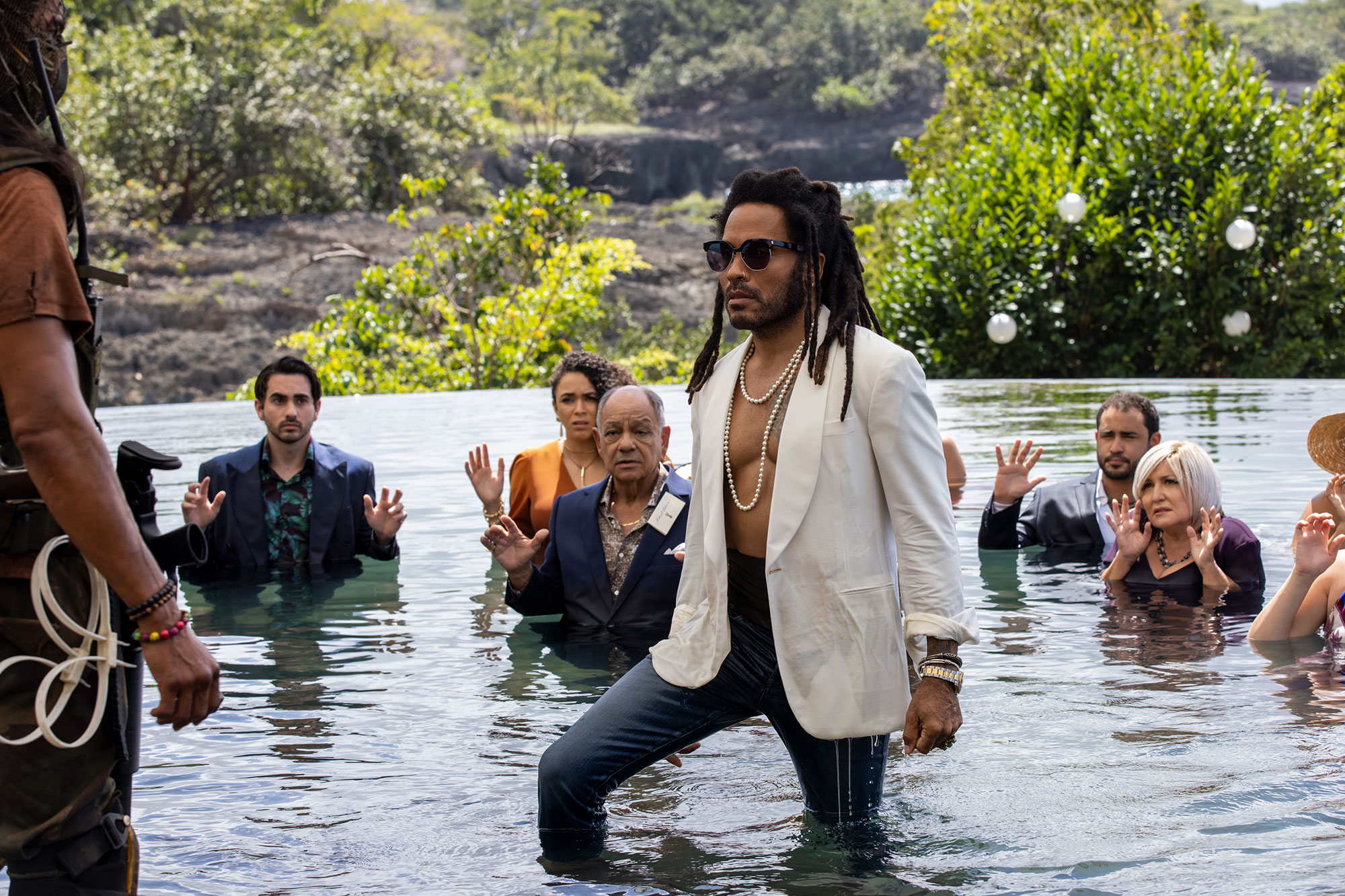 The ensemble cast is all terrific, even if the film gives them very little to do other than to cast witty asides and pithy comebacks every chance they get. It's a boom-tish kind of comedy movie, you can almost hear the snare-drum cracking off in the background every time Jennifer Coolidge, playing Duhamel's mother in a manner that's barely a stretch for the iconic comedienne, opens her mouth. Cheech Marin is wasted as Lopez' on-screen father, while Callie Hernandez and Desmin Borges are a mismatched comedic due for much of the film. Acclaimed Spanish actress Sonia Braga tries her best as the taciturn mother of the bride but the film fumbles her characterisation and turns her into a shrew for no reason, which is disappointing. Lenny Kravitz seems to be having a blast playing the playboy former lover of Darcy's, Sean Hawkins, and he gamely goes for every joke he's afforded by Mark Hammer's whistling-dixie screenplay. In any other film, with any other director, a supporting cast like this should be capable of delivering some real zingers, and elevate even the poorest material, but under the trudging guidance of director Jason Moore, even Coolidge, Marin and Hernandez can't summon more than a few lame chuckles.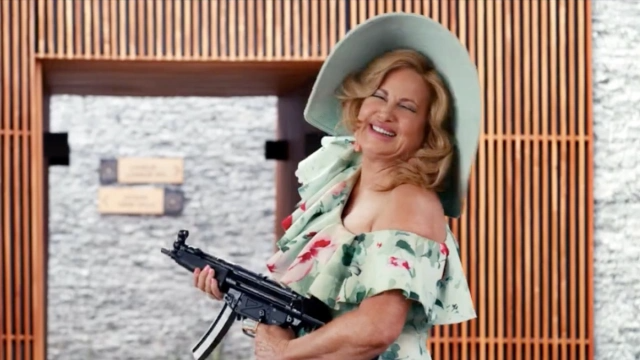 Of course the film wouldn't be an action comedy without action, and while it sputters to life after about twenty minutes or so of pretty dire exposition and character development, things definitely crack on in the second half once Darcy and Tom take off into the tropical jungle. Bickering-couple accidental action is one of my favourite sub-sub-subgenres, and when done correctly can transform a C-grade plot into an A-grade good time at the movies. Shotgun Wedding's action is… well, it fires a few blanks, stumbles into some decent fun here and there, and climaxes with what I assume was the single story idea for the film that lasted from first pitch to final edit, involving a helicopter, a parasail, and a speedboat. Moore's command of action isn't terrific, but he's more than competent for the low-fi antics the script demands (and the talent is capable of) – look, this ain't Under Siege or Die Hard and Moore and his crew aren't about to revolutionise the action genre in any way, shape of form, but for cruisy popcorn munching Friday night shenanigans it's rare that a film delivers with so much reliance on intoxication. The bad guys definitely get their comeuppance, mostly because they're incompetent as hell, and there's a generic crowd-pleasing sense of fait accompli about where the film is heading from the outset in terms of character arcs, so it's not like much about the movie will be a total surprise, but watching Lopez and Duhamel scowl and grind their way through this buddy-comedy with such verve is about as enjoyable as it comes.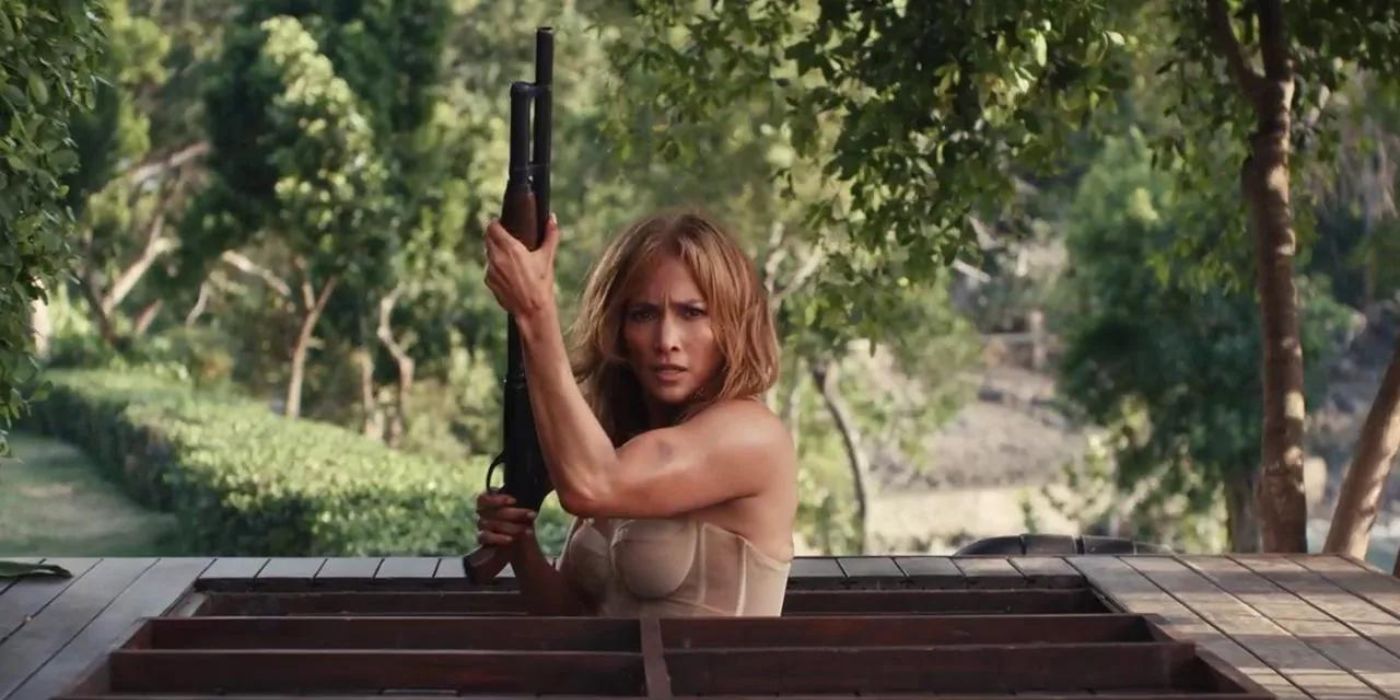 Shotgun Wedding really illustrates why Jennifer Lopez is considered to be the complete package. She's a singer, she can act, she can handle action and she ain't to bad at comedy when given the right material. I'd argue that Shotgun Wedding pairs her up with a co-star that doesn't suit her style all that well – apparently Duhamel replaced Ryan Reynolds in the part, which would have made for a much more combustible combination – but she makes a solid fist of the jokes, set-pieces and overall dirty aesthetic these kinds of films place upon their leads. With a mostly wasted supporting cast and a beautiful location shoot (the Dominical Republic standing in for the Philippines), together with some gentle gags and a couple of sweet, sweet kills, Shotgun Wedding is dumbass fun and engaging in the most superficial manner possible, and is as undemanding a romantic pastiche as most of Lopez' other films of this ilk. Middle-rung moviemaking is proud to present this film.
Who wrote this?