Principal Cast : Florence Pugh, Jack Reynor, Vilhelm Blomgren, William Jackson Harper, Will Poulter, Ellora Torchia, Archie Madekwe, Henrik Norlen, Gunnel Fred, Isabelle Grill, Agnes Rase, Julia Ragnarsson, Mats Blomgren, Lars Varinger, Anna Astrom, Hampus Hallberg, Liv Mjones, Louise Pterhoff, Katarina Weidhagen, Bjorn Andresen, Tomas Engstrom, Dag Andersson.
Synopsis: 
A couple travels to Northern Europe to visit a rural hometown's fabled Swedish mid-summer festival. What begins as an idyllic retreat quickly devolves into an increasingly violent and bizarre competition at the hands of a pagan cult.
********
Intellectual tourism, the world's worst break-up and themes of murder and suicide abound in Ari Aster's Midsommar, his follow-up to the critically acclaimed Hereditary. As a horror film, Midsommar isn't the up-front scariest movie around, but it is specifically shocking, with themes, visuals and gore eliciting skin-prickling chills in the bright Swedish (actually Budapest) countryside. Aster concocts a distinctly potent mix of folk horror, heart-breaking tragedy and eugenics that forms a lengthy, yet uncomfortably can't-look-away-ness feeling of dread as Midsommar unspools; led by a terrific Florence Pugh (Black Widow) with support from both Jack Reynor and a gaggle of Swedish actors alongside Will Poulter and William Jackson Harper, the creepy faux-innocence of the film's lush tableau is slowly peeled away, like skin from flesh, a resounding triumph of anguish over substance.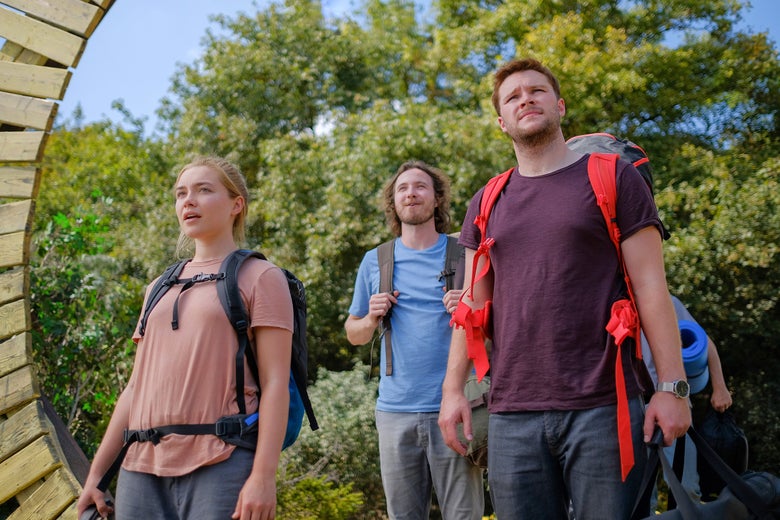 American student Dani (Pugh) is struggling to deal with the deaths of her sister and parents in a horrific murder-suicide, as well as continuing her relationship with cultural anthropology student Christian Hughes (Jack Reynor – Sing Street, Cherry). Christian and his friends, Josh (William Jackson Harper) and Mark (Will Poulter) have been invited by another student, Pelle (Vilhelm Blomgren) to travel to his family's commune in Sweden to study an ancient midsummer celebration – upon arriving, they are greeted warmly and given hallucinogenic drugs, and invited to stay. As the four Americans spend time in the secluded commune, they are put at unease by a series of baffling rituals and events, most notable of which is the public and supported suicide of a pair of the commune's elders, which forces the grief-stricken Dani to struggle with PTSD. Things start to really take a turn when a couple of other visiting internationals go missing without warning, and the celebrations begin to take decidedly sinister tone; both Josh and Mark vanish, and Christian, whose eye has been caught by a local girl, finds temptation too much to resist, leaving Dani to navigate the trials and horrors of the cult's proclivities alone and unprotected.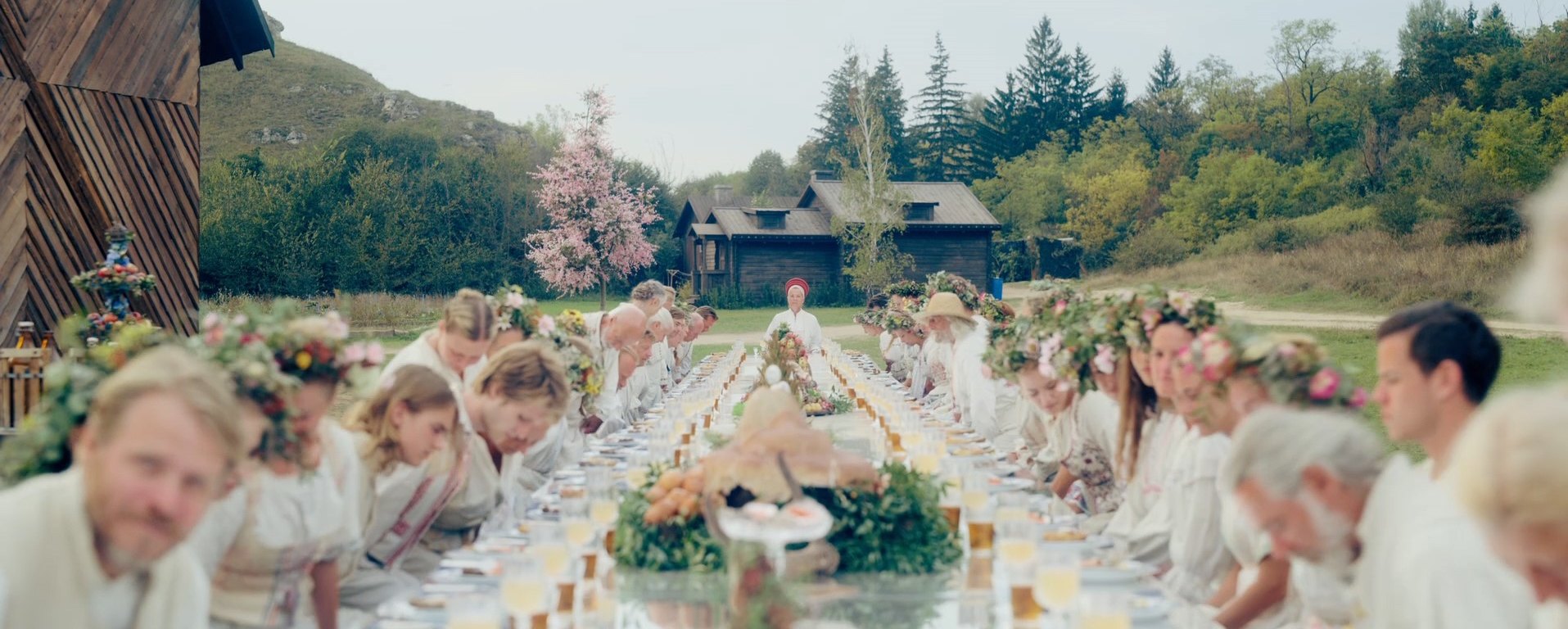 Midsommar is an incredibly niche horror film. It's a delight from start to finish for genre fans, with the same verve Aster gave us in Hereditary transplanted into this film. It's the cinematic experience of a skin tag near a fingernail, painful but you still need to pick at it, to gouge at it until you've satisfied your unconscious stress. The film wallows in grief and misery, sneaks up and pulverises you with moments of abject terror, a slow-burn of gradually rising effectiveness as the foregone torture test of human endurance culminates in one of the more ebullient conclusions to a film I've seen in years. I would be disinclined to think mainstream audiences will be satisfied with the pacing (it's slow) and structure (it's very much like an LSD trip itself, this movie) but for the cineast Midsommar represents a superlative achievement in taut, gripping cinema. Astor directs from his own screenplay, developed after he was pitched the concept of a Swedish slasher film, turning it instead into an examination of a relationship breakup told through the lens of bohemian cult-worship and isolationist paganism. Weird, sure, but then have you even seen Hereditary? Aster's ability to generate tension through his camera, with a razor-sharp sound mix and Bobby Krlic's electrifying score, is second to none, perhaps only equalled by the work of fellow horror contemporaries like Jordan Peele, David Robert Mitchell or Robert Eggers.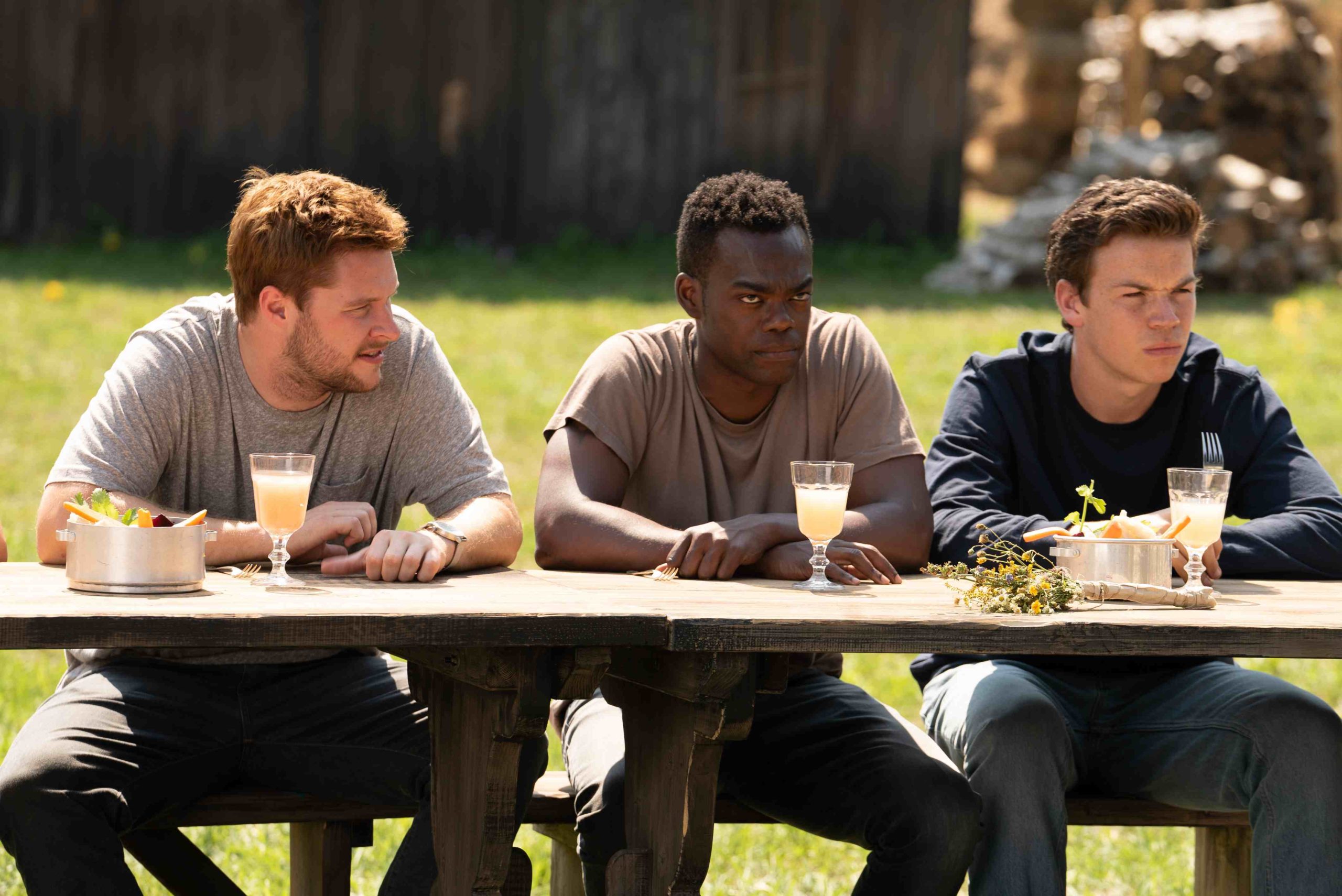 Chief among the pervasive sense of unkempt sinister machinations is the proliferation of Nordic cultural iconography, historical indigenous rites and mythology that in turn promotes the occult via the sweeping gleefulness of the commune's behaviours. The suicide of two old commune members, in a rite known as ättestupa, is well known among prehistoric Nordic cultures and is referenced here as a self-governing end to one's life cycle – declarative positivity from the rest of the group maintains the bucolic and urbane sense of finality to the story, a malignant evil rising amid the serene environment in which our characters find themselves. That snickering, rising dread that proliferates through intellectual horror is magnified here with Aster's commanding and assured direction, but the way the film focuses on the out-of-body experience involving Florence Pugh's Dani elevates this to an even more terrifying visual experience. Once of the things I found most effective is Aster's ability to create fear out of even the most benign of occurrences, a backdrop of antecedent bloodthirst hidden behind a veil of ritualism and myth, something few people might question. Anthropological study is the basis for Midsommar's travelogue plot, but this questioning search for understanding manifests a resistance to seeing the underlying danger Dani, Christian, Josh and the rest of the interlopers are all in, and as the audience we're teased with whether or not the suspicions Dani raises are well founded or simply a flight of LSD fancy. While she's questioning everything around her, even we, the viewer, becomes lured in by the banal ambivalence of the cult's behaviour, which forces the shock of the revelatory curtain-pull to become even more profound.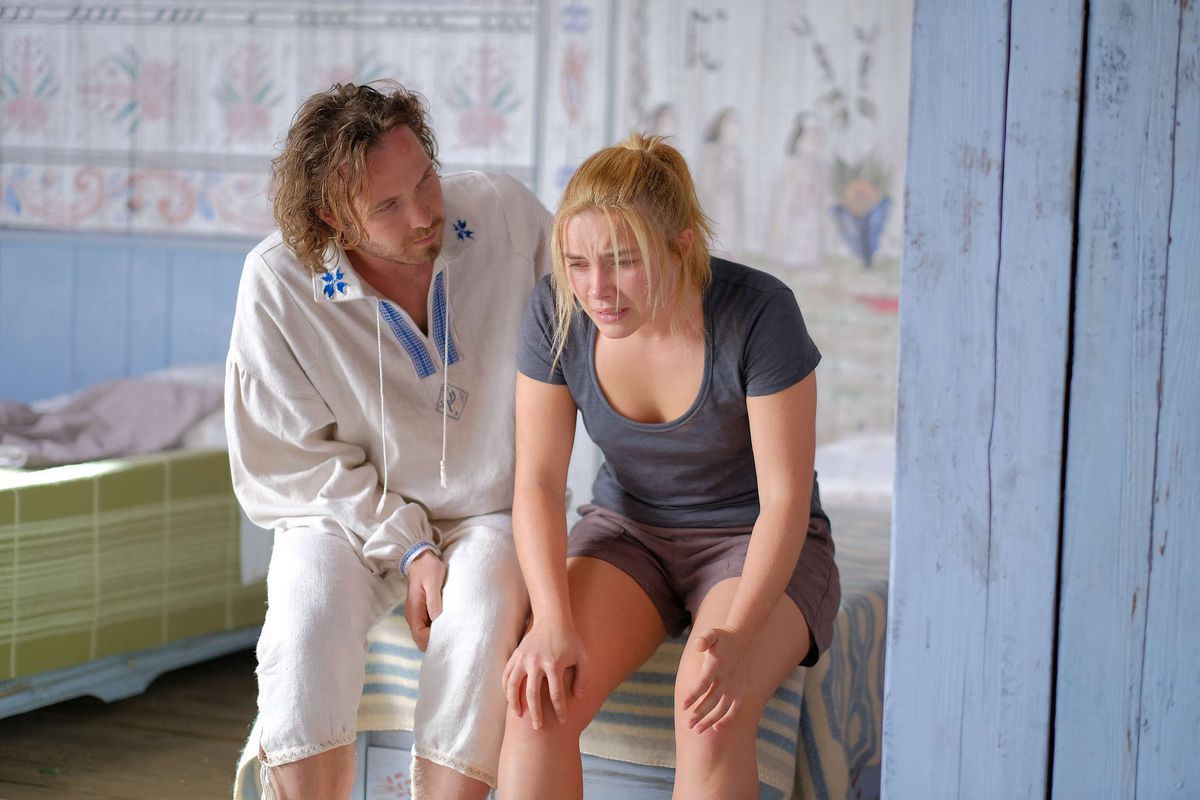 In a rare case of a horror film not really being all that horrific with gore and blood – aside from the elderly suicide I mentioned, and one genuinely creepy execution death near the end – Midsommar is determinedly adult in its exemplification of insidious evil. Thematically, the audience is put through the ringer, as the inexorable conclusion and confrontations you know are coming finally arrive, and aside from a quite shocking sexual escapade for young Jack Reynor the film is a beneath-the-surface tumour of torment and bile, pustulating like an unlanced boil before the pressure is released with an aversion to conformity. Midsommar is unlike many other genre films it finds as contemporary. Hell, it's even a wildly divergent experience to Hereditary and that's from the same director!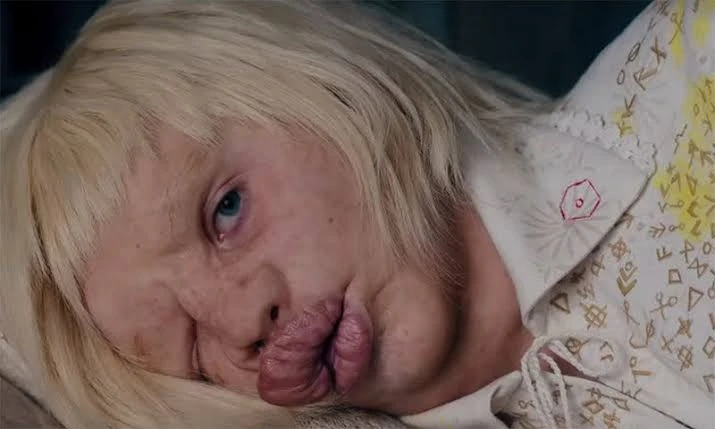 As I've alluded to, Florence Pugh is the anchor for the film's human viewpoint. Rancid evil such as that depicted here becomes far more powerful when it simply ferments rather than explodes, allowing the audience to marinate in its deliciously heinous glory. Pugh, as Dani, is resplendently innocent – the quite literal virgin sacrifice analogy – and her fate is one of pure devastation, with the actress carrying off the enormously emotive arc from pure grief to unadulterated horror, before a resolution that gives the viewer a truly sickly feeling. Her co-stars, notably Reynor and William Jackson Harper, as excellent, while Will Poulter's Mark is arguably the closest the film comes to for comedic relief to offset the dread. In terms of performance the central quartet all feel like a historical friendship group, despite their differences, and I found all of them to be equally charming and delightful in their own way. Pugh, however, is the glue to this one, and commands the screen thanks to Aster's centrifugal-force camerawork and superb use of framing and editing.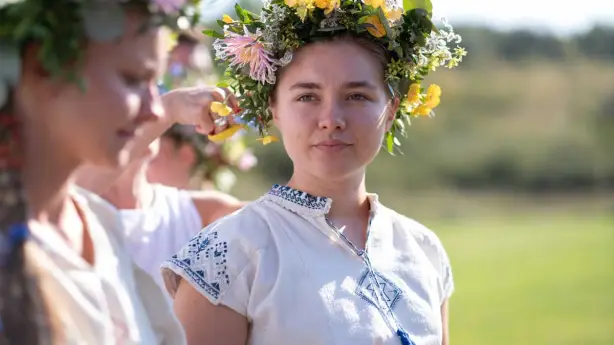 I'm loathe to really delve deeper into Midsommar's brilliance if only because it's a film best appreciated knowing as little about it as possible. Those who have seen it will know how amazing it is; those who have not should simply take this horror fan's word for it that it is quite the experience. I would also go on record as suggesting that Midsommar is easily the shortest three-hour film I've ever seen: the time simply flies by, despite a languid pace and refusal to expedite the development of atmosphere and tone. And that ending! Uncomfortable viewing doesn't get more despondent or eloquent than Ari Aster's tortured Midsommar, a truly magnificent example of intellectual horror that will have you thinking about it for quite a while afterwards. Highly recommended.
Who wrote this?