Movie Review – Legally Blonde

Principal Cast : Reese Witherspoon, Luke Wilson, Selma Blair, Matthew Davis, Victor Garber, Jennifer Coolidge, Holland Taylor, Ali Larter, Jessica Cauffiel, Alanna Ubach, Francesca P Roberts, Oz Perkins, Linda Cardellini, Bruce Thomas, Meredith Scott Lynn, Wayne Federman, Raquel Welch, Greg Serano, Mooni.
Synopsis: Elle Woods, a fashionable sorority queen, is dumped by her boyfriend. She decides to follow him to law school. While she is there, she figures out that there is more to her than just looks.
********
Owing more to Clueless than its descendant Mean Girls, Robert Luketic's instantly iconic "dumb blonde" comedy Legally Blonde, which isn't dumb at all, remains an enduring classic twenty years after debut. Delicately stepping the fine line between snark and cynicism, Legally Blonde takes the Dumb and Dumber cliché and plays it as straight as an arrow, with Reese Witherspoon's ditzy Elle Woods putting paid to snide, snarky legalese and bringing her frothy, pink-hued warmth to the staid world of Harvard Law School. Unlike many of its contemporaries, a lot of the humour in Legally Blonde still holds up, reliant less upon technology or social commentary of the day and more on the winning characters, catchy quotes (bend…. and snap!) and the energy Luketic gives the story; a story, I might add, boasts plenty of clichés and tropes for a genteel "rom-com", but delivers them with such enthusiasm and dedication you can't help but be swept up by Elle's journey from fashionista to dux of law-school.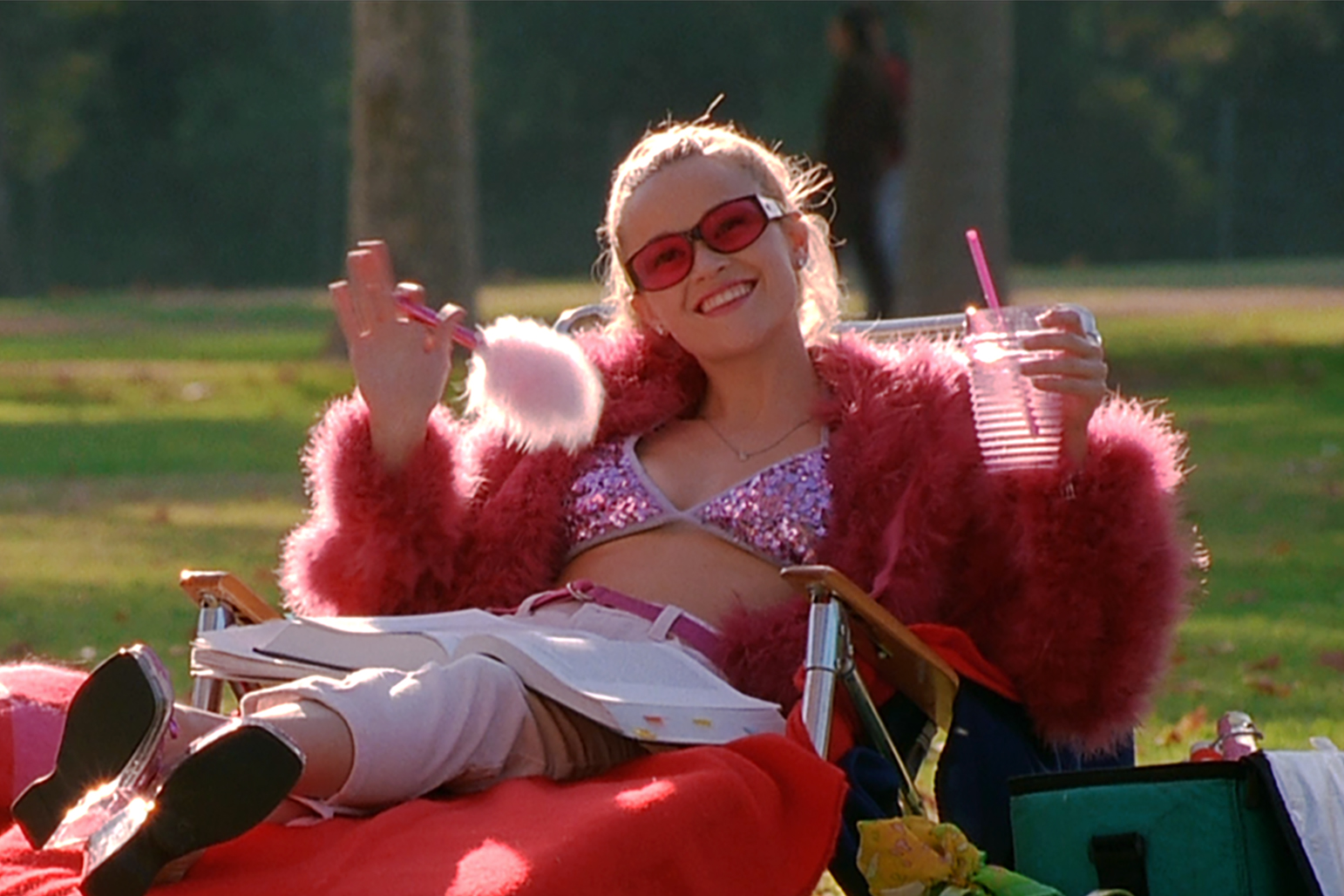 Elle Woods (Witherspoon) is a typical fashionista student at her local college, with designs on resident hunk Warner Huntington III (Matthew Davis). Expecting him to propose, she is left heartbroken when he calls off their relationship when he decides to head to Harvard Law School, believing Elle isn't "serious" enough for him. Elle believes she can win him back if she too enrols at Harvard Law and displays an ability to achieve similar goals. After snatching a place in the prestigious campus, Elle is blindsided by her former boyfriend's sudden new relationship with fellow student Vivian Kensington (Selma Blair), and redoubles her efforts to become a lawyer, representing accused criminal (and former sorority alum) Brooke Taylor-Windham (Ali Larter) in court after her snooty professor, Callahan (Victor Garber) displays misogynistic and lascivious tendencies. With her best friends Margot (Jessica Cauffiel) and Serena (Alanna Ubach) by her side, as well as the ditzy hairstylist Paulette (Jennifer Coolidge), Elle goes from sorority queen to law firm superstar, drawing the attention of fellow Harvard lawyer Emmett (Luke Wilson) as a potential romantic interest.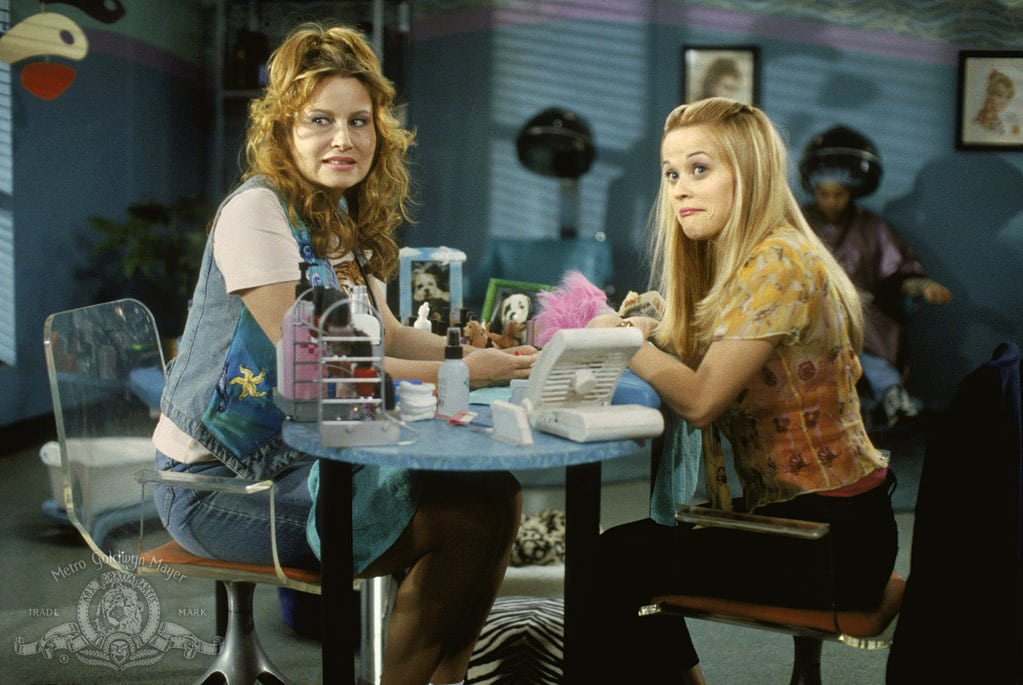 Elemental of the prototypical "dumb blonde" trope, Legally Blonde avoids the pitfalls of such a cynical storytelling technique by playing it absolutely straight. Everyone other than Elle Woods thinks she's crazy, and that's the fun part – she might look out of place with her styled hair and couture costuming but she's smart as a tack and, when it comes to her sorority, loyal to the core. The film isn't so much an outright comedy as it is a comedic drama, playing loose with the rom-com archetypes (including the ubiquitous bitchy "other woman" and the eye-rolling background players who find Elle's antics at odds with the stifling, stuffy intelligentsia of Harvard and its pompous elite. Witherspoon fits the role perfectly, her natural perky bubbliness quite charming and never once feeling disconnected with the film's own internal truth, whilst maintaining that seemingly endless effervescence that makes the movie to utterly charming. She plays Elle as a woman who takes no shit, but isn't mean about being affirmative in her actions – she has since become a feminist icon of sorts, I'd wager, entering the pop lexicon with her immediately iconic "bend, and snap!" routine to lure a man into her charms.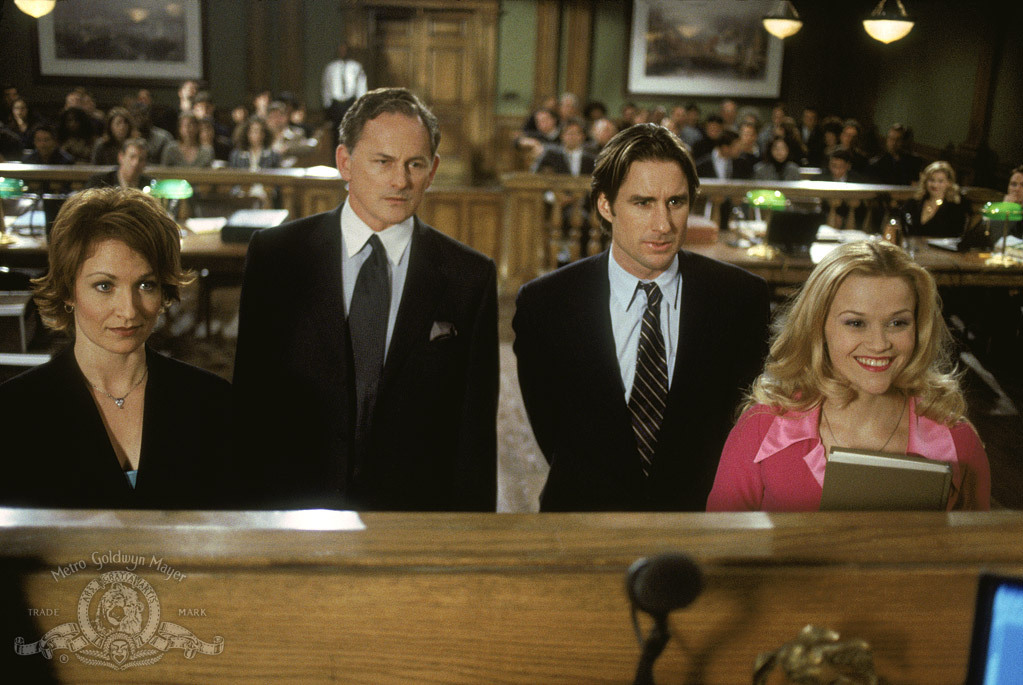 Australian-born director Robert Luketic (The Ugly Truth, Paranoia) doesn't deliver the flashiest of films in terms of technical prowess, rather he wisely lets the delightfully likeable script and instantly amenable cast do the heavy lifting in both comedic and dramatic chops, an ensemble who crackle with millennial energy and find the honesty of every character they play. Victor Garber's slimy Harvard professor is instantly smarmy, Selma Blair's uppity snootiness creates instant angst for Elle's earnestness and flair, Luke Wilson's eternally stoned-surferdude-cool performance is arguably his most winning, and the effortlessly hilarious Jennifer Coolidge, better known as Stifler's Mom from the American Pie franchise, steals every scene she's in as Paulette, Elle's unlucky-in-love beautician friend. The film's chief villain, for want of one that is, is Matthew Davis' snobby upper-class Warner Huntington III, a class-A blue-ribbon twat if there ever was, and although he's not an outright asshole in the truest sense, his douchery is enough to catalyse Elle's journey to becoming a lawyer herself. Final Destination star Ali Larter pops up in a minor supporting role as accused murderer Brooke, a former alumni of Elle's sorority, and a blink-and-miss-it cameo to Rachel Welch, as Larter's stepmother, is a blast.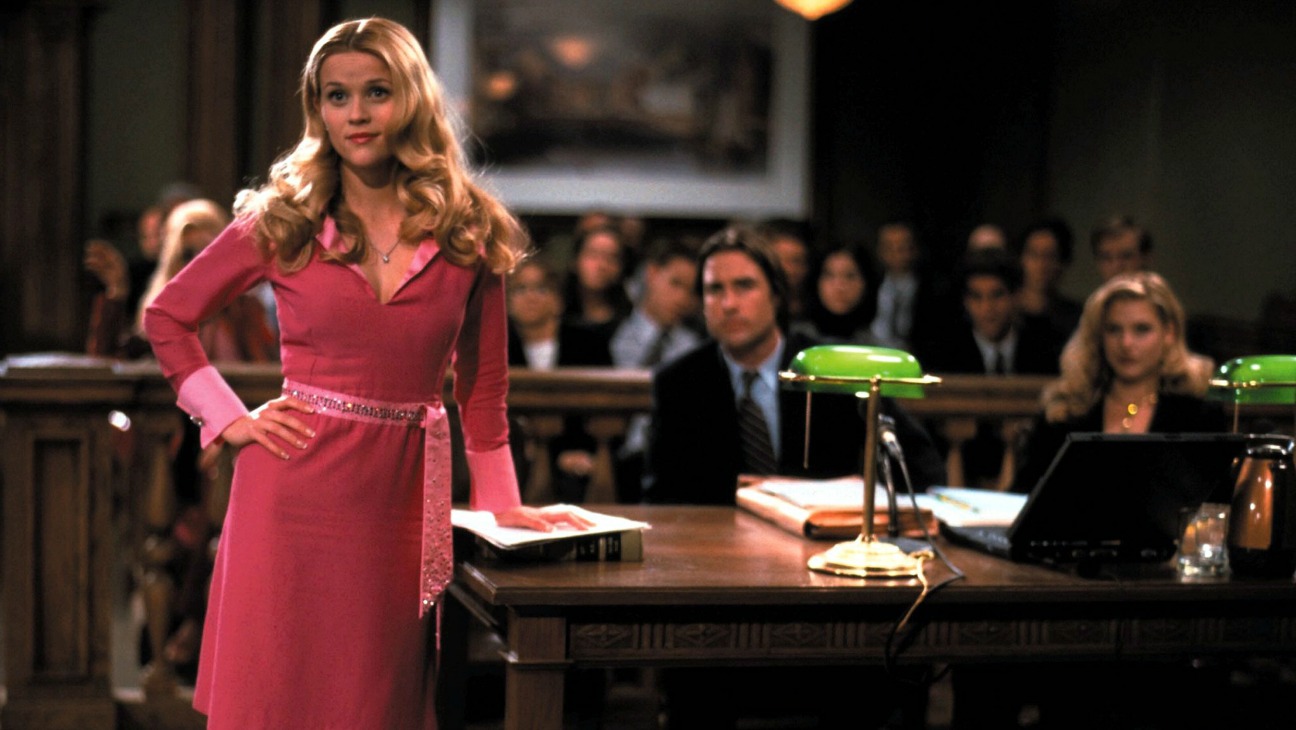 As inoffensive and genteel as a mainstream Hollywood romantic-comedy centered around a puffy pink fashionista and her handbag dog is ever likely to get, Reese Witherspoon absolutely own the screen in Legally Blonde, commanding attention even when the character ought to feel far more cynical than it is. It's a flip on the dumb blonde trope and carries a lot of heart; Legally Blonde plays things without ever becoming snide, the honesty in Elle's personality a key element in making the film so memorable. Had the film skewed to a more farcical tone, I suspect Elle Wood's sojourn into the legal system would have felt dishonest, especially given how warm and friendly Witherspoon's persona is in real life. Legally Blonde is like a warm cuddle on a sad day, brightening up the room as much as Elle's pink ensembles often do in this movie. Definitely a must for genre fans.
Who wrote this?