Movie Review – Mask, The (1994)

Principal Cast : Jim Carrey, Cameron Diaz, Peter Greene, Orestes Matacena, Peter Riegert, Jon Doughan, Richard Jeni, Amy Yasbeck, Jeremy Roberts, Ben Stein, Ivory Ocean, Reg E Cathey, William Daniel Mielcarek, Denis Forest, Eamonn Roche, Nancy Fish, Nils Allen Stewart, Blake Clark.
Synopsis: Bank clerk Stanley Ipkiss is transformed into a manic superhero when he wears a mysterious mask.
********
The mid-90's were an amazing time to be Jim Carrey. A performer on noted television sketch comedy series In Living Color (as the only recurring white cast member), Carrey's career exploded in 1994 with three consecutive breakout big-screen hits, beginning with Ace Ventura: Pet Detective, Dumb And Dumber, and of course perhaps the most well regarded of all, The Mask. Based on the Dark Horse line of comics of the same name, created by John Arcudi and Doug Mahnke, Chuck Russell's The Mask removes almost all the wanton anarchic violence of the printed versions and goes for a far more comedic, lighter tone in keeping with Carrey's rubber-faced contortions as a comic. As with all three films of Carrey's to release in '94, The Mask rarely allowed Carrey to manifest the acutely sophisticated dramatic chops he would display in more serious fare like Man in The Moon or the ill-advised Cable Guy, instead focusing on the Canadian actor's penchant for overacting, hysterical ad-libs and impeccable imitation – The Mask provides Carrey to opportunity to do his best Clint Eastwood, and he does it well. While the original comics layered in darker undertones for mature readers, Hollywood's desire to hit a four-quadrant home run with Carrey's brightly garbed and green-faced anti-hero saw the film play directly for the PG market, blood and gleeful guts removed in favour of balloon animals and a hell of a cute sidekick dog.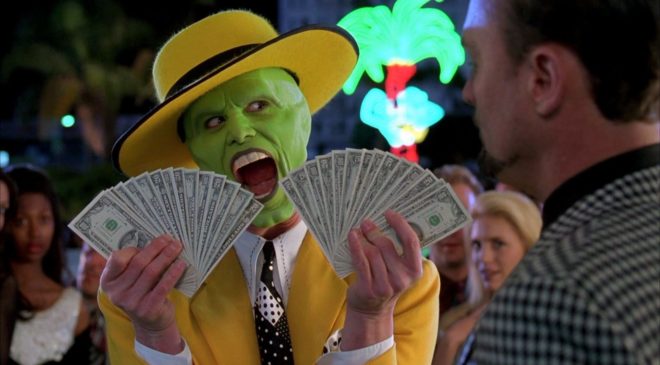 Carrey plays Stanley Ipkiss, an inept yet good-hearted dude who never gets the girl, is always second-choice, and rarely, if ever, has the rub of the green. That all changes when a chance encounter with a strange wooden mask, unearthed during a cable laying incident at the bottom of Edge City's nearby river, falls into his hands. Stanley discovers that wearing the mask enables him to live out his wildest fantasies as a near-indestructible personification of his desires writ large; as the Mask, Stanley frequents the Coco-Bongo Club, which is run by local gangster Dorian Tyrell (Peter Greene) and stars newcomer singing sensation Tina Carlyle (a stunning Cameron Diaz in her big-screen debut). After robbing a bank to pay for his vices, the Mask draws the attention of the city's police, leading Detective Kellaway (Peter Riegert) and Detective Doyle (Jim Doughan) to work the case. With Stanley's banking colleague Charlie (Richard Jeni) and Agony Aunt turned serious journalist Peggy Brandt (Amy Yasbeck) in tow, as well as his loyal canine companion Milo, Stanley must choose between being the hilariously over-the-top confidence trickster of the Mask, or find within himself his own confidence to embrace all that life throws at him.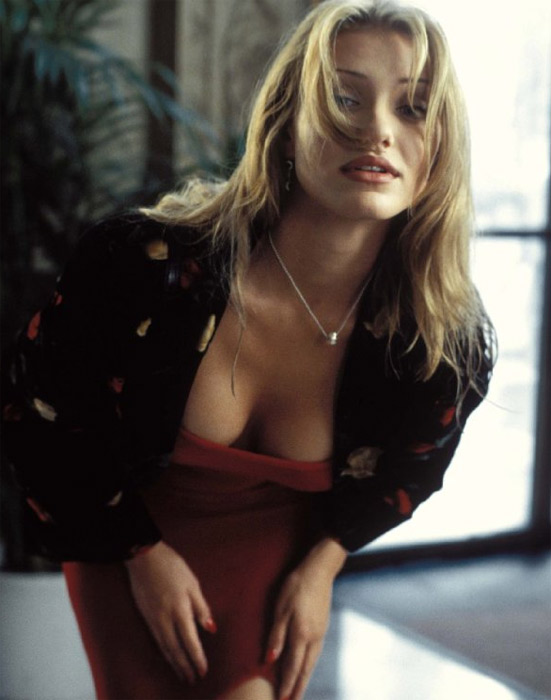 As a comic book movie, The Mask works. The cheery, cheesy tone accommodates Jim Carrey's insanity and the whacky, CG-enhanced antics of the titular character and his rapid-fire patter and wantonly violent predilections with a cartoonish sense of glee. The cartoonish element is expertly traded upon by the inclusion of Stanley Ipkiss' key character trait of enjoying old  Tex Avery cartoons maintaining a consequence-free environment for the outlandish actions of our hero. That Carrey transitions between the slumped-shouldered Stanley Ipkiss with his iniquitous life and the razzle-dazzle laugh-a-minute Mask with such ease and such ferocity made his comedic style a perfect fit for the role, albeit a substantially watered down version. Mike Werb's script juggles the loose-fitting demands of the cartoon movie style with the ever-present star wattage of a rising Hollywood A-lister in Carrey, with character beats written in single dimensions for all bar the lead actor and bright, colourful settings forming the backdrop to this hyperkinetic comedy. The film holds up largely because of Carrey's strong lead performance, aided considerably by the instantly iconic costuming and astonishing green prosthetic he wears around his head as the title character, enormous teeth and all. The script isn't especially well developed, offering scant moments of genuine heart or warmth when the focus is so often on getting Carrey into his Mask costume, which kinda misses the mark of the original comics (to our detriment), but as pure popcorn cinema few films of the period could showcase a production firing on all cylinders like this.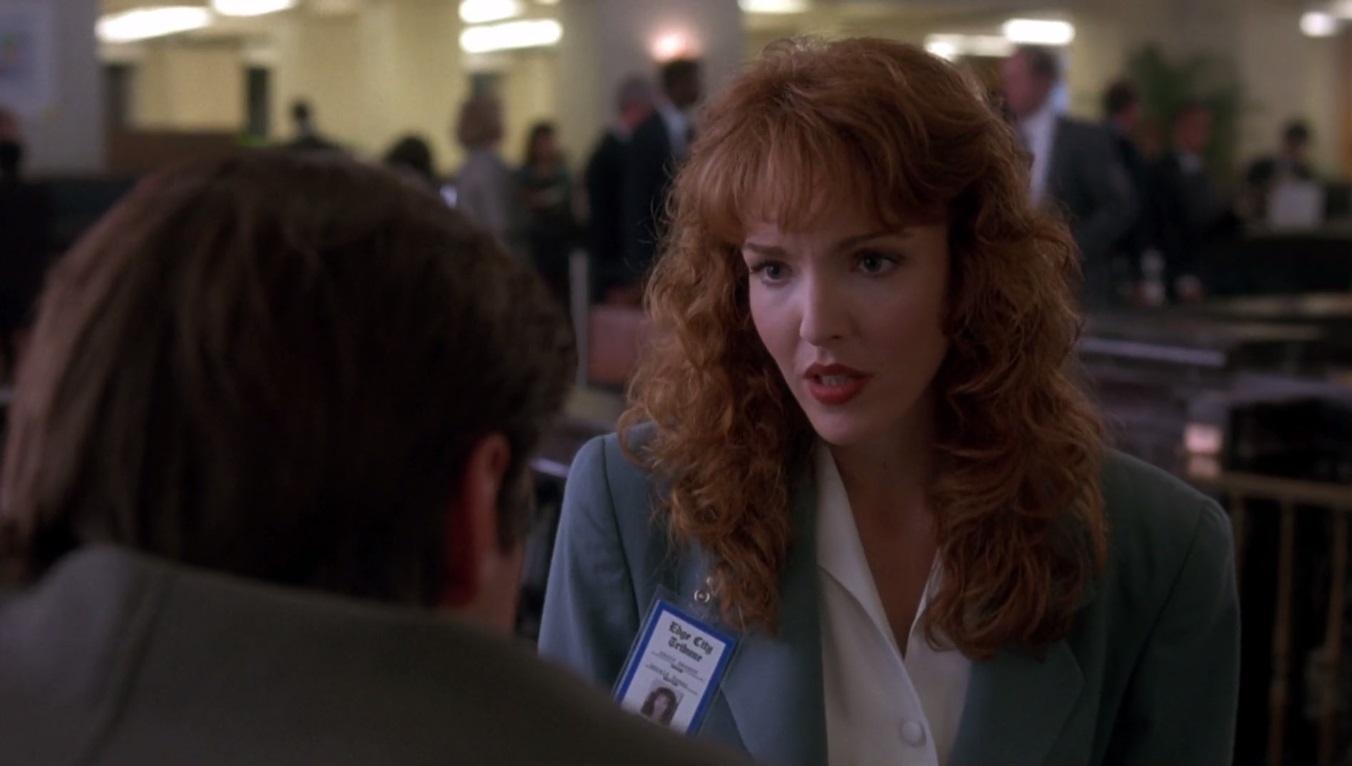 Carrey is as Carrey does, portraying Stanley Ipkiss not as a hopeless loser but rather a disappointed Good Guy, never quite achieving what he feels he could achieve if a little bit of luck went his way. It's a role carved specifically to suit Carrey's natural performance style and director Chuck Russell, who keeps a respectably tight leash on the gags in this, lets his star do his thing more often than not. The immediately legendary lines from this film, "Sssssssmokin'" and "Ohhh, somebody stop me!" wouldn't work quite the same had they been delivered by a lesser comedic force, and even buried beneath makeup the actor turns on the charm at every turn. Co-star Richard Jeni, as Stanley's office mate Charlie, has a tinge of smarm as an equally good-natured wannabe-playboy type, whilst the pairing of Peter Riegert and Jim Doughan as the well-intentioned yet continually stonewalled police detectives of the film, is an absolute joy. Robin Hood: Men In Tights star Amy Yasbeck has a thankless role as the lovely newspaper reporter a la Lois Lane yet the actress kinda doesn't suit it, whilst Peter Greene's wooden acting and clumsy performance style as the film's chief villain, Dorian, really only comes into his own during the climactic club showdown, in which the character gets a moment to don the mask himself and become a truly frightening, if underused, spectre of terror.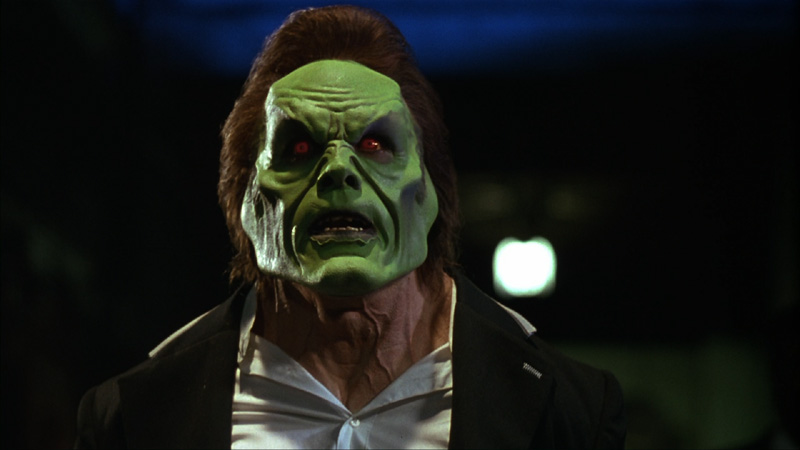 Truly, though, the film's shining light is Cameron Diaz, who makes one of the most dazzling, sexy, heart-palpitation debuts of all time as Carrey's love interest, Tina. Diaz is absolutely gorgeous, coquettish and delicate when required but decidedly strong-willed when the time comes. The actress isn't afforded much to do other than bat her eyes and swan about in soft focus in some truly pants-bursting dresses, but as far as starmaking turns go this one remains one of the best in recent history. As a young guy watching this when it came out, it was truly the moment I cemented my heterosexuality without a single doubt as she appeared on screen. The raking camera dolly shot on her entrance, moving from her beautiful legs up to her resplendent bosom and then finally to that lustrous smile, remains iconic even now; there's a reason she became a star and this film was it.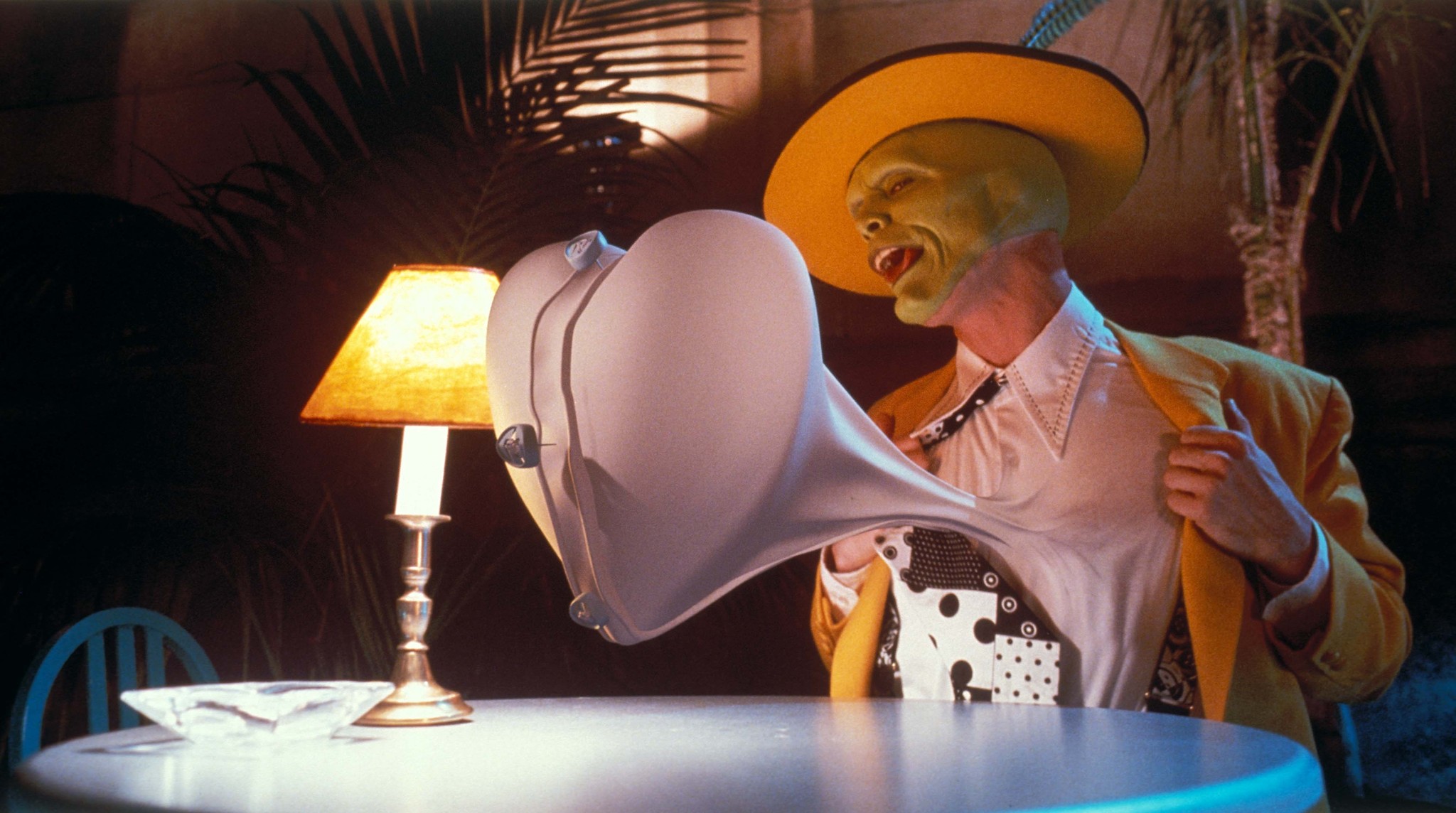 The Mask also gives great supporting character actors a chance to do their thing, from the late Denis Forest (Cliffhanger) and Reg E Cathey as henchmen, Ben Stein as a psych professor Stanley requests help for his split personality, to Orestes Matacena as Dorian's one-time gang boss, and Eamonn Roche in an early screen role. It's all for fun and everyone knows it, the verve and energy coming from the screen palpable throughout. The film's substantial set pieces include a protracted song and dance routine between Carrey's Mask and Diaz' Tina at the Coco Bongo Club, as well as a lengthy musical number between the Mask and denizens of Edge City's police force to the toe-tapping "Cuban Pete" number, while the softened violent moments of robbery, sadistic criminality and the Mask's predilection for guns and weapons are perfect for the Bugs Bunny tone the film strives for. The fact the computer animated moments, such as the Mask turning into the cartoon whistling wolf so significantly projected in an opening sequence, are so rubbery by comparison with today's crisp output, only elaborates the cartoon DNA Russell and his team were striving for.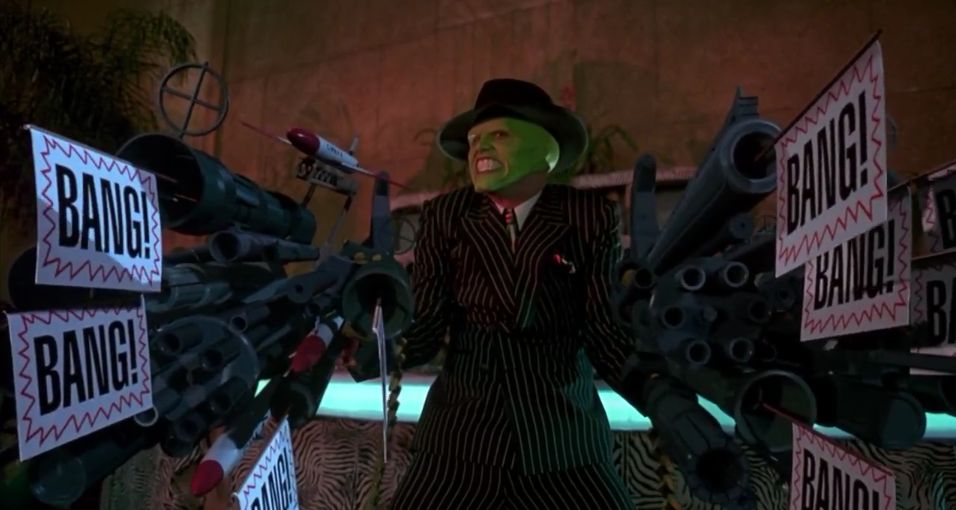 Revisiting The Mask today is like donning an old pair of slippers. It's a comfort film, this one, a well known product that has hardly aged a day and reminds us all of when Jim Carrey's rise to superstardom had only just begun. Hindsight being what it is, I'd really love to have seen a film stick closer to the adult-oriented nature of the original comics, and even now hold out hope of a limited series in the vein of The Boys or Invincible (with which the original Arcudi/Mahnke comics share a genetic pathology), but for now have to content myself with this fluffy, comedic soufflé doing the job well enough. I can never shake the feeling of what might have been had Carrey and Hollywood opted to go dark for this movie, and its potential never quite appeases my more mature sensibility, but The Mask is an out-and-out delight that will satisfy kids and adults alike.
Who wrote this?