Movie Review – On The Basis of Sex

Principal Cast : Felicity Jones, Aermie Hammer, Justin Theroux, Sam Waterston, Kathy Bates, Cailee Spaeny, Callum Shoniker, Jack Reynor, Stephen Root, Ronald Guttman, Chris Mulkey, Gary Werntz, Francis X McCarthy, Ben Carlson, Wendy Crewson, John Ralston, Arthur Holden, Angela Galuppo, Arlen Aguayo-Stewart, Holly Gauthier-Frankel.
Synopsis: The true story of Ruth Bader Ginsburg, her struggles for equal rights, and the early cases of a historic career that lead to her nomination and confirmation as U.S. Supreme Court Associate Justice.
********
Legendary American Supreme Court Justice Ruth Bader Ginsburg, who passed away in 2020 just prior to the US Presidential Election, had a life that was always ripe for a biopic. A woman of impeccable integrity, fostering a fierce opposition to inequality, Ginsburg became an icon of the liberal left in the United States for her work particularly towards gender equality and women's rights, right up until her death. Her early life and formative career is depicted here by a rock-solid cast including Felicity Jones, Armie Hammer and Justin Theroux, directed by Deep Impact's Mimi Leder, and although the film isn't a blockbusting cinematic event it lovingly portrays the trials and tribulations a woman in mid-20th Century United States had to endure to force her way into what was at that point a male dominated segment of society.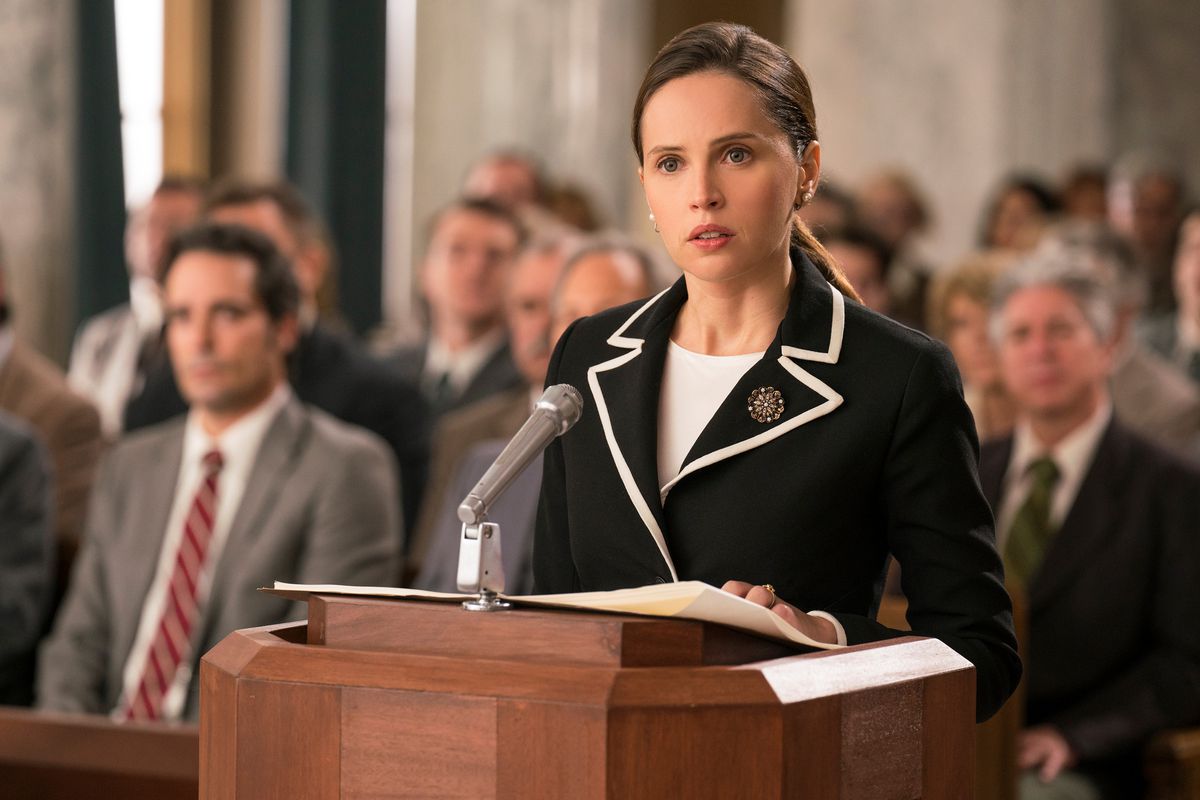 Ruth Ginsburg (Jones) is a first year student at prestigious Harvard Law School, alongside her fellow student and husband Martin (Armie Hammer). Ginsburg finds the Harvard Law School Dean, Erin Griswold (Sam Waterston) incredibly sexist and misogynistic, and constantly fights to represent herself within the archaic and unevenly prejudiced setting. As Martin endures a testicular cancer diagnosis, and a growing young family, Ginsburg takes on a case against Charles Moritz (Chris Mulkey) who was denied a tax deduction for hiring a nurse to care for his elderly mother while worked, because he was a man. ACLU chief Melvin Wulf (Justin Theroux) initially spurns her request for assistance but comes to her aid when it appears she has a winnable case, her first in front of an actual panel of judges in court.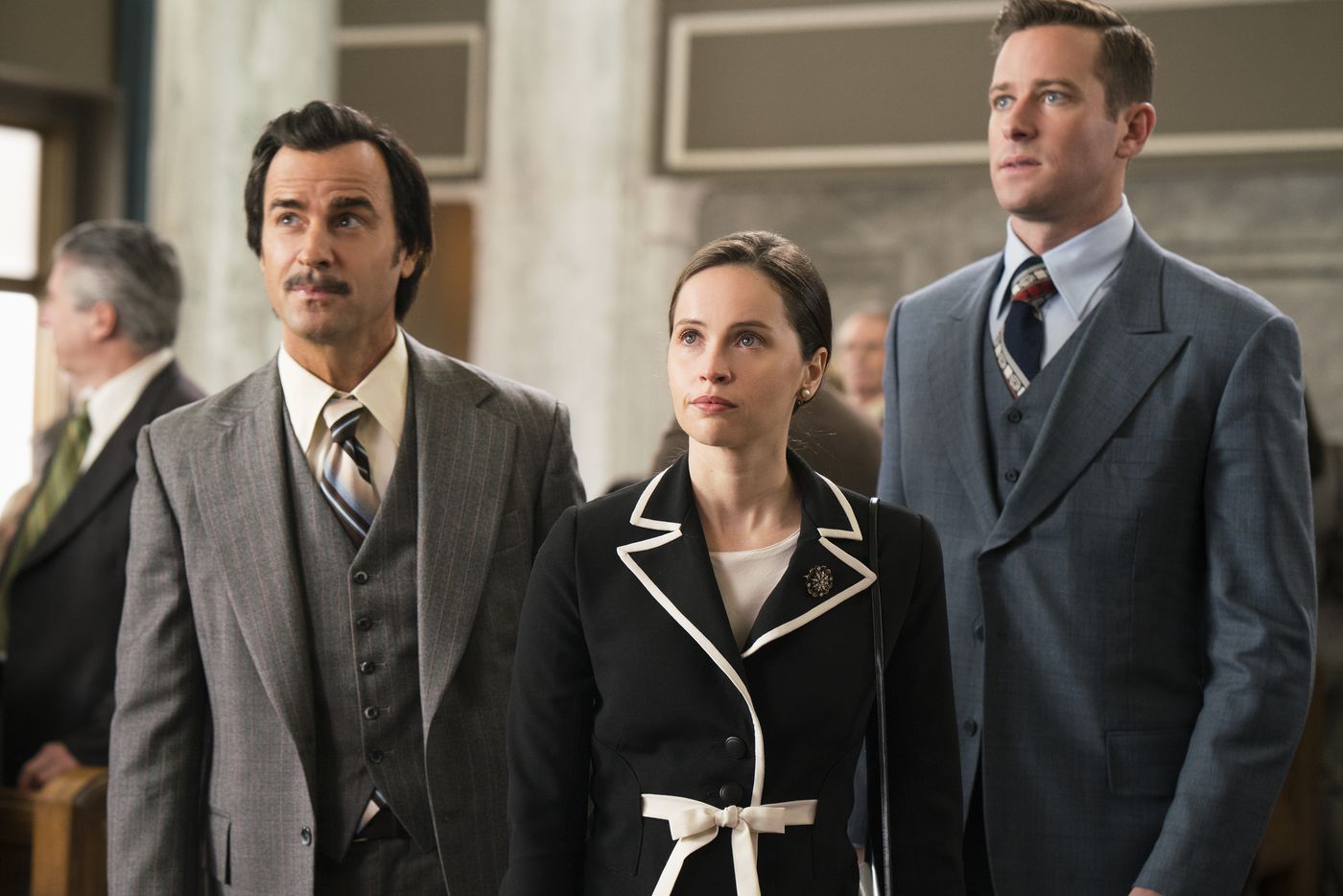 It must be incredibly difficult for filmmakers to distil a life spanning nearly nine decades down to a two hour movie. How to balance emotional heft with narrative expediency without losing momentum? On The Basis of Sex takes it cues from Ginsburg's early career, concluding with the result of her first case before a panel, leaving the last fifty years of her life to be told through title cards and a brief cameo from the lady herself. In deciding to retell a less well-known aspect of Ginsburg's life, the film can focus on a more immediate, intimate arc, rather than cramming 90 years in dot-point format within a single narrative. We get to understand her, to know what she was thinking, the trials she went through in hear early days. A key part of the film's subtext is the overt misogyny women had to face in America of the time: Bill Waterston's Harvard Dean of Law is a sexist old coot who thinks women belong in the kitchen and not in school getting educated, and his casual bias against women forms as close to antagonism in this film as we get, for there isn't really a real "villain" here so much as a woman trying to right social wrongs.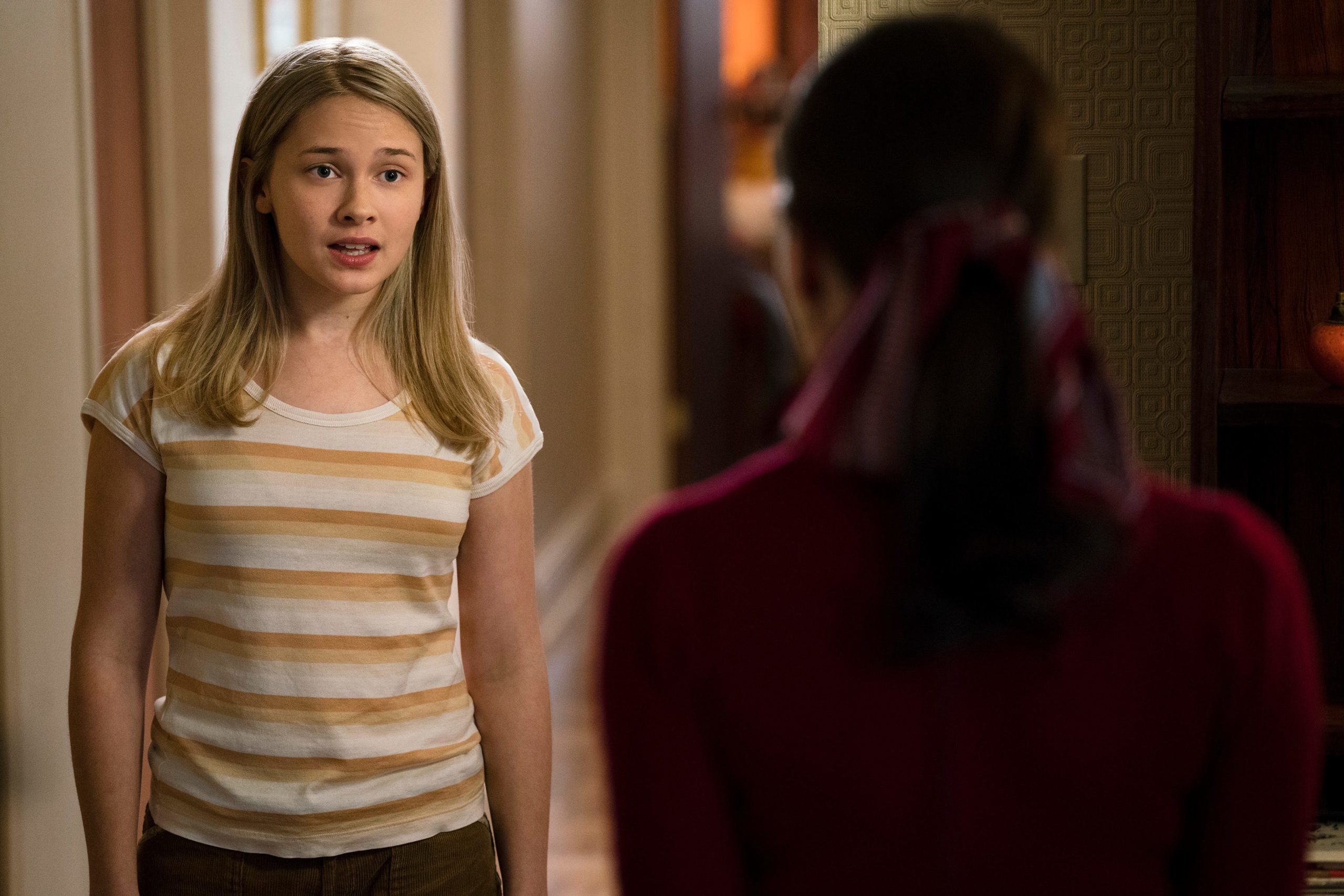 Thankfully, Ginsburg had her husband as a supporter, rather than another man trying to pull her down. Felicity Jones has a stoicism and inner strength enabled, but not subversive to, Armie Hammer's gentle turn as Martin, who supports and pushes his wife to succeed even when she doesn't believe she can do it. Both Ruth and Martin contrast heavily to Justin Theroux' snarky and arrogant Mel Wulf, the ACLU lawyer who guides and pushes Ruth along her legal pathways, with all three performances offering solid work for an equally solid screenplay by Daniel Stiepleman. The characters feel real and tangible and lived in and the writing accommodates a lot of the jargon and legalese we need to wrap our heads around, making complex lawyer-speak a little less heady for those of us who don't understand. The film speaks directly to equality, or inequality in this instance, coming with a sense of propriety over the subject matter that excludes any salacious material. This is a film the real Ginsburg signed off on, so you won't get anything less than as honest and close to the truth story and retelling as is possible.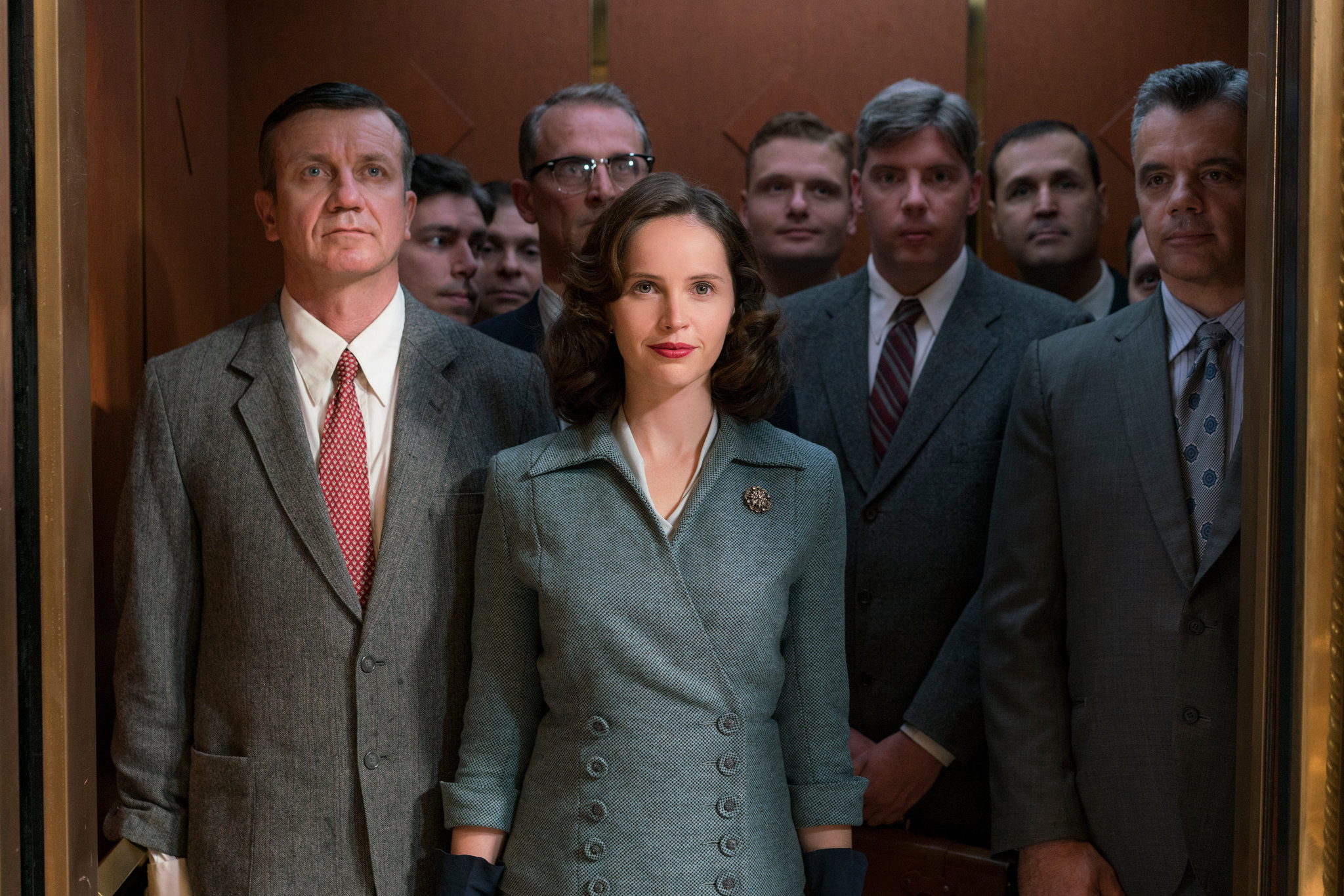 Mimi Leder's direction is restrained, as well, marginally aloof from the material as it reveres the central character a touch too much, dithering between hero-worship and humanising Ruth Ginsburg, trying to create a sense of catharsis during the film's climactic courtroom scene – does Ginsburg win her first case, or not? Wikipedia is full of spoilers – but on the whole there's a calmness and resolute sense of purpose to On The Basis Of Sex that mirror's Ginsburg's life overall. The attention to period detail is exemplary, the costuming, makeup and representation of 50's and 60's America pitch perfect. Photography by Michael Grady leans heavily to brown and grey tones, muting the nostalgic elements of revisiting this period in American legal history, offering a soft-focussed foray into Ginsburg's early years allowing the emotional heft come to the fore, rather than heroing the production values.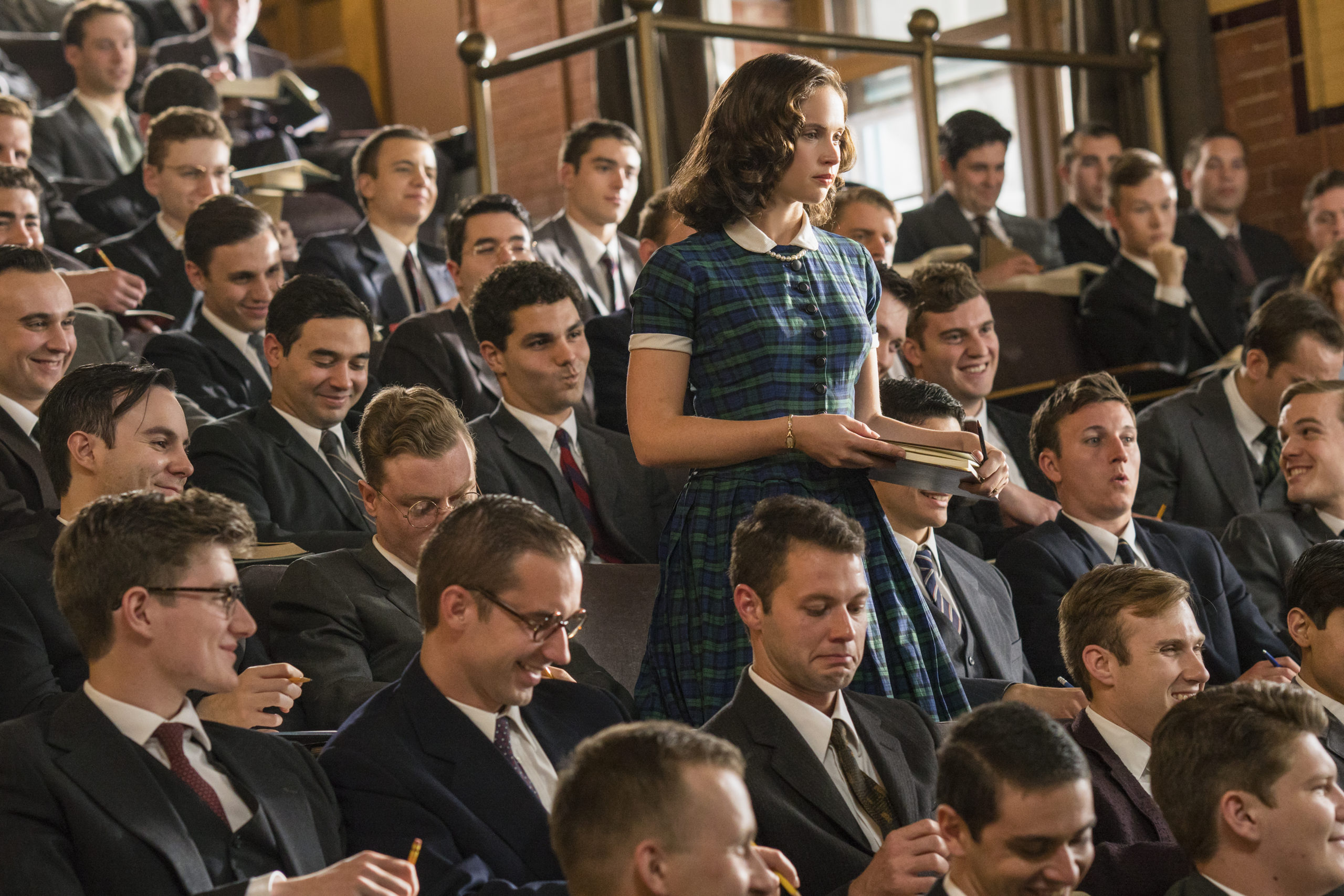 People tend to think of the mid-20th Century as America's high point but it really wasn't, with social marginalisation omnipresent around every corner. That Ginsburg shifted American society in such a titanic way we take all her success for granted is inestimable, although she would have been the first to admit there was a considerable way to go to achieve true equality. On The Basis Of Sex is a handsomely mounted movie about Ruth Bader Ginsburg, led by Felicity Jones in a moving but safe performance, Armie Hammer in a square-jawed Americana turn, and Justin Theroux doing his best unshaven asshole bit, but it more than accomplishes its low-key goal of representing this icon of the American justice system in a manner that honours her life, and her career. America owes a debt it can never repay to RBG; On The Basis Of Sex barley scrapes the surface of exactly why. That, if anything, is its greatest achievement.
Who wrote this?