Movie Review – Sting, The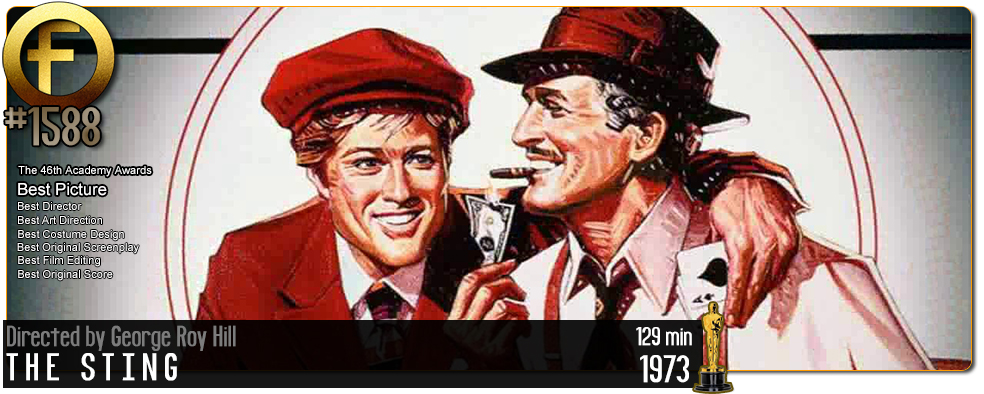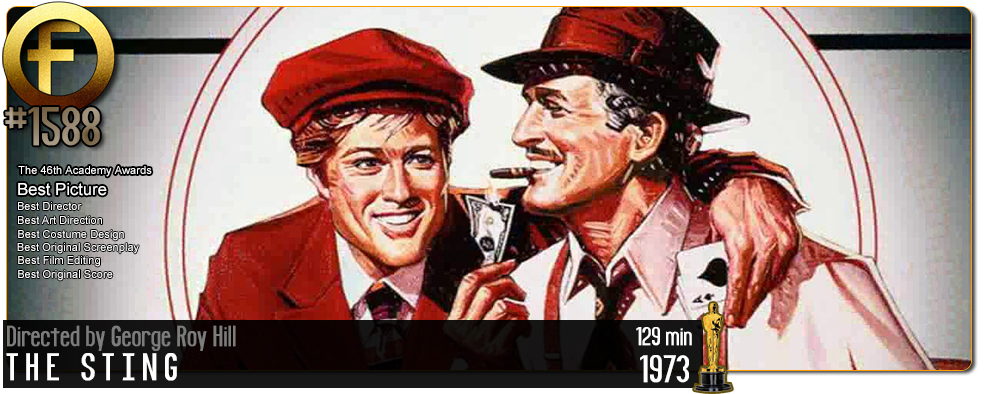 Principal Cast : Robert Redford, Paul Newman, Robert Shaw, Robert Earl Jones, Charles Durning, Ray Walston, Eileen Brennan, Harold Gould, John Heffernan, Dana Eclar, Jack Kehoe, Dimitra Arliss, James J Soylan, Charles Deirkop, Lee Paul, Sally Kirkland, Avon Long, Paulene Myers, Tom Spratley, Ta-Tanisha, William "Billy" Benedict.
Synopsis:  In Chicago in 1936, two grifters team up to pull off the ultimate con.
*****
The dynamite caper film to end all caper films, 1973's Best Picture-winning The Sting is a true American classic and a resoundingly intelligent storytelling affair. Boasting a stellar cast, some excellent production design and an instantly iconic score featuring Scott Joplin's ragtime tunes (adapted by Marvin Hamlisch), The Sting is effortlessly cool, delightfully acted and absolutely top-shelf cinema of the highest order. Robert Redford has rarely been more affable, Paul Newman more steely eyed, and Robert Shaw more menacing, as the trio combine with Charles Durning and Eileen Brennan to transport us back to a nostalgic 1930's Chicago and the Depression Era underworld of crime and violence.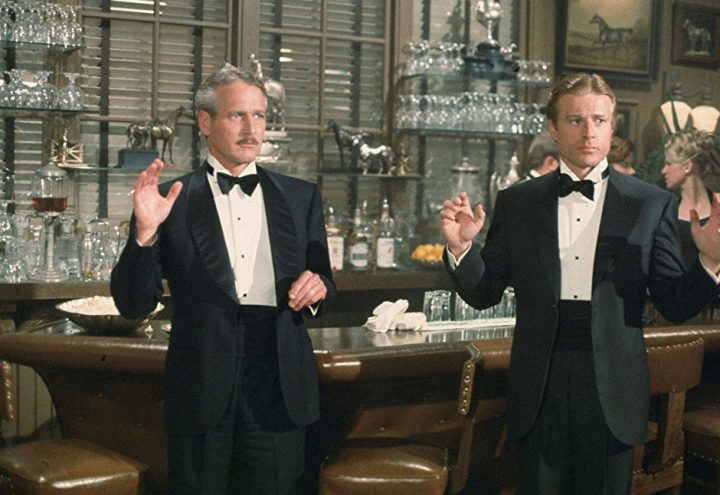 It's the height of the Great Depression, and racketeering, bootlegging and crime are rife throughout America. Nowhere moreso than Chicago, where Illinois grifter Johnny "Kelly" Hooker (Redford), at the request of his partner in crime Luther Coleman (Robert Earl Jones – The Cotton Club, Witness), meets up with legendary conman Henry "Shaw" Gondorff (Newman) to learn about the Big Con. The pair decide to con vicious crime boss Doyle Lonnegan (Robert Shaw – Jaws) using a sophisticated horse-racing past-post betting house sham, recruiting all manner of fellow grifters to assist the charade. On the hunt, however, is corrupt Police Detective William Snyder (Charles Durning – O Brother Where Art Thou), who is looking to capture Hooker and turn him in for his own personal gain, although this pursuit is interrupted by the arrival of an FBI team led by Agent Polk (Dana Eclar – MacGyver), who threatens to unravel the entire scheme before it's even begun.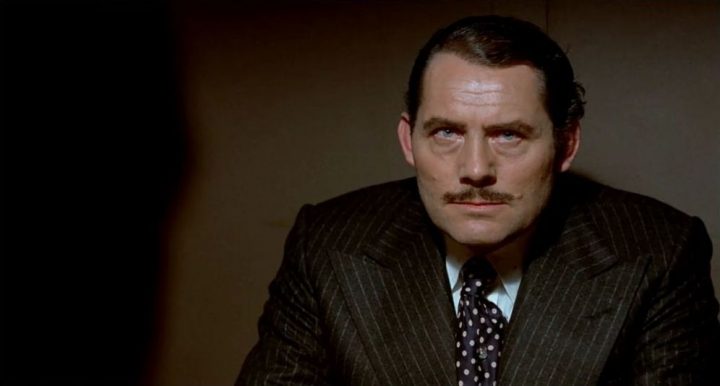 The Sting reunited stars Redford and Newman with director George Roy Hill, all of whom had success with 1969's Butch Cassidy & The Sundance Kid, and in replicating this screen chemistry we see why this pair are renowned as one of the all-time great buddy duos of the big screen. Redford, commanding the screen as Hooker, a cocksure but out-of-his-depth charlatan and swindler, is – as my wife puts it – a gorgeous man, and his piercing blue eyes and dazzling good looks ensure you'll see little else. His persona as Hooker contrasts with the decidedly reticent Newman as Gondorff, as steady and surprising a role as Newman ever played. Both actors have showstopping moments – for Newman, it's a sequence in which he plays a game of poker against Lonnegan aboard a Chicago-bound train, whilst Redford enjoys a number of dialogue duets with the scintillating Shaw a number of times. The pair play off each other and everyone else with a natural charm that simply oozes charisma, both personifying cinematic machismo as well as the nudge-nudge fun the film's contorted plot imbues.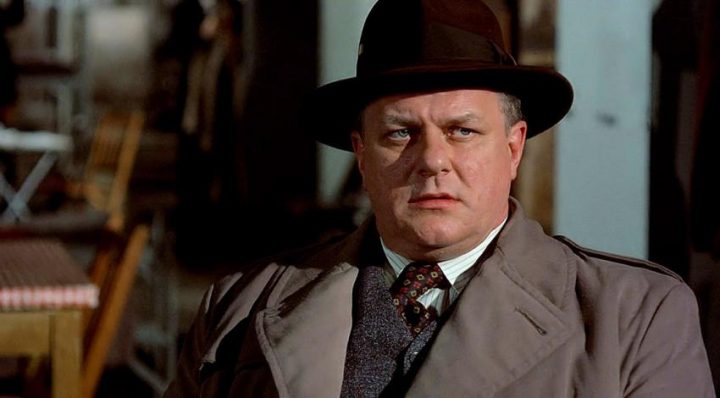 But, to be frank, The Sting would be nothing if not for Robert Shaw, who turns a potentially uninteresting MacGuffin character in Lonnegan into a legitimate screen villain. The malevolence and rage behind Shaw's eyes transform the crime boss role into a towering obstacle to the Big Con, with Lonnegan just as wily as both Hooker or Gondorff. Shaw's grimace, limping gait and utter contempt for the lives of those around him make him a fearsome threat, and the film's considerable ensemble are almost overshadowed by his presence here. The likes of Harold Gould, Eileen Brennan and Ray Walston as accomplices to Gondorff's plan, as well as the delightfully seductive Dimitra Arliss and Charles Deirkop as the definitive mobster henchman, are thoroughly enjoyable to watch as they circle the proceedings with panache, and while there's just enough hurdles for our heroes to jump to make things seem not quite too easy for them, the surety and sheer hubris of the plan makes for compelling fun. Little wonder the screenplay snagged David S Ward an Oscar.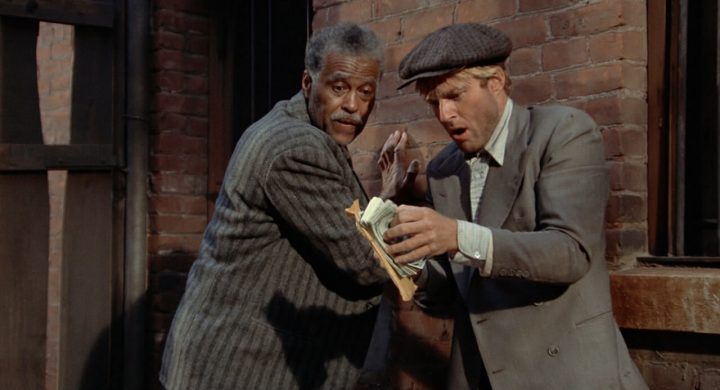 So too, composer Marvin Hamlisch received an Academy Award for adapting turn-of-the-century composer Scott Joplin's famous tunes into a foot-tapping, tone-setting score. The bouncy ragtime tunes are interspersed between activities and sequences and feel like they belong there – although it's bizarre that tunes written thirty odd years prior to the story's setting (and featured in a film made in the 1970's) combine to work so well. The jaunty themes sell us on a tone of nostalgia within The Sting's sensibility, that despite some of the violence and criminality, it's all played for… well, fun. It's helped that the film boasts such a stellar cast, too, because nobody here looks to be having a crappy time. Of note, the film was also up for Best Cinematography but lost, while Redford grabbed a nomination for Best Actor.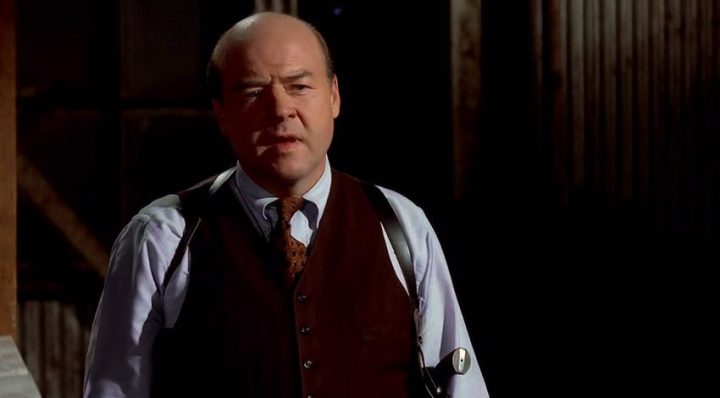 Key to The Sting's playful keynotes is George Hill's direction, as well as superb production design and costuming. The period setting of Chicago is filmed primarily on a Hollywood backlot (the old street setting is easily identifiable), but part of the charm of the film's aesthetic include a number of beautiful matte paintings and retrofitted streets in actual locations in the Windy City. The cast enjoy some brilliant costume choices, none moreso than the wonderful Harold Gould's debonair Kid Twist, at one point sporting a terrific white suit number that literally leaps off the screen it's so pronounced. Hill uses the shifting focuses on narrative between Hooker, Snyder and Lonnegan with sublime nonchalance, showing us only that which we need to see to make the film's "sting" – the moment the mark is taken for all he's worth – work so beautifully. The film's plot contains a number of surprises, most of which I never spotted, and while the film's pastel-toned love-letter overtures to its vintage place in time feels fantastical compared to more robust, gritty films of today (can you say Road To Perdition), there's a bucolic pleasantness to The Sting that cannot be overstated. It's a gorgeously mounted movie.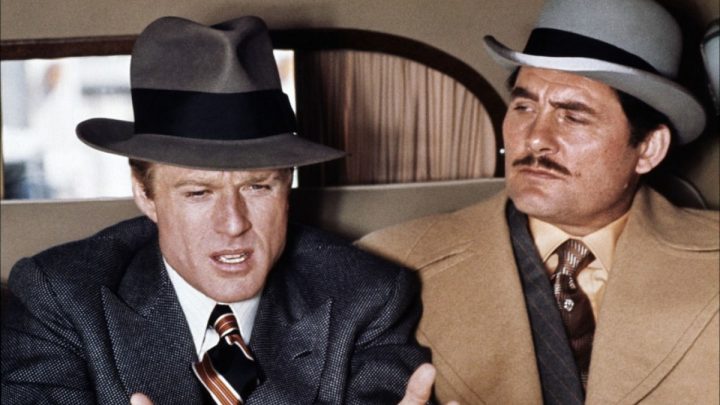 The Sting's prestige remains undiminished. It rightly won Best Picture against the likes of American Graffiti and The Exorcist, personifying a dying dignity to Hollywood's infatuation with criminality of this period in the industry's interest. Redford and Newman make sparks fly, Robert Shaw personifies screen villainy without giving up his intelligence, and the entire ensemble shine no matter their role, large or small. Nostalgic to a fault, charming like few films achieve, and centred around a story that absolutely makes you back the right horse, The Sting – together with Hamlisch's memorable score and Joplin's toe-tapping ragtime tunes – is a jewel in the pantheon of caper movies and perhaps the defining entry into the genre.
Who wrote this?