Movie Review – Mr Deeds Goes To Town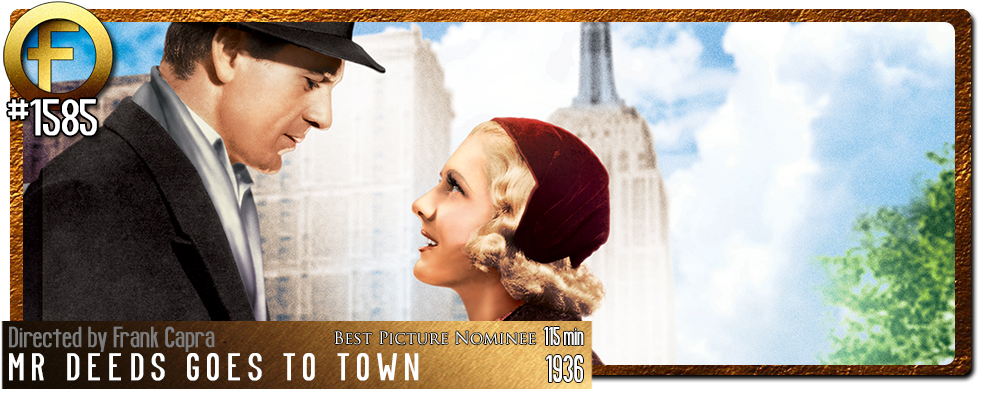 Principal Cast : Gary Cooper, Jean Arthur, George Bancroft, Lionel Stander, Douglass Dumbrille, Raymond Walburn, HB Warner, Ruth Donnelly, Walter Catlett, John Wray, Margaret Seddon, Margaret McWade, Gustav von Seyffertitz, Emma Dunn.
Synopsis:  A simple, small town man inherits a massive fortune, making him the target for scammers and publicity-seekers. Overwhelmed by the turn his life has taken, and awoken to another use for his new-found fortune, he makes a momentous decision.
*****
Gee-whizz homespun mythmaking and Capra's continued pursuit of the great American Dream are personified in this classic Gary Cooper romantic drama, Mr Deeds Goes To Town, not to be confused with the "hilarious" Adam Sandler remake, a simple fantasy about a man upon whom a great deal of money is thrust and the relationship he has with the woman writing articles about him for her newspaper. Deeds' status as one of Capra's most enduring films and its place within cinema holds strong, a strong sense of sentimentality ingrained into its very DNA that remains startlingly straight-laced and without a shred of irony: this is a film that, much like Capra's other good-old-boy-made-good story in Mr Smith Goes To Washington, personifies the best of American idealism and hopefulness in the face of humiliation and rampant social belittling, an often inspiring call to arms for the country's wealthy elite amidst the dustbowl backdrop of the Great Depression.
At the time of Mr Deeds' release, America was midway through one of the greatest financial disasters in global economic history, throwing millions into poverty and casting doubts on the very nature of American exceptionalism. Gary Cooper, the a star of both silent and sound eras, was cast by director Frank Capra as idealistic small town poet Longfellow Deeds, unwitting heir to a fortune over which much clamour is engaged. Deeds, moving from small-town Mandrake Falls to busy-busy New York City to accept and use his great newfound wealth, is set upon by go-gett'em newspaper reporter Babe Bennett (Jean Arthur), who poses as itinerant worker Mary Dawson to get close to Deeds and provide stories of humiliating nature to her newspaper editor (George Bancroft), whilst the newfound multimillionaire has to navigate the inane social mores of a lifestyle he's so utterly unaccustomed to. Inevitably, the moochers, opportunists and vultures circle enough to force him to court to defend his sanity, in order to protect his fortune and the plans he has for it.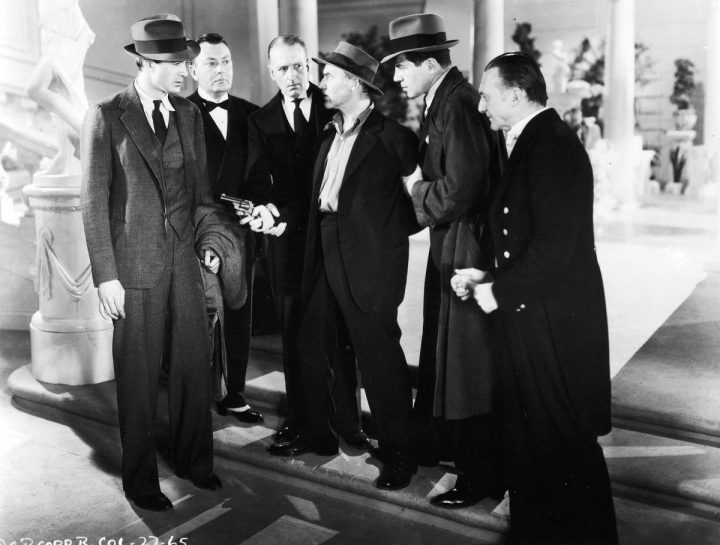 Mr Deeds Goes To Town is nothing if not utterly charming. At its best it's a battlecry to America's wealthy to help those less fortunate, highlighting the buffoonish behaviour of those with an ability to assist their fellow man during the Great Depression but who choose not to. To steal from Oliver Stone: greed is good. And in Deeds' case, those who would prey off Longfellow Deeds are numerous and wily, although the man himself turns out to be a prickly, cagey animal himself. Capra's subtleties aren't subtle today, with the film's obvious disdain of the indifferently wealthy ripe throughout the moment Longfellow becomes the beneficiary of his distant relative's estate, and although one might consider the film's purpose of dwelling on this carrion-styled hatefulness a touch pointed, there's a pleasantness to proceedings that makes it utterly palatable.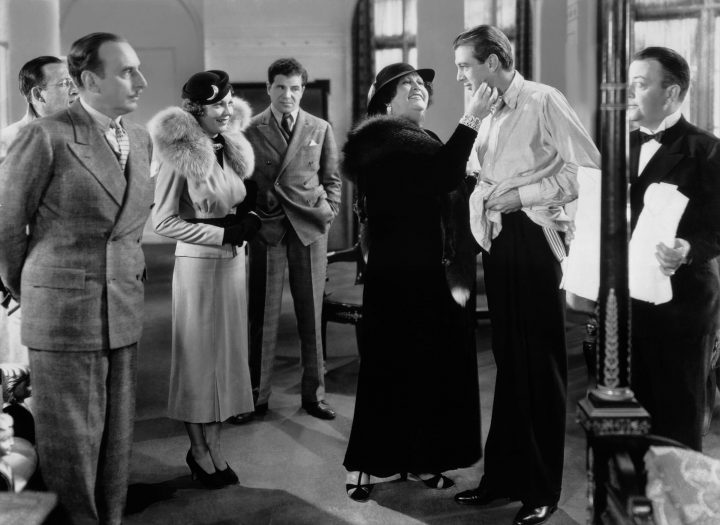 The film's script is credited to Robert Riskin, based on Clarence Kelland's short story entitled "Opera Hat", with Riskin's dialogue rippling with an undercurrent of social despair; he turns a charming small-town gent into the epitome of the American Dream and sense of moral righteousness, with the film's memorable courtroom finale – in which Longfellow is accused of being "pixilated", or away with the pixies – standing as a testament against greed and corruption amidst the despair of the country's situation of the day. The salacious stories printed by Babe's newspaper are a trifle, really, but they offer an early glimpse at a perception altering narrative we see manifest in today's media landscape, and as much as Longfellow is torn down by the gossip and social ostracising, so too Babe comes to realise that her behaviour, while condoned by the bubble in which she lives, isn't right, and comes to a euphoric realisation at the film's entirely pleasing climax.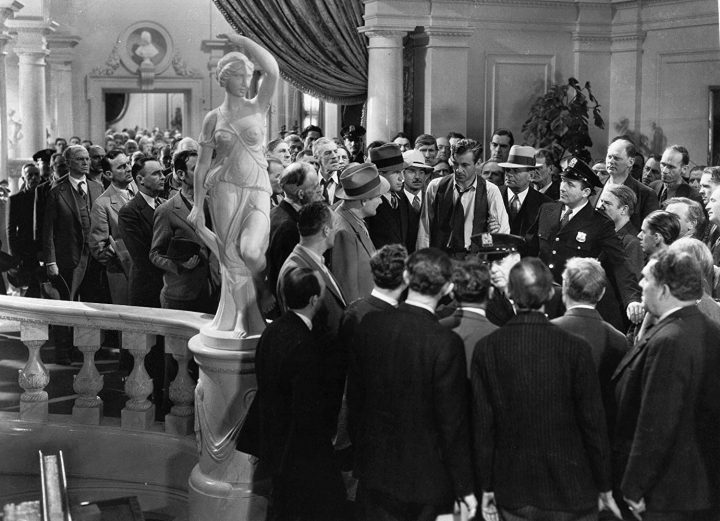 At all times, Frank Capra's direction is sublime. Atmospheric, moody, capturing the elements of the plot and characters with precision and sentimental affection, Capra's depiction of 30's New York City is among the best of such a nostalgic picturing of the famous city. The fogbound streets and lamplit alleyways, together with Longfellow's much-sought after visit to the tomb of Civil War hero and 18th President of the United States, Ulysses S Grant, are hugely evocative for their shadowy complexity, while the bright, innocent early scenes in Mandrake Falls, offer an instantly identifiable version of American's rurality and homespun goodness. The contrast between New York and Mandrake Falls' idealised lifestyle forms the crux of Longfellow's conflicted feelings around his wealth, as he realises the enormous good he could do with such money (and attempts to do) manifests as depression that his life in his old town will never be the same again. The simple life versus the life of an unwitting hero to others, is the nexus of Mr Deeds Goes To Town. Capra captures it well.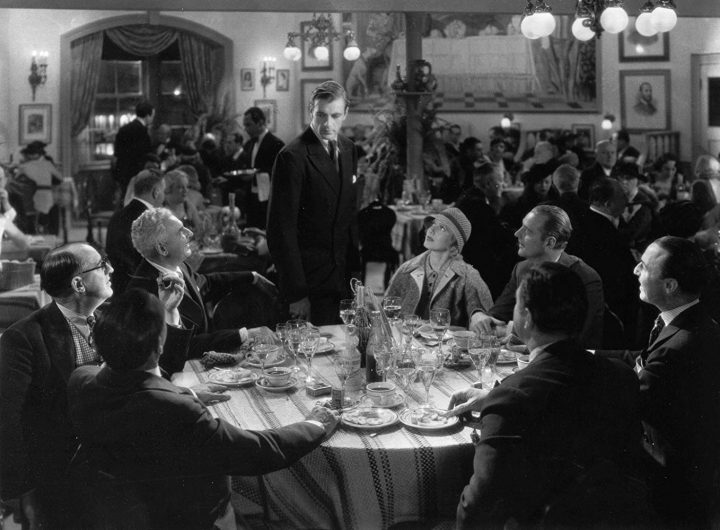 Leading the charge is the effortlessly charming Gary Cooper, who personifies the very goodness of Deeds' character and the upright liberal thinking motivation Capra sought to accentuate. Similarly to Jimmy Stewart's morally stalwart Jefferson Smith, Cooper's Mr Deeds is a man of what might appear to be a simple character, a content-within-himself man upon whom great ethical and moral torment is thrust, through no fault of his own. Cooper's introspective performance style lends itself well to Longfellow's quieter, contemplative nature, and his spectacular good looks don't do him any harm either. Cooper is terrific in the part, as he transitions from innocent proud American to cynical fighter for justice. For her part, Jean Arthur's Lois Lane-archetype reporter in Babe offers the actress a chance to develop a character that feels torn between expectation and desire, and Arthur's chemistry with Cooper is electric, especially when he realises she's making fun of him behind his back. Douglass Dumbrille, as Longfellow's opportunistic legal representative, the scheming John Cedar, is a slimy as they come, while Lionel Stander's role as Cornelius Cobb, a worldly man helping Longfellow navigate New York City, absolutely comes across as an early Goodfellas-style hard man. Elements that made me chuckle a lot were the fabulous cast of characters forming Longfellow's housekeeping and butler staff, particularly Raymond Walburn's diffident stylist character. Watch also for Walter Catlett's one-scene brilliance as a drunken poet accosting Longfellow and Babe inside a restaurant, in which the actor delivers some of the film's best dialogue.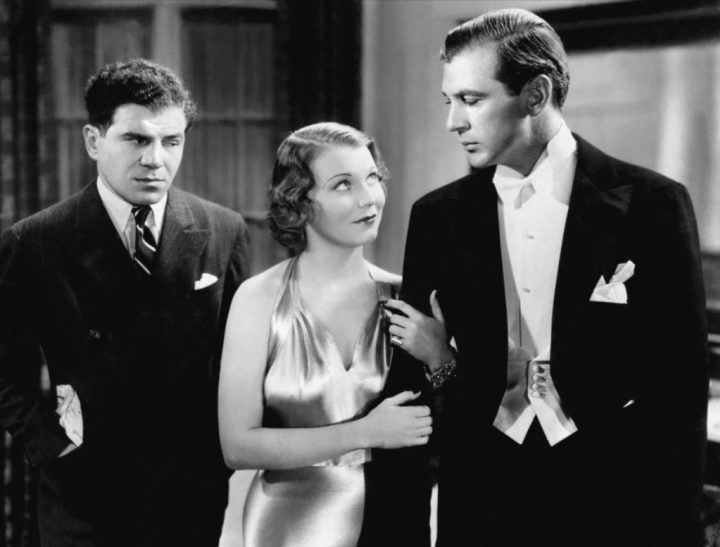 Mr Deeds Goes To Town personifies the conflicted American nightmare gripping the country in the mid-1930's. The ruination of business during the Great Depression, and the country's stagnant ability to extricate itself, coupled with an apparent indifference from the "elites" or upper classes for the plight of the poor and downtrodden, is the core message of the film's fanciful poor-man-made-good plot. While the film never approaches the maudlin despair such a plot might engender, Capra doesn't let his focus drift away from making it known that America should be – or is – better than that, and the story's terrific comeuppance finale is indicative of the best Hollywood endings have to offer. The film is beautifully shot, well acted and feels more like an idealised representation of America than a natural, realistic depiction. Built on themes of doing good things for people who aren't able to help themselves, is something Capra would manifest throughout his film career, and Mr Deeds Goes To Town is a strong entry into this genre.
Who wrote this?