Road To The Oscars – Who We Think Will Win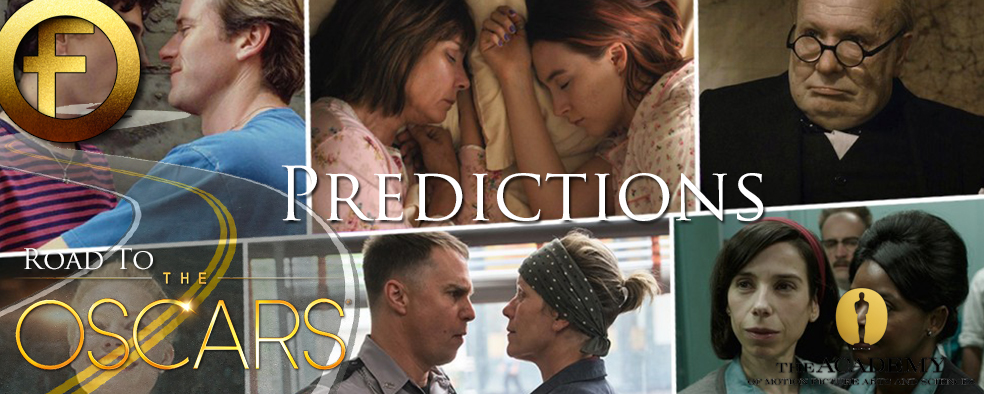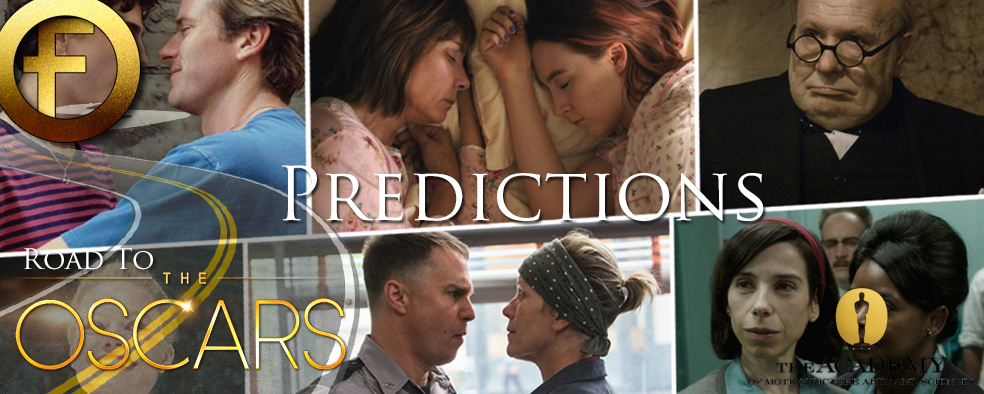 The films of 2017's Academy Award nominee list is strong this year – comparative to other years, there's more than two films in the Best Picture race that would be worthy of a win, while in almost every acting category there is almost no splitting the actresses and actors in their respective fields. Surprisingly, a number of films snagged technical award nominations without getting any of the major gongs, and once again the fact that Pixar looks set to dominate the Best Animated Feature category, when it could easily have grabbed the tenth available Best Feature category slot with Coco, opens up yet another discussion as to the validity of animation within the industry. Frankly, Coco could rightly lay claim to actually being the Best Picture of 2017 in its own right, and that's the sad thing about it.
We've mulled over the list of nominees and come up with selections in key categories we think will win; naturally, half the fun of Oscar picks is trying to subjectively choose art as being more worthy over another piece of art, and how many we all get right. Read on for our own selections…

If Roger Deakins doesn't win for his work on Blade Runner 2049 there will likely be a riot. The man has crafted some sublime cinema over the years, including (but not limited to) The Shawshank Redemption, Skyfall and Sicario, and is a fourteen time Oscar nominee without a win. There is some stiff competition in the Cinematography category this year, however, with three strong entries in other films, notably The Shape of Water (Dan Laustsen), Mudbound (first ever female nominee in this category, Rachel Morrison), and Dunkirk (Hoyte van Hoytema). If the cinema gods do the right thing then Deakins should walk away with a career Oscar, but my strong feeling is that the industry love for Shape Of Water will carry that film across the line. So… expect riots.



Two categories that are notoriously difficult to split the difference; nominally, the same film usually wins in both, and the strongest entries this year that will pull Academy voters will be Star Wars The Last Jedi or Edgar Wright's Baby Driver. Honestly, I'd love Baby Driver to win for both sound categories because that film was mixed superbly, and Last Jedi should win for John Williams' score in the music category, but this one is really a coin toss between two fabulous films. Dunkirk, while excellent in its use of sound, won't be close.



John Williams earned his umpteenth Oscar nomination with his brilliant score for Star Wars The Last Jedi, and should rightfully earn his sixth Academy Award with his work on this film. He's up against the might of modern contemporary Hans Zimmer, who could easily snag the win because Dunkirk's score was absolutely astonishing. The Shape Of Water is also included in this category but I doubt that'll have the pull Williams or Zimmer will, while I don't even remember the what music they used in 3 Billboards Outside Ebbing Missouri. For me, my heart and head say Williams will have his sixth gong. Deservedly so.



Okay, so this one is tough. All the films aboard the Visual Effects category this year more than deserve to be there, although if there's any justice in the world the Oscar will go to War For The Planet of The Apes. It's staggering to think that none of the three modern Apes films have snagged an Oscar for their visual effects; the work of Andy Serkis and the digital teams creating the apes of the films is nothing short of astounding, and to think they could be pipped by the likes of Transformers: The Last Knight is particularly galling. I would be happy to see any of the four nominees other than The Last Knight get it, but I would be super happy if Apes finally had recognition for the amazing work those films have us.


 
While I am still yet to see all the nominated films in these categories, I'm inclined to suggest that in the female list it's going to be Allison Janney over a brilliant Laurie Metcalf, and Sam Rockwell over my personal pick of Richard Jenkins. Rockwell's work in 3 Billboards is sensational and probably his best work to-date, but my heart goes out to Jenkins for his soul-destroying acting in The Shape Of Water. Although a smaller role, I almost cried with Mr Jenkins' performance and that's something. Rockwell will most likely win, but Jenkins is my dark horse pick. I cannot in good conscience pick Christopher Plummer for snagging an Oscar for a role he shot in a week with very little prep and almost nobody has seen it.



Rage fuels my choices on this category almost every year, because I'm of the opinion that if an animated film deserves to win an Oscar, it should be included in the main Best Picture ranks, not a separate category all on its own. I haven't seen many of the picks here but it's an egregious problem that The Boss Baby deserves to be included. Obviously, I'm going to pick Pixar's Coco for the win. You'd be an idiot to put your money anywhere else.



This one is also a toughie. In my head, I'm going to give it to 3 Billboards Outside Ebbing Missouri, only because that screenplay is one of the best ever written. My logical mind says it'll go to either The Big Sick (because of the love for it as an underdog comedy) or Lady Bird (because Greta Gerwig is the current darling of Hollywood). In truth, all the films nominated here deserve to win, because they are all fantastic screenplays in their own unique genre of cinema, so comparisons are iniquitous anyway. I was most moved by 3 Billboards, so I'm going to choose that one, but if The Big Sick gets it I'll be happy as well.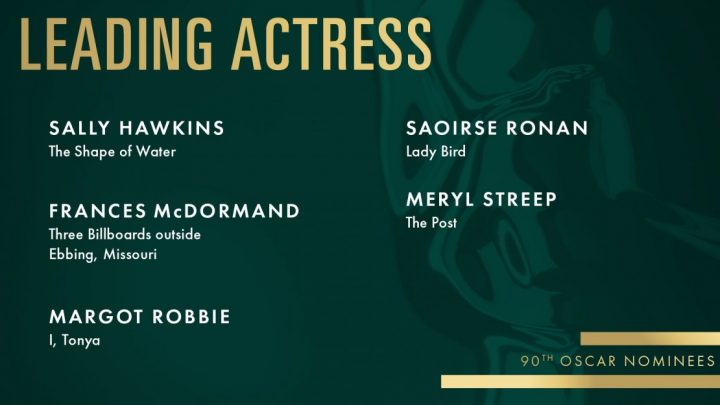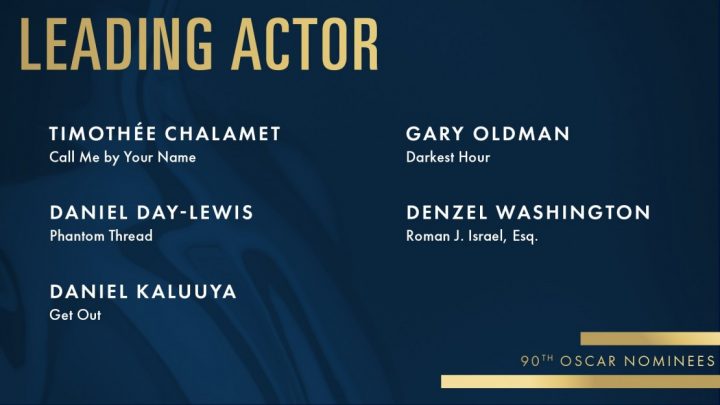 Gary Oldman is a lock for Best Actor for his work in Darkest Hour, despite the film being a fairly middling thing dramatically. He's easily the only thing holding that film together as a heartbeat. The Leading Actress category is far more wide open, with both Frances McDormand and Saiorse Ronan being the frontrunners this year. Margot Robbie cannot be overlooked for I Tonya, and I get the sense that Streep is only in there because Streep will Streep, but the dark horse upset will be is Sally Hawkins wins. Hawkins' work in The Shape Of Water is really, really good, and she deserves to be in the running, but if McDormand doesn't win it'll be an absolute travesty. Ronan might win because she's young and her performance is good enough, but this one should go to the fantastic Frances M.



This category is a three horse race, IMO. Guillermo del Toro should win for The Shape of Water, although both Jordan Peele and Christopher Nolan deserve to win for Get Out and Dunkirk respectively. Nolan might jag it but I think the real race is between Peele and del Toro, with the latter holding sway through sheer force of his career. Arguably the tightest category but with the least possibility of an upset.



In this post-10 film nominee category era, there's usually a couple of Best Picture nominees included that are just making up the numbers. This year I think those films are The Post, Phantom Thread and Darkest Hour. The rest are all serious contenders, at least within the industry, with The Shape of Water and 3 Billboards Outside Ebbing Missouri the two genuine chances. Lady Bird faces a tough battle to get itself over the line, mostly because I think it's not as "great" as the other two, while Get Out and Dunkirk are films most may have forgotten about given their releases were so long ago. If Get Out sweeps the Oscars I will literally go apeshit with joy, but I just can't see it happening. The sheer fact it's been recognised at all is cause for celebration, so there's that. For me, I'm thinking The Shape Of Water will win, but I desperately want that Billboards movie to take home the top gong. It's easily the best film (in terms of overall impact) of 2017.
So there you have it. What do you think of our selections? Think we're crazy? Got another opinion? Shoot us a comment below and let the arguments begin!
Who wrote this?