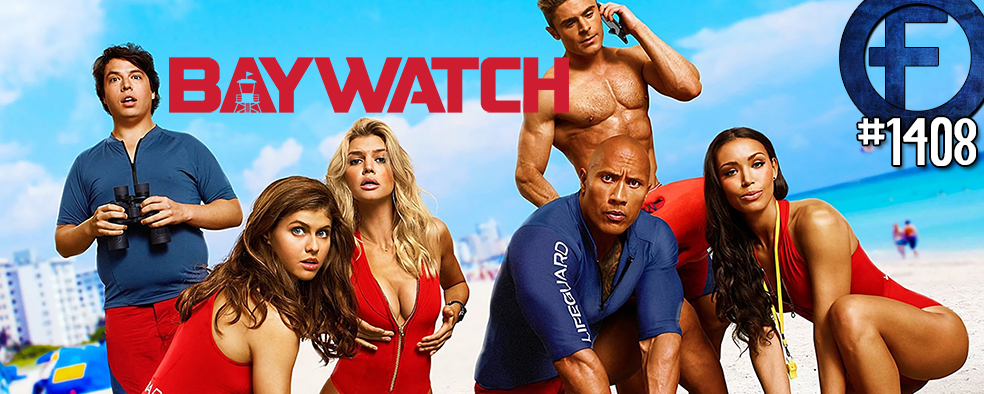 Director :   Seth Gordon
Year Of Release :  2017
Principal Cast :  Dwayne Johnson, Zac Efron, Alexandra Daddario, Kelly Rohrbach, Priyanka Chopra, Jon Bass, Ilfenesh Hadera, Yaha Abdul-Madeen, Rob Huebel, Hannibal Buress, Jack Kesy, Oscar Nunz, Amin Joseph.
Approx Running Time :   118 Minutes
Synopsis:  Devoted lifeguard Mitch Buchannon butts heads with a brash new recruit, as they uncover a criminal plot that threatens the future of the bay.
********
Seth Rogen's blockbusting comedic venture rebooting Baywatch, once the world's most watched television programme, is utter trash. Funny in fits-and-spurts but never outrageously hilarious, Baywatch's attempt to satirise the premise on which it's based never quite fires on all cylinders, despite the addition of Dwayne Johnson's megawatt charm and Zac Efron's reinvented adult-comedy persona, both of whom do a lot to elevate what is a gormless plot but can't pull this one out of the shallows.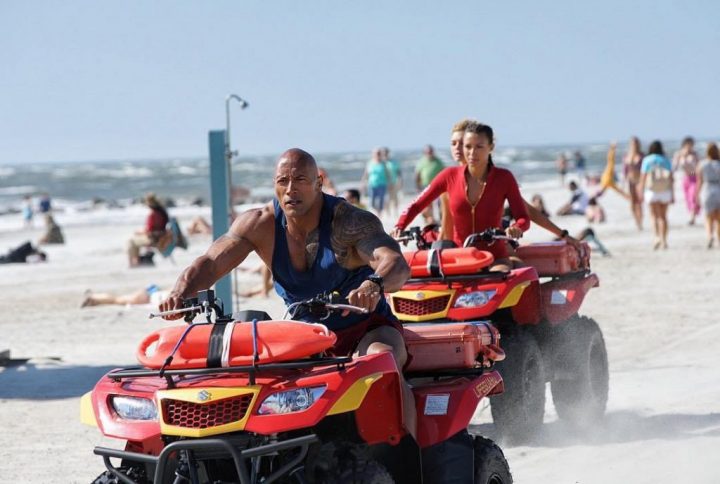 Johnson plays Mitch Buchanan, leader of the Baywatch team in Floridian life-guard duties, who takes newbie Matt Brody (Efron), a one-time Olympic medallist on the skids, under his wing. Other members of the team include Steph Holden (Ilfenesh Hadera), CJ Parker (Kelly Rohrbach) and trainees Summer Quinn (Alexandra Daddario) and Ronnie (Jon Bass). Meanwhile, the new owner of the beach's exclusive club, Victoria Leeds (Priyanka Chopra), has hatched a plan to distribute drugs across the sand, a plan Mitch and Matt have to thwart.
If nothing else, Baywatch is a glossy, slick remake of the television show that updates, modernises and slyly pokes fun at the show's tropes, particularly the near constant state of nudity the cast enjoy throughout; ample shots of supermodel Kelly Rohrbach's ample bosom and drum-tight derriere ensure male viewers will stay tuned in, while Efron's washboard abs and Johnson's hulking frame will appeal to all manner of female eyeballs, so if it's skin you want then skin Baywatch has.
As for laughs – if you've seen the trailer you'll have seen a few of the film's giggles but there's a lot to enjoy here – Baywatch hinges on the rapport between its charismatic leads and for the most part it all works well enough without being especially gut-busting (the constant belittling of Efron's character with nicknames like "Baby GAP" and "High School Musical" runs its course quickly, however) and the cheesy crime subplot just feels far less developed as Bollywood superstar Priyanka Chopra's well formed physique. The plot is handily written on threadbare simplicity, the ensemble working together to achieve the desired outcome and even with its see-it-coming twists and turns, Baywatch just isn't very clever. One might suggest this stupid charm would carry a film like this, a cheery, blustery beachside romp but it does get things only so far before the humour trips into tiresome, and the misplaced adult humour tends to annoy.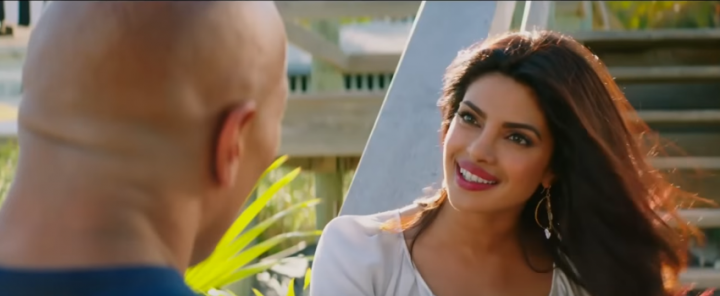 The film's character roster takes the most memorable names from David Hasslehoff's show – Buchanan, Matt Brody, CJ Parker, Steph Holden, are all familiar to those of us who watched Baywatch back in the day: Brody was originally played by hunk-of-the-hour David Chavert, CP Parker was famously Pamela Anderson, and Steph Holden was Alexandra Paul, but the film version of these characters bear little resemblance to what came before. Buchanan, of course, was originally essayed by Hasslehoff himself (the actor makes a cameo to spark the film's final act) and The Rock is absolutely on point in the role, his brawn and flippant comedic style giving the film what can adequately be described as gravitas.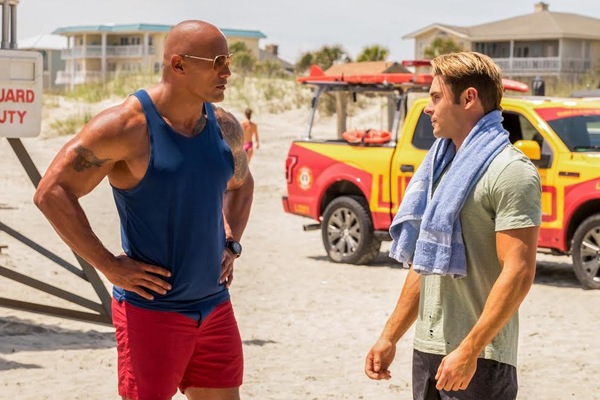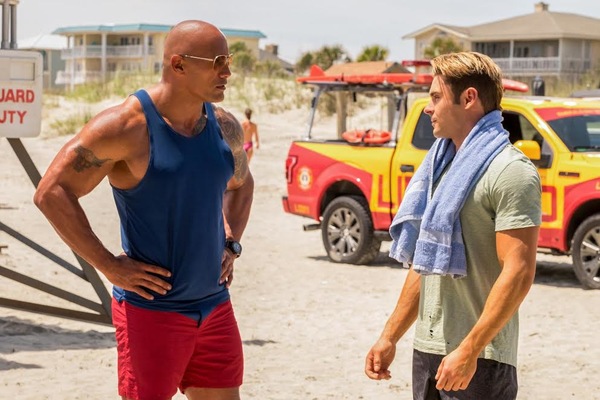 The chief problem I had with Baywatch wasn't so much what (and who) was on the screen, but rather the indifferent manner in which it's delivered. The direction, by Horrible Bosses helmer Seth Gordon, feels flat, rudderless, lacking muscularity or pizzazz – hell, if any franchise warranted decent high quality direction, it's Baywatch – and the editing in this film is…. bad. Admittedly, the camera angles and shot selection is largely to blame for poor Peter Elliot having to carve energy out of this poor-man's Fast & Furious beach flick, but there's a clumsiness to this film that bugged me the entire way through it. Production value isn't bad – the cinematography skimps between decent and dull, and the sound design is pretty rambunctious – and Christopher Lannertz' score is appropriately energetic, but it's all awkward and fumbling and adolescent.
Baywatch isn't a total train-wreck, but it's pretty close. Johnson and Efron do their best to generate thrills, Daddario and Rohrbach bring the sexy, and Hollywood money brings second-grade visual effects and stunts (a flaming boat in the ocean is laughable, and a late-act firework display reeks of desperation) to a film destitute of the clever cheese that made the original show so watcheably silly. It has some laughs, some nice gross-out humour (the trailer-worthy morgue sequence is hilariously stupid) and a credit reel of bloopers that are actually funnier than the film itself, but as a diverting waste of everyone's time, Baywatch might find some play within frat-houses and college rooms of teenage boys. Everyone else should probably just stick to the original show.
Related articles
Who wrote this?