Movie Review – Crimson Peak

Director :  Guillermo del Toro
Year Of Release :  2015
Principal Cast :  Tom Hiddleston, Mia Wasikowska, Jessica Chastain, Charlie Hunnam, Jim Beaver, Burn Gorman, Leslie Hope, Sofia Wells, Doug Jones, Javier Botet.
Approx Running Time :  119 Minutes
Synopsis:  In the aftermath of a family tragedy, an aspiring author is torn between love for her childhood friend and the temptation of a mysterious outsider. Trying to escape the ghosts of her past, she is swept away to a house that breathes, bleeds – and remembers.
********
Ghosts are real.
As an ēvocāre of magnificent visual cinema, it's no surprise to find Guillermo del Toro, the director Pan's Labirynth, Pacific Rim and Mimic, behind the camera for what is perhaps the most bizarre mix of period melodrama and sumptuous ghost mystery in Crimson Peak. Layered with not-so-subtle nods to the pantheon of the film's touchstones – Jane Austen, Conan Doyle, et al – Crimson Peak brings it's modern ghostly terror to the corset and top-hat brigade in what I can only assume to be del Toro's homage to the Victorian period that works, although not without caveat. A good horror film needs a dramatic, precise setting in which to allow its scares and thrills to marinate, and the archetypal "haunted house" motif is where we find this film centred. It's not entirely a cliché, and del Toro is canny enough to recognise the poor genre entries over the last decade or so have probably left audiences a bit wary of bothering in this aspect, so he delves into the meatier tangent of characters over scares, and Crimson Peak is the better for it.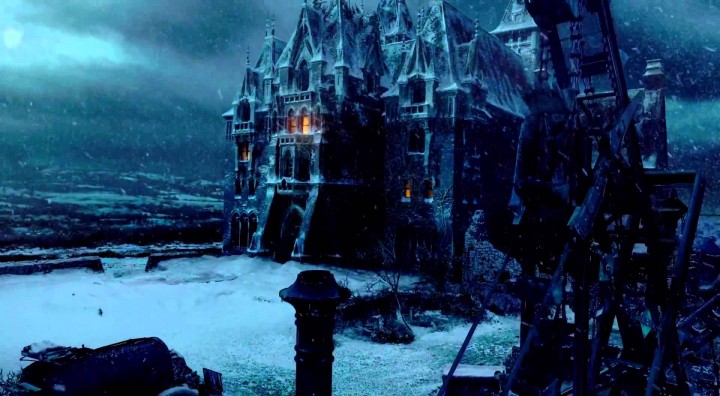 1887, America. Edith Cushing (Mia Wasikowska) lives alone with her father, wealthy businessman Carter Cushing (Jim Beaver); she aspires to be an author, but is not taken seriously due to her sex. When British baronet, Sir Thomas Sharpe (Tom Hiddleston) arrives with his sister Lucille (Jessica Chastain), Edith is instantly smitten, much to the disdain of her father, and another suitor, Dr Alan McMichael (Charlie Hunnam). Carter arranges for a detective (Burn Gorman) to uncover the situation of Thomas's finances, which uncovers a secret that causes Carter to send both Thomas and Lucille away. However, when Carter is murdered, Edith finds comfort in Thomas' arms, and they marry and move to England, to Thomas' family home, Allerdale Hall. It is here that Edith's ghostly manifestations begin to appear with more frequency; before long, she is beginning to question everything she knows.
At the outset, it's hard to know whether del Toro is paying homage to horror films of generations past, or simply plagiarising many of their well-worn tropes. At the end of it, I'm convinced it's merely the former, mainly due to the film's overt acknowledgement of its own links to literary iconography of similar ilk: at one point, Wasikowska's Edith references Mary Shelley, an echo of the Frankenstein's Monster film the director has cobbled together here. I say that in the sense that Crimson Peak is purely the sum of its multitudinous parts, for you'd never claim it to be an original film in any sense whatsoever. While twists and turns and scares abound at every turn, handled with considerable verve by the master director, there's a wayward sense of hodge-podge to the film's screenplay (by del Toro and co-scribe Matthew Robbins, perhaps better known as the writer of previous del Toro flicks Mimic, Don't Be Afraid Of The Dark, and Spielberg's The Sugarland Express) that tries to skewer period convention, but ends up merely promoting it.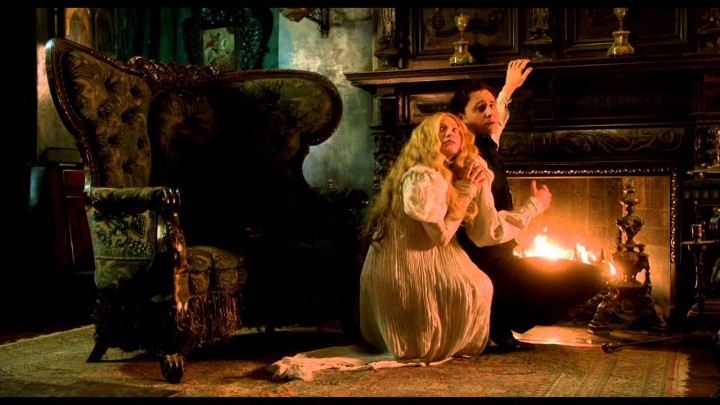 The plot, and to a certain degree the characters within it, are largely formulaic, given charismatic heft by the performances, particularly Hiddleston as Thomas, and Jim Beaver as Edith's relatively short-lived father (on screen, that is). As Thomas, Hiddleston's wide-eyed innocence routine, as well as his darker, edgier abilities (thanks to his work as Marvel's Loki) is solid stuff, belying a real sense of mystery as the plot's onion-layered character arcs are slowly gestated and revealed, and the actor accommodates the sparkle of a hidden cruelty with such ease and softly spoken viciousness he's somewhat viperous in a way that's truly shocking. His lead co-star, Aussie actress Mia Waskisowska, plays the coquettish Edith much like she played Alice in Tim Burton's bastardisation of Alice In Wonderland – breathless, terminally unsure and altruistic to a fault. Jessica Chastain, as Thomas' obviously devious sister Lucille, can barely hide her contempt for the material; she's a far better actress than Crimson Peak would demand of her, and you get the sense she knows it. That's not saying Chastain is bad – quite the opposite – but with every glower and side-eye there's a hint of boredom about her performance that I couldn't shake.
The supporting cast are equally admirable, with the exception of Charlie Hunnam, who looks like he's severely uncomfortable in the period costuming and setting. Jim Beaver's performance is a brooding archetype of paternal protectionism, while Burn Gorman's minimal role as the detective is effective if underutilised. Del Toro regular Doug Jones once again portrays some entity of design and CG enhancement; here he plays the ghostly visions of Edith's mother, as well as the Dowager Sharpe (Thomas and Lucille's deceased mother). For a guy specialising in anorexic character design and performance, it's a shame he's not on the same cult level as Andy Serkis.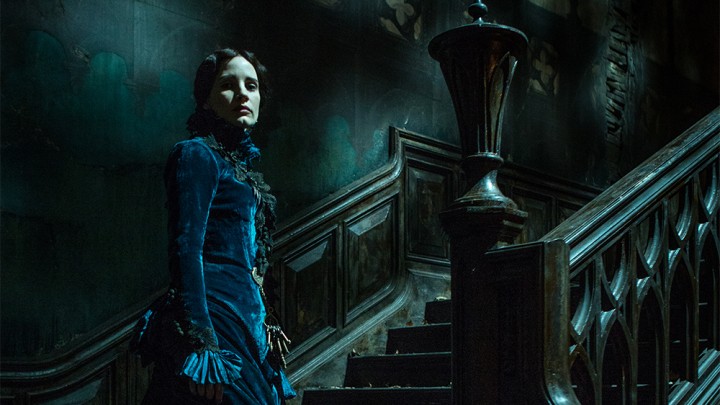 Part of the allure of a good horror film is trying to make sense of the inherent mystery for whatever spectral haunting is taking place. The ghosts in Crimson Peak have a specific purpose, but unlike many modern genre entries, such as The Canal, the ubiquitous Paranormal Activity films, or Sinister even, the entities here are more ambiguous in their intent. The motivations of Lucille and Thomas are alluded to earlier in the film than I'd have expected (based purely on the end result, that is), and the paranormal activities seem attached as a sidebar for the longest time in the film: are Thomas and Lucille aware of the ghosts haunting Allerdale Hall, or are the ghosts merely happenstance and ill fortune? The mystery of the film isn't the film's strongest aspect, I'll grant you, but del Toro's superlative visual mastery allows some manner of ghoulish style to elevate the thin material.
While your mileage on Crimson Peak's story will vary, there's no denying del Toro's panache behind the camera really brings this film up several notches. Exquisite colouring, and production design that aches with detail, your eyes will be flicking across every inch of the screen to take in the film's ravishing, sumptuous beauty. Lensed by Danish cinematographer Dan Laustsen (Brotherhood Of The Wolf, Darkness Falls, Mimic), Crimson Peak feels lustrous, draped in silk and oozing with passionate warmth, a kinda of visual blanket to wrap the audience up tightly before unleashing its monstrous frights. The red hues of the film are particularly vivid, the warm, dusky hues of brown and gold adding a level of calm between the creepy goings-on.
Del Toro also builds the tension in his film expertly. Sound design and the aforementioned cinematography, as well as a refusal by editor Bernat Vilaplana to conform to modern expectations, make this a film that reeks of "old school" tension rather than ratcheting hackles of jarring camera trickery. While the film's apparitions are appropriately creepy, bordering on horrific, they nevertheless never turn the film into something other than the period drama it commences as. Del Toro's playbook runs the gamut of taut, well directed moments of skin-prickling needlework, to haughty, precise melodrama and the occasional burst of humour. If you aren't convinced by the story, then the film's visual aesthetic will keep you attuned to the screen regardless.
I enjoyed Crimson Peak, but I can see how some might consider it a jumble of ideas we've seen before. I don't deny the film rides the rails of homage and outright stealing at times, and flirts with an overly ambitious sense of its own jigsaw-puzzle DNA, but del Toro's heart is in the right place, at least, and if nothing else, the movie worked for me. Taking into account the semi-obviousness of the plot, and standardised characters fitting within it, Crimson Peak is undemanding, stylish, occasionally outlandish horror from a director working his way up to the film he really wants to make.
Related articles
Who wrote this?