– Summary –
Director :  Fred Zinnemann
Year Of Release :   1955
Principal Cast :   Gordon MacRae, Shirley Jones, Gene Nelson, Gloria Graham, Charlotte Greenwood, Rod Steiger, Eddie Albert, James Whitmore, Barbara Lawrence, Jay C Flippen.
Approx Running Time :   145 Minutes
Synopsis:   A young cowboy woos a young ranch-girl, competing for her affections from a thuggish, oafish brute. Singing and dancing accompany all this.
What we think :   Aww shucks, gee-willikers, boy-howdy: Oklahoma! is a squeeze-bowl of good ol' Americana, catchy tunes and wonderful cinematography. The R&H musical takes flight in this dazzling, lavish, brilliantly executed example of the Hollywood musical genre done right, with solid leading performances, nice ensemble work, and some terrific visual motifs threaded throughout. Like a surrey with a fringe on top, Oklahoma! is textured with standout production value that serves to frame this catchy, whistle-ready soundtrack and delightfully uplifting (if paper-thin) story.
**********************
So…. much…. gingham.
 It's such a shame that Hollywood musicals are pretty much non-existent these days. Aside from a few notable exceptions – Moulin Rouge, Dreamgirls, and Chicago – the era of all-singin', all-dancin' musical numbers have long since passed, and that's really a shame. Modern audiences can't seem to accept the idea of their favorite stars breaking out into song mid-scene, and regard this kitschy conceit as something of a fuddy-duddy concept, almost an embarrassment to sit through. Notably, however, it's still acceptable in animated films, just not in live-action. It's easier to accept cartoon fish that burst into song, but apparently Bruce Willis should just keep his trap shut? Back in the 60's, and even the late 50's, the musical film was king – Oklahoma! was one of the early examples of the genre's resurgence as a mainstream idea, and the genre really hit its heights during the 60's. By today's standards, Oklahoma! is fairly trite, and almost painfully saccharine, but as an example of musical cinema it delivers several knockout punches. Based on the Rodgers & Hammerstein's stage play of the same name, Oklahoma! features a simple story, some white-toothed corn-chewing leading characters, and a propensity for an inability to use the past tense ("knowed" instead of "knew" etc), and although one might call it "quaint" today, there's something about all that gee-whizz gosh-darnit philosophizing that sticks right in the heart.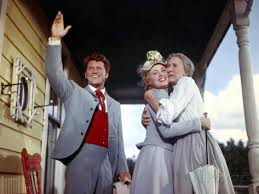 Oklahoma cowboy Curly (Gordon MacRae) has a thing for local farmgirl Laurey (Shirley Jones), but Laurie is a flip-flopping young thing and pretends to have an interest in Jud (Rod Steiger), a large, hulking man who is prone to acts of violence. After spurning Curly's invite to attend a local dance out of pique, Laurie discovers that her feelings for Curly are true, while Jud invokes fear in her. In order to make Laurie jealous, Curly pretends to have an attraction to Gertie (Barbara Lawrence), who is rather prone to terrible sounds of laughter. Laurey's friend, Ado Annie (Gloria Graham), is a skittish flirt who has feelings for cowboy Will Parker (Gene Nelson), and snake-oil peddler Ali Hakim (Eddie Albert), finds herself at odds with her decisive father, Mr Carnes (James Whitmore), who tells her that she now must marry Ali even if she doesn't want to. In the mix is Aunt Eller (Charlotte Greenwood), who finds the entire romantic angle the kids engage in rather bemusing.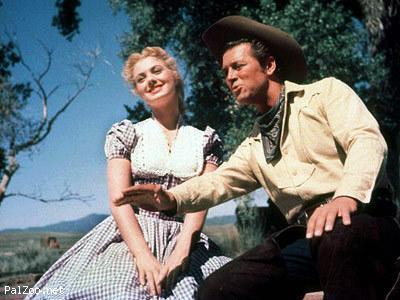 Okay, so Oklahoma! isn't gonna stretch the brain cells much past trying to figure out exactly when the predictable plot twists are coming, but with its simple story and 1-dimensional characters, the film muddles through it's "dramatic" arcs with a fair degree of nonchalance. The point of the film is, rather, the songs, from the opening "Oh What A Beautiful Mornin'", right through to the closing raucousness of the titular theme song, "Oklahoma". And as with most R&H musicals, the tunes are immediately recognizable, and entirely altogether hummable. "Surrey With The Fringe On Top" is probably the film's most catchy number (modern audiences will recognize it as the song Billy Crystal karaoke's to Meg Ryan in When Harry Met Sally), as it's reprized several times as a musical motif for Curley and Laurey, although in terms of pure box-office gold, the opening "Oh What A Beautiful Mornin'" track is better known. Fans of musical theater and music in general will find plenty of standout performances in Oklahoma!, a particular surprise (for me) being "Pore Jud Is Daid" – sung by MacRae and Steiger (whom I have to admit to being started to see in this role actually singing!), while the big numbers are done with pizazz and cinematic flavoring that is as infectious now as it was back then.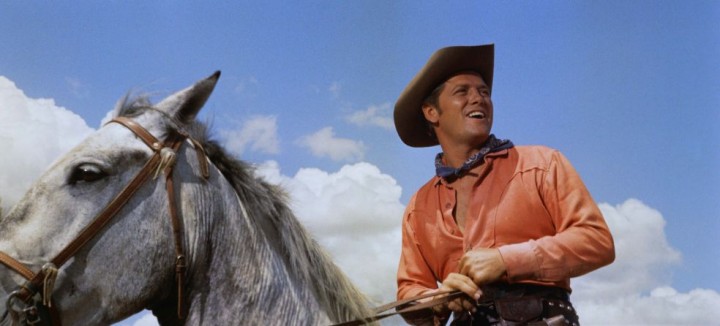 One of the big keys to musical cinema is to make sure the film at least looks sumptuous, and Oklahoma!, as its title might suggest, is set in one of the great "epic" states of America. What people might not know is that the film was actually shot externally in Arizona, with interior scenes filmed in Hollywood soundstages in Burbank, California. Apparently this was due to the real Oklahoma's use of its many oil wells spoiling a lot of the epic vista shooting the film required, so LOLZ at that if you want. Anyways, the film's glorious panoramic framing and lavish color scheme look positively splendid, with plenty of bright primaries through the costume design contrasting nicely against the film's glorious blue sky backdrops. It's interesting to note that Oklahoma! was one of the first films to be shot using the formative TODD-AO process, a specially designed 70mm film stock that allowed massive widescreen aspect ratios (Oklahoma! is available on current BluRay releases in both TODD-AO and Cinemascope versions, of which my preference is for the latter, exemplified by the 2.55:1 aspect, on which this review is based), although traditional 30mm film was also used – both formats were shot simultaneously, meaning that for the alternate theatrical distributions of the film, alternate takes were used by director Fred Zinnemann, making both the 30mm and the 70mm editions similar, but different.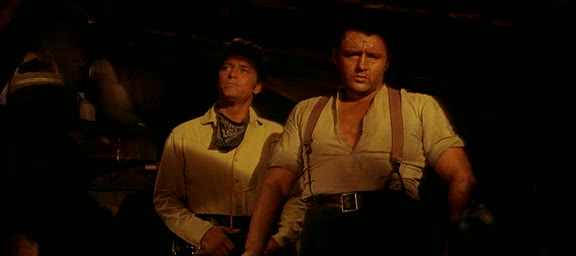 The cast also perform admirably in the signature roles of the film, especially Gordon MacRae as Curly, whose cheeky, hound-dog sincerity makes for an engaging leading man, while the screen debut of Shirley Jones (who had already performed for Rodgers & Hammerstein on stage in both South Pacific and Me & Juliet) is gob-smackingly cheerful – even when she's "down" about Curley's lack of sorrow that they might not be together. Charlotte Greenwood is delightful as Aunt Eller, as American as you can get, while supporting roles to Gloria Graham, Eddie Albert and Gene Nelson, as well as minor roles to the James Whitmore (who modern audiences will recognize from his memorable role of Brooks Hatlen in The Shawshank Redemption) and Barbara Lawrence, provide width to a story that could well be written on the back of a postage stamp. Everyone sings, dances and acts with professionalism and grace, as the story unfolds through the context of a barn dance that goes horribly awry (kinda) for Laurie and Curly.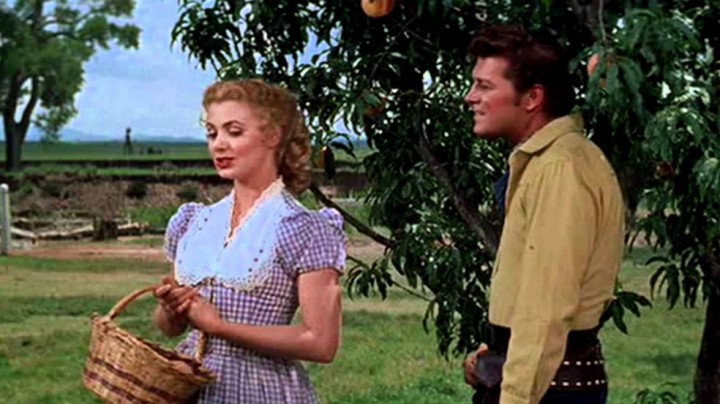 As ignorant as I am with regards to musical cinema's long and varied history, I recognize what makes this film so legendary in the annals of the genre. The stage play has simply been filmed almost entirely, and with a few minor cosmetic differences, or narrative requirements (the dropping of some songs, the re-purposing of some elsewhere in the film), is as R&H wrote for the stage. It's a charming, delightfully kitschy affair that's neither controversial nor laughably inane; Oklahoma! is crowd-pleasing musical cinema that delivers plenty of toe-tapping fun, some delightful lyrics and plenty of animated romantic interludes that will please the elderly and annoy the kids. Utterly pleasant musical fun, Oklahoma! is terrific.
Related articles