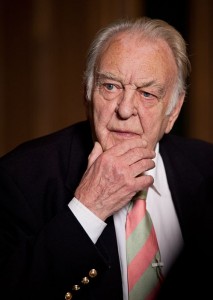 Acclaimed British stage, radio, television and film actor, Sir Donald Sinden, has passed away.
Lord Sinden first came to popular notice after appearing alongside fellow Brit Jack Hawkins in The Cruel Sea, which also co-starred Denholm Elliot and John Stratton. Following the success of that film, Sinden was contracted to the Rank Organisation, based out of Pinewood Studios, and produced a further 23 films during his tenure there, including Doctor In The House, The Black Tent, Doctor At Large, Eyewitness, and The Siege Of Sidney Street, among others. Films during the latter stages of his career include Day Of The Jackal (1973), The Children (1990), and The Canterville Ghost, while he voiced a character in the 1999 television production of Alice In Wonderland.
Following his departure from Rank, Sinden became a well known stage and radio actor, appearing in a variety of Shakepearean productions including Twelfth Night, King Lear and Much Ado About Nothing, for the Royal Shakespeare Company. His commercial theater work included roles in productions of Out Of Order (1990), An Enemy of The People (1975), The Scarlet Pimpernel (1985) and Quartet (1999).
He was noted for his televison work in the sit-com Two's Company, for which he recieved several BAFTA nominations. Other small-screen escapades include appearances in The Prisoner, Never The Twain, and Judge John Deed.
Lord Sinden was made a Commander Of The British Empire in 1979, and granted a knighhood in 1997.
Sir Donald Sinden passed away from prostate cancer, aged 90, on September 11th.