Movie Review – Rush
Thunderous, visceral sports film delivers the goods without cliche, with an impactful visual style and terrific performances by all. With a rapid-fire edit and dynamite cinematography, Rush drives headlong into pure, unadulterated fun. A terrific film, and easily one of Ron Howards best.

– Summary –
Director :  Ron Howard
Year Of Release :   2013
Principal Cast :  Chris Hemsworth, Daniel Bruhl, Olivia Wilde, Alexandra Maria Lara, Piefrancesco Favino, David Calder, Natalie Dormer, Julian Rhind-Tutt, Stephen Mangan, Christian McKay, Alistair Petrie, James Norton.
Approx Running Time :    122 Minutes
Synopsis:   The story of the famous rivalry between Formula 1 racing drivers Niki Lauder and James Hunt.
What we think : Thunderous, visceral sports film delivers the goods without cliche, with an impactful visual style and terrific performances by all. With a rapid-fire edit and dynamite cinematography, Rush drives headlong into pure, unadulterated fun. A terrific film, and easily one of Ron Howard's best.
**********************
Fast & The Furious 6.1?
Listen to a track from Rush, by Hans Zimmer.
Ask anyone outside of the United States what the pinnacle of vehicle motorsport is, and there's a fair chance the answer might be Formula 1. Open wheeled racing, which has now become a billion dollar industry across the globe, has long been filled with stories of conflict and rivalry, although none perhaps more famous (or infamous) than that between Austrian Niki Lauder, and Brit James Hunt. It was the first of the sports modern rivalries, and is altogether a brilliant story to be told on the big screen; what makes Rush so interesting is that it's taken a bread-and-butter Yank to tell it, in director Ron Howard. Unlike previous open-wheel racing film disasters, such as Sly Stallone's Driven (which made it into a Worst Film Week a few years back), Rush forgoes cavalier visual cliche and strives to tell the story around the characters, rather than the racing – although it must be said, when Howard puts the camera into the cars and lets fly with a race, it's a magnificent thing to watch indeed. Led by key performances by Chris Hemsworth (currently Marvel's Thor) and Daniel Bruhl (Joyeux Noel, Inglourious Basterds), Rush goes for adrenaline pumping melodrama of the kind great sport is made from. Perhaps key to this review, especially to myself (I never really liked watching car racing, although I appreciate the skill) is whether or not the film is entertaining without the racing being paramount, or if Rush will end up becoming simply "that racing movie" a lot like Driven did. Is Rush worth the practice laps, or is it a DNF?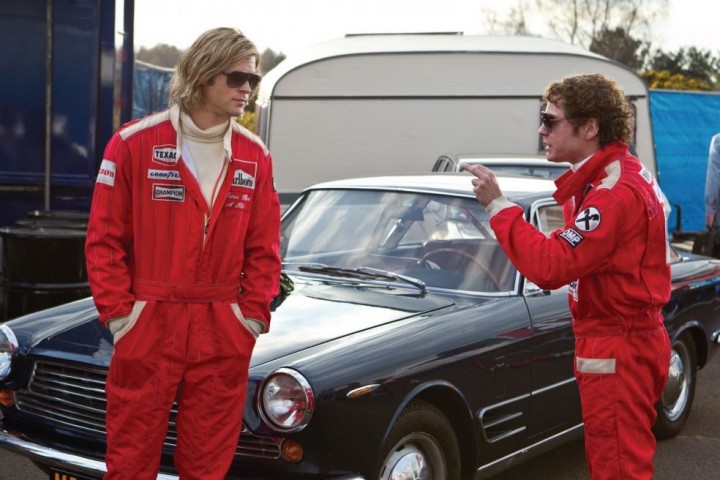 Up and coming racing drivers Niki Lauder (Daniel Bruhl) and James Hunt (Chris Hemsworth) begin an epic rivalry throughout the sport of Formula 1 racing: Lauder, who buys his way into the sport with a bank load after being cut off from his family fortune, is arrogant and driven to succeed. Hunt, a cocky, brash Brit with a love of women and reckless skill, is given the chance to drive in F1 thanks to a wealthy sponsor, Lord Hesketh (Christian McKay). As they make their way up the rankings, Lauder and Hunt become arch rivals, neither giving and inch on the track, and neither giving and inch off it.
It's taken until now for Ron Howard to impress me. I mean really impress me. Until now, I'd always considered him to be a fairly predictable, generic director; even though he'd has some major success along the way, like A Beautiful Mind, Apollo 13,  Backdraft and Frost/Nixon, one thing always prevented him (in my mind at least) from becoming one of the genuine greats. A lack of a distinctive style. Most legendary directors have a particular method with their films. Sit down and watch three or four Spielberg films, and you can tell the man's handprints are all over it. Same goes for Hitchcock, Michael Bay (although perhaps legendary isn't the right word in his case), Scorsese, Fincher…. hell, just about any director for whom the public associates them by their last name only, comes with his or her own  distinctive style. For me, Ron Howard never did. He made great films, sure, but they lacked a personal stamp – most of his films could be seen to have been made by anybody, for just about each of them lacked a unique imprint.
Rush refutes that claim (finally), as a distinctive, filled-with-style effort that marks a transition from "workmanlike" Ron Howard into "blockbuster" Ron Howard. Rush is terrific, a roaring, guttural, thunderous sport-flick filled with energy and a freedom that underpins almost every frame. It shows a director at the peak of his powers, unfettered and unconstrained by anything other than a desire to rip this story a new ass. Howard marks this film with a definite style, showcasing some wonderful editing, a near-European sense of visual panache that outdoes anything – and I mean anything – he's managed previously. Rush is a bullet to the head, a brain-splattering ride alongside the worlds fastest men, the whiff of high octane fuel and burning rubber seeping into the pores of what is one of the most visceral racing films in recent memory. At least the most convincing.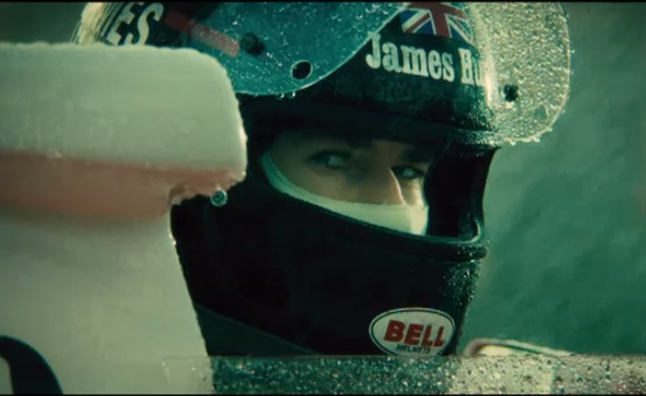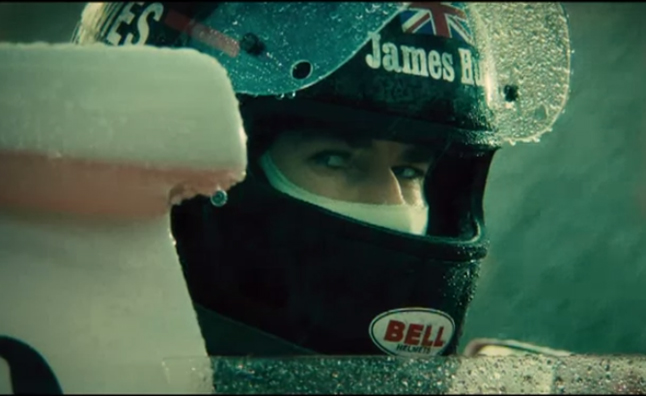 Aside from the visual element (more on this later), Rush's primary success is with its two leads, Hemsworth and Bruhl. Bruhl, in particular, makes a revelatory performance as Lauda, Hunt's chief rival for the F1 world championship, and himself a former champion. Bruhl makes a commanding Lauda, getting the voice and look down just perfectly. Bruhl also makes a man who most people hated (at least professionally) an empathetic figure – we understand his drive and passion, and his desire to beat the cocky Hunt through dedication and determination, and it makes the way he acts seem… reasonable. Hemsworth, meanwhile, is no slouch as Hunt, the blonde-haired surfer-looking dude, with his winning smile and breezy, devil-may-care attitude to racing aggravating Lauda no end. Both Hemsworth and Bruhl deliver top-flight acting performances, although I must say it's Bruhl who provides the film with its emotional center (considering Lauda is portrayed as a rather detached, unemotional man, this is somewhat contradictory I know) and the film's most lasting, telling portrayal of the world of Formula 1.
The rest of the cast provide more than adequate support in a variety of roles: Christian McKay is great as Alexander Hesketh, the owner of Hunt's original Formula 3 racing team, while Pierfrancesco Favino is commendable as Lauda's Ferrari teammate Clay Regazzoni. Bit parts to Olivia Wilde (as Hunt's wife, Suzy Miller), Game Of Thrones star Natalie Dormer (as a nurse Hunt beds during the film's opening) and a delightful supporting performance from Alexandra Maria Lara, as Lauda's wife Marlene, add to the mix; the secondary players all provide broad brushstroke characterizations, leaving the heavy lifting for Hemsworth and Bruhl.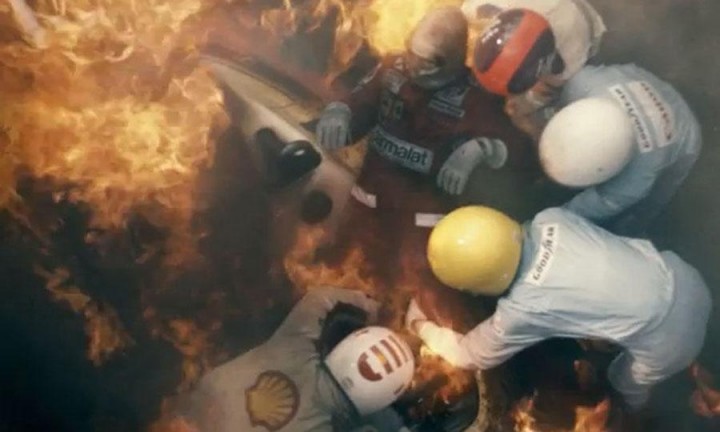 Rush's second major plus is its look – the visuals and use of camera by Ron Howard is just superb. A crazy mix of Fast & The Furious and Ronin, as well as a vaguely European gloss and Tom Tykwer-ish frantic paced editing work, makes Rush a complete adrenaline hit of energy, sound and images. Howard deployed two editors for this film, in Dan Hanley and Mike Hill, and it's little wonder, with so much material to cover and Hans Zimmer's rumbling, urgent score powering away beneath it all. Rush's racing sequences, when they occur, are dynamite, and possibly the best racing footage seen in a modern film to date. The camera weaves like a twister inside and outside the cars, within the engine block itself (a nod to Fast & The Furious, no doubt) and around the various racetracks the events occur at. When the film moves away from the track, Howard never relents, seeming to barely ever use the same shot or angle twice. In doing this, he adds an element of enormity to the film, as if the budget on this thing was $200m plus, when in fact it's closer to $30m. Throw in Anthony Mantle's ripping cinematography, and Rush looks, sounds and feels like an atomic bomb of electricity going off inside your cerebral cortex.
Whereas most sporting films tend to lean towards gushing cliche and "last gasp winner" type storytelling, Rush never does. Gimmicky sporting tropes never really appear here, with a raw, unusually sexual kinda of flavoring to the action bringing both Hunt's journey and Lauda's drive to beat him to the fore with a surprising amount of guile. The racing sequences are electric, the film moves like it's got a firecracker up its ass, and the production values belie the small budget the movie was shot on; Rush is visual dynamite, and I cannot recommend it more highly.
Related articles
Who wrote this?