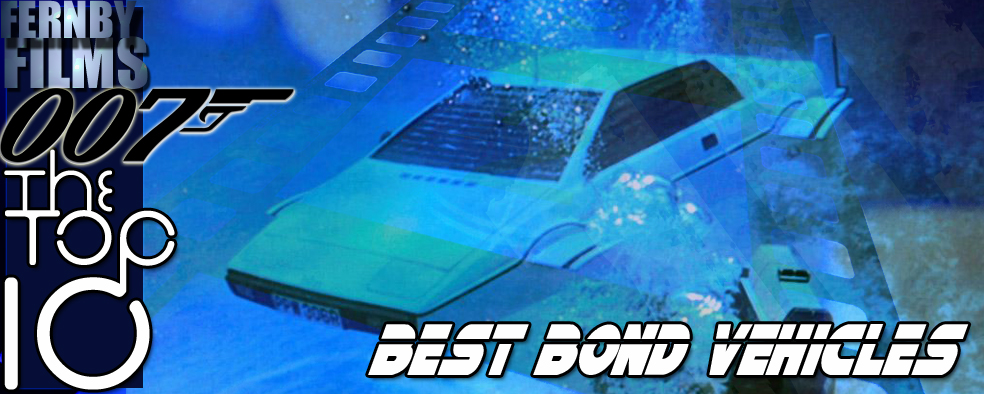 James Bond is synonymous with style – from an impeccable dress sense, to his ability to turn a phrase, to his modes of transportation, each successive Bond tries to out-do the previous with high quality product. However, nothing is more "Bond" than his vehicles – prestige and unquestionable quality combine with deadly force (thanks to Q, who turns every vehicle into a custom designed arsenal) to produce vehicle only 007 could drive. Here's our picks for the ten best Bond vehicles!

Okay, so it's not your iconic Bond vehicle, but it certainly left an impression on those of us who saw GoldenEye in cinemas. Bond, in hot pursuit of his latest Girl who'd been taken hostage by a rogue Russian Colonel (as you do), decides the best course of action is not to hop into some Russian clunker, but a powerful army tank. It turns a street chase through St Petersburg into a street chase….well, through St Petersburg, if you get my meaning.

When you need a car to swish through the Arctic, turn invisible and have rear mounted cannons, Bond looks no further than the Vanquish. While the sequence in Die Another Day involving this beast might have been entirely implausible (and improbably), when you're spinning 980 degrees across the ice fields you need to look cool doing it, and this car certainly did.

When you're being pursued through the labyrinthine alleyways of Saigon, as well as over the rooftops, you want something a little more maneuverable than a car. You want a bike. BMW's R1200 is a solid, remarkably smooth riding motorcycle used by Brosnan's Bond and Wai Lin (Michelle Yeoh) to escape pursuit in Tomorrow Never Dies. Last seen sliding under helicopter blades in a desperate bid to flee….

Red, sleek and pure Bond, the best British vehicle for the job is the V8 Volante. I've never driven one, but according to what I've seen on YouTube, it's a pretty sweet ride.

Ultra rare – and ultra cool for the 60's – the Toyota 2000GT only came in a production run of some 300, of which two were used (and specially modified) for 1967's You Only Live Twice. Apparently, Sean Connery was too tall for the structure of the car, so producers "converted it" in to a "convertible", which the car was never meant to be.

Appearing in 1981's For Your Eyes Only, Lotus's stylish Turbo version of the Esprit came complete with Bond's snow skis on board, as he drives it to a resort in northern Italy.

Appearing in 2006's Casino Royale, Aston Martin returned to the Bond franchise (since the Brosnan era was flavored with BMW) with a vengeance, sporting a stunning new model and a powerful, sleek design. The DBS was a resounding return to form for Aston and Bond.

Damn, this car looked mean. Seriously, it's the vehicular equivalent of a club bouncer. It's also highly cinematic.

For the car that can go on-road, off-road and under-freakin'-water, Bond's Lotus Esprit made an appearance in 1977's The Spy Who Loved Me. Go on, tell me it's not an awesome piece of vehicular beauty.

Goldfinger's DB5 remains perhaps the most iconic – after all, it's appeared in more Bond films than any other car. Stylish, easy on the eye, and usually filled with gadgets enough to destroy a small country, the DB5 is much like the many Bond girls who've sashayed across our screens in the last 50 years. In terms of it's marketing and iconography, the DB5 is Bond.
Related articles