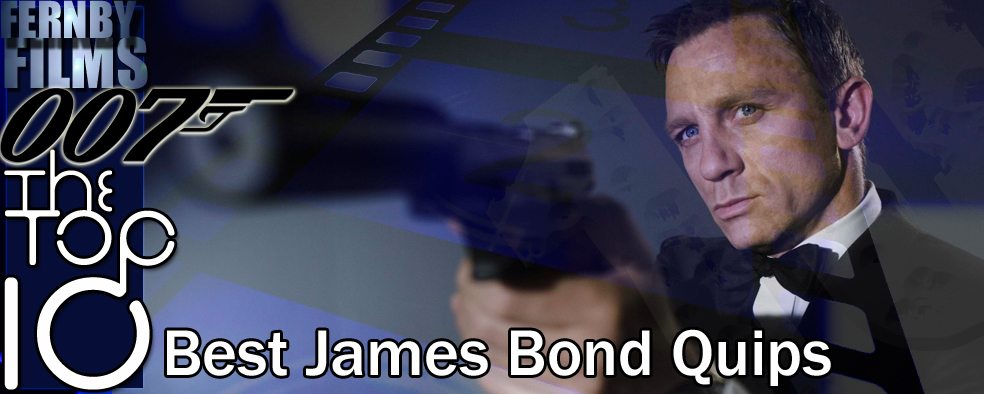 Ahh, Bond, the man whose cool-factor is only limited to the quality of the scripting. Ian Fleming's iconic spy, who always gets the girl and kills the Bad Guy, usually follows up doing either with a witty remark or retort. Never  taking a step backwards when a chance for comedy is on offer (even in the most grotesque of scenarios), the Bond films feature a wide variety of put-downs, double-entendres and sarcastic witticisms. Here, we've picked the ten best.

"I thought Christmas Only Came Once A Year", from The World Is Not Enough. After saving the world from nuclear annihilation (again), Bond (Brosnan) ends up bedding the lovely nuclear physicist Dr Christmas Jones (Yeah, that's what we thought) just before the closing credits. The ever-so-suave Bond plumbs the depths (do to speak) of innuendo with his incredibly straight-faced reference to Christmas: "I thought Christmas only came once a year," before following that up with the equally gallant "I always wanted to have Christmas in Turkey", a reference to both their location and situation.

Re-entry – Moonraker. At the end of Moonraker, Bond (Moore) and Holly Goodhead are making love up in space, when Q interrupts them via video-link. Embarrassed, when M asks him what Bond is up to from behind, Q squints at the screen, and in a  terrific double-entendre, replies "I think he's attempting re-entry, sir…" Ahh Q, you'd make a terrible astronaut.

"One last screw" – The World Is Not Enough.  Bond (Brosnan) is strapped to a torture device in the shape of a chair, on which a section of the headrest screw inwards to put pressure on a victims spine. With the villain doing his worst, Bond picks just that time to once more elicit groans from the audience by referring to sex – again. Ahh, Bond, always thinking with your head.

"The next girl" – GoldenEye. Caroline, an MI6 evaluations expert is sent to "test" Bond (Brosnan) psychologically. As they drive his Aston Martin at speed down some winding roads, Caroline complains to Bond that "[she] likes a good ride as much as the next girl…" while Bond notices temptress Xenia Onatopp driving next to him. "Who's that?" questions Caroline. Bond, pausing for irony, replies "the next girl". Ahh Bond, always treating his conquests with respect.

Not Shaken, or stirred. – Casino Royale (2006). In Martin Campbell's reboot of Bond, starring Daniel Craig, Bond is in the midst of gambling against LaChiffre at the titular Casino when he decides to get a drink. Asking for his Vodka martini, the bartender queries whether he'd like it shaken or stirred – Bond retorts with "Do I look like I give a damn?", putting an end to 20 films of iconic "shaken, not stirred"… Genius.

The New Q's Best Line – Die Another Day. Bond (Brosnan) has a rather terse relationship with the new Q (John Cleese), and after being surprised with just how many gadgets Q has shoved into his latest vehicle, Bond says "You know, you're cleverer than you look!". Q,  barely pausing to even let this sink in, retorts "Yes… still, better than looking cleverer than you are." Withering, perceptive, and gut-busting.

"He had a lot of guts" – from On Her Majesty's Secret Service. Aussie Bond (George Lazenby) has just seen a villain ski into a snow-blower, spraying the snow behind with blood, turns and gives the most blood-curdling of lines. Harsh, man.

"Yeah, and I'm Dick Tracy and you're still under arrest" – A View To A Kill. Bond (Moore) tries to schmooze his way out of being arrested by using his legendary introduction: "The name's Bond, James Bond", which obviously fails to impress the Fire Chief. The Fire Chief shows Bond just what that name  means to him. Ahh Bond, known by super-villains and hot girls, but not folks in the emergency services.

"It's just the right size… for me, that is" – From Russia With Love. Bond (Connery), utters the incredibly salacious reply to Tanya Romanova saying "I think my mouth is too big"…. taken out of context, of course, this is highly suggestive. Ahh Bond, always thinking of a lady's comfort.

"I might retire here." – From You Only Live Twice. Bond (Connery), being given the rules of Japanese culture while visiting that country, by Tiger Tanaka, included the Number 2 rule: Men come first, women come second, to which Bond utters his immortally misogynistic  reply. Ahh Bond, always considering a lady's feelings.
Related articles