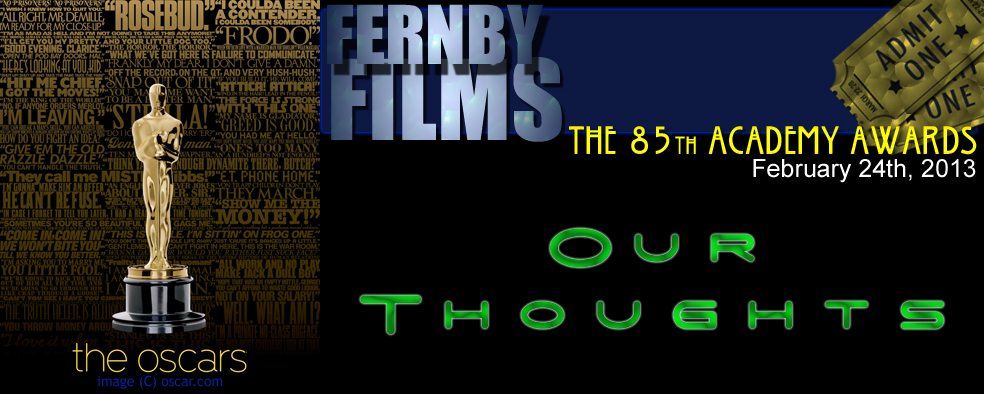 Now that the nominees have been released for the 85th Academy Awards, it's time for us to have a bit of a go at trying to determine the winners and losers on the big night. With all the opinions around the web and workplaces, there's plenty of grist for this mill, and we figured why not add in our own two cents. The Oscars are one of most watched television events in the world, and with that level of expectation and anticipation, it's only natural for everyone to have their favorites. Here's ours…. what are yours?
Best Picture
While I'd love to see Argo win for Ben Affleck, or Zero Dark Thirty snag it for Bigelow (neither Affleck or Bigelow were nominated in the Director category, which is bizarre), I"m inclined to think the race is going to be Spielberg's to lose. Lincoln's such a pervasive figure in American politics, and that might be just the thing to see it be pushed over the edge and into the lead. I've heard some middling reviews on Django Unchained, even though the Academy loves films examining racism (look at the love for The Help a few years back), so I doubt we'll see Tarantino up on the stage collecting this year. My Wish: Argo. My Tip: Lincoln.
Best Director
David O Russell's Silver Lining's Playbook is getting some fair raps, while Spielberg would have to be short odds to take it out for Lincoln. I can see Ang Lee (Life of Pi) also being a heavy favorite, although the love for Beasts Of The Southern Wild seems to indicate that that film might be the smokey to take out some awards on the big night. I can't believe Ben Affleck wasn't nommed for Argo…. criminal. I'm a sentimentalist, however, so I'm going with the man I'd expect to see take it out. My Wish: David O Russell. My Tip: Steven Spielberg.
Best Actor
With a roster of acting powerhouses, and Bradley Cooper, this is the award I'm most looking forward to on the night. It's like the Superbowl of acting this year, with Denzel Washington, Joaquin Phoenix and Hugh Jackman all top-rate performers going up against Daniel Day-Lewis, who never turns in a bad performance. Of all the categories this year, this is the one with the most even spread of potential. It would take a game punter to put their money on anybody other than Daniel Day-Lewis, though, with his astonishing portrayal of President Lincoln in Spielberg's epic film. My Wish: Hugh Jackman. My Tip: Daniel Day-Lewis.
Best Actress
It's been a lean year for meaty female roles, which leaves the field wide open for anybody to step up and take this award. In my heart I'm going for the white hot Jessica Chastain (who was terrific in The Help, and has appeared in a number of solid roles since) but both Jennifer Lawrence and Naomi Watts could be considerable competition. My Wish: Naomi Watts. My Tip: Jessica Chastain.
Best Supporting Actor
Much like the Best Actor category, this one is anybody's. The names in the nominee list read like a Dream Team of thespian talent, and I'd be happy with any of them snagging the gong. Philip Seymour Hoffman might be the favorite, thanks largely to the controversial nature of The Master, but I'm thinking Arkin or DeNiro could be smokeys to take this out, simply as previous Oscar favorites. Expect fireworks for this one too…. My Wish: Christoph Waltz. My Tip: Philip Seymour Hoffman.
Best Supporting Actress
The fact that Les Miserables was the most recent of the major films to be released around the world, and more fresh in people's minds, leaves Anne Hathaway seemingly in an unbeatable position here. I haven't seen Les Mis yet, but I've heard her work in it is terrific. However, neither Helen Hunt or Sally Field are strangers to Oscar, and Amy Adams has been in the spotlight for a few years delivering ripper performances in a variety of projects. And it would be remiss of me not to mention Aussie gal Jacki Weaver, who was nominated for Animal House a few years ago, is Our Big Hope for snagging the award for Silver Lining's Playbook. My Wish: Jacki Weaver. My Tip: Anne Hathaway.
Best Animated Feature
It's been a decidedly average year for animated films, with even Pixar delivering a lackluster effort in Brave. That being said, the fact that Frankenweenie was an hour too long for a 90 minute film, Paranorman has missed the Halloween window, and Wreck It Ralph and Pirates are too meta for the Academy, and I think you'll see Brave scoop the award mainly because of a lack of competition. My Wish: The Pirates! Band Of Misfits. My Tip: Brave.
While the major awards will obviously draw the majority of attention, there's still a number of other awards worth noting here. It's a little disappointing not to see Hans Zimmer acknowledged for his stunning work on The Dark Knight Rises for Best Score, although I think that's largely to do with the fact that he reused a lot of his score from The Dark Knight and thus became ineligible (a stupid rule, if you ask me). I think Alexandre Desplat or Dario Marianelli might scoop the Oscar for Best Score. My wish for Best Original Screenplay would be to see Wes Anderson snag it for Moonrise Kingdon, while I'd love to see David O Russell pick up the gong for Best Adapted Screenplay, with Silver Linings Playbook.
Adele deserves to win the Oscar for Best Original Song ("Skyfall", from Skyfall), while Skyfall would also be a short odds favorite to scoop the Sound Mixing and Editing categories. This film was taut, tight and solidly mixed. Expect plenty of money changing hands for Best Production Design (retitled as such from Best Art Direction), with all the nominees listed doing terrific work creating new and inviting worlds. My wish would be for Les Miserables to win for Production Design, but I would expect either Anna Karenina (which looked superb) and Lincoln to be highly fancied opposition. If geeks had their way, Skyfall would give Roger Deakins the win for Best Cinematography, but then geeks don't hold much sway in Hollywood, so I'm leaning more towards Janusz Kaminski for Lincoln, or Claudio Miranda for Ang Lee's Life Of Pi, in that category.
Finally, the Best Visual Effects category sees the battle between Tolkien, Marvel's Avengers and Aliens. I'm hoping, hoping like mad, that Avengers takes it out considering how well the film performed this year, but I would be happy to see either Jackson's Hobbit (a nod perhaps to the 48 fps technology developed as wel?) or Snow White & The Huntsman's terrific visual effects be acknowledged.
Guess we'll see on February 24th if we're right!