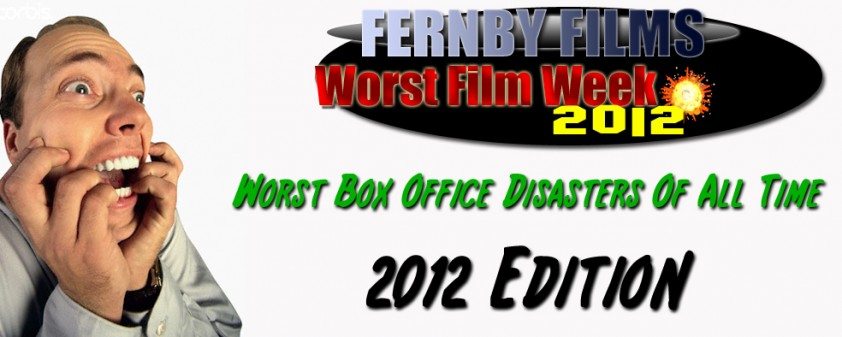 Every time we kick into Worst Film Week, we usually pull out the latest list of the biggest box office bombs of all time – thanks to Wikipedia. So, here in the 2012 edition of the current Top 20 Box Office Bombs of All Time.
Of course, everyone's favorite punching bag, Cutthroat Island remains the King of the Bombs, with adjusted losses of nearly $150m in today's money, or some 84% of money spent was never recouped. Ouch. Recent entries may surprise – 2011's Mars Need's Moms makes the list in at 5, losing some $137m at the box office. Also from last year, Green Lantern, a film I felt was judged a little harshly by audiences, makes a landing in at 11. Poor Martin Campbell. You relaunch James Bond (twice) successfully and you still make a list like this. That's gotta hurt.
Old faithful, Battlefield Earth, which remains high on the "all time shittiest" list of every critic alive today, has been shunted down a few places since we last looked at this list, but it's nice to see it's still here. And I don't know about you, but I actually liked Treasure Planet – just not enough to keep it from being considered a financial disaster. ….Still, just think – Eddie Murphy will go to his grave knowing he was at least partially responsible for Pluto Nash – the highest percentage loser of the lot.
***
All Time Box Office Disasters
| Film | Year | Total cost (production + marketing) (USD) | Worldwide theater gross (USD) | Net losses (USD) | Net loss as a percentage of total cost | Net losses inflation adjusted (2012 USD) |
| --- | --- | --- | --- | --- | --- | --- |
| Cutthroat Island | 1995 | 115,000,000[1] | 18,517,322[2] | 96,482,678 | 83.90 | 147,157,681 |
| The Alamo | 2004 | 145,000,000[3][1] | 25,820,000[3] | 119,180,000 | 82.19 | 146,644,313 |
| The Adventures of Pluto Nash | 2002 | 120,000,000[1] | 7,103,973[1] | 112,896,027 | 94.08 | 145,877,124 |
| Sahara | 2005 | 241,000,000[4][1] | 119,269,486 | 121,730,514 | 50.51 | 144,857,030 |
| Mars Needs Moms | 2011 | 175,000,000[5][6] | 38,992,758 | 136,007,242 | 77.72 | 140,513,991 |
| The 13th Warrior | 1999 | 160,000,000[1] | 61,698,899 | 98,301,101 | 61.44 | 137,142,407 |
| Town & Country | 2001 | 105,000,000[7][1] | 10,372,291 | 94,627,709 | 90.12 | 124,202,203 |
| Speed Racer | 2008 | 200,000,000[8][1] | 93,945,766 | 106,054,254 | 53.03 | 114,479,584 |
| Heaven's Gate | 1980 | 44,000,000*[1] | 3,484,331 | 40,515,669 | 92.08 | 114,281,677 |
| Stealth | 2005 | 170,800,000[9] | 76,932,872 | 93,867,128 | 54.96 | 111,700,123 |
| Green Lantern | 2011 | 325,000,000[10][6] | 219,851,172 | 105,148,828 | 32.35 | 108,633,050 |
| Final Fantasy: The Spirits Within | 2001 | 167,000,000[1] | 85,131,830 | 81,868,170 | 49.02 | 107,454,858 |
| The Fall of the Roman Empire | 1964 | 19,000,000* | 4,750,000[11] | 14,250,000 | 75.00 | 106,783,262 |
| Supernova | 2000 | 90,000,000* | 14,828,081 | 75,171,919 | 83.52 | 101,449,407 |
| Battlefield Earth | 2000 | 103,000,000 | 29,725,663 | 73,274,337 | 71.14 | 98,888,497 |
| Inchon | 1982 | 46,000,000*[12][1] | 5,200,000[12] | 40,800,000 | 88.70 | 98,257,655 |
| Treasure Planet | 2002 | 180,000,000[1] | 109,578,115 | 70,421,885 | 39.12 | 90,994,717 |
| Ballistic: Ecks vs. Sever | 2002 | 90,000,000 | 19,924,033 | 70,075,967 | 77.86 | 90,547,743 |
| The Postman | 1997 | 80,000,000*[1] | 17,626,234 | 62,373,766 | 77.97 | 90,302,318 |
| Red Planet | 2000 | 100,000,000[1] | 33,463,969 | 66,536,031 | 66.54 | 89,794,713 |