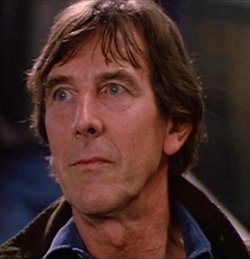 Stephen Falken is dead. Acclaimed British actor John Wood, who 80's nerds might remember as the computer genius Stephen Falken, in the Matthew Broderick sci-fi classic War Games, has passed away.
Wood appeared in numerous Shakespeare productions on stage and screen (his most prominent film role in this regard was with Ian McKellan in Richard III, in 1995), including a large amount of television work. Among his film appearances were roles in Ladyhawke (again, opposite Matthew Broderick), Jumpin' Jack Flash (with Whoopi Goldberg), Shadowlands (with Anthony Hopkins and Debra Winger), The Madness Of King George (a superb period film starring Nigel Hawthorne, Helen Mirren and Ian Holm, and a film I can't recommend highly enough!), The Avengers (yes, the one with Ralph and Uma), Chocolat, and one of the last Merchant/Ivory films, The White Countess (again with Ralph Feinnes).
For the passing of the man who gave us near-nuclear holocaust at the hands of a game of tic-tac-toe, we salute John Wood today. Mr Wood passed away on August 6, aged 81.