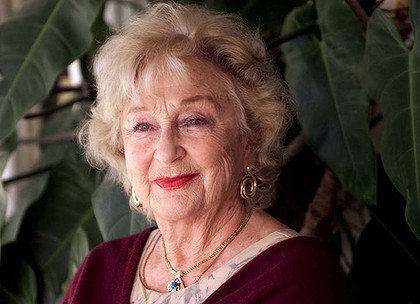 Long time Australian resident, British actress Googie Withers, has passed away. Born Georgette Withers in Karachi,  British India, her nanny named her Googie, which stuck with her her entire life. Withers' first screen role came in 1935, when she was hired to play a minor role in The Girl In The Crowd, only to find that one of the major cast members had been let go, and she was asked to replace her. Withers' most famous role in the early part of her career was in Hitchcock's The Lady Vanishes, as well as the WWII drama One Of Our Aircraft Is Missing.
Ms Withers met Australian actor John McCallum on the set of The Loves Of Joanna Godden in 1947, and they married the following year. Withers remained married to McCallum until his passing in 2010.
Among her many roles on stage and screen, her film appearances included Murder In Soho, Jeannie, Lady Godiva Rides Again, Time After Time, and a role alongside Geoffrey Rush in the Aussie classic, Shine. Ms Withers passed away on July 15th, aged 94.
Who wrote this?