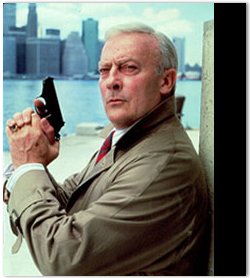 Some sad new to report today, with the passing of legendary British actor Edward Woodward, at the age of 79. Woodward is best known for his portrayal of Robert McCall in the US TV series, The Equalizer.
Woodward first came to prominence in the 70's thriller, The Wicker Man, and went on to appear in various films including Who Dares Wins, Breaker Morant, and the 2007 action/comedy Hot Fuzz. But Woodward will remain defined by his television roles, particularly that of McCall, and of David Callan, in the TV series Callan. He also appeared in series such as Common As Muck, and Over My Dead Body, although he suffered a little from typecasting for his procedural roles. Later in his career, he appeared in series such as The Bill, La Femme Nikita, and even a special role in The Bill.
Among his many accolades was a Golden Globe Award in 1987 for his role in The Equalizer, as well as numerous Emmy Award nominations for the same role.
Woodward suffered from ill health in his later years, undergoing bypass surgery and treatment for prostate cancer. He died yesterday from complications arising from pneumonia.
Who wrote this?