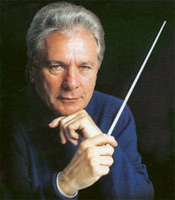 Sad news to report today folks, with news coming to hand of the reporting of one of cinema's true heavyweights, composer Maurice Jarre, passing away aged 85. Jarre will be best remembered for his amazing score to Lawrence Of Arabia (which, strangely, we are working on a review for as we speak!) as well as Doctor Zhivago, and more recently, Ghost.
Jarre was bron in Lyon, France in 1924, and came to Hollywood when he was asked to score David Lean's cinema version of Lawrence Of Arabia, for which he won an Oscar. A few years later, he would go on to win his second Oscar for the score to Dr Zhivago. Other notable works for which Jarre should be recognised today include scores for Ryan's Daughter, Top Secret, Dead Poets Society, Enemy Mine, Mad Max Beyond: Thunderdome, Firefox, Cocktail, Gorillas In The Mist, and Ghost. He also wrote the scores for Fatal Attraction, No Way Out, and The Year Of Living Dangerously.
Jarre passed away peacefully, aged 85. In the world of cinematic music, he will most certainly be missed.
Who wrote this?