Movie Review – Home On The Range
Delightful animated adventure from the Disney studios, a wonderful plot and some great characterisation making Home On The Range a thoroughly enjoyable sunday-afternoon piece of entertainment. Great songs and animation ensure this will become a family favourite.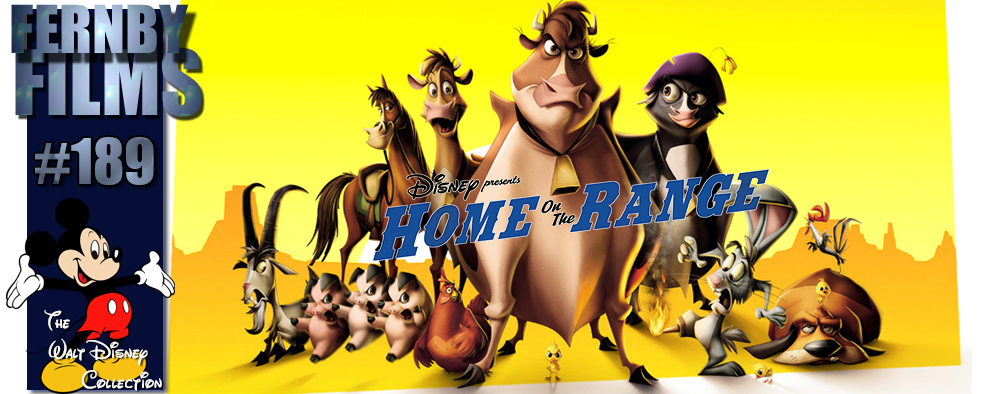 – Summary –
Director : Will Finn & John John Sanford
Cast : Voices of: Judi Dench, Roseanne Barr, Jennifer Tilly, Cuba Gooding Jr., Randy Quaid, Steve Buscemi.
Length : 90 Minutes
Synopsis: Three cows embark on a grand adventure to capture a cattle rustler, to claim the reward money for themselves and save their farm. Yes, cows.
Review : Delightful animated adventure from the Disney studios, a wonderful plot and some great characterization making Home On The Range a thoroughly enjoyable Sunday-afternoon piece of entertainment. Great songs and animation ensure this will become a family favorite.
**********************
Funny, delightfully silly animated feature (the last, apparently) from Disney's 2D animated division, which managed to scrape in a reasonable profit for the studio, Home On The Range is a great little film to fill in a spare 90 minutes of your time. While hardly treading in the colossal shoes of the Lion King or Aladdin, Home on the Range is an enjoyably fluffy piece of traditional animation, with some great vocal performances and lovely artwork, that brings a tinge of sadness to know that after production on this film ceased the 2D animation department was closed down.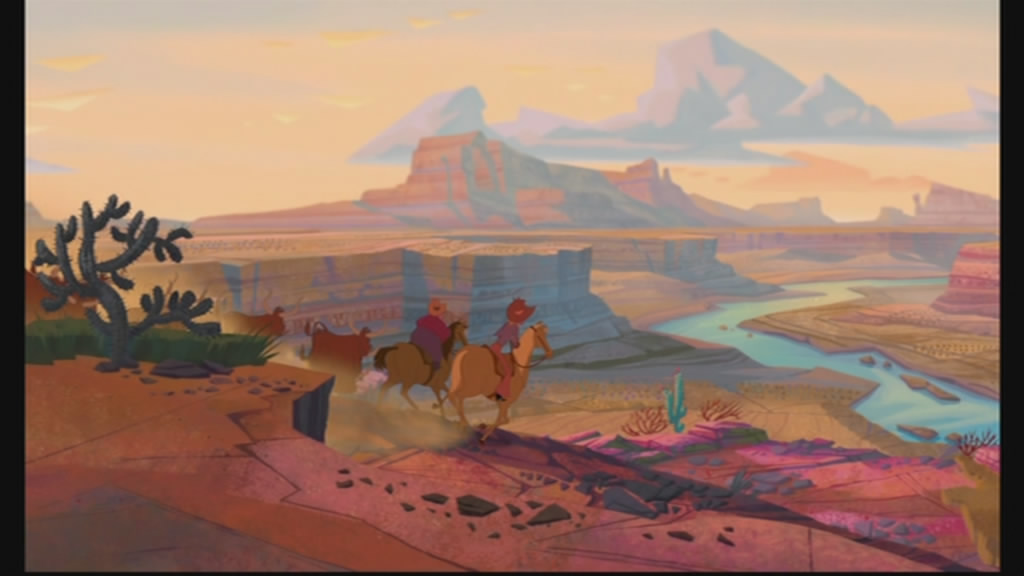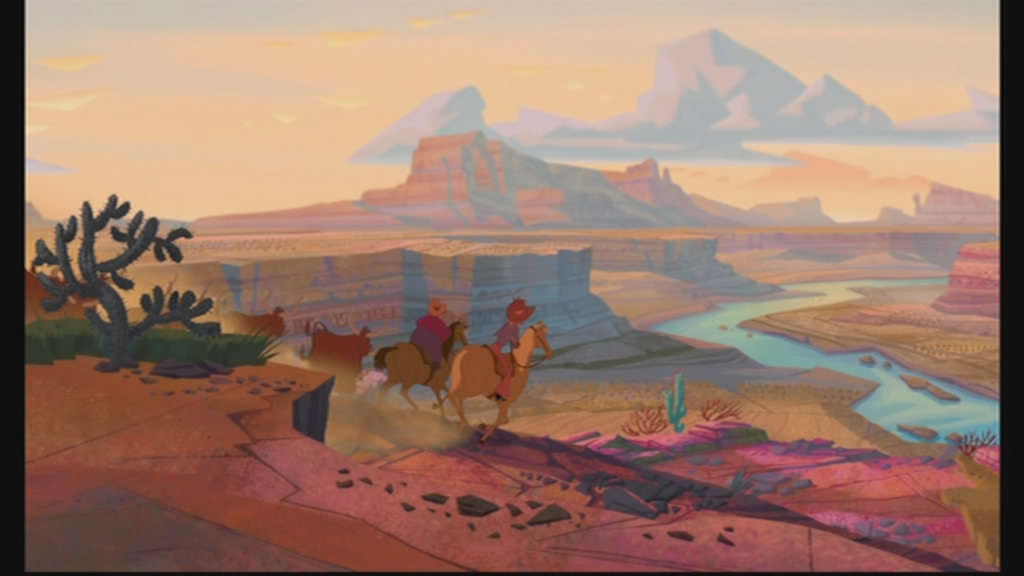 The films tells the story of three cows, on a ranch in the Old West, who travel to the wilderness to track down a nasty cattle rustler, who is buying up all the land in a property scam. They do so in order to claim the bounty, which in turn will pay off the debt to the bank for their ranch, Patch 'O Heaven. It may seem odd that three cows, one of whom is a relative newcomer to the ranch, decide to risk everything in order to save their property, but, like the song says, it's their patch of heaven, and it's worth saving.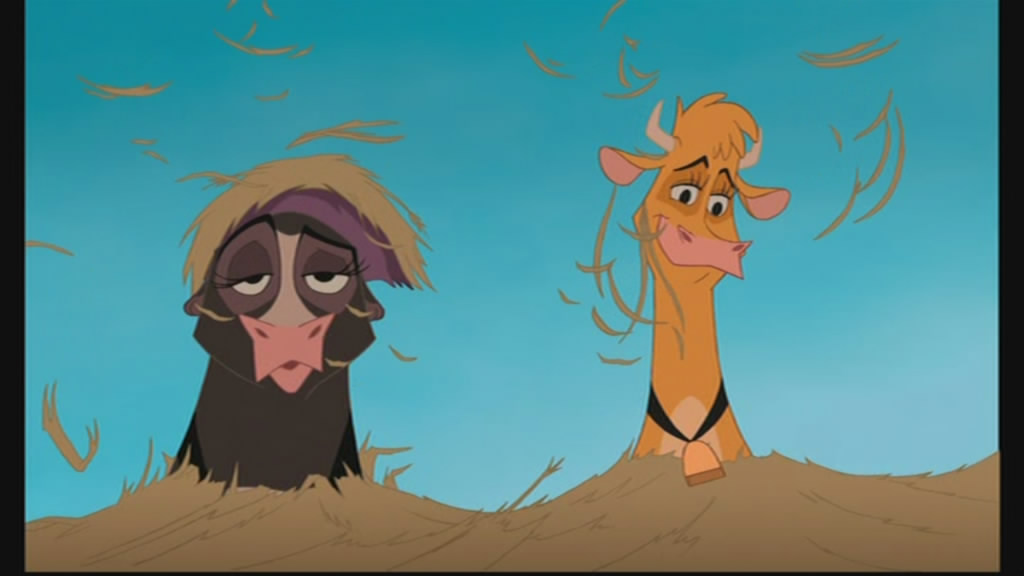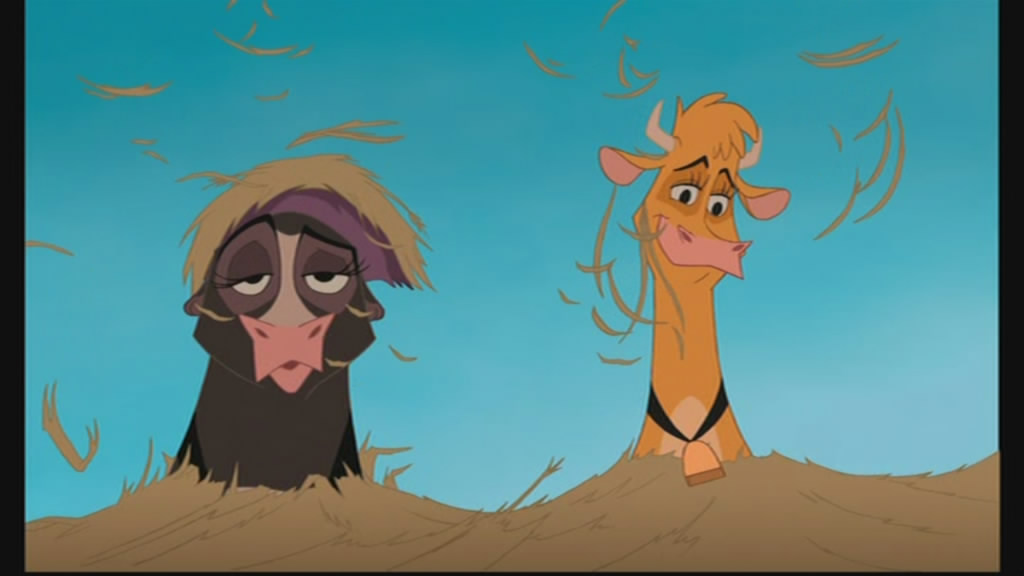 Judi Dench, Roseanne Barr and Jennifer Tilly voice the three leading characters, the cows. Dench plays Mr Calloway, the slightly snobby, upper crust cow who enjoys her position as lead animal on the farm. She's quite put out when Maggie (Barr) arrives from a recently foreclosed farm, a "show cow" with bad manners and a dry, sarcastic wit who doesn't pretend to be anything else than what she is. The ditzy, dumb-blonde Grace (Tilly) makes up the trio, her tone deaf singing ability a key component in the plot, and a dazzlingly astute sense of comedic timing. Competing to capture the rustler, Alameda Slim (Randy Quaid), is the local sheriffs horse, Buck (Cuba Gooding Jr.), a beast with a superiority complex larger than Texas. Buck is skittish (labelled so by his rider, the bounty hunter Rico, voiced by Charles Dennis), always thinking about how cool he is, and is blinded by his admiration for both himself and Rico. He decides to capture Alameida Slim himself, thus preventing the cows from saving their ranch. Slim (Randy Quaid) is the chief villain, a yodelling cattle rustler whose vocal talents enable him to hypnotise a whole herd of cattle, and lead them to his hideout deep in the mountains. There, he can sell the cattle to a dastardly buyer, Mr Wesley (Steve Buscemi in a cameo), and uses the funds to buy the now destitute ranchers land from under them.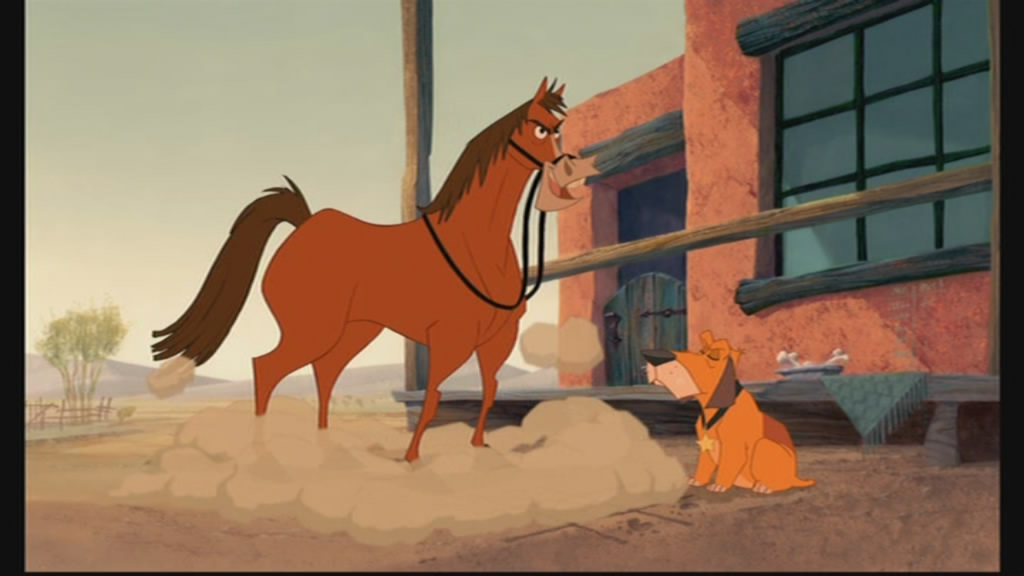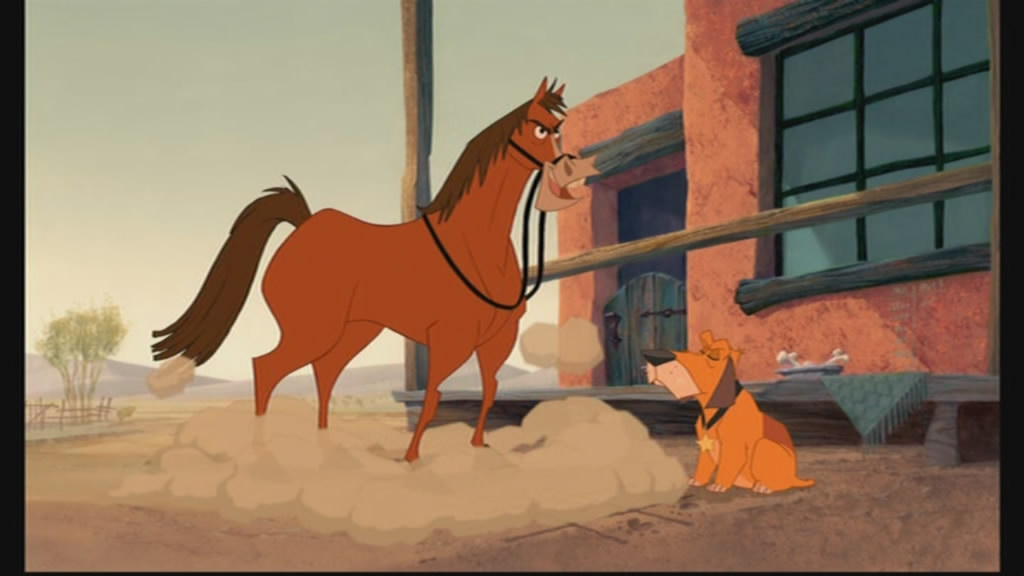 I enjoyed this film for a variety of reasons. Nothing, but nothing, beats the pure joy of watching hand drawn animation on screen, with beautiful landscapes and well defined characters making up the bulk of the film. The songs, for which Alan Menken returned to the studio to score the film, are both highly enjoyable and emotionally moving (especially Bonnie Raitt's version of Will The Sun Ever Shine Again?) and, rather than be sung by the characters on-screen, which was a tradition for the studio, the formula was changed to give seasoned artists a chance to shine. Raitt aside, artists on the films songs include kd lang, Tim McGraw, and The Beau Sisters. Of particular mention, though, has to be Randy Quaid's yodelling performance of Yodel-addle-eedle-eidle-oo, utilising some "stunt-yodellers' to enhance his own limited singing ability. Amusing, well done, and hard to imagine that it's actual people singing this song. Delightful.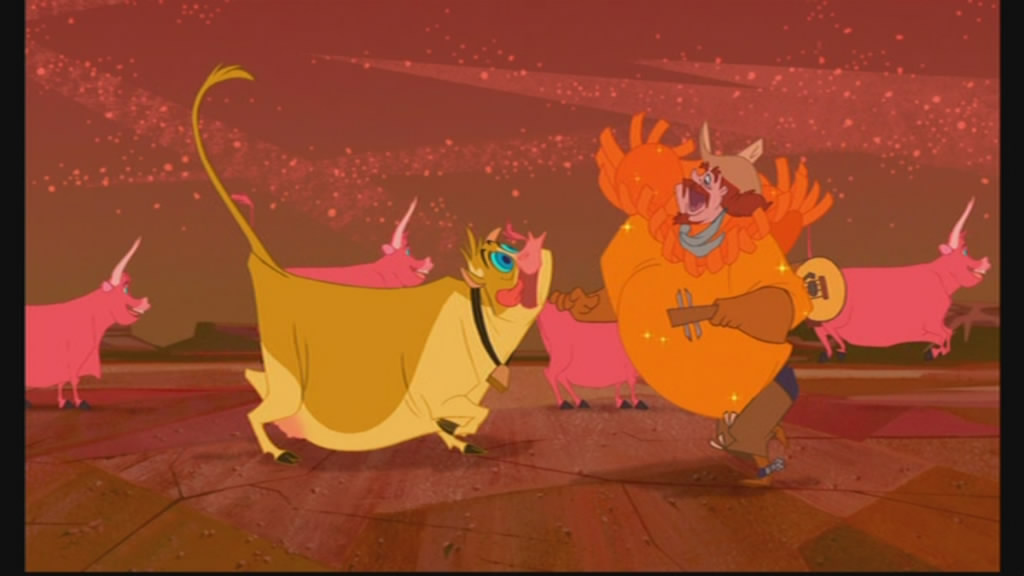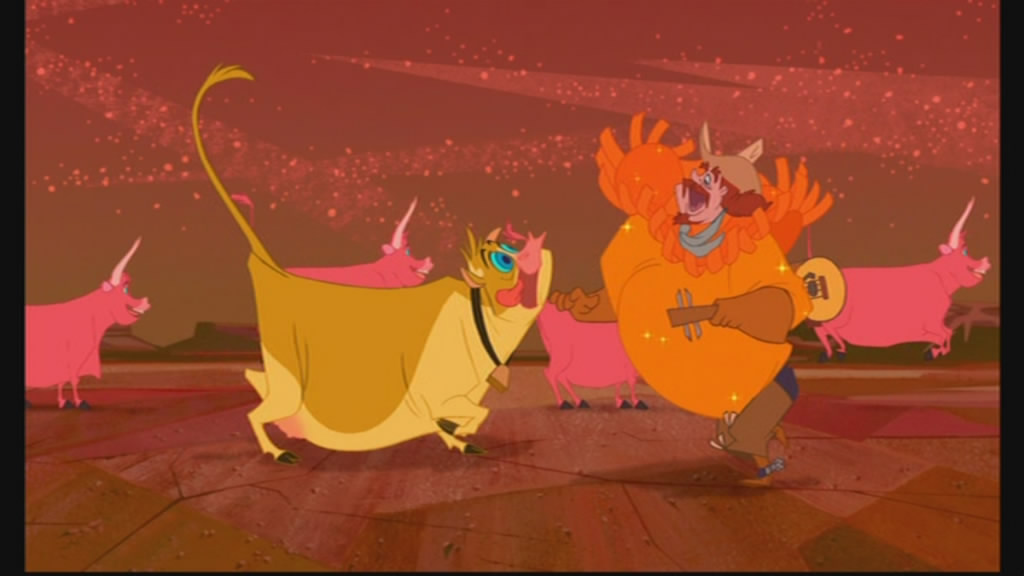 The animation, a mix of traditionally hand drawn stuff, as well as some sneaky CG animated bits, is stunning, a loving homage to art from the Old West (particularly previous Disney animated ventures into that period of Americana) that really does draw you into the world the film portrays. The characters are somewhat angular, especially the farm animals, and while perhaps not being the same quality as, say, The Lion King, it's a resplendent throwback to the lost style of early animation.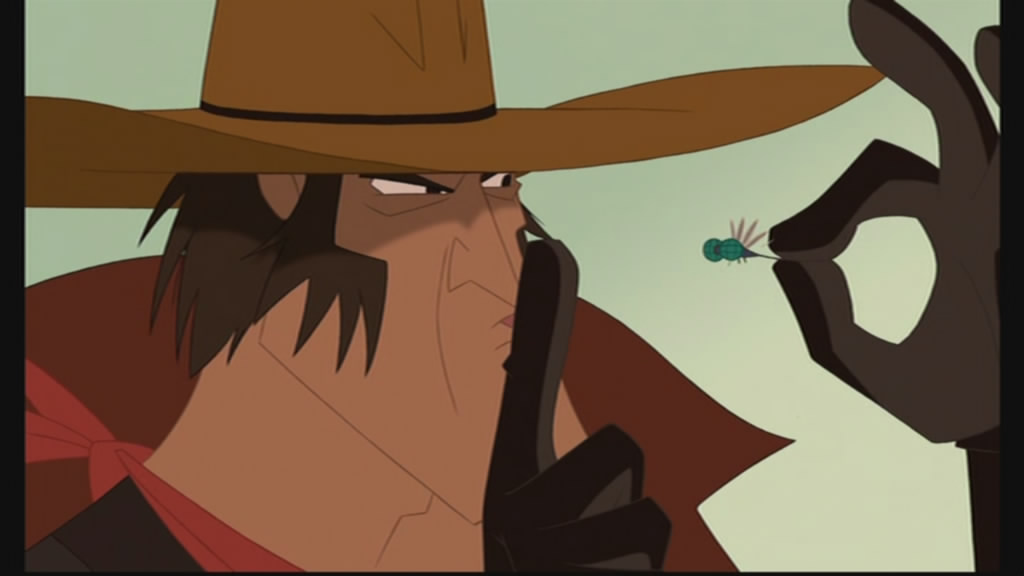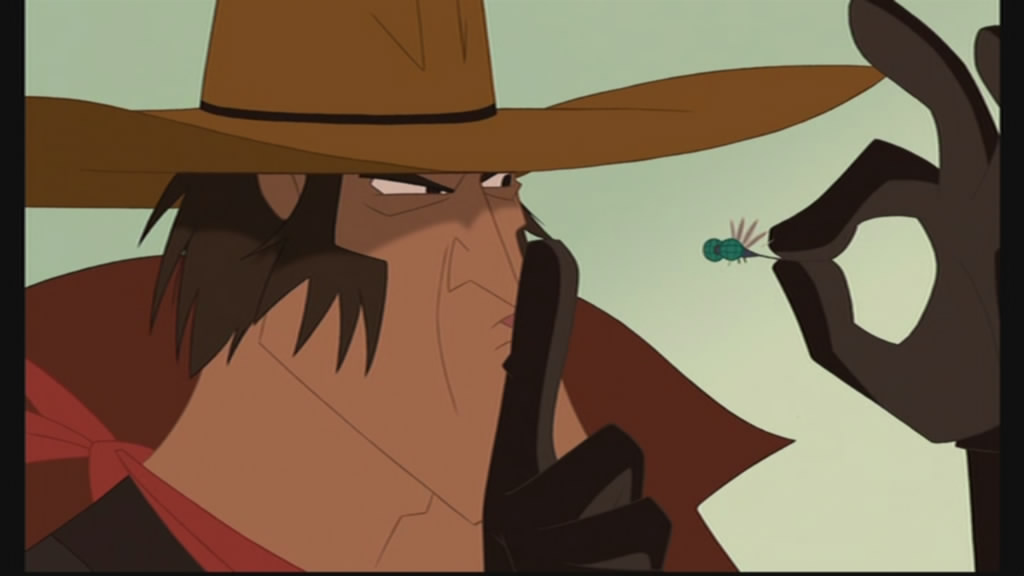 But where the film genuinely entertains is it's storyline, coupled with some hilarious voicework from the cast. Cuba Gooding Jr. is a particular standout, voicing Buck. He is narcissistic, macho, overconfident character; the perfect portrayal of a horse more in tune with his own imagined abilities than any actual talent. Judi Dench is solid as Mrs Calloway, lending her beautiful stiff-upper-lip British accent to the stiff-upper-lip character in the film. But perhaps the most surprising voice in the film belongs to Roseanne Barr, who normally annoys the hell out of me. Here, though, she's perfectly cast, and her ability to convey emotion and substance behind the script is really, really good. Like I said, surprising. That whining, nasally obnoxious voice we've all grown up with on TV and whatnot has either mellowed a little (I doubt it) or managed to be reined in by the directorial team of Will Finn and John Sanford. There's humour and pathos, all wonderfully mixed together in the script, which bubbles along until the final, frenetic 20 minutes, when the action heats up.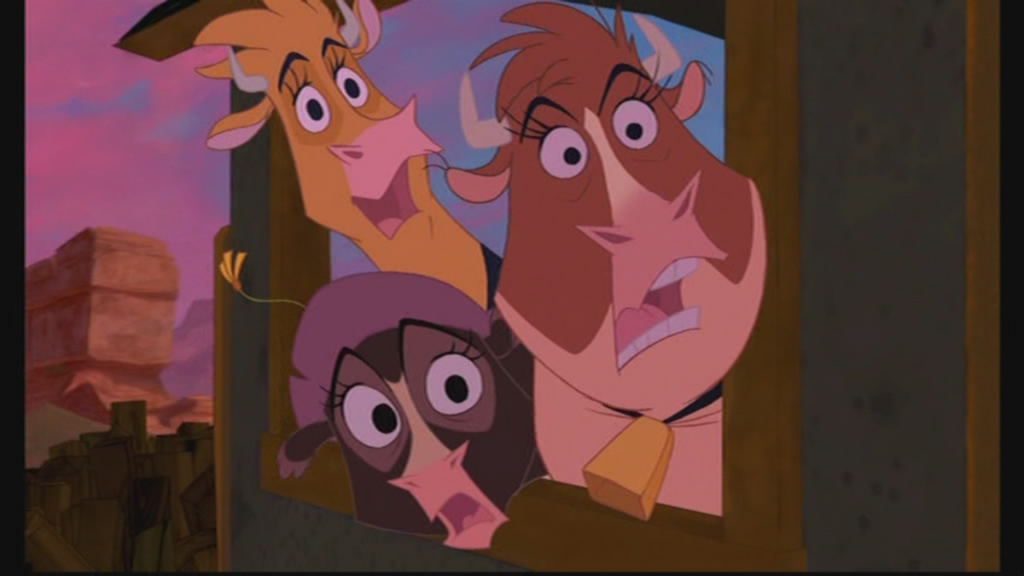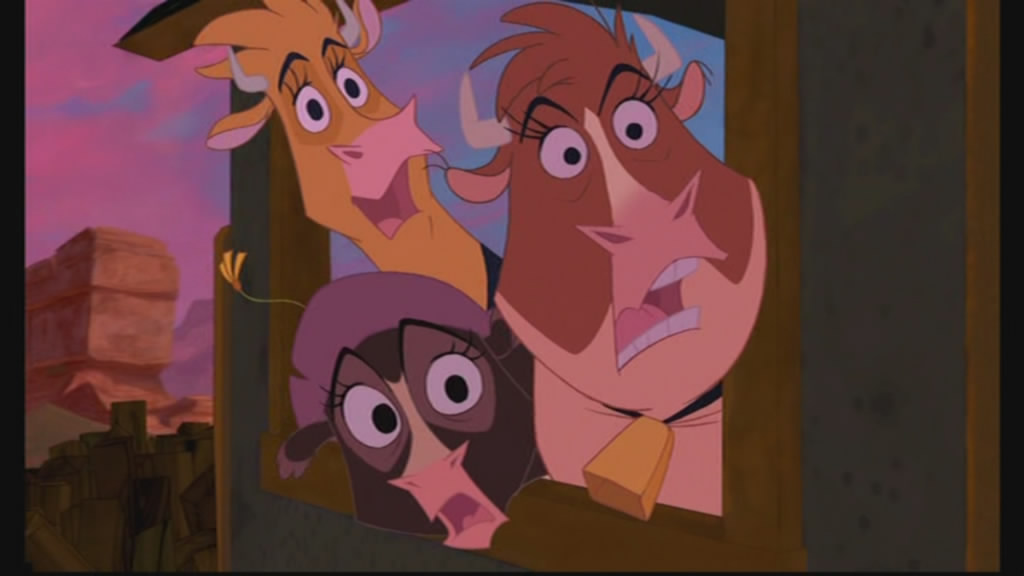 Home On The Range cannot be counted among the legendary animated classics from the Disney stable such as The Lion King or Aladdin, however, it still remains a bright, funny, adventurous, delightful film, filled with memorable characters and some wonderful, wonderful songs. For a breezy afternoon's viewing, Home On The Range can come recommended to please just about everyone.

Related articles
Who wrote this?