Movie Review – Wallace & Gromit: The Curse of The Were-Rabbit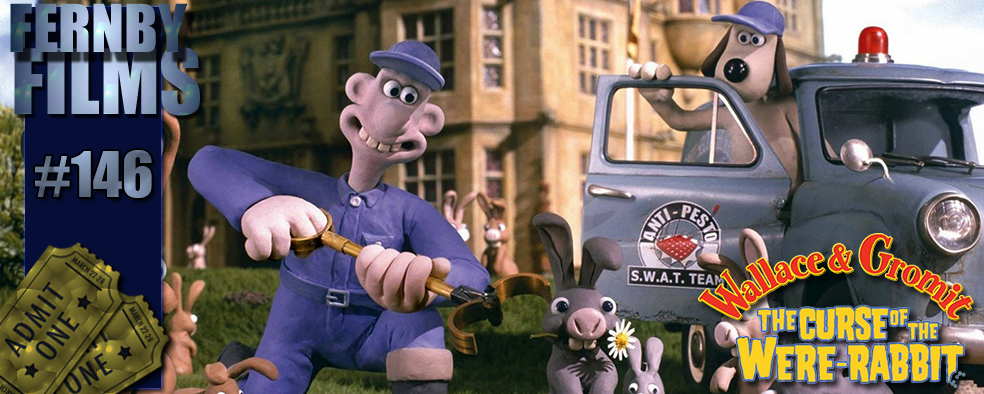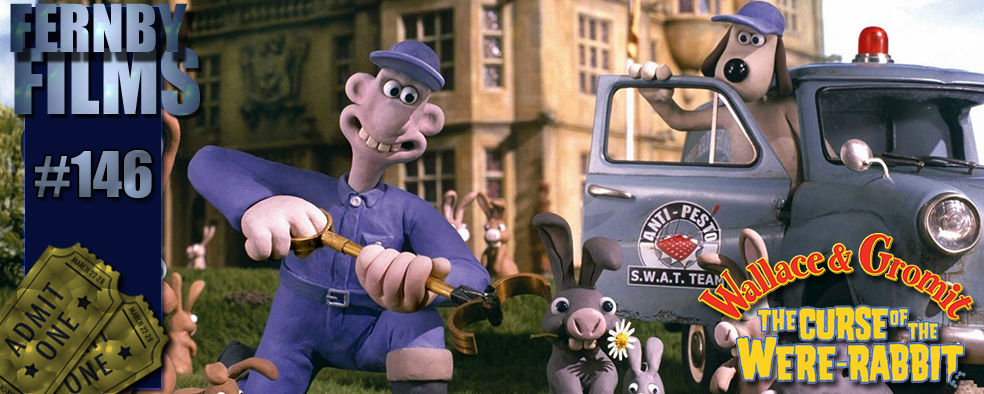 – Summary –
Director :  Nick Park & Steve Box
Year Of Release :  2005
Principal Cast :  Peter Sallis, Ralph Fiennes, Helena Bonhmam Carter, Peter Kay, Nicholas Smith, Dicken Ashworth, Edward Kelsey.
Approx Running Time :  85 Minutes
Synopsis:  The village's local vegetable competition is put in jeopardy by a mysterious enormous beast ravaging the gardens of all the locals. It's up to Wallace and Gromit, who have become pest controllers, to put a stop to it.
What we think :  Just the most beautiful, hilarious, heart-warming animated film you'll ever see. Every frame is pure delight, and the story – not to mention the terrific characters – is sublimely written.

**********************
Finally, the dynamic duo of dough get a full blown cinematic treatment. Wallace & Gromit, a cheese loving man and his faithful (and ingenuious) pooch, who made themselves household names with their three original short films back during the 90's, made the transition to the big screen only after the success of Aardman's initial foray into the medium, Chicken Run.
The three W&G shorts, A Grand Day Out, The Wrong Trousers, and A Close Shave, reaped in awards like nobody's business, and it was only a matter of time before Hollywood came knocking in some form or another. Problem for Aardman and the studio looking to produce the films, Dreamworks, they weren't sure if a large audience was ready for the relatively primitive (compared to 3D CGI stuff like Toy Story) form of animation employed by the British studio. So, Dreamworks told them they'd fund a W&G film if they made another one first, using the stop-motion animation Aardman had become world-renowned for. Thus was borne Chicken Run.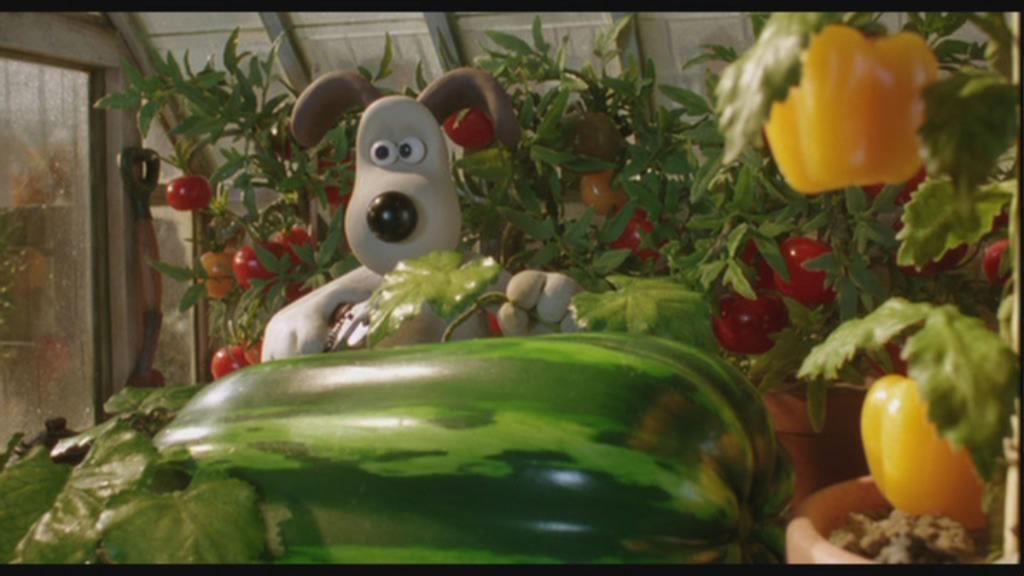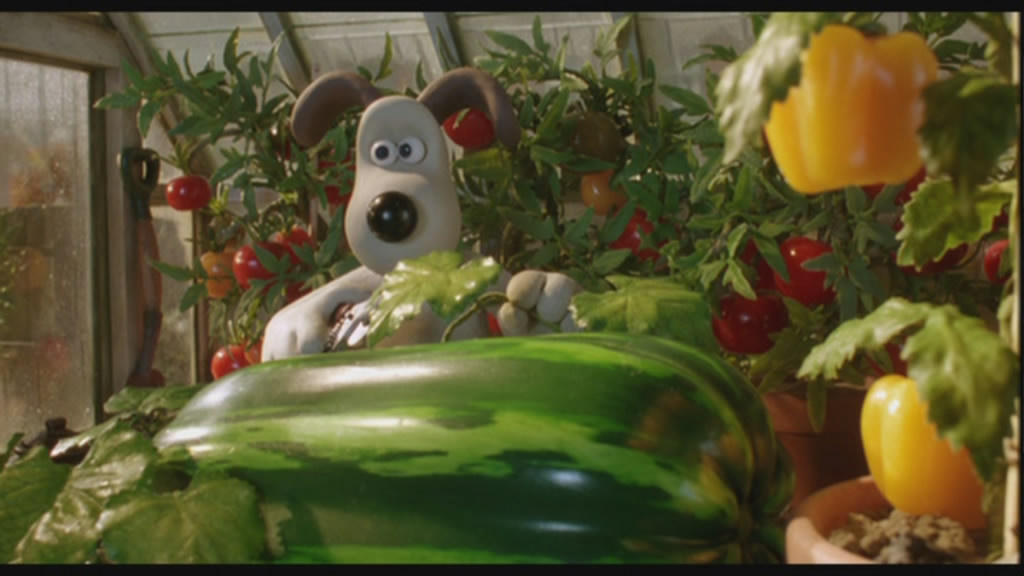 And, with the success of Chicken Run, came the greenlight for a full fledged Wallace & Gromit adventure, on the big screen. And what an adventure it is. The Curse of the Were-Rabbit takes us into the seedy world of vegetable growing, the dark and mysterious place where townsfolk blanket their prized bibs and bobs in heated greenhouses, and where a strange, large creature stalks the landscape, threatening to ruin a vegetable competition at the local rich-chicks joint.
Yep, Wallace & Gromit again pay homage in various forms to genre pictures of the past. Crime noir, grand adventure, thrilling classic films – all come in for a little nod here and there as Nick Park and his team at Aardman bring the dynamic duo to life in their biggest adventure ever.
W&G have their own pest control company, Pesto, charged with protecting the local gardens and vegetable patches from the diabolical rabbits that threaten to eat everything in sight. They pride themselves on a humane disposal of the rabbit population of the village, which, later on, we discover is by keeping the captured bunnies in hoppers in the basement, feeding them a selection of the finest store-bought produce and ensuring they do not escape. So when local rich-chick Lady Tottington (voiced by Helena Bonham Carter) calls upon the duo to rid her property of the infestation of rabbits, they proceed forthwith to help the lady out.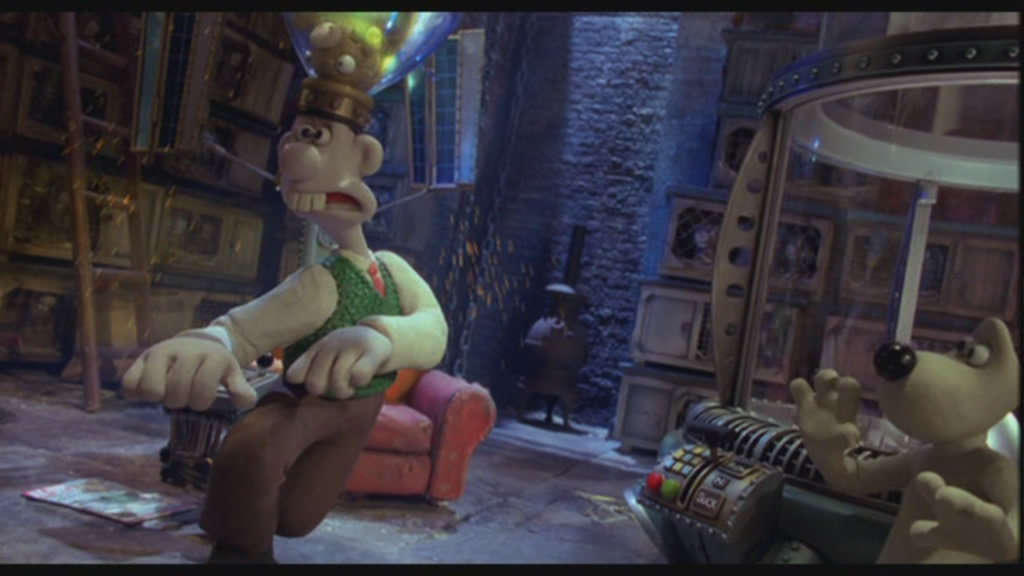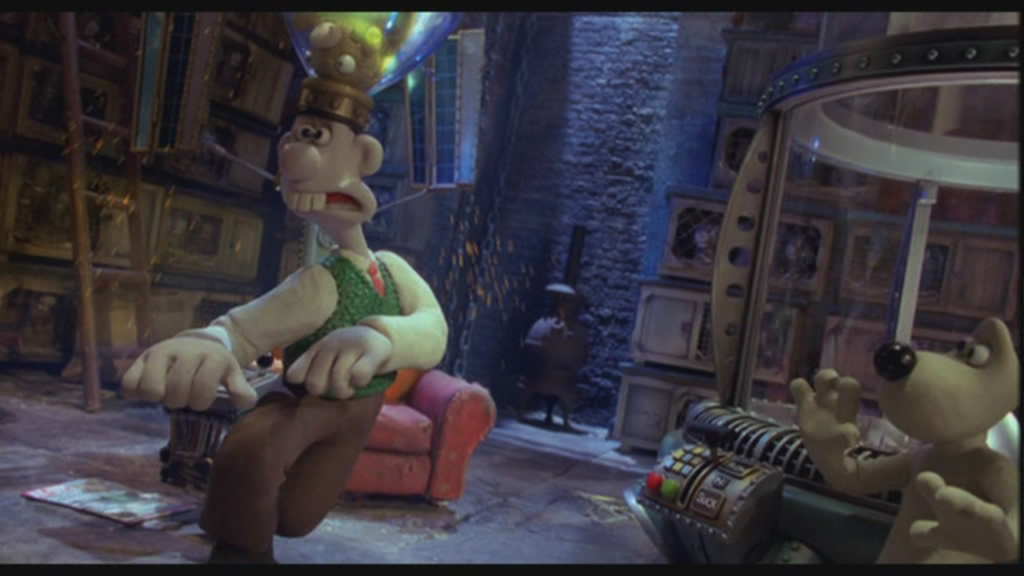 Wallace, as is his wont, is smitten with Lady Tottington, much to the displeasure of her wannbe courtier Victor Quartermaine (voice of Ralph Feinnes) who would rather just shoot the rabbits dead on the spot. Bunny loving Tottington, eschewing the rifle and blood for a more… humane result, insists that Wallace do his thing, and so Victor decides that Wallace must be humiliated and defeated in his intentions for the Lady of the manor.
Wallace, trying to come up with a mind control trick to use on the rabbits to stop them wanting to eat vegetables, instead manages to transplant his mind with that of a rabbit, and becomes…well, the result is indeed monsterous.
Frenetic chases, laugh out loud humour, a gag-fest as long as your arm and plenty of gentle prods at English culture are all par for the course in Wallace & Gromit-world, and in this film, the pace is amplified tenfold.
Wallace, again voiced by a rock-solid Peter Sallis (who always sounds as if he's about to cry) is typically moronic around the women, and bumbles through the film being saved countless times by the intelligent Gromit, without whom I feel Wallis would have still been battling the Penguin from The Wrong Trousers. In any case, Gromit enjoys a more liberal amount of comedy and adventure this time out, as his story's canvas is expanded for the cinema form.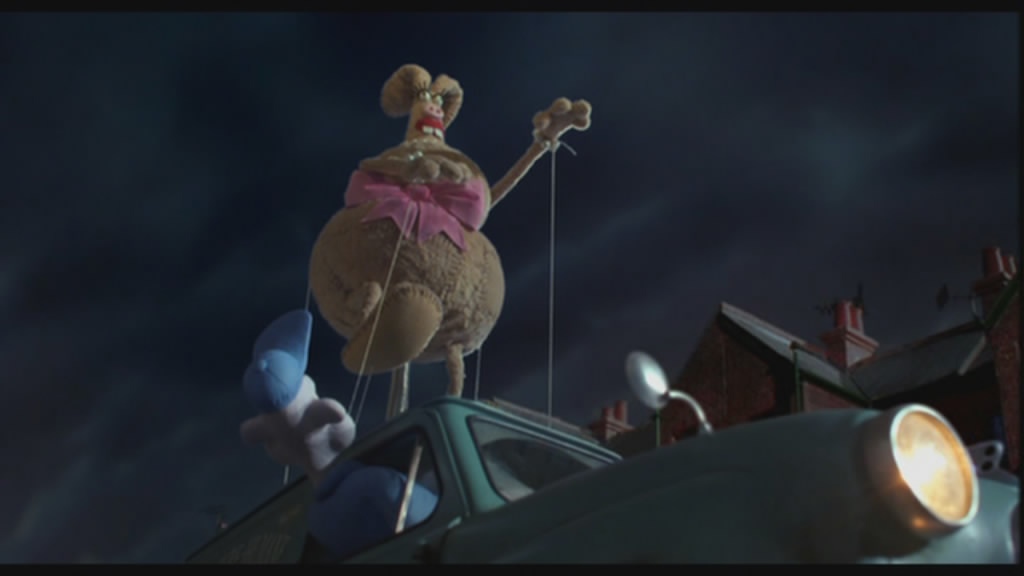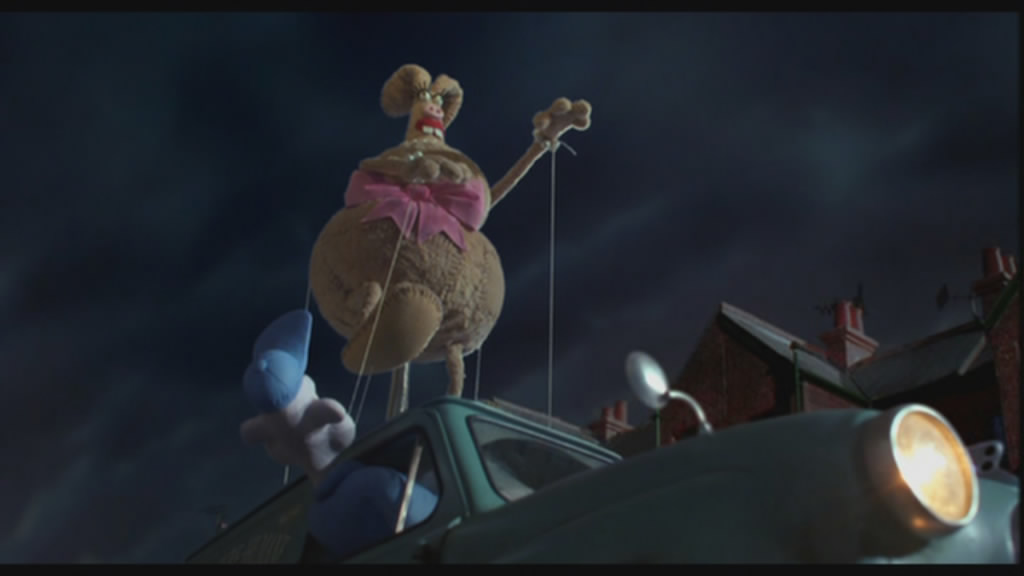 Gromit, voiced by nobody but expertly emoting in a way that only a silent partner can (think Teller from Penn & Teller) is the brains and often the muscle of the outfit, solving the puzzle of who, or what, is the titular Were-Rabbit, and how to stop it.
Like previous W&G adventures, things continue to build up in pace until a frenetic final act which see's plenty of running, jumping, flying, shooting, burrowing and screaming take place, with typical Aardman panache and a real sense of fun in the film. The script, filled with one-liners and entendre's aplenty, is magnificent, refined and sharp as anything Aardman have done before. Kudos to the team behind the screenplay, especially regulars Bob Baker and Nick Park, who directed this film as well as writing it.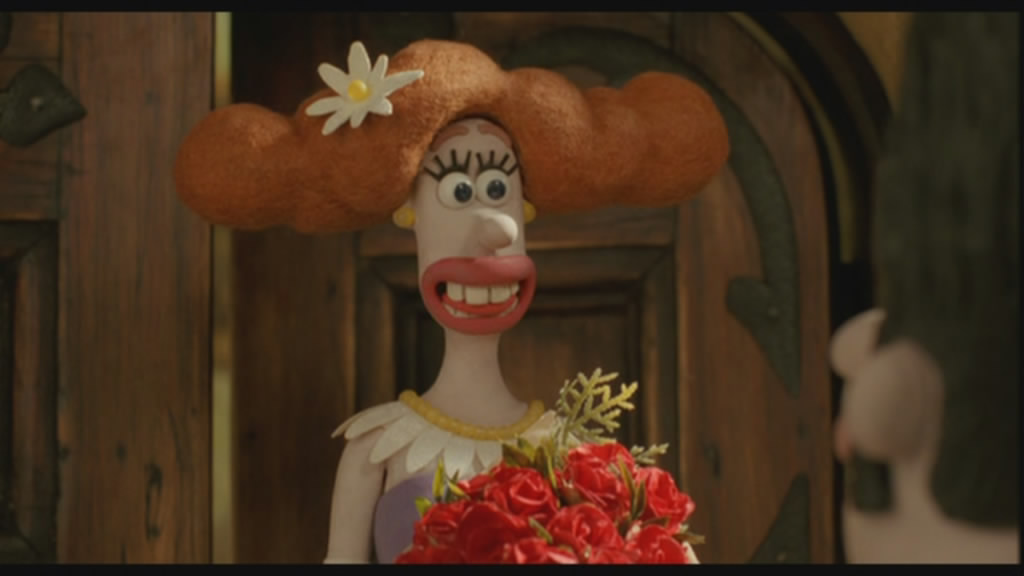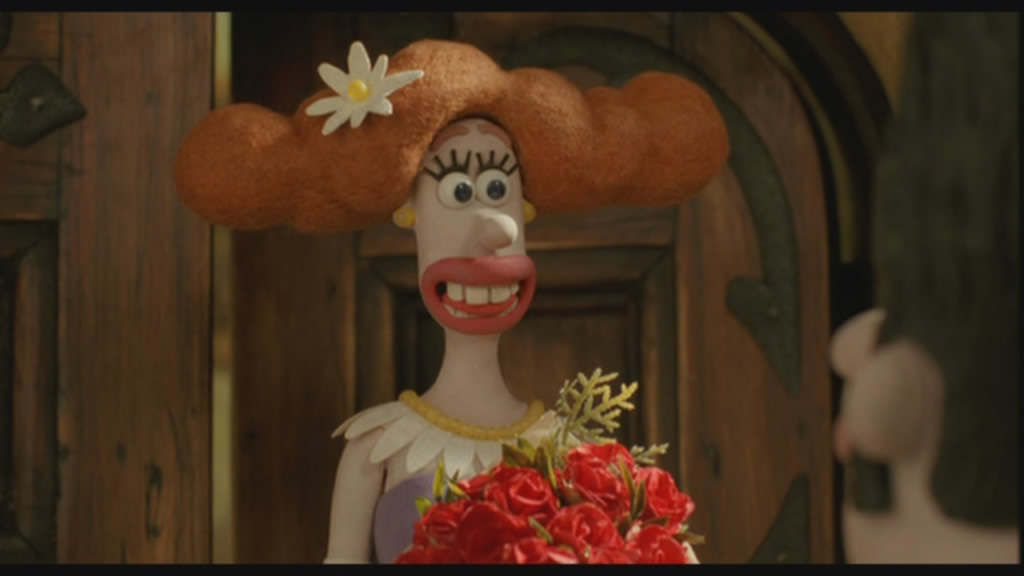 Honestly, the film is as good as, if not better than, the short versions of W&G as we know them. It's the W&G equivalent of the Simpsons Movie, if I can cross-culture-ise here for a moment. In the same way that The Simpsons Movie packed in more laughs per minute of frame time, so to does W&G in this film: there's barely a moment where you aren't either laughing, startled or simply bemused by the creativity and ingenuity on display here.
But what makes this more than just a lengthier version of the W&G shorts is the fact that the story here has an opportunity to develop something that none of the shorts could do as well in their regular 30 minute timeframes: develop heart.
The Curse Of The Were-Rabbit enjoys a saturation of heart, a wonderful development of the mythos of the characters, while managing to make us really care for both Wallace and his mystifyingly profound love of Lady Tottington, and Gromit as he tries desperately to prevent Wallace being slaughtered by a veritable lnych-mob of townsfolk who light their pitchforks when they discover the identity of the enormous monster. Cue Frankenstein references here folks! Wallace, instead of being just the simple bumbling fool for the film, enjoys a well rounded character development arc this time about, he actually becomes a real character as the film progresses, which I felt was almost impossible given the limitations of the format. I am happy to have been proven wrong.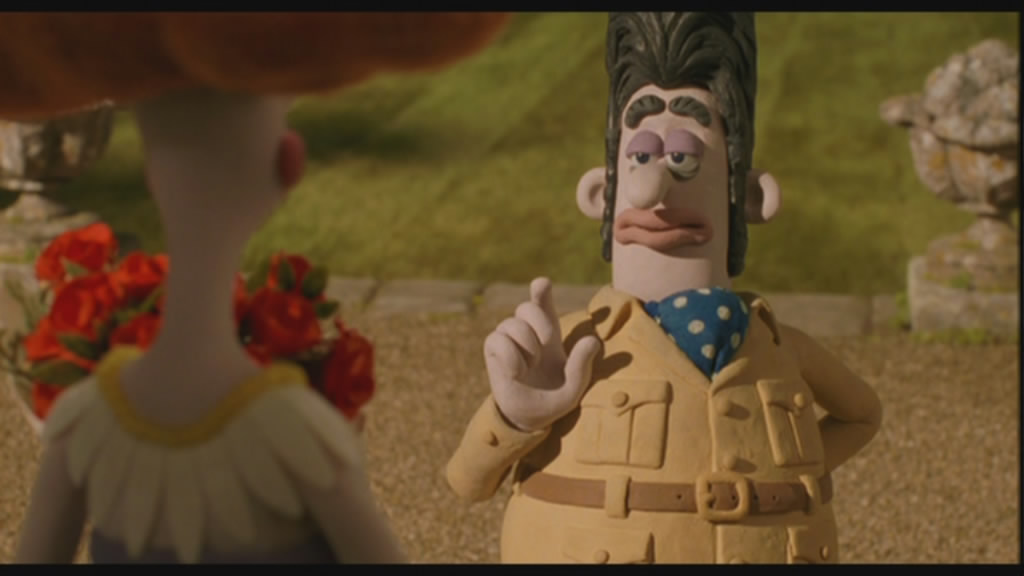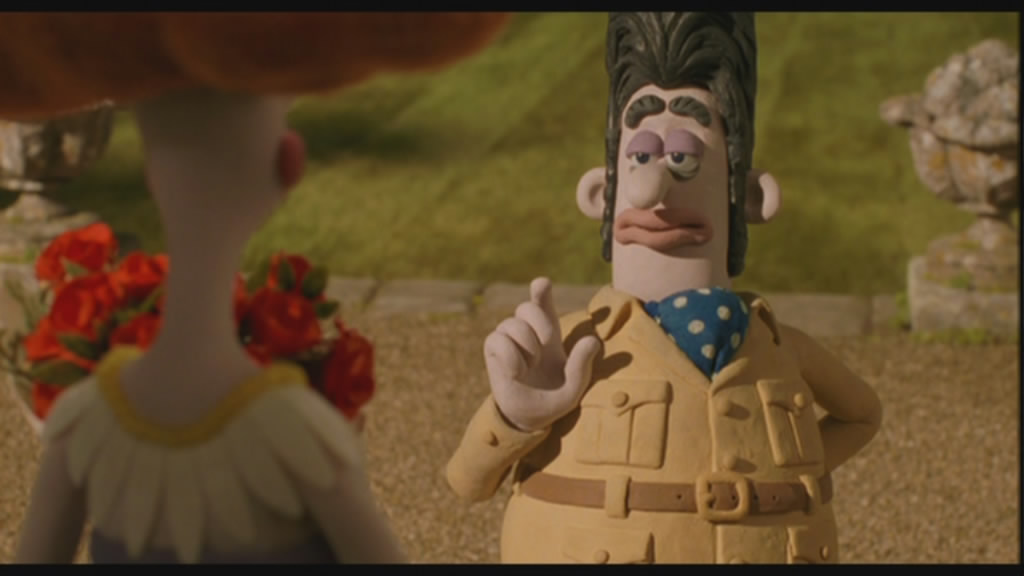 Lady Tottington is my favourite Wallace Floozy (a term I have managed to coin as an homage to the more well known Bond Girls!) of all of the pair's adventures, and it's a sweetly amusing romance that lifts this film above the ordinary to the truly exceptional.
Some great effects, including Gromit being dragged underground by the wayward Were-Rabbit, plus a delightful riff on King Kong during the films' closing moments, make this film a genuine laugh rather than a fly-by-night comedy; it's tone is in keeping with the short films, so there's no sense of inflated grandeur, something I was worried would happen with all that money thrown at the project. Mention must also be made of Julian Nott's wonderful score, utilising the themes made famous from his work on previous W&G entires.. Here, Nott gives the film a broader theme, more rambunctious and a soundscape more befitting of a cinematic journey, rather than a simple, smaller TV one. The famous W&G theme is inserted in various ways throughout the film, with plenty of variations (including one great chase-themed version!) that'll make you smile.
It is with great pride that I can heartily recommend The Curse Of The Were-Rabbit to you, and if you haven't had a chance to see any of the W&G films yet, then see if you can check them out on DVD at some stage.
Excellent.
Related articles
Who wrote this?