Movie Review – Miss Pettigrew Lives For A Day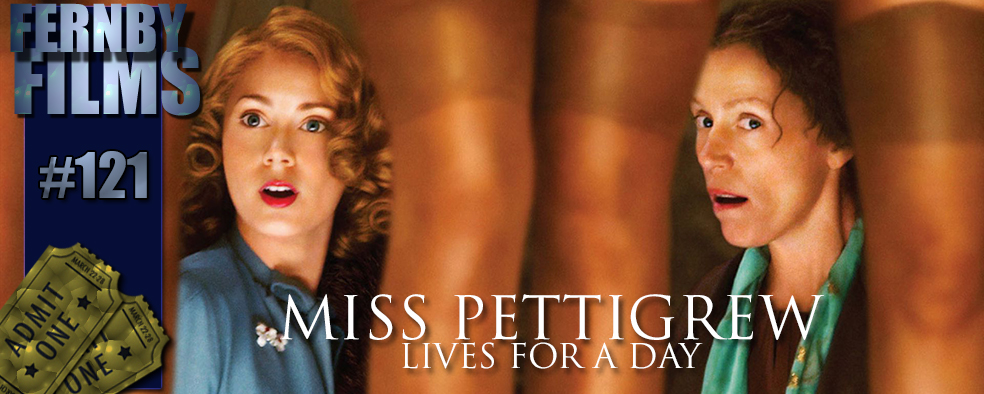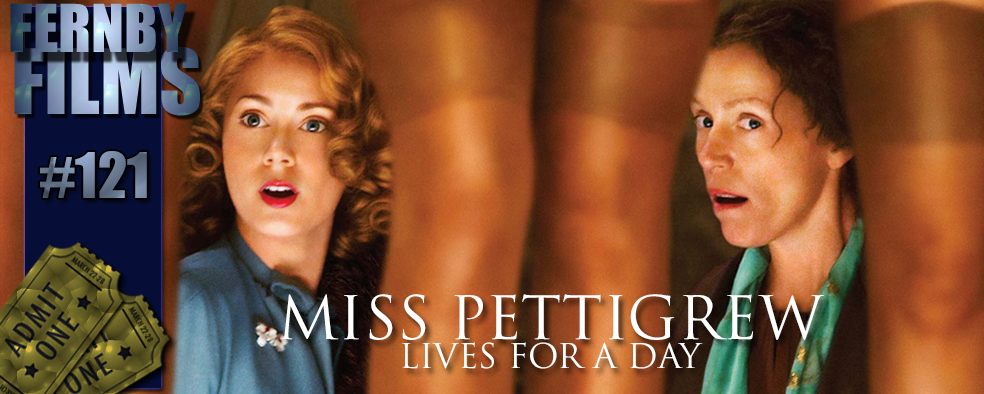 – Summary –
Director :  Bharat Nalluri
Year Of Release :  2008
Principal Cast :  Frances McDormand, Amy Adams, Lee Pace, Tom Payne, Mark Strong, Shirley Henderson, Ciaran Hinds, Christina Cole, Stephanie Cole.
Approx Running Time :  91 Minutes
Synopsis:  Guinevere Pettigrew, a middle-aged London governess, finds herself unfairly dismissed from her job. An attempt to gain new employment catapults her into the glamorous world and dizzying social whirl of an American actress and singer, Delysia Lafosse.
What we think :   Just a delightful period film. Frances McDormand delivers a sweet performance, as does Amy Adams – come to think of it, I don't think any of the cast put a foot wrong. Just lovely.

**********************
Based on the novel of the same name, Miss Pettigrew Lives For A Day is a wonderfully frenetic pseudo-farce, bordering on pantomime, starring the wonderful Francis McDormand as the title character. Miss Pettigrew, a widowed, unemployed nanny during the late 30's in Hollywood, is struggling to stay off the poverty lines at the respite shelters, the depression taking it's toll on the country and morale.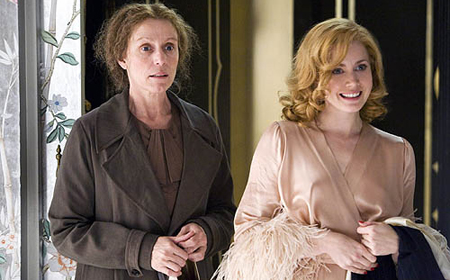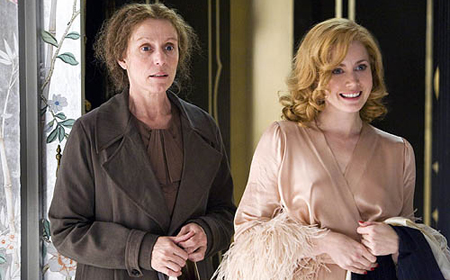 Pettigrew, fresh from being sacked as a housekeeper by a previous employer, is confronted with a chance to stay out of the breadlines, when she steals the employment card of a young socialite actor, Delysia Lafosse (Amy Adams) and ends up embroiled in what can only be described as a three-way tug-o-man-war. Delysia, it seems, has been stringing a trio of young men along, while she decides which one she wants to marry. One is a theater producer who is trying to cobble together a new show, the second is a penniless pianist in a jazz band who is devoted to her and wants her to come to England with him, and the third is a wealthy nightclub owner, who see's Delysia as simply a revenue raiser for his business. Delysia, whose affections the men are fighting over, seems to flit between one and the other like a light switch being thrown, and she flounders around their various apartments without a care in the world, content for them to spoil her rotten in a bid to win her love.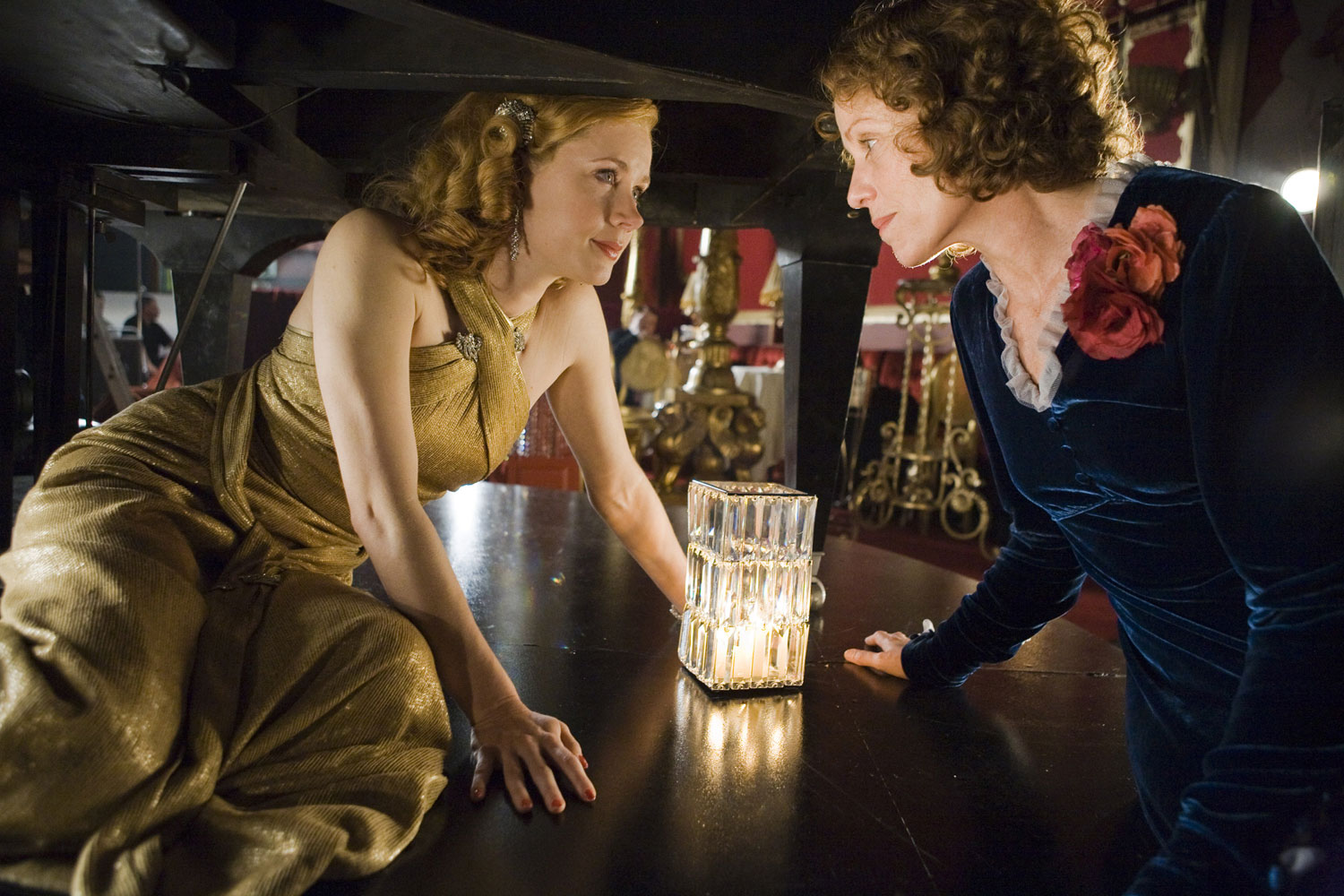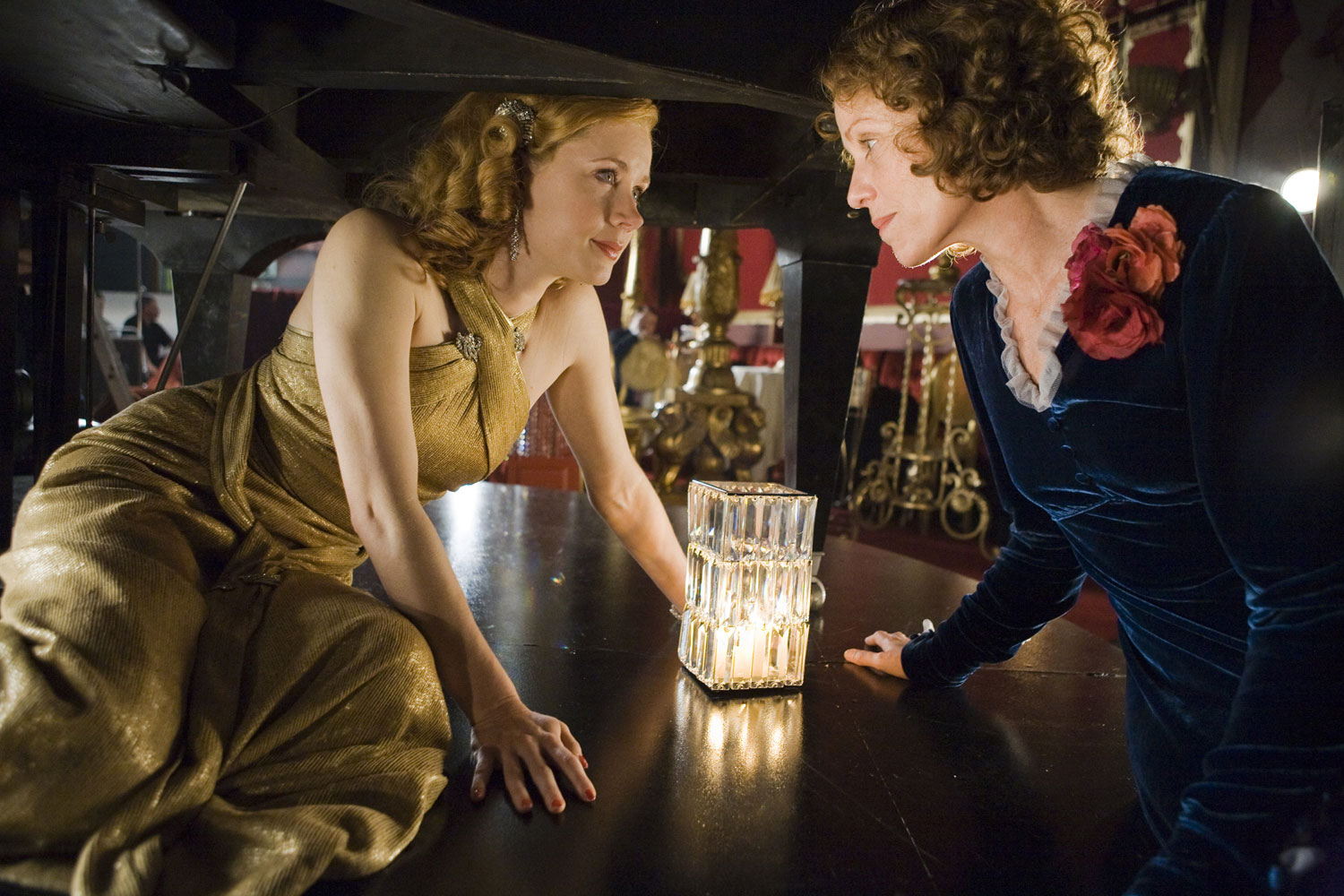 So when Miss Pettigrew arrives and takes control of the situation, Delyisa find in the older woman a kind of motherly figure, somebody with whom she can spend time figuring things out.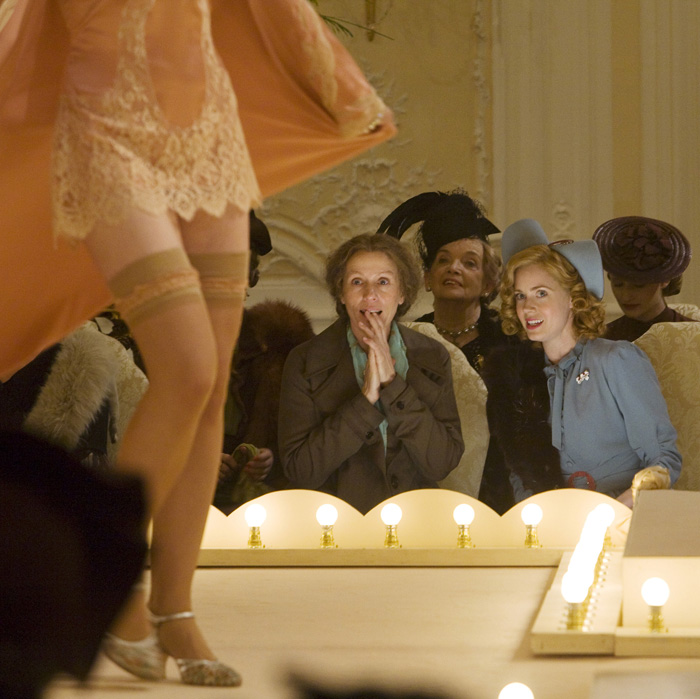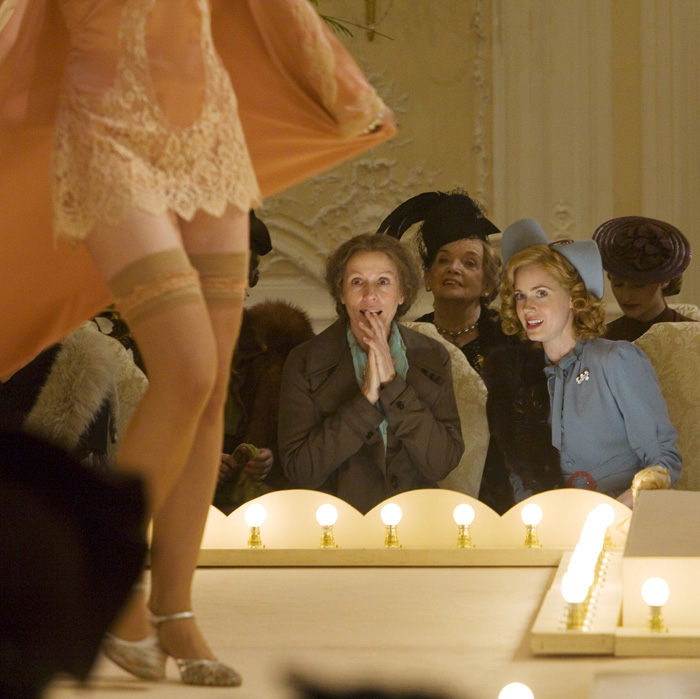 I wouldn't describe this film as one for those expecting high drama, for the whole thing plays out a little like a farce, a pantomime of theater: people come and go at random, coincidences pile up upon each other, and the dialogue sparkles like a newly minted diamond as these two disparate women go about their business: Pettigrew to stay out of poverty, and Delysia to stay uncommitted. The entire cast is breathtakingly pleasing to watch, nobody puts a step wrong in any category. McDormand is steady and dependable as the ugly-duckling Pettigrew, while Amy Adams is scintillating as the scattershot Delysia. Shirley Henderson is utterly amazing as the viperous Edythe Dubarry, wannabe wife of underwear designer Joe Blomfeld (Ciaran Hinds, who really struck me as a decent actor: I think this is the first time I've really been impressed with his work) and the three men who are trying to woo Delysia are all different, startling and well played.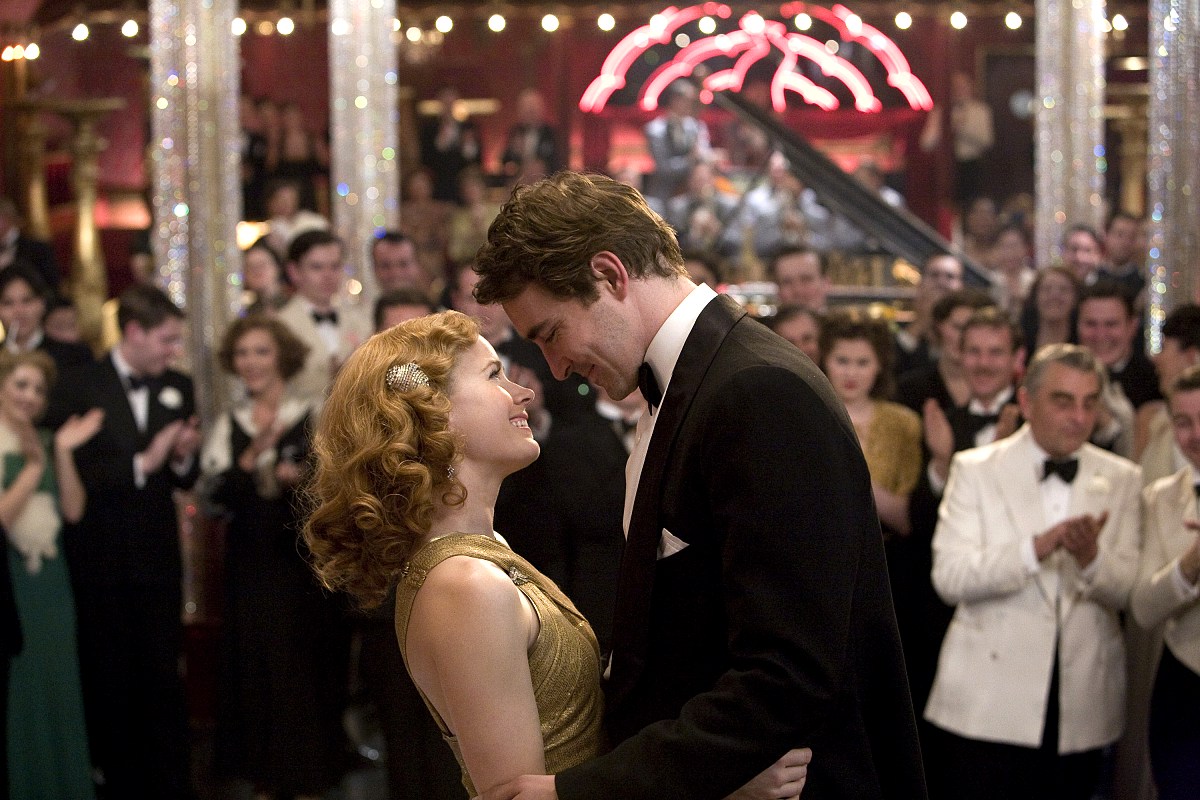 The film is predominantly studio-bound, which, to be honest, works against the film a little, as there really are only half a dozen different sets for the entire movie this budgetary constraint was borne out of the stagey nature of the story generally, and although I would have liked to see more exterior stuff, what we get is good enough to carry the story. The direction from Bahrat Nalluri, who has a limited filmography (that I could find) but appears to have worked on some great visual projects (Alien vs Predator, and the original Resident Evil flick, as well as directing The Crow: Salvation) before coming to this. What Nalluri brings to the screen (and it's not the gore and horror of those listed films!) is a great sense of the film frame, knowing how to use the frame to the best advantage: the story offers plenty of scope for such a rich visual palette that the film looks more sumptuous than it perhaps actually is.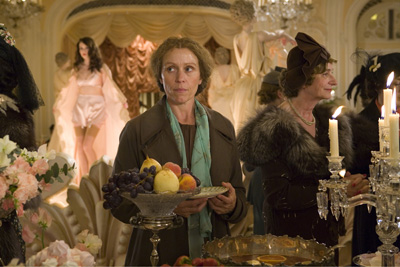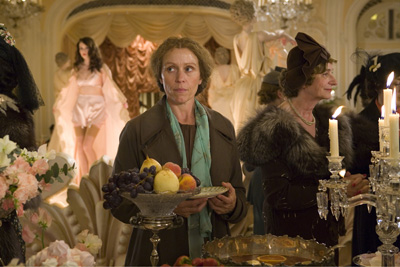 There's the usual stuff of these kinds of screwball films: misinformation, confusion between lovers, people jumping from windows while the husband comes in the front door… all that kind of thing. It's all played with a sly smile on the face, all the cast have that special gleam in their eye that makes this more fun than a pleasant screwball comedy has any right to be.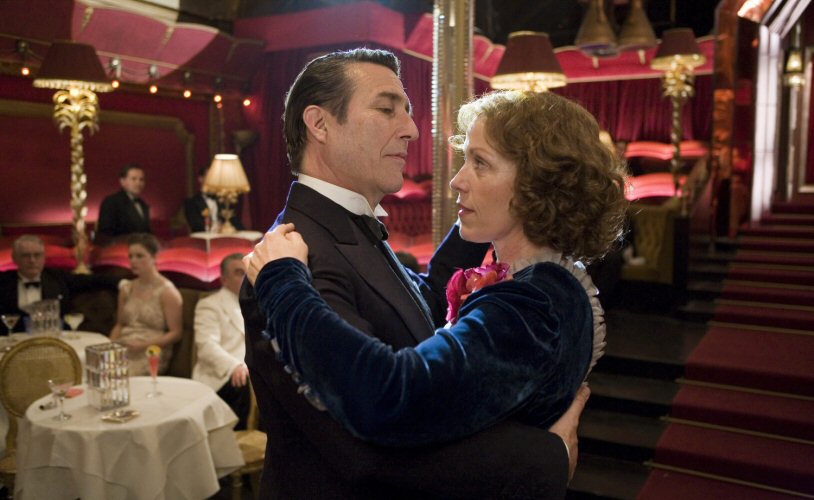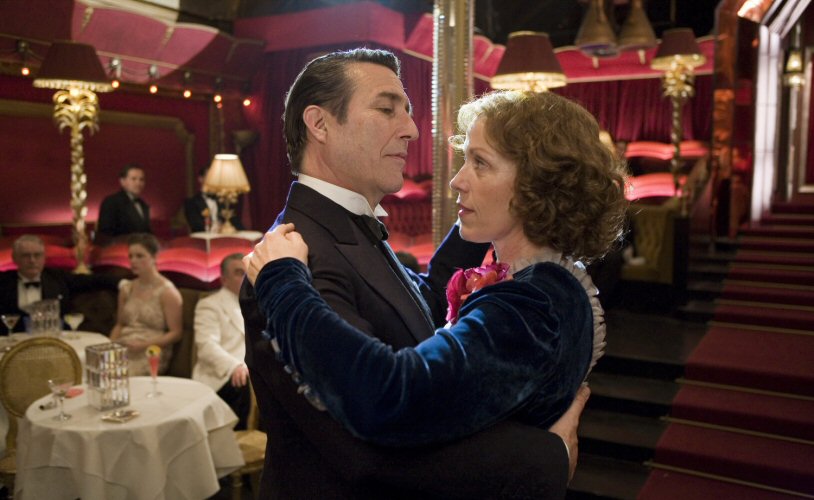 Honestly, it's not my favourite repeat-viewing film of all time; however, for a pleasant diversion for an hour or so, Miss Pettigrew is one housekeeper/nanny that will be welcome in my DVD player any time she wants. A truly lovely film, unremarkable but memorable nonetheless if only for it's sense of style!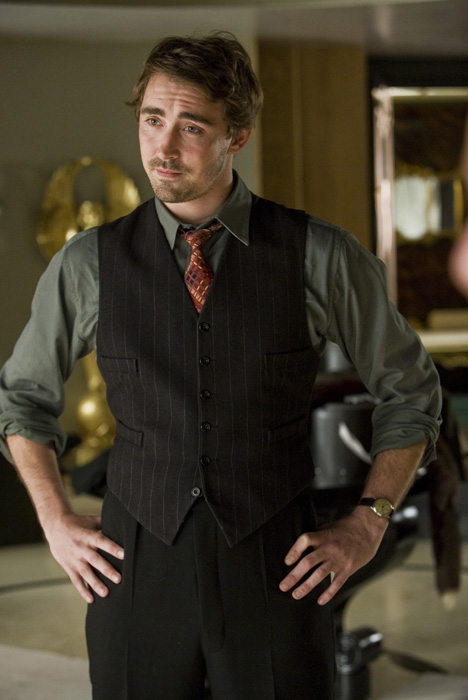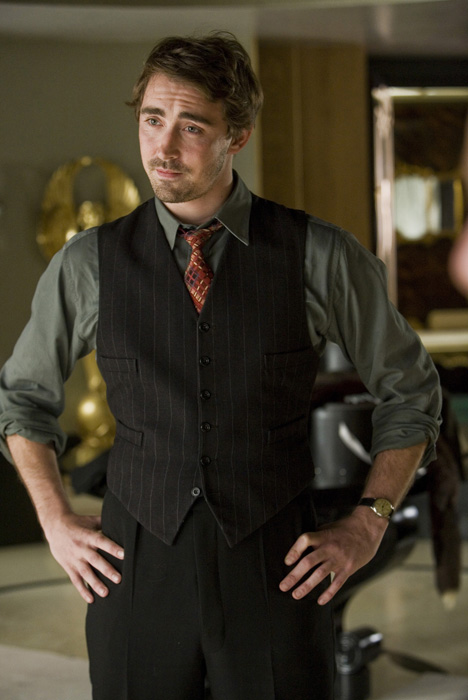 Wonderful film, well worth your time. It's chick-friendly, so girls can watch this easily, however, men who enjoy films like Die Hard and The Bourne Ultimatum may find themselves in the cold with this one.
Related articles
Who wrote this?