Another screen legend has been lost to us this year, with today's news of the passing of Paul Newman, after a battle with lung cancer.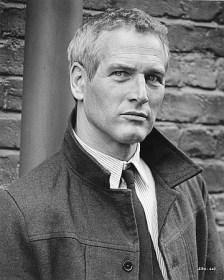 My earliest memory of Newman was his co-starring role with Robert Redford in The Sting, one of my favourite of Newmans (and Redfords) films. After reading a lost of Newman's films, I realised just how little of him I had actually seen, and have recently been trying to rectify this. My most recent purchase at the video store was a copy of Butch Cassidy & The Sundance Kid, which I will be reviewing as part of our new Classic Films Revisited project beginning next year. Ironically, last night, Channel Seven screened Pixar's Cars, which Newman provided a voice for.
While I am sad to say I didn't know a whole lot about Paul Newman, or even seen many of his films, those I have seen certainly bear witness to one of the enduring screen icons of our time. His various biographies currently circulating the internet bears testament to his many achievements and endeavours. 
Newman won two Academy Awards during his lifetime, and was nominated a staggering 9 times. His first win at Oscar night was for his character of Fast Eddie Falzon in the 1986 Tom Cruise starrer, The Colour Of Money, a character he'd played before in the 1961 film The Hustler. He was also given an Honorary Award for "many years of wonderful service to the film industry", in the same year.
Some of the other film's Newman starred in are one's you may have heard of: Exodus, Cat On A Hot Tin Roof, The Towering Inferno, Road To Perdition, and even The Hudsucker Proxy. All films worth watching.
If I had to say something profound about Mr Newman, it perhaps this: he was one of the rare breed of actors who make it look like they aren't acting. They make it look like they're living that characters' life. Redford was another, as is Anthony Hopkins. This is truly a talent we have lost, and the world will be poorer for it.
Vale Paul Newman, you shall indeed be missed.
Who wrote this?